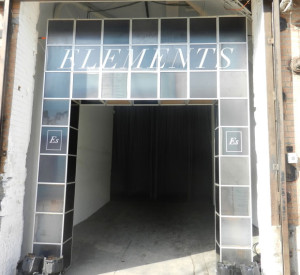 Many braved "the elements" in the dead of winter to attend the three-day Elements Showcase in NYC. In my mind Elements has always been a celebration of niche perfume for both emerging and established brands, and like others passionate for perfume nothing not even sleet, snow nor slush could keep us away.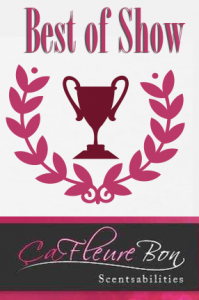 The 2014 edition of Elements Showcase, February 5-7, centered on categorizing alchemical practices and designers by ancient "Metals of Antiquity" for example Gold Society for Perfume, Mercury Society for Apothecary, and Copper Society for Home (ambiance and objects); there were seven categories in all. Naturally, I had my eye mostly on the GOLD. Exhibitors presented on two well-designed floors with numerous beauty and jewelry lines that left many perfume aficionados wanting MORE PERFUME, but the paired-down feeling along with perfume newcomers allowed for a more immediate and intimate experience and let me bring you these stories and highlights from behind the scene.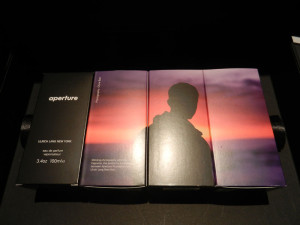 Best New Perfume and Creative Collaboration
ULRICH LANG NEW YORK APERTURE is the 5th perfume by Element Showcase co founder and Creative Director Ulrich Lang and marks the 10th anniversary of the brand. His first fragrance ANVERS hit Barneys in 2004, pioneering what we now call today niche and artistic perfumery. The development of APERTURE coincided with Ulrich's long relationship with the Aperture Foundation, which supports emerging visionaries in photography. Ulrich described the collaboration with the Foundation as "an interesting collaboration that is unusual—here there is authenticity and a match made in heaven." He genuinely described the "story of his life" has been to fuse fine fragrance and contemporary photography—these are the two worlds that he grew up in, there is nothing forced, it is a natural fit and progression. Ulrich chose to work with teen age photographer, Olivia Bee, a regular contributor to New York Times Magazine, whose intimate portraits have been featured in campaigns for Hermes and Converse. Bee's photo for APERTURE is an image from a series she entitled, Quiet. He described the photo as enhancing the fragrance. "It is an image that is a snapshot in time that draws you in like a magnet." APERTURE is a strikingly quiet fragrance, still and atonal that resonates on the skin, it will launch March 2014 at Barneys New York and is available on Uli's website here.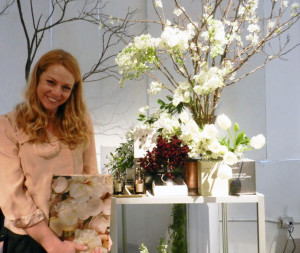 Best Buzz, Best Presentation and Best Fragrance Collection: Saskia Havekes Grandiflora- Her floral designs graced the pages of Michael Edwards Fragrances of the World 2013
GRANDIFLORA
When I first saw the lovely and internationally acclaimed florist, Saskia Havekes she was surrounded by her incredible romantic and lush flowers, and her two fragrances and MAGNOLIA GRANDIFLORA SANDRINE and MAGNOLIA GRANDIFLORA MICHEL. The flower display seemed to almost embrace and slightly, yet ever so poetically conceal the two perfume flacons, and their boxes. As I stared at my photograph I thought the still life she created and the flowers draping over perfume bottles might somehow symbolize the conversion of her work into another medium and thus visually reflect her journey. These two soliflore perfumes tell an abstract story of the magnolia flower in full flight (Michel) and the bud, green and held yet full of potential (Sandrine.) Michel Roudnitska and the late Sandrine Videault masterfully brought forth two incredibly emotional perfumes. You can read our reviews of both fragrances here. I look forward to the launch of Grandiflora's new perfume, Stephanotis (after the Hawaiian wedding flower) composed by Michel Roudnitska..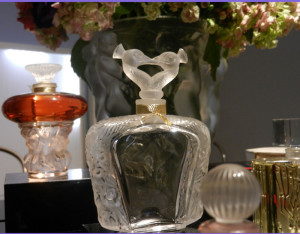 Best Flacon Lalique
Best flacon is Lalique's 2014, a crystal bottle crowned with two delicate peacocks, beautiful to look at and amazing to feel in the hand-enough said.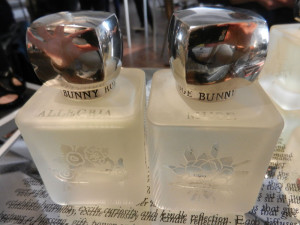 Best Beauty Collection with Perfume
I know that they were noted here on CaFleureBon in 2013, but I had to give them another shout out. Rouge Bunny Rouge, Founder and Creative Director Alexandra De Montfort, has a discerning aesthetic, her fragrances are very specific and expressive. Muse and Allegria will launch in March 2014, and they are an addition to the Fragrant Confections Collection.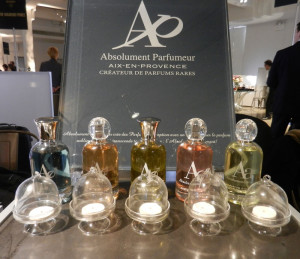 Sexiest Scents: La Treizieme Note Femme and Homme
ABSOLUMENT PARFUMEUR Parfum D'Interdits
Absolute Absinthe, launched in 2005, is a green-woody spirited fragrance with notes of Absinthe absolute and Cannabis, that may be familiar to perfumistas as it was one of the first perfumes to use "contraband" substances as notes. Owner Pascal Rolland was the founder of the Liquoristerie de Provence, in 1999 and launched Versinthe – one of the first absinthes after the century old ban in France. The Company distills their own absolutes in Aix-en-Provence. La Treizième Note Femme and La Treizième Note Homme are the most recent additions to the line,both inspired by dishes from Chef Rene Berges. If you visit their website they actually have the recipes posted-love that! The fragrances are based on a legend of the Egyptian amphora that was found in the tomb of a Pharaoh, but only 12 essences could be identifed. The 13th note was described as the final note of the magical elixir and is the missing essence that the evil Grenouille of Perfume- A Story of a Murderer killed to capture.. La Treizième Note Femme, inspired by a dessert from the French Chef Rene Berges is a decadently delicious amber gourmand, whilst Note Homme, a spicy leather is based on a savory recipe. M. Rolland spritzed La Treizieme Note Femme on Michelyn and it smelled so wonderful on her, Pascal's smile lit the 6th floor.
Most Anticipated Celebrity Scent
I caught a quick preview sniff of Project Runway's 4th season winner, Designer Christian Siriano's Silhouette. It's a tailored gourmand that is plummy, dark, and a tad animalic. Great debut for Mr. Siriano.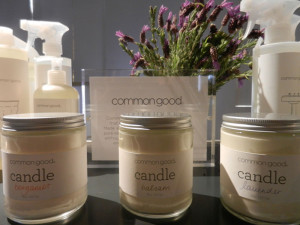 The Best of the Rest
There were a few: I fell in love with Bottega Organica and their fragrant face oils. Their Morning Face Oil is a fragrant mix of gingery-sage, smells incredible. Swiss Brand-Calming Park is creating sophisticated candles that are delicate, yet have a point of view-bravo. My Brooklyn neighbor Common Good household line, I love that they have "refillable stations" for some of their products. I enjoyed talking to German Perfumer, Manuela Pfannes-Volkels of Arts and Scents, and I look forward to exploring her fine fragrances.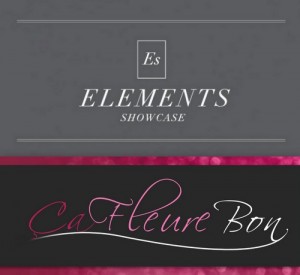 Elements Showcase allows for industry insiders, emerging and established perfumers and perfumeries, writers, buyers, and brands to come together to sit, sniff and mingle. There were so many passionate stories that were told. As I was leaving I saw the beautiful and very talented independent perfumer Cécile Zarokian (who is also the nose for the Suleko brand and joined Creative Director Anastasia Sokolow for the line's US debut read our review of Baba Yaga here); who was so willing to talk even though we were standing outside in the freezing cold. It was a wonderful way to wrap-up the day and the show. Our thanks once again to Frederick Bouchardy, Ulrich Lang and Jeffrey Lawson for another fine exhibition.
–Valerie Vitale, Editor and Editor in Chief of Soliflore Notes
Editor's Note: As always it was wonderful to catch up with our fellow bloggers and friends in fragrance, Victoria Jent of Eau MG, Ron Slomowicz of Notable Scents, Gaia Fishler of the Non Blonde and her hubby Ori, Daisy Bow, Arielle of Scents of Self, Dana El Masri of The Scentinel (who is launching her own line of fragrance),Hernando Courtright, Darryl Do of Delbia Do, Mark Behnke of Colognoisseur and Ida Meister of Fragrantica.
Thanks to Pascal Rolland of Absolument Parfumeur we have a draw for two carded samples of both La Treizieme Note perfumes Homme and Elle to one US Resident. To be eligible, tell us what you enjoyed reading about in our wrap-up. Draw ends February 10, 2014
We announce the winners only on site and on our Facebook page, so Like Cafleurebon and use our RSS option…or your dream prize will be just spilled perfume.