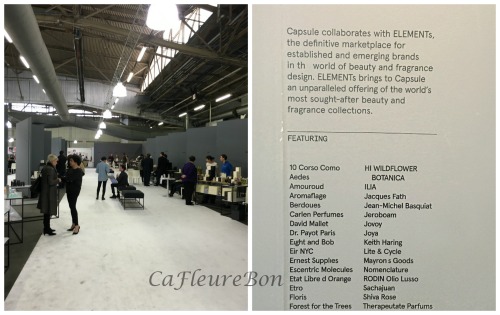 Elements Showcase February 22, 2016 at Capsule A/W 2016 Pier 64
ÇaFleureBon has been attending The Elements Showcase since 2011, where we met such scent stars as Stephane Humbert Lucas, Ineke, Etienne de Swardt, Gerald Ghislain of Histoires de Parfums and discovered lines like Belle Fleur, Carner Barcelona, Andrea Maack and Blood Concept to name a few. What was once a two story exhibition has been curated to a smaller selection of scent. Elements is now tied to the fashion show Capsule which is held at Pier 94 711 12th Avenue in New York City. One trend was all natural or products with a high percentage of natural ingredients and you couldn't help notice that Brooklyn is the new Paris.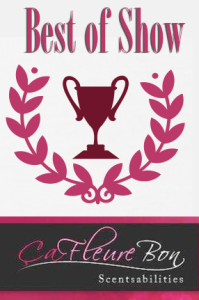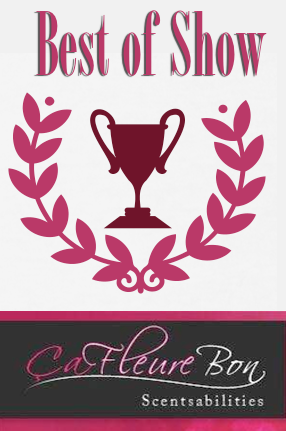 Good things do come in small spaces and as is our tradition, we hand out Best of Show Awards to the discoveries and people that made the event new and noteworthy.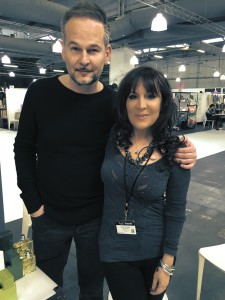 Geza with Michelyn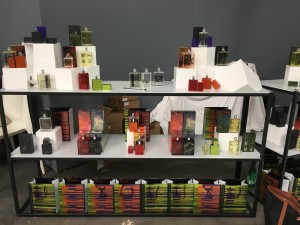 Escentric Molecules and A Beautiful Mind Volume 1 and 2 (Project Renegade to follow when I am permitted by Herr Schoen)
BFF (Best Friend in Fragrance ) and Breaking News: It is no secret that I admire (and have a teensy scent crush on Geza Schoen, he of Escentric Molecules, A Beautiful Mind, Ormonde Jayne, Ephemera Unsound) … the scoop is Geza with buddy Perfumer Mark Buxton is almost ready to launch a new brand Project Renegade, two fragrances that are based on Peruvian Pink Pepper. I admit when he told me I wrinkled my nose. Pink Pepper? But this is a fruity rich and dimensional varietal that smells heavenly on my skin. The design of the packaging which is embargoed at this time is a cross between a psychedelic Lucy in The Sky with Diamonds and a mandela kaledeiscope. Then there is a sculpted silvertone "rendition" of Mark and Geza that look diabolical. The whole presentation is fabulous and takes the Overall Best Of Show award. 100ml /$145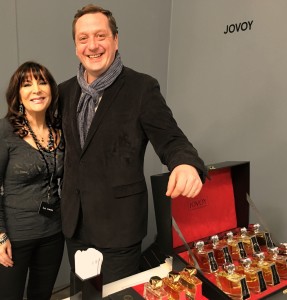 Only Francois Henin of Jovoy can get our EIC to smile…
Best Smelling Perfume Person: The award goes to Francois Henin of Jovoy Paris, aka the Ambassador of French Perfumery (who I was delighted to see ) wearing L'Art de la Guerre (The Art of War) which is an artful fougere with a surprising rhubarb (the it note for 2016) note blended with immortelle and oakmoss, composed in 2014 byVanina Muracole. Make Love Not War, a real seducer that had me leaning in a little closer. News? Mais oui, bien sur… a French niche brand will soon be opening a boutique within a boutique inside Jovoy Paris.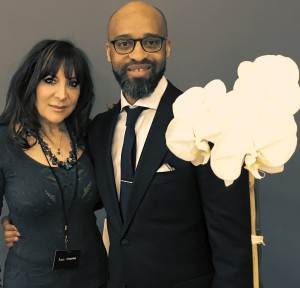 Michelyn and Former CaFleureBon Editor and Perfumer Rodney T Hughes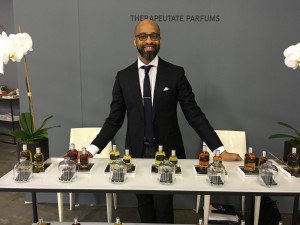 Hand crafted in Bed Stuy… THERAPEUTATE Parfums debuts at Elements Showcase
Girls Go Crazy for a Sharp Dressed Man (Naturally): Best natural perfume went to former Natural Perfumery Editor Rodney T Hughes for his newly re dressed up line of botanical fragrances under Therapeutate . Yes, we still get drunk sniffing 5VDKA
FUR to keep your manscaping and Brazilian fresh (all natural)
You Can't make this up award: Fur a new line of botanical oils to soften…. lube your pubes.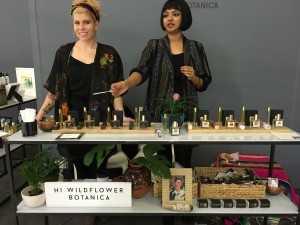 Melissa with Tanwi Nandini Islam… Hi Flower Botanica
Best Discovery Artisan: Before I even tested the line the photo of Frida Khalo stopped me. Straight out of Bushwick Brooklyn Tanwi Nandini Islam (author of Bright Lines) has a new artisan line that really impressed Hernando and me. Called Hi Wildflower Botanica… Every scent and candle is created in small batches and wildflowers that grow all over the world inspires Tanwi… Namaka with tiare, mimosa and coconut milk was my favorite and Hernando fell for Night Blossom, a narcotic white floral with champaca, jasmine and fossilized amber. Tanwi thinks globally but acts locally, reads CaFleureBon and now she is on your radar as well.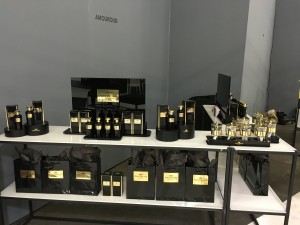 Amour Oud Parfums
Editor's favorites: While I am not crazy about the brand name Amour Oud, because I have little "amour for oud" generally, there are four fragrances and two standouts… Dark Orchid a sexy fruity floral , and Santales de Indes, a creamy soft sandwood that will please just about anyone.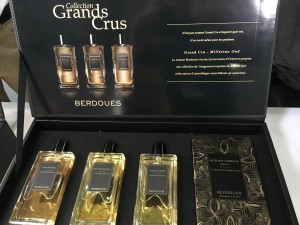 From Berdoues more oud, sigh… but really really good the kind even I will wear . Millesime Oud Les Collections Grands Cru has three scents and even this oud a phobe loved Oud Wa Vanilla. Coming soon to Twisted Lily.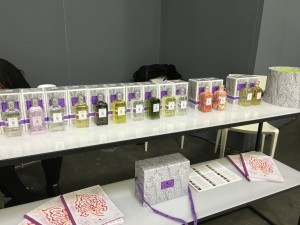 Etro Display at Elements 2016
Back and we are glad: Etro, while most every perfumista knows the church incense smolder of Messe de Minuit, there are nearly 30 scents in the line, including two new luxe perfumes that are sold at Barneys New York. MC liked Jaquard, a lush floral laced with vetiver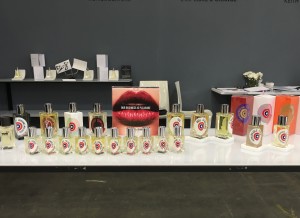 Mini Me's: Select Etat Libre d'Orange fragrances are now available in 30 ml sizes for $59. Subversive for less.
Stopped by: Mattia Bono from Chabaud Maison de Parfum… you will be reading more about the brand here soon
More highlights from the Show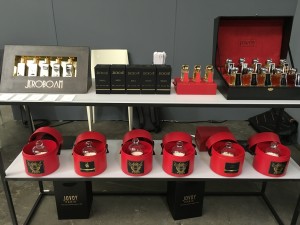 Jovoy and Jerobaum presentation (Francois said Ambre Premier by Cecicle Zarokian smelled sexy on Michelyn (she is loading her cart now)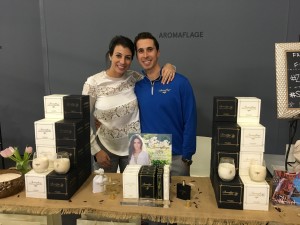 Aromaflage candles acts as an inspect repellent Melissa Feinsterstock and her equally adorable hubby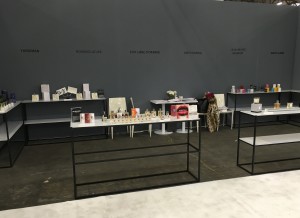 Europerfumes booth featuring Nomenclature, ELdO, Basquiat and Eight & Bob that have two new scents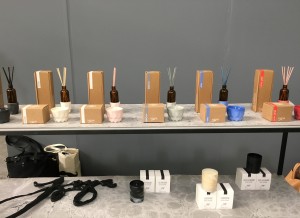 JOYA Studio Candles and diffusers founder Frederick Bouchardy and Elements organizer (soon to be our 100th Profile in American Perfumery feature) I ran into Dana El Masri at Joya and can it be she is working with Frederick?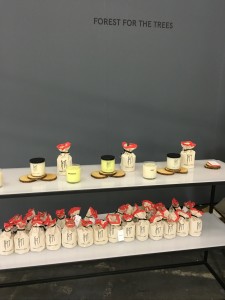 Forest for The Trees Candles cute packaging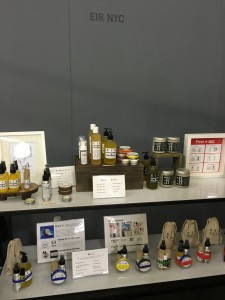 Eir NYC organic body care
–Michelyn Camen, Editor and Chief and Hernando Courtright, Event Contributor (and photographer)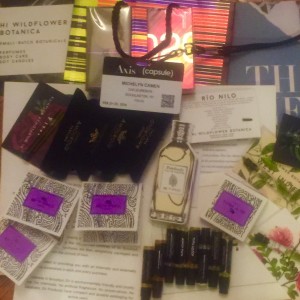 Thanks to the Elements vendors and perfumers who were so gracious, we have a swag bag that includes 15 ml of Escentric 01 and 03, 10 ml sprays of Amour Oud, Etro samples,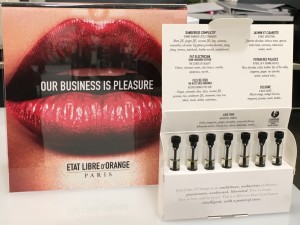 An Etat Libre D'orange Discovery Kit, samples of Hi Wildflower, 15 samples of assorted Jovoy Paris perfumes including L'Art de la Guerre, best selling Private Label and more. To be eligible you must be a registered US reader and leave a comment with what line interested you or one you want to hear more about in the future. Draw closes 2/25/2016.
We announce winners only on site and our Facebook page, so like Cafleurebon or use our RSS option…or your dream prize will just be spilled perfume