The first Elements Showcase in January 2011 was Frederick Bouchardy, Ulrich Lang (who was not involved this show) and Jeffrey Lawson's vision for an exhibition to spotlight artistic and emerging perfume and beauty brands. Over the years it was at Elements that we first fell in love with Belle Fleur Home Fragrances, MCMC, Olfactive Studio, Andrea Maack, Rouge Bunny Rouge, Grandiflora Michel and Sandrine, Beau Rhee of Atelier Geste, Suleko, David Falsberg's Phoenicia Far Nwest and quite a few more. There was a hiatus from February 2014 until Sept 17, 2015 when Elements partnered with Capsule New York and Axis at Pier 94 in New York City. It was part of a much larger fashion and accessories exhibition.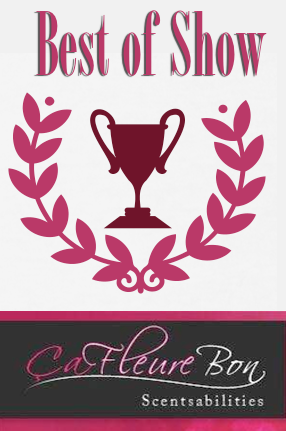 This year Sr Contributor Hernando Courtright joined me as we greeted old friends and made new acquaintances. The exhibition was vastly scaled down from past years, but it made for a more intimate experience and featured well curated fragrance and beauty collections. It has been a tradition to recap the offerings and award Best of Show.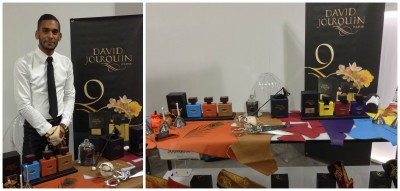 David Jourquim Paris Best of Show
Best Presentation-Our first stop was David Jourquim and David greeted us warmly although we had never met in person. The charismatic David Jourquim has a fashion background and is an artistic and knowledgeable creative director, with a very clear vision and keen sense of fragrance. He has a strong connection to leather, based on olfactive memories of his mother's leather coats thus each perfume from bottle to jus is based on leather. I was familiar with David Jourquin Cuir Tabac. We awarded Cecile Zarokian best perfumer of 2014; she signed Cuir De R'Eve, a sensual feminine fragrance that pays homage to 1920s with notes of heliotrope, berries,iris and sumptuous leather. It was Cuir Solaire that captured my heart, sunbaked leather redolent of orange blossom and sweet lime that transported me to Andalusia . I was able to preview of his next scent and although it is still not ready, it might be the best yet. Each sample is beautifully packaged in leatherette pouches in rainbow colors.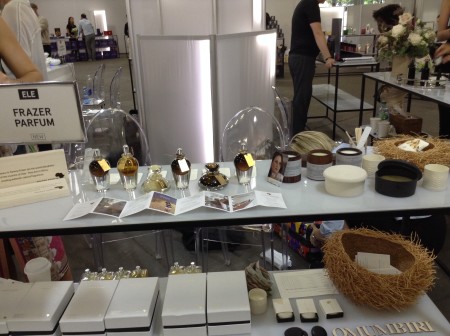 Frazer Parfum Luxury Natural Perfumes
Best Discovery: Frazer Parfums was founded in 2008 by Tammy, the grand-daughter of Graham Wulff, inventor of Olay. She is an artisan perfumer from South Africa who composes organic and natural perfumes sourcing raw materials in collaboration with African artisans. At Elements Capsule, her sister Jenny presented the African Collection of six fragrances inspired by raw materials sourced on the African continent. The collection has four soliflore fragrances (jasmine, orange blossom, ylang and rose) and two complex accords: Namibia and After The Rains. These are perfume oils housed in beautifully sculpted flacons. The two standouts for me are African Ylang–Ylang, a complex scent that gives new meaning to soliflore… a creamy humid ylang ylang; a little sweet with subtle spice and light moss at the drydown. Jenny told me that Namibia marks the first ever use of omumbiri resin, a desert resin that has been harvested for centuries by the nomadic Himba tribe. This scent is golden and honeyed throughout, with nutty caramel toffee complimented by notes from the local Mopane tree resin. Natural fragrance is usually not considered luxury, but the brand is sold in Harrods. Hoping they will be sold in the USA soon.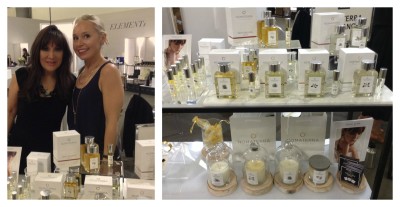 Editor in Chief Michelyn Camen with Aggie Sygnarowicz Burnett of Nomaterra
Best Redesign of a Brand: Aggie Sygnarowicz Burnett, a former beauty editor and world explorer, is the founder of Nomaterra. The brand debuted at Elements Showcase in January of 2013 and we have written extensively about each fragrance each inspired by a US destination (Ohau, Cape Cod, Brooklyn, Boston, Malibu, Savannah, East Hampton, DC, Miami), featuring a key ingredient inherent to the sense of place. Candles and Fragrance Wipes were added since we last 'discovered" Nomaterra. The new packaging is upscale, yet the prices are still, ranging from $55- $130. The soon to be released fragrance New Orleans features the hypnotic datura flower and had me in its spell.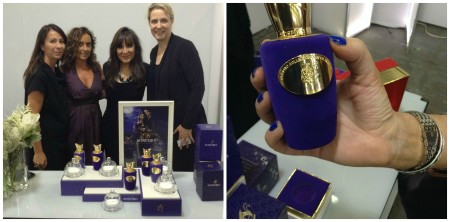 Marlena Miglin Egan and the US Team of Xerjoff and a great shot of my mani matching the bottle
Best new brand: Creative Director Sergio Momo Of Xerjoff, who I interviewed in March 2011, is the new emperor of scent. Recently, he expanded the Xerjoff empire and debuted his new brand Sospiro, roughly translated from Italian (calling Ermano) as Breathless. I missed Sergio but caught up with old friend and US distributor Marlena Miglin Egan who explained that the brand, which has 12 perfumes, is inspired by romance. I need to revisit the fragrances but my favorite of the few I tested was the smoky sultry Laylati with a smoldering tobacco note slightly sweetened by vanilla at the dry down.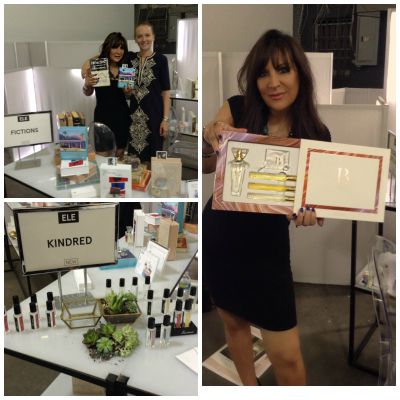 Michelyn with Ann Colville Somma of Tru Fragrance holding Anthropolgie LA She Called But He Was Not Available, John Updike's Problems and Other Stories, Sarah Horowitz Thran Biographies-Scent of Self and perfumes
Most fun booth to visit: Hands down Tru Fragrance. I met VP of Product Development, Ann Colville Somma who was representing Anthropolige Fictions, (which features Josh Meyer's LA She Called But He Was Unavailable one of our top 5 back to school picks), Sarah Horowitz Thran's Biographies Scents of Self (Sarah, if you need me to hold your coffee next time you are on QVC, I am so there; love Scent of Passion) and Kindred a collection of simple perfume oils priced at under $20.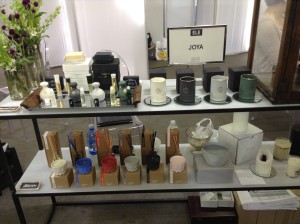 Joya
Elements ShowCase co-founder Frederick Bouchardy is also the founder of Joya Studio. They had a lovely display of perfumes and new candles. Unfortunately, he was busy with a buyer so I will have to get further details.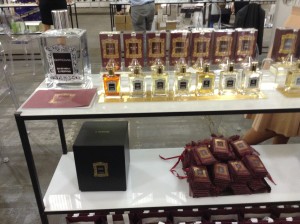 Il Profumo (coming to a NYC luxe retailer soon)
Il Profumo, created by Silvana Casoli, has a new US distributor, CVL Cosmetics. I have been a fan of Chocolat Frais, a dusky cocoa sweetened by pomegranate and a surprising note of absinthe for some time. Black Dianthus is new to the line.

AMERIKAS Jovoy, Berdoues, Floris
Industry Veteran Jose Penalba of AMERIKAS, is now representing two favorite lines; Floris London, the oldest English Fragrance brand founded in 1730 and still run by the family 9 generations later, as well as Francois Henin's Jovoy Paris perfumes and the newish extraits. Berdoues is another collection in his portofolio. He graciously allowed me to speak my "comme ci comme ca" French and we are taking a meeting very soon.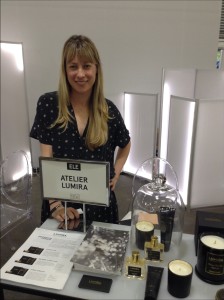 Almira Armstrong of Atelier Lumira
Lumira, known for their candles inspired by travel (yes Ylang-Ylang is my favorite, there is a pattern here) also launched Paradisium a new EDP with notes of fig, guava, sea moss with a bright burst of citrus at the top.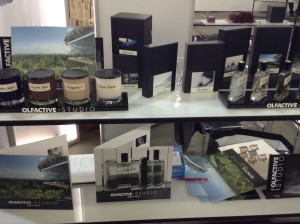 Olfactive Studio founded by creative director Celine Verleure, (made their US debut at Elements as previously mentioned) had a lovely display , but alas no Selfie. Its on the water. Review coming soon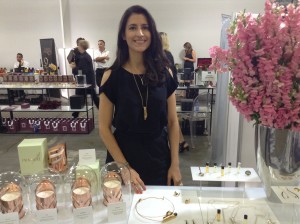 Natalia Outeda of Frassei candles and jewelry
Frassei hails from Buenos Aries, a city close to my heart. The candles are works of art themselves. Natalia Outeda is the owner and founder and each candle holder is finished with a base made from lenga wood, a tree that grows in the southernmost part of Argentina. The brand expanded into jewelry as well. Fellow writer and fragrance expert Caro Fernandez tipped me off to this beautiful line and now you are in the know.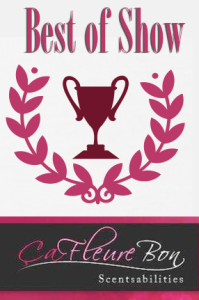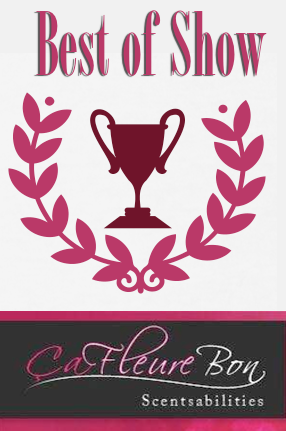 Best of Beauty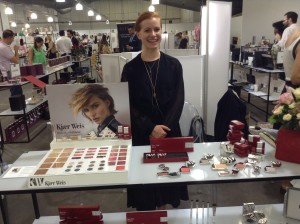 Kjaer Weiss Organic Beauty
Kjaer Weiss is a certified organic line of highly curated selection of mostly cream makeup up for the face, eyes, lips as well as a brush collection, which has been featured in many major US magazines including Allure, Vogue and Bazaar. Danish Kjaer born Kirsten Weiss has created a collection that features sleek and beautifully designed interchangeable packaging. The award winning Radiance highlighter was my favorite of the collection.
Lift Lab skincare is the brain child of CEO Elliot Entis, who discovered proteins in the Arctic that protected the wild life from sub zero temperatures. According to Elliot, CPP® is central to LIFTLAB's unique collection of anti-aging skin care. This 100% natural biological ingredient has been proven to perform by both stringent clinical and in vitro testing. When used at the appropriate concentrations, the Cell Protection Protein developed by his team CPP® encourages skin to produce over 40 of its own proteins responsible for skin protection and renewal; proteins that promote the formation of collagen, elastin, fibrinogen and antioxidants. The Lift+ Firm got me thinking about my neck and I am anxious to try it VERY SOON.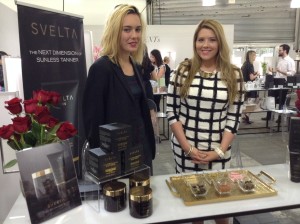 Svetla Self Tanner and Sugar Scrubs (Hernando has the scrubs, I grabbed the tanners)
I love my self tanners and am always looking for a holy grail self tanner, that smells pleasant, and doesn't turn me oompa loompa orange. Moe Kittenah the CEO of Svelta, claims this self tanner not only will add believable color that won't transfer, but will firm and tighten the skin. There is Hyaluronic acid in the formula, which is proven to plump and hydrate the skin. So far I tested it on my face, but can't wait to try a total body tan.
-Michelyn Camen, Editor in Chief
All photos by Sr Contributor Hernando Courtright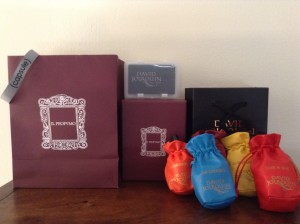 We are dipping into our stash of great samples and full size products and are offering a swag bag filled with great perfume and beauty items for a US registered reader. You must register, folks. To be eligible please leave a quality comment with what caught your fancy and what you are interested. Draw ends 9/23/2015
We announce the winners on our site and on our Facebook page, so Like Cafleurebon and use our RSS option…or your dream prize will be just spilled perfume