Edward Bess, photo Vanity Fair©
With his moody, epicene beauty and pre-Raphaelite mane, make-up artist extraordinaire Edward Bess looks as if he leapt from the pen of Lord Byron into the 21st century. Edward Bess, a Charleston native, is known for his eponymous luxe cosmetics line and A-list clientele. The brand recently celebrated its 10th anniversary, and to commemorate the milestone, Edward Bess teamed with master perfumer Carlos Benaim to create three poetic new perfumes: the brooding, smoky Genre, sensual skin scent Spanish Veil and carefree but sultry La Femme Boheme. Each perfume is built around three listed notes (though there are clearly unnamed others) and walks a fine line between refined subtlety and naughty audaciousness.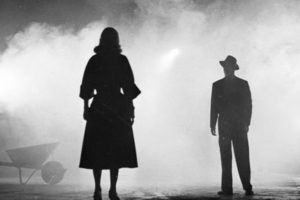 Still from The Big Combo, 1955
A Noirish tale of lonely dark alleyways … Or perhaps the first paragraphs of a gothic romance set high on a moor … Genre unfolds its secrets slowly. Starting with smudgy frankincense, soft smoke that undulates between the smell of kohl, pine and wood ash, Genre first seems like a classic woody incense fragrance. But as its smoke billows gently, a velvety lactonic note comes out that gradually reveals itself to be a suede. That creamy aspect comes forward again as the suede develops, and the pinch of pine from the opening becomes more apparent.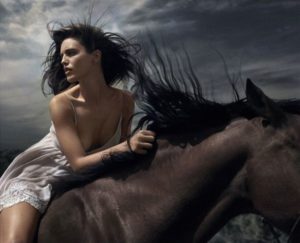 Emily DiDonato, photo by Vincent Peters for Vogue Italia November 2013©
The notes for Genre list "living stallion," which may suggest horsey, sweaty aromas, and indeed, they are there but subdued, balanced, with none of the cumin that one might expect. Genre has an impressionist animalism: it suggests skank indirectly, allowing the smoky, green and suede notes to stay at the forefront, while a thin current of what I think is labdanum courses just underneath. Genre defies genres. Green woody perfume, pitchy incense, refined suede, wild animalism; they are all there, kept in perfect balance for you to make up your own mind which Genre it is. Notes: Frankincense, suede, living stallion.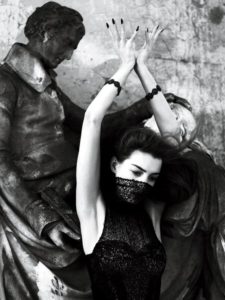 Anne Hathaway, photo by Mert + Marcus
How do you create the fragrance of shadow, the suggestion of skin hidden tantalizingly behind the thinnest gauze? Spanish Veil is a contradiction: a skin scent that somehow teeters into voluptuousness yet never strays far from the body. Its opening is pure tonka bean, creamy and vanillic as soft-serve ice cream, so luscious it seems downright edible. Guaiac wood, which has a lactonic quality itself, is the perfect pairing for the sweet milkiness of tonka, adding a woody-nutmeg note.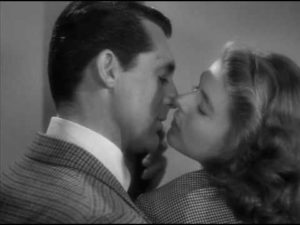 Cary Grant and Ingrid Bergman in Notorious, 1946
It takes a while for sandalwood to stand out, but when it does, Spanish Veil starts to move from decidedly feminine into genderless territory, smelling like sun-warmed skin with a touch of creamy florals. Spanish Veil would be absolutely delicious to nuzzle into on a masculine or female neck. Notes: Pure sandalwood, tonka, guaiac wood.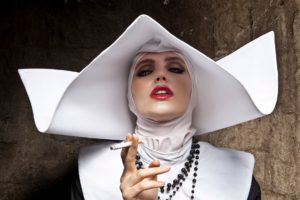 Smoking Nun, photo by Formento + Formento©
Buttoned-up powder combined with skank is like a lush nun – alluring in a way that feels quite wrong. And yet, it works. La Femme Boheme is equal parts breeze-blown ingenue and mid-range call girl: cigarette-smoking, honeyed florals shimmying their way around rice powder and the summery smell of dried grass.
Carlos Benaim
Benaim has a way of taking fleeting florals (he is the nose behind Frederic Malle's Eau de Magnolia) and adding unexpected fleshy notes that turn them into something quietly but assertively sexy.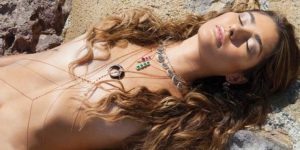 Photo, Jacquie Aiche marketing campaign, summer 2014©
Here, he pairs the vintage elegance of face powder with a decidedly indolic jasmine, and throws in equal parts city and country girl notes with tobacco ash and makeup, milk and hay. There are facets of Love's Baby Soft, bridal bouquet florals, cigarettes, breakfast cereal and nappies, all floating over a warm, fluid base of amber and wildflower honey. With her redolence of rolls in the hay and nights on the town, La Femme Boheme is clearly running in the same pack as Masque Milano's Times Square and Anatole LeBreton's Eau Scandaleuse perfumes: well-bred gals with a love of mornings after. Notes: Amber, honey, jasmine absolute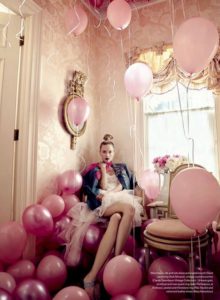 We're All Mad fashion editorial, photo by Owen Bruce for ELLE Canada, Sept 2015©
While both Spanish Veil and Femme Boheme wear close to the skin, they are tenacious, each lasting from morning till night. Genre has rather more projection and is likewise tenacious. Here's hoping Bess and Benaim find more reasons to celebrate soon.
— Lauryn Beer, Senior Editor
Samples provided by Aedes de Venustas – many thanks, as always. My opinions are my own.


Edward Bess La Femme Boheme, Genre and Spanish Veil

Thanks to the generosity of Aedes de Venustas, we have samples of Genre, Spanish Veil and Femme Boheme for 1 registered reader in the U.S. (if you are not sure if you are registered click here). To be eligible, please leave a comment saying what appeals to you about Genre, Spanish Veil or Femme Boheme, and whether you are familiar with Edward Bess' cosmetics line. Draw closes 12/11/2017.
We announce the winners on our site and on our Facebook page, so like Cafleurebon and use our RSS feed … or your dream prize will be just spilled perfume.