Eric Buterbaugh Florist and Creative Director of EB Florals
From the inaugral EB Florals perfume collection in 2014, Los Angeles Florist to the Stars Eric Buterbaugh , in collaboration with Firmenich perfumers Harry Fremont, Pierre Negrin, Honorine Blanc and Ilias Ermenidis, has been exploring floral fragrances and focusing his work on that field alone.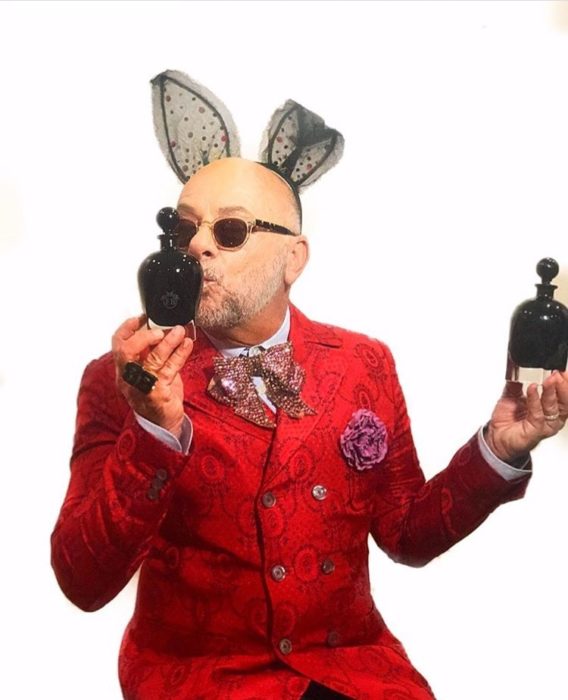 Eric Buterbaugh via Instagram @ericbuterbaugh
But as EB Florals started to extend its reach beyond its US home market, towards regions – such as the Middle-East – where a taste exists for scents that are neither exclusively floral nor necessarily gentle, the idea of an EB Floral Ouds Collection started to make more and more sense. The result is a trio of oud fragrances: Floral Oud Orange Flower, Rose and Lily of The Valley.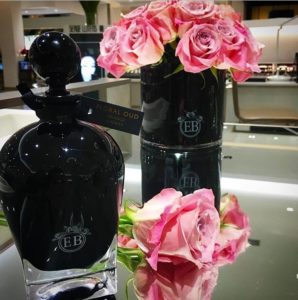 Eric Butterbaugh Floral Oud Rose was composed by Honorine Blanc
Each are carefully designed with the specific intention of weaving the effervescent and refined floral elements that Eric Buterbaugh is known for, into the magical and sometimes mysteriously dark profile of an oud accord that is tamed to allow the florals to breathe and blossom. The resulting eau de parfums bring an entirely different perspective to Eric Buterbaugh's floral perfume creations, a subtle, new and original interpretation of oud-centric fragrances.
Rose, Orange Flower… these are floral notes one would expect paired with oud. But Lily of the Valley? I was intrigued.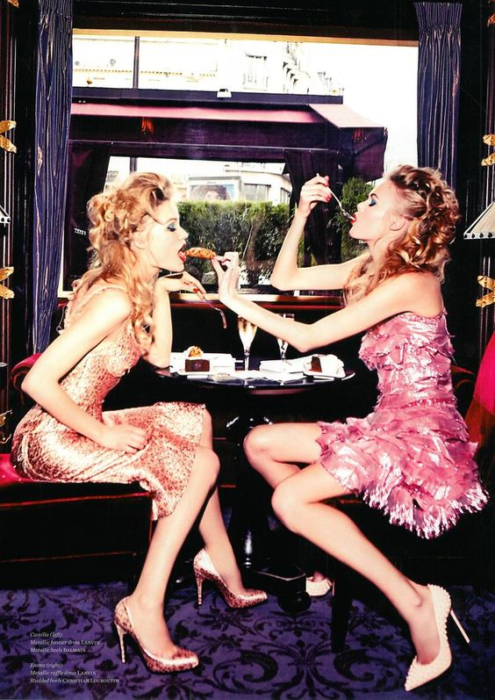 Camilla Christensen & Emma Stern Nielsen by Ellen Von Unwerth for Vs. S/S 2014©
When I wore Ilias Ermenidis' EB Floral Oud Lily of the Valley for the very first time it was like opening a door into a patisserie. I found myself in our neighborhood bakery, the mouthwatering scents of fruits and berries, spiced with what seemed nutmeg and cardamom, filled my nose and tempted my palate. The suggestion of baked goods was enveloped by the unmistakable hazy sweetness and woody elegance of a smoky, slightly phenolic oud accord. As Floral Oud Lily of the Valley dried down I was embraced by a faint tuberose, amber and sandalwood. I could sense not only the fruity fillings of the pastries but their buttery, flakey crusts as well. This unique aromatic effect was my first experience with the fragrance. There was much more to come.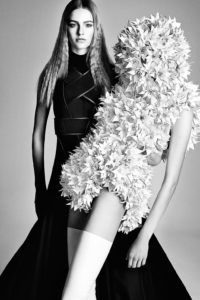 Maartje Verhoef by Luigi & Iango for Vogue Japan, April 2015©
Floral Oud Lily of the Valley is described on the EB Florals website as a "…union of opposites…". It seemed that the strong woody oud and rich gourmand quality of the fragrance, under less skilled hands could have overwhelmed the opposite – the elegant and ethereal simplicity of Lily of the Valley.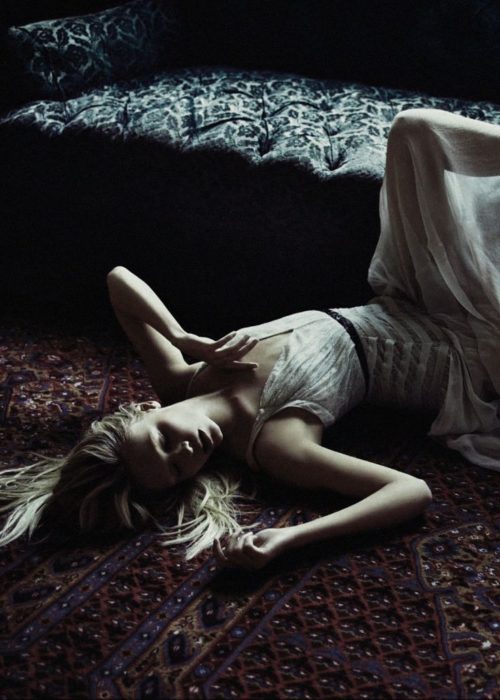 Natasha Poly in "Clair de Jour" by Mario Sorrenti for Vogue Paris©
As the hours passed I kept sniffing for the shy flower but it remained hidden at first. Eventually I fell into a deep sleep. I awoke the next morning at first light to a smoky September dawn. Despite the heat and haze I smelled something cool and fresh that reminded me of a spring morning. The aromas of the bakery had drifted away overnight. Even the oud had vanished. All that remained on my skin was a vague suggestion of sandalwood and the gentle breath of Lily of the Valley, cool, white, waxen and fresh.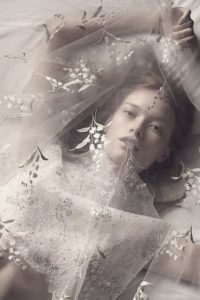 Vogue China, 2014 @
It is easy to lose sight of the small and exquisite, to overlook the little flowers that bloom in shady, hidden gardens. The bright and colorful blooms and scents will, of course, come to the fore but it is good to remember that the shy, retiring elements will be working in the background, changing everything. It took me a few wearings to begin to appreciate the effect of Lily of the Valley in this new perfume. Within the sumptuous, luxurious and vivid colors and textures, woven through and hidden behind the more outgoing aromas, the tiny exquisite, unassuming Lily of the Valley was creating her own magic. If we wait and are patient, these modest beauties will find us and the hidden magic will be revealed.
Notes: Blackcurrant bud, bergamot, Lily of the Valley, tuberose, oud, amber and sandalwood.
Disclaimer: I would like to thank Eric Buterbaugh and EB Florals for sending me the Floral Oud Lily of the Valley Eau de Parfum. My opinions are my own.
–Gail Gross. Editor
Art Director: Michelyn Camen Editor-in-Chief with contributions #exactly (wink to Eric)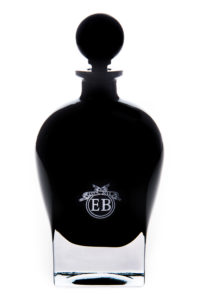 This is the 100 ml bottle
Thanks to EB Florals and Eric Buterbaugh we have one 10ml sprayer of EDP Floral Oud Lily of The Valley (valued at $95) for one registered reader residing in the USA. If you are not sure you are registered click here. To be eligible for the draw, please leave a comment with what appeals to you about Gail's review of E Florals Oud Lily of The Valley, if you have a favorite EB Florals fragrance and what floral would you like to see paired with oud. Draw closes September 14, 2017
Follow us @cafleurebon @ericbuterbaughcollections
We announce the winners only on site and on our Facebook page, so Like Cafleurebon and use our RSS FEED…or your dream prize will be just spilled perfume.