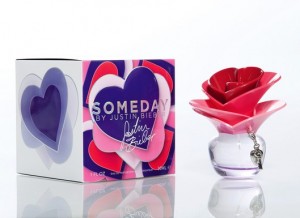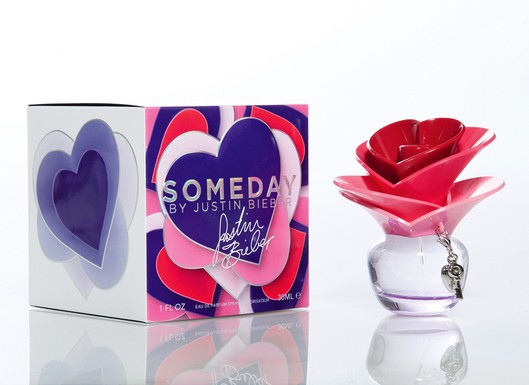 The box and bottle for Someday by Justin Beiber.
Photo By Robert Mitra
From the Buddha to Bieber…only on www.cafleurebon.com
Another scent that might make Geza Schoen "fume"? The proof will be in the jus as teen heartthrob Justin Bieber announced his first prestige scent today according to Women's Wear Daily called "Someday", a fruity floral gourmand by Honorine Blanc of Firmenich (the choice of video is mine) and aimed for the female14-18 yr old demographic.
"Continuing with his giving ways, the pop star will donate a portion of the scent's profits to two of his favorite charities, Pencils of Promise and the Make-A-Wish Foundation. "Not only am I able to create a fragrance for all my fans, but I am able to give back to charity, which is a huge priority for me," he adds. "The people at Give Back Brands really get me, and what I represent and care about."
Bieber fans will be able to get their hands on the fragrance in June. It will be available as an eau de parfum spray, priced at $35 for a 1-ounce bottle; $45 for the 1.7-ounce version; and $55 for 3.4-ounce bottle. No ticket to his latest performance included!
Bieber's barber wasn't available for comment.
–Michelyn Camen, Editor in Chief
How do you feel about the new EDP? Does it have a niche with that 14-18 year old (who is wearing Lola by Marc Jacobs ;X and Vera Wang)? Will you give it a sniff or as a gift? PS: I would have begged my parents for a David Cassidy fragrance back in the day at 8 yrs.But I saw him on the Apprentice… and my heart did not throb.