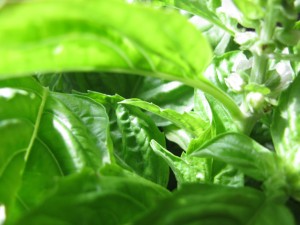 Let's start with basil. Basil as fresh from the garden as this, leaves so tender they'll bruise black from the wrong touch, a dark green smell that gives off an anisic sweetness when you pull the herb apart to sprinkle it on your food. Imagine that basil muddled in artisanal handmade tequila and accented with drops of yuzu juice and a curl of lime, with tiny black basil seeds floating among the ice just to give it interest and texture. Imagine that basil in a cocktail as fresh and light as a mojito but without the sticky sweetness, a drink that lifted your spirits as well as your nose and somehow pleased and cleansed your palate at the same time.
That was just the cocktail.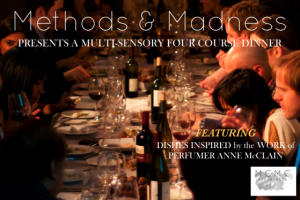 Every one of the six courses of chef Tessa Liebman's "Methods and Madness" dinner inspired by MCMC Fragrances was just as insanely detailed and carefully created. Every course was inspired by a particular MCMC fragrance, created by Anne McClain, and reflecting McClain's gift of mixing up elixirs that evoke the natural and invoke the emotional.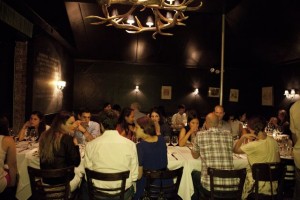 [photo credit Flora Hanitijo, http://florahanitijo.com/]
The thirty lucky diners tended to fall into two camps: those who had come because they were already in love with the food, and those who had come because they were already in love with the fragrances. Neither was disappointed. Chef Tessa Liebman likes to work to an inspirational structure – thus the "Methods & Madness" name, for which she has also done a dinner, for instance, reflecting every letter of the alphabet – and MCMC's scents provided fantastic structures on which to build food.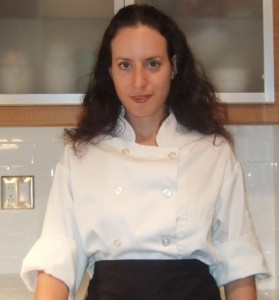 The dish that produced the most moans of joy was the duck confited with jasmine flowers and white peppercorns, served with smoked wheatberries and sunchoke and nettle puree, and touched with Aftelier Perfumes' Jasmine Absolute chef's essence. Each leg of duck was capped with its own perfectly crisp, luciously unctuous skin and the greens and the jasmine managed to take what should have been a heavy, fatty dish and made it float. Whether or not you love Noble, the fragrance that inspired it, you'd have to love that duck.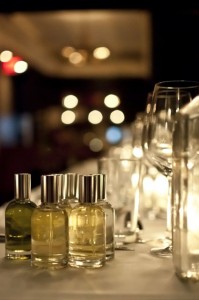 [photo credit Aditi Das]
The cocktail was inspired by Love, and Maine, my favorite MCMC scent, inspired a dish of a perfect oyster with beach plum jam served with seaweed that had swum in rose- and pine-infused seawater from Maine itself. Yes, this is the kind of attention to detail brought to every dish, as well as to the hand-decanted small bowls of coffee served between each course and introduced by its own passionate barista, Ezra Baker, and to the gleaming glasses of superb wines from Scribe Winery in California, which helped sponsor the event. (http://scribewinery.com/)
Stuffy the event was not. Both the chef and the perfumer were on hand to chat, travel the tables, and share in the excitement. Firmly in the perfume-loving camp, I had hoped that we would get some glimpses of the new Humanity project perfumes, and indeed we did.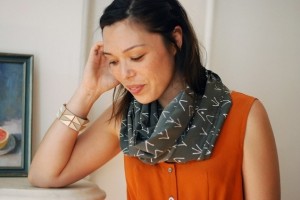 You may know that MCMC Fragrances recently traveled to Cambodia, volunteering at an orphanage there and visiting ancient temples. We have not one but two perfumes to look forward to inspired by this second go-round of the Humanity project, and each one got their own course.
Savaan the perfume was a dessert. The bergamot opening led to a fruity mango accord, sweetened with peach and tarted up with grapefruit peel. The edible dessert that it inspired was a bergamot-almond panna cotta, with mango, grapefruit, and peach touches of puree. This was a lovely scent, one that's going to very much please people who love their luscious fruit perfumes. If you're a fan of anything from classic Yvresse by Yves Saint Laurent to Neela Vermeire's Bombay Bling, you're going to love the slightly more restrained but just as elegantly juicy Savaan.
I must say though that it was Amara that captured my heart. Don't turn away when I say "oud" – I didn't even realize this was an oud scent as I was busy falling in love with it. The black pepper and the cardamom and the wood, both tree and incense stick, made for a sensual perfume appropriate to a temple. Imagine a cardamom-scented cookie melting in your mouth under a sun-dappled tree while incense smoke curls up into the sky. That's Amara. I can't wait to live in it. The dish it inspired was a tender white fish, fluke, marinated in coconut milk and lime, almost like a ceviche but much more gentle, with extremely balanced flavors of lime, black pepper, and cardamom. Like the perfume, the dish it inspired was probably my favorite.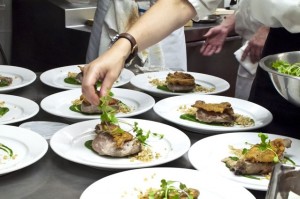 [photo credit Aditi Das]
And if you're curious, the other course a steamed tamal (also a huge hit) with maple vanilla roasted cippolini mushrooms, inspired by Hunter perfume. Vermont sugar houses, the southwestern comfort food tamales, mushrooms from a fir forest and a touch of Bourbon? Yes, why not? Tessa Liebman has a tremendous gift for originality. None of her dishes were built on any particular national cuisine you might be familiar with, all the combinations felt as imaginative as a friendly monster out of a storybook; yet they were all so balanced, so carefully thought through, that the experience of eating was consistently luxurious and surprising, and yet somehow as comfortable and familiar as your own doorstep. Without ever seeming precious, every molecule on the plate reflected the thoughtfulness and interest of the chef. How does food manage to be engaging, charming, even demurely witty? I have no idea. No wonder the diners were cheering her name by the end!
Smelling with the eyes, tasting with the nose – food is an all-encompassing sense experience for me, but rarely are all those senses as satisfied as they were at the July 29 "Methods and Madness" dinner composed and executed by chef Tessa Liebman. Too much purple prose? I'm sorry – it was unavoidable in this case! Hopefully, like me, you're now just as eagerly awaiting your chance to buy the new Humanity 2 perfumes, Savaan and Amara. If all this detail is overwhelming for you, let me just write you a postcard, "Wish you'd been here," and drop it in the mail to you. Don't mind the stains. It's just wine and seawater and perfume.
-Judith Tabron of The Unseen Censer, Guest Contributor