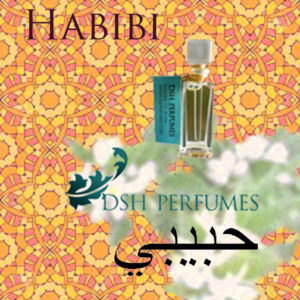 My love, my darling, my baby, my sweetheart – these are a few of the English terms of endearment for the lovers in our lives, expressions that can be represented by the Arabic word Habibi (or the feminine Habibta, my angel). Habibi is also the name of the new fragrance by Dawn Spencer Hurwitz, created in a classically Middle Eastern style.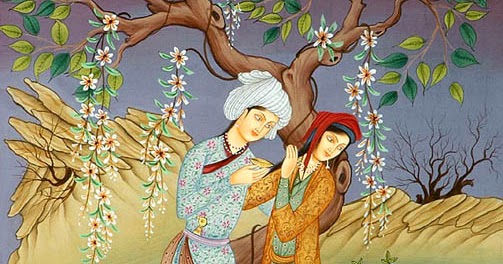 Layla and Majnun via wikipedia
Perfumes can paint pictures, tell stories, evoke and restore memories and even sing to our imaginations of romance and epic poetry; songs of long ago and far away. For me, the scent profile of DSH Perfumes' Habibi, which she created as homage to orange blossoms and honey, recalls the love story of Layla and Majnun, a popular 7th century Arabian romance made famous in verse by the 12th century Persian poet Nizami Ganjavi. Wearing Habibi I envision the childhood sweethearts, the girl Layla al Aamiriya (Layl, ليل for the night, the color of her shining dark hair) and her young, would-be lover Qays ibn al-Mulawwah, known as Majnun, the possessed one, mad with passion and burning with desire for his darling Layla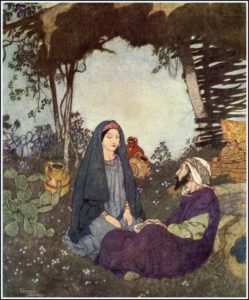 Illustration by Edmund Dulac 1910
My vision of Habibi opens to a full moon on a summer evening. The swirling scent of burning oud, kissed with a hint of metallic saffron and bright bergamot, illuminates the midnight tryst of the innocent pair. The sweethearts find themselves in a mysterious garden, a grove where citrus trees bloom, filling the humid night air with the rich and heady scent of orange blossoms and honey. Majnun offers his love a bouquet of jasmine, champaca and roses. Layla proffers her youthful Habibi a glass of wine, scented with musk.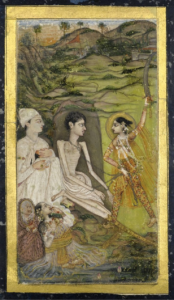 Layla and Majnun, attributable to Ghulam Reza, Awadh, Lucknow, c.1780
Their lips do not meet or even touch the glass, but both are intoxicated by the dusky aroma, by the perfumes of the flowers and trees, the honey, the air of the shadowy moonlit garden and by the their unrequited passion for one another. For two hours and more I dream of Layla and Majnun, the star crossed lovers whose story is often told as a metaphor for Divine love. Habibi slowly dries down, very close to the skin. The saffron and oud combine with sandalwood, opoponax and castoreum creating a subtle impression of scented leather. Orange blossoms and honey are woven skillfully through Habibi from the first breath to the last lingering sigh.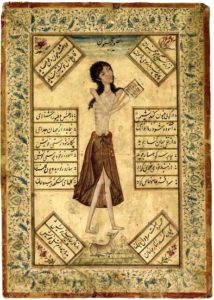 An image of Manjun with verses from the poem Layla and Manjun, 19th century Persia/Sotheby's©
Six hours pass. The dawn is breaking. The scent of Habibi and my vision of the sweethearts vanish, leaving only a trace of orange blossoms, honey and musk as a remembrance, a fading memory of a lost love.
Notes: Spanish orange flower absolute, Arabian jasmine, honey, beeswax, bergamot, champaca absolute, Turkish rose otto, sandalwood, castoreum, opoponax and oud.
Many thanks to Dawn Spencer Hurwitz and DSH Perfumes for the generous sample of Habibi. My opinions are my own.
—Gail Gross, Editor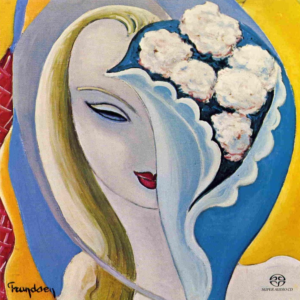 Layla and Other Assorted Loves Songs cover art (Derek and The Dominoes, 1992)
Art Director: Michelyn Camen, Editor-in-Chief; There are stories that say that the title of Eric Clapton's song "Layla" was named after the tale of Layla and Majnun (1992, Derek and The Dominoes); It was written about his unrequited love for Pattie Boyd.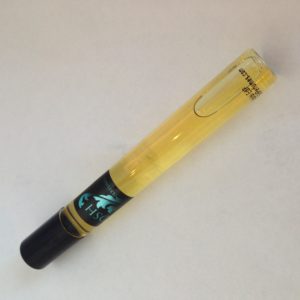 DSH Perfumes Habibi 10 ml Voile de Parfum Pulse Pen courtesy of Dawn
Thanks to the generosity of Dawn Spencer Hurwitz and DSH Perfumes we have one 10 ml Pen Voile de Parfum of Habibi available to one registered reader anywhere in the world. Be sure to register or your comment will not count. To be eligible for the draw, tell us where you live, what appeals to you about Gail's review, also let us know if you have a favorite DSH Perfume fragrance and your term of endearment for the love of your life. Draw closes 8/29/2017
We announce the winners only on site and on our Facebook page, so Like Cafleurebon and use our RSS feed…or your dream prize will be just spilled perfume.