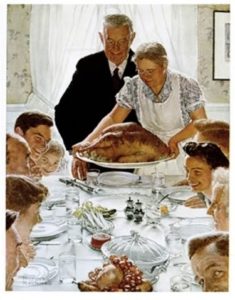 Free From Want by Norman Rockwell, 1943
This is like your best winter holiday memory, the way childhoods are remembered in scratchy 8mm home films: goofy waves into the lens, silent laughter in the background. Cozy, golden lights through the living room window, the wind having its little dramas with the leaves outside. Off camera, the cozy smell of fresh-roasted chestnuts and candlewax permeates the house, and you are where it is always 4pm on Thanksgiving Day in America. Chataignes du Bois by DSH Perfumes is a ride through maple tree woods to grandma's house, the rich deliciousness of the aroma marrons glace in that sweet shop in Paris ten Novembers ago, the raw roasted smell of chestnuts from the braziers in New York City in winter – all rolled into one lovely Christmas cracker.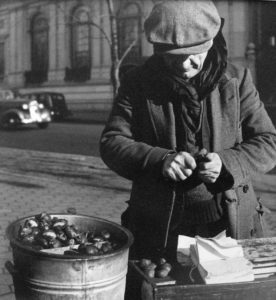 Chestnut vendor, New York City, photo by John Albok,1936
Dawn Spencer Hurwitz often brings together different resonances of the same note into one perfume. Chataignes de Bois is like combining memories of late autumn from different times of life: the maple syrup-pancake smells of the nursery; the roasted chestnuts over an open campfire from adolescence; the vanillic sophistication of decadent vanillic, starchy-sweet marrons glaces in French magasins de friandises from a late fall trip to Paris; the modern-retro smell of New York City braziers with their charred chestnuts mingling with city smoke.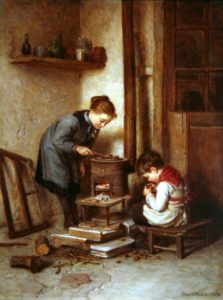 Roasting chestnuts, vintage illustration
The first notes are all childhood: maple, burnt sugar and sweet chestnut embrace you like a hug from your favorite uncle. I could swear there was a big dose of immortelle in here, although it is not listed. Floral and leafy notes float in right after: I smell crushed green tree leaf, soft rose and a shimmery jasmine all at once. The plant notes lighten and lift that syrupy-starchy opening, and, as they do, Chataigne du Bois shifts. Patchouli brings an anisic earthiness that quiets down the sticky toffee pudding of the opening, and the shortbread-carroty smell of orris comes through. Melding with the chestnut and maple, these rather more sophisticated notes bring to mind the glazed, pastry-shop deliciousness of marrons glace.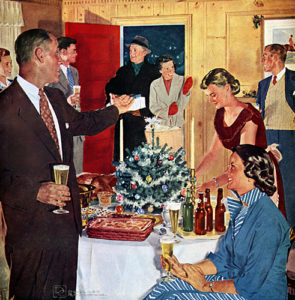 Vintage ad, c. 1950s
Next, the roasted, smoky notes come rushing in like high-spirited guests. No perfumer displays more deftness at conveying roasted aromas than Dawn: that crackly smell of shells split with heat, the singe and sweet smokiness of burnished nut meat. If you've ever roasted chestnuts on that well-known open fire, the cling of smoke, ember, sweet, starchy nut and crackle of split shell to sweaters and hair – that is what Chataigne du Bois smells like in its mid-stage.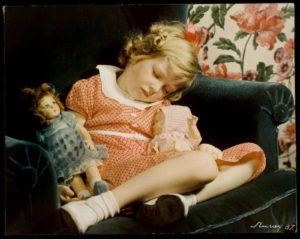 Girl Sleeping, photo by Nikolas Muray, 1937
Later, Chataignes du Bois settles back in an armchair by the hearth, last embers snapping and puffing quietly. The smells of smoke, chestnut, maple and woods marry softly, and every time I raise my wrist to my nose, I smile with a sense of happy familiarity.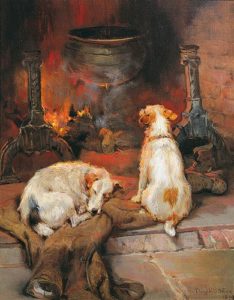 Warming by the Hearth by Philip Eustace Stretton, (1884-1919)
Chataignes du Bois is the smell of homecoming; the comfort of warmly lit rooms, the rise and fall of familiar voices, the smoky snap of burning logs. Even if none of this describes your Novembers past, Chataignes de Bois will make you feel as though it had.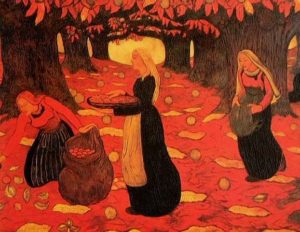 The Chestnut Gatherers by George Lacombe, 1894
It takes a warm heart and profound talent to create a perfume like Chataignes du Bois.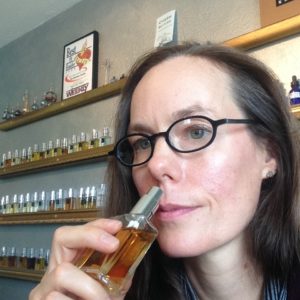 Dawn Spencer Hurwitz of DSH Perfumes
Dawn Spencer Hurwitz has given me one more thing to be grateful for this Thanksgiving.
Notes: Maple leaves accord, sweet chestnut accord, ambergris, Australian sandalwood, burnt sugar, East Indian patchouli, frankincense co2 absolute, green oakmoss, Himalayan cedar, Siam benzoin, tolu balsam, vanilla absolute, ambrette seed, Bulgarian rose absolute, grandiflorum jasmine, honey beeswax, labdanum, orris concrete, leafy green accord, lemon.
Disclaimer: sample graciously provided by DSH Perfumes – many thanks. My opinions are my own.
— Lauryn Beer, Senior Editor
Editor's Note; Since 2011, and every year thereafter, ÇaFleureBon has celebrated Thanksgiving. We are grateful for you, dear readers, for our generous sponsors and for the blessings in our lives.–Michelyn Camen, Editor-in-Chief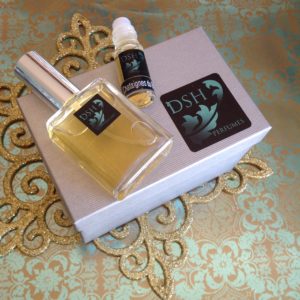 Thanks to the generosity of Dawn Spencer Hurwitz and DSH Perfumes, we have a 10 ml roller pen of Chataignes du Bois Voile de Parfum for 1 registered reader anywhere in the world (register here if you have not already done so). Please leave a comment saying what appeals to you about Chataigne de Bois based on Lauryn's review, where you live and what you are grateful for in your life or a Thanksgiving memory. Draw closes 11/26/2017.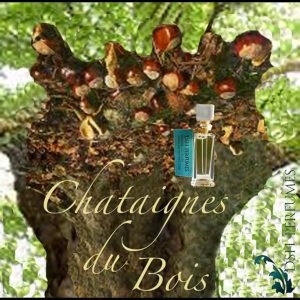 Be sure to check out DSH Perfumes holiday sale. The whole store is 20% off from Nov 24, 2017 through Jan 9, 2018 (excludes Scent of Hope). Now is the time to show Dawn you are grateful for her generosity 7 1/2 years at ÇaFleureBon. Buy that sample or bottle! Coupon code: snowflake2017
We announce the winners only on our website and on our Facebook page, so like Cafleurebon and use our RSS feed … or your dream prize will be just spilled perfume.