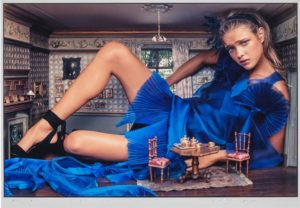 Alice in Wonderland fashion editorial, photo by Annie Liebovitz, Vogue, 2005
"So she was considering in her own mind (as well as she could, for the hot day made her feel very sleepy and stupid), whether the pleasure of making a daisy-chain would be worth the trouble of getting up and picking the daisies, when suddenly a White Rabbit with pink eyes ran close by her. … In another moment down went Alice after it, never once considering how in the world she was to get out again." — Lewis Carroll, Alice in Wonderland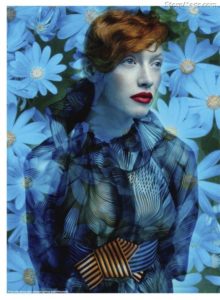 Kaɪˈoʊti Magazine, Talking Flowers Issue #5, August 2014(1)
We who love perfume, sometimes to the point of obsession, know how easy it is to fall down rabbit holes in pursuit of a scent. And when the scent is as joyful and buoyant as blossoms littering a warm breeze, why resist? BlueDaisy, from the multi-talented Dawn Spencer Hurwitz of DSH Perfumes, is like easy laughter on a summer day: a bubbly, ebullient grapefruit-and-flowers watercolor, undercut with just enough herbal zing to feel grown-up rather than girlish.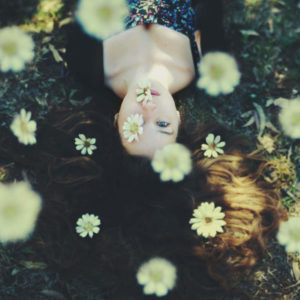 wholemagazine.com
BlueDaisy bursts open with a citrusy-sweet splash of whole pink grapefruit, cleverly composed. The fresh-cut spray makes me almost swear there was an aldehyde or two in there, but at second sniff, I realize it is the yellow-green effervescence of yuzu combining with grapefruit and spun sugar. The perfume of juicy tart flesh is accentuated by a sly watermelon note, with bergamot standing in for the astringent rind. Then, as the grapefruit quiets down a bit, clovery green notes filter in, bringing the meadow smell of grass and linden. Buoyant flower and tangy fruit notes float quietly by like pastel streamers: cookie dough heliotrope, lily of the valley, mandarin, passion fruit, lime. Every time I think the grapefruit has receded, another tangy fruit note perks up the composition and holds the candy floss note of the opening firmly in check.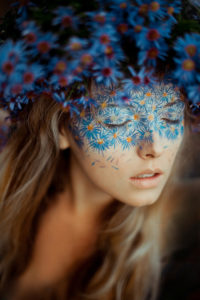 image Harper's Bazaar
Then it's tea-time! A cool, almost minty note, not unlike matcha, gives BlueDaisy a slightly herbal aspect. I smell the watermelon note a bit more decisively now, and the acidic fruit and soft florals have coalesced into an easy piquant sweetness. BlueDaisy remains fairly linear after this point, which is an achievement, as fragrances of this airiness often devolve into soapy musk nothingness. Instead, BlueDaisy achieves a lovely balance between citric exuberance and carefree, floaty florals.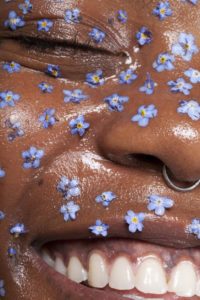 via id magazine
BlueDaisy is so sunny and sparkly it feels like endorphins in a bottle. Spray it on your wrist on even the rainiest, sourpuss of a day and I dare you not to smile.
Notes: Plumeria, Watermelon, Brazilian Vetiver, Burnt Sugar, Heliotrope, Musk, Sandalwood, Virginia Cedar, French Linden Blossom (accord), Green Grass, Green Tea, Lily of the Valley, Sweet Pea, Bergamot, Green Mandarin, Italian Neroli, Lemon, Lime Peel, Passion fruit, Pink Grapefruit, Yuzu.
Disclaimer: Perfume sample provided by Dawn Spencer Hurwitz – many thanks. My opinions are my own.
Lauryn Beer, Senior Editor
Co-Art Direction: Lauryn Beer and Michelyn Camen, Editor-in-Chief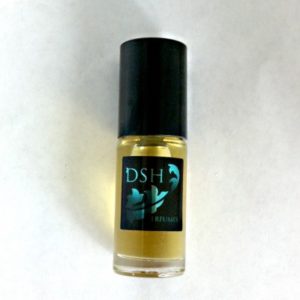 BlueDaisy, DSH Perfumes
Thanks to the ongoing generosity of DSH Perfumes and Dawn Spencer Hurwitz, we have a 10ml of BlueDaisy for 1 registered reader in the USA or 1 dram worldwide. Be sure to register here. To be eligible please leave a comment with what appeals to you about BlueDaisy based on Lauryn's review, if you have a favorite DSH perfume and what makes you smile when you feel blue. Draw closes 8/11/17.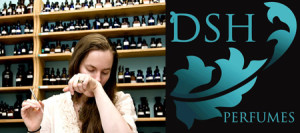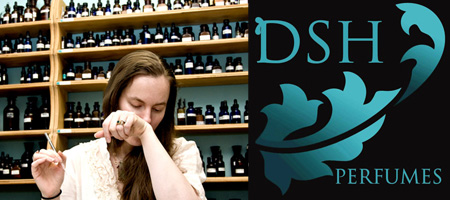 Dawn Spencer Hurwitz of DSH Perfumes
Editor's Note: Please support our artisan perfumers.That would put a smile on my face. A vial sample is $6.00 for most of Dawn's fragrances. She has been sponsoring worldwide draws, creating collaborative fragrances with us for 7 ½ years and has offered special discount codes. By now I hope you DO have a favorite DSH Perfume!!! -M.C.
We announce the winners only on site and on our Facebook page, so Like Cafleurebon and use our RSS Feed … or your dream prize will be just spilled perfume.