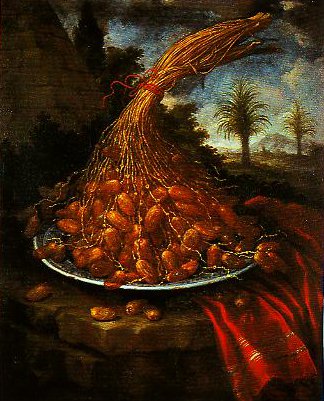 A Bunch of Dates by Bartolomeo Bimbi (1648–1723)
"Pressing shoulders and backs against it, they shook the palm until the season's first fruit began to rain.
The other boys joined them, and soon the tea house emptied of the men slouching inside.
Those were my brothers who cowered beneath the date palm to gather handfuls of fruit,
rubbing each date clean on their sleeves, chewing softly to savor the taste
as though it were a good omen, and rising to resume their lives, on their faces
the smiles of those who once were blessed". –Date Palm Trinity by Khaled Mattawa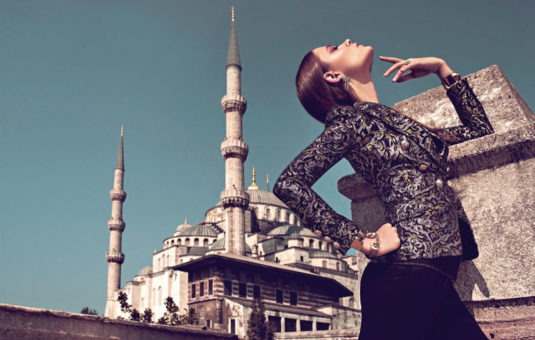 Photo by Koray Birand for Marie Claire US, October 2010
There is a very particular aroma you will catch in late afternoon as you approach the Mısır Çarşısı in Istanbul. A haze of dusty spice, the pulpy tang of citrus just cut, cherry hookah smoke blending with old wooden backgammon boards and the rich, cardamom-sugar scent of dates. DSH Perfumes Bakul Medjool captures that confluence of aromas in a resinous, off-sweet concoction that put me right at the foot of the Galata Bridge the moment I smelled it.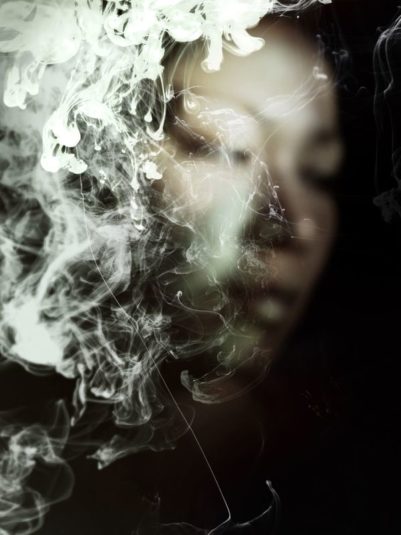 Smoke, photo by Miki Takahasi
Date is an uncommon note in perfumery, which may be because its overt sweetness can easily knock a fragrance off kilter. Its baked sugariness needs a strong counterbalance. Pierre Guillaume offered the first date-centric perfume I know of with his wonderful Dzhari, where he paired the fruit with the parched, mineral smell of terracotta. Dawn Spencer Hurwitz opts instead for the cocooning warmth of woods and incense. She explains her thinking: "The challenge that presented itself when considering how to present a date-centric botanical perfume was what to pair it with to keep it from getting too sweet to bear and to make it more interesting than just a sweet fruit scent. Incense seemed natural, and then I found Bakul attar (from India) which added the right amount of exoticism and richness to make the whole design work."
Untitled by Dincer Disbudak
Given the profusion of notes, you might expect DSH Bakul Medjool to be a busy or weighty perfume. Not so. It hums calmly along in an even flow of mellow sweetness and incense; never too sweet, never too smoky, full-bodied without heaviness. From the outset, the ashy-sweet, cognac remnants smell of dried dates takes over. But its sweetness is reined in quickly. Weaving in several wood notes early in the perfume's development, Dawn Spencer Hurwitz strikes a deft balance between syrup and aridity that continues throughout the perfume. In the middle stages, elemi-dominant incense encircles and accentuates the woody aspects and frankincense adds a welcome smokiness. Then, as the resins develop, Bakul Medjool rounds out with little bites of scent like a perfume fruitcake – a peppery zap of geranium, the vanillic richness of benzoin, a sprinkle of cinnamon, a bitter tang of bergamot – yet without ever becoming overtly gourmand or dense.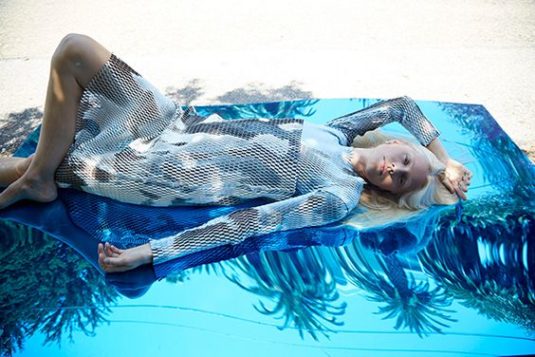 Photo by Tierney Gearon
While not projecting immodestly, Bakul Medjool has admirable staying power. Well into the night, it lingers on my wrists like the imprint of heat after a day in the sun. If you thought incense and resins were only for winter, think again. Wearing DSH Perfumes Bakul Medjool in the heat is like laying back beneath a date palm, drowsy from sun, as the breeze carries refrains of spice and smoke into the evening: evocative, comforting, and just this side of delicious.
Notes: Ambrette, bakul attar, atlas cedarwood, Siam wood, frankincense co2 absolute, myrrh gum, oppopanax, Siam benzoin, vanilla absolute, centifolia rose absolute, cinnamon bark, damask rose absolute, Egyptian rose geranium, grandiflorum jasmine, Juhi jasmine absolute, labdanum, Mysore sandalwood, sugar date, bergamot, bitter almond, bitter orange, cardamom seed co2.
Disclaimer: Sample of DSH Bakul Medjool kindly supplied by Dawn Spencer Hurwitz. My opinions are my own.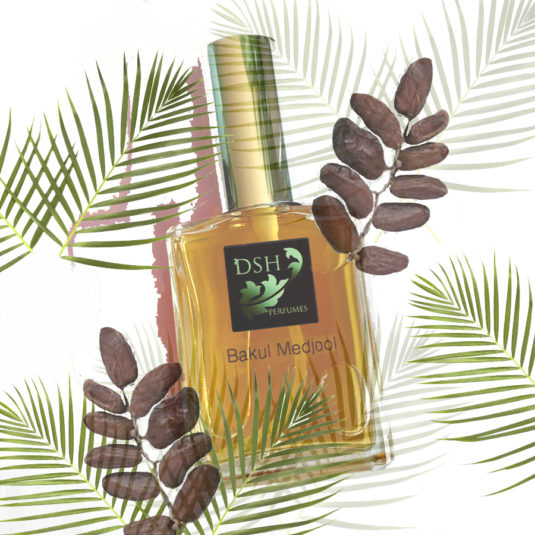 DSH Bakul Medjool, original artwork by Dawn Spencer Hurwitz
Thanks to the generosity of Dawn Spencer Hurwitz, we have a 1 dram bottle of DSH Perfumes Bakul Medjool for one registered reader worldwide. To be eligible, please leave a comment saying what appeals to you about DSH Perfumes Bakul Medjool based on Lauryn's review and if you have a favourite DSH perfume or if you have tried a date perfume before. Draw closes 8/11/2018.
Editor's Note: This is a 100 percent botanical perfume and one of the new fragrances in the Les Fruits Defendus (Forbidden Fruit) series of natural perfumes by Dawn Spencer Hurwitz
We announce the winners only on site and on our Facebook page, so like ÇaFleureBon and use our blog feed … or your dream prize will be just spilled perfume.