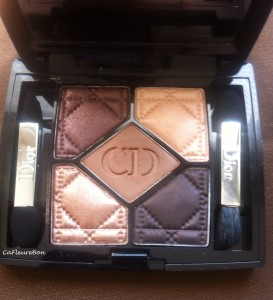 Dior Cuir Cannage 5 Coleurs Couture Eyeshadow Palette #796
I love when beauty and perfume meet in a color and scent alliance. I bought CHANEL Cormandel Nail laquer and lipstick, (warm reds that flatter tan and olive skin) and Guerlain Chamade lipstick (a coral pink) because I loved their namesake fragrances first. Dior Cuir Cannage perfume is from the La Collection Privée; it is a surprisingly wonderful leather floral that smells like it could have been created 50 years ago- warm, animalic, a bit dirty and HEAVY on the leather. I was at Sephora during the Rouge VIB event and without blinking a smokey eye bought Dior Cuir Cannage (796) Eyeshadow Palette ($60.00 for 0.21 oz.) which is inspired by 5 shades of warm toned leathers.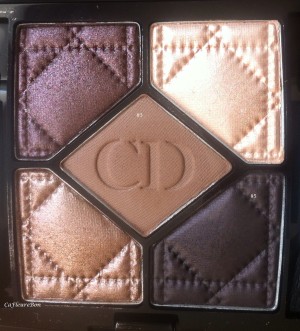 Cuir Cannage Top Left #1, and #2; Center with Embossed CD logo #3, Bottom #4 and #5
Cuir Cannage #1 is a plum brown with warm, golden to bronze undertones and a subtle frost finish. I needed to build the color a few times to get any intensity. It did stay put all day.
Cuir Cannage #2 is a frosted, somewhat metallic sunlit beige shadow with warm undertones, that barely shows up on my Dior Beige 50 skin. It has decent pigmentation, no fall out and goes on smoothly and evenly. Meh…I have tons of dupes, but every palette needs a highlighter. I tried it wet and it showed a little more. This is a great highlight color for light skin and dark complexions, but not for gals in the middle.
Cuir Cannage #3 is a dark to medium -toned saddle brown with a matte finish. I really love this shade; it, is highly pigmented with a fabulous smooth texture and has the intensity I like for extra drama. It may look drab in the pan, but it is anything but boring on the eye. I use #3 the most as it is the perfect base color for a smokey eye and looks marvelous in the crease.
Cuir Cannage #4 is a slightly shimmery medium warm brown with slight bronze undertones, good pigmentation and a buttery soft texture; use this on the lid or as a base for your crease color.
Cuir Cannage #5 is a blackened burgundy brown, with warm plum tones and a satin finish. I really love this color as it is the most unique in the set, very buildable as it can go from subtle to intense. One minor complaint is it wasn't as dramatic as it looked in the pan; it is not opaque and I had hoped to use it as a liner, but it works well to accent the outer eye corner from lid to crease.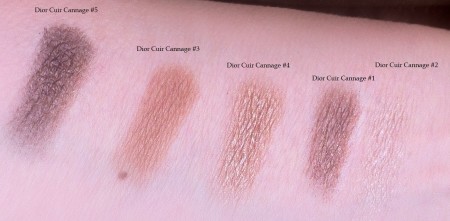 Dior Cuir Cannage Swatches
If you are thinking, "Do I NEED another brown eye shadow palette, you probably don't but I would still recommend buying Dior Cuir Cannage, especially if you have blue eyes and/or love warm toned shadow colors. Dior eyeshadows' always sets the bar. Next ? I want Dior Cuir Cannage perfume.
Disclosure: I purchased this at Sephora in Soho 555 Broadway NYC
–Michelyn Camen, Editor in Chief