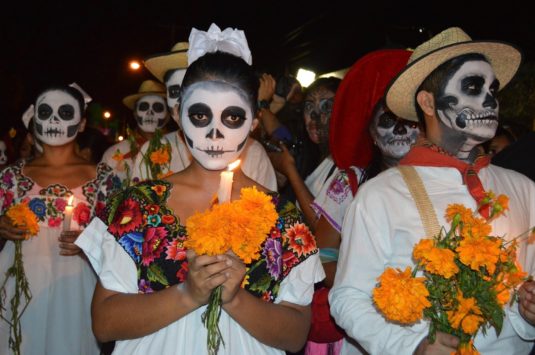 Marigolds and candles are essential to Day of the Dead, Oaxaca, Mexico, 2017 © Jimmy Nelson
I loved Halloween as a kid. I was fascinated by the idea that it was a time that the worlds of the living and dead drew close. My big Irish-Catholic family held dear the belief that death did not separate us from our loved ones who have died. We went to mass on both November 1st for All Saints Day and November 2nd for All Souls Day. During the year we visited the graves of grandparents and uncles to chat, leave flowers, say hello. When a death occurred the grief was deep and sharp but not so dense as to prevent laughter from getting through. Wakes were for sharing anecdotes and funerals were always followed by a celebratory meal. I think the first time I got drunk was after my Aunt Marie's funeral when pitchers of her beloved Manhattans flowed as freely as the old family stories.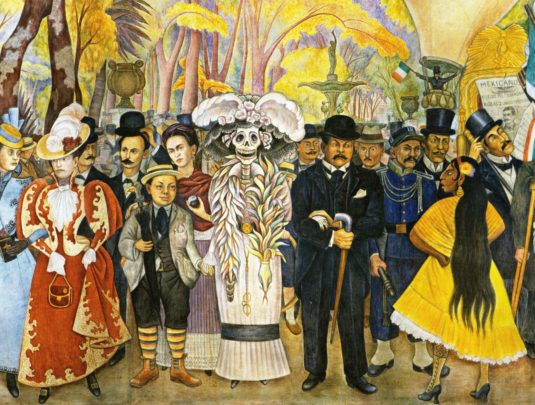 Detail from Diego Rivera's mural Dream of a Sunday Afternoon in the Alameda Central, 1946-1947
My baked-in understanding of the ongoing relationship between the living and the dead allowed me to feel an immediate connection to the celebration of the Day of the Dead in Mexico when I first learned about it through a book of the paintings of Diego Rivera. The celebration can start as early as October 28th but the real heart is November 1st dedicated to children who've died and November 2nd when departed adults are honored. The concepts that were so fundamental to my life I found expressed in a visual language that my heart and soul responded to. My appreciation for Mexico's Día de Muertos grew exponentially the first time I was in Mexico for the holiday and invited to a friend's family celebration. Throughout the evening all my senses were engaged by the music, artwork, food, drink, incense, and flowers. Once in my head the memories have never left me, especially the smells. Lately I've started to explore fragrances that might express the different elements that go into the experience of the Day of the Dead in Mexico.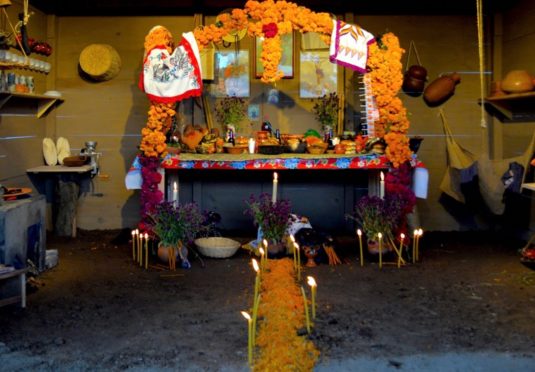 Day of the Dead altar in Mexico, © Melitón Tapia, collection of INAH
There is no one better with whom to discuss the smells of Mexico and its celebrations than Rodrigo Flores-Roux, Givaudan's Senior Creative Perfumer.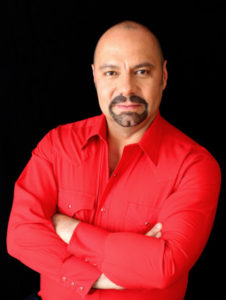 Master Perfumer Rodrigo Flores Roux of Givaudan
Born in Mexico he is an irrepressible champion of their indigenous botanicals and works with Mexican-grown varieties whenever he can. Marigolds (tagetes) that are the primary flowers used in Day of the Dead celebrations are endemic to Mexico. They are also known in Spanish as "flor de muertos" (flowers of death) or as cempasúchitl (pronounced sem-pa-soo-cheel) in the Aztec language Nahuatl.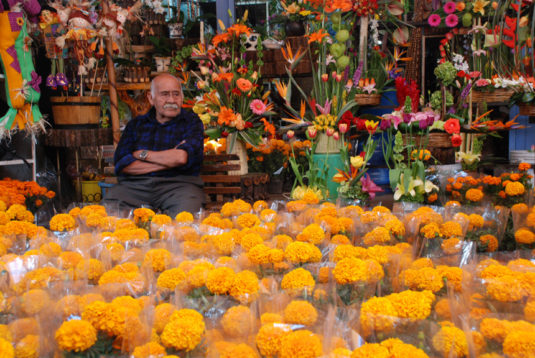 Flower seller at Mexico City's Jamaica Market © Lourdes Valeriano
"I just returned from Mexico City and the marigolds are blooming everywhere. The aroma of the Mexican marigold doesn't differ that much from the other varieties. Like many flowers, the more they are hybrid the weaker their odor profile, although you can get beautiful blooms of yellow and red and even white marigolds. The aroma of the marigold is used sparingly in perfumery. A little goes a long way and straight marigold absolute can be unpleasant. If you are standing in a bed of marigolds the scent is fruity, fresh, green and watery and it is more pleasing than closely smelling one flower close up. That is the aspect used to complement other botanical notes." – Rodrigo Flores-Roux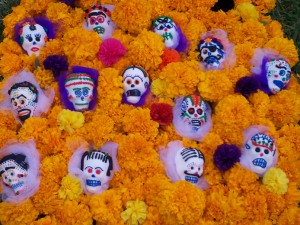 Tagetes aka Marigolds via Flickr
It is that strong, distinctive aroma that makes the flower an essential part of Día de Muertos. A path of marigolds, either laid down as a carpet of petals or standing tall in a row, lead to the home altar. Their color and scent are guides for the souls so they can find their way home, although some believe that in the afterlife only the sense of smell survives and the spirit can only be guided by strong aromas.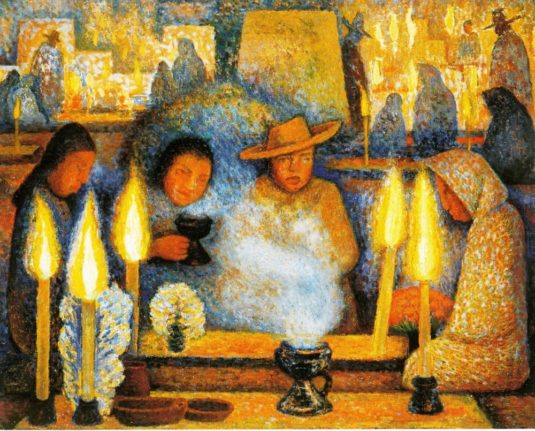 Copal incense and candles burn to lead the souls of the departed back to the land of the living, by Diego Rivera, 1944
Another scent that beckons the souls home on Day of the Dead is the fragrant smoke of burning the resin of the copal tree over hot coals. It is a strong and hypnotic aroma. Copal has been used in religious rites in Mexico for millennia, the word "copalli" means incense in Nahuatl. "In school I actually made a distillation of copal. The result was gummy and not really usable in perfume. When you see copal listed as a note in a fragrance it is really a copal accord, usually called white copal. I make mine by using frankincense over which I layer earthy notes and a brighter resin of elemi. However the brain expects smoke when it is presented with copal, so smoky notes are also added to more closely replicate the experience of smelling copal. In Mexican Catholic churches the incense is primarily frankincense as it is all over the world, but copal is also burned. You get double the prayers going up into the heavens. It's just another example of the way Mexican culture seamlessly shifts back and forth between European and pre-Hispanic traditions." – Rodrigo Flores-Roux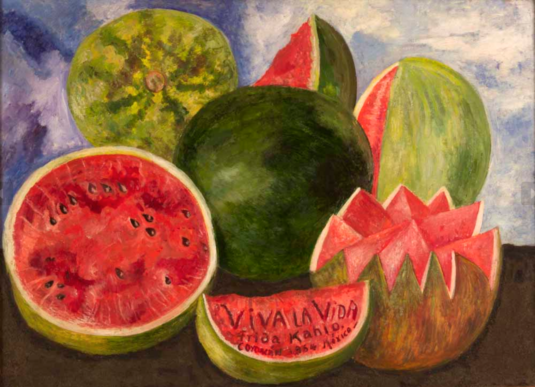 "Viva la Vida" by Frida Kahlo, 1954, collection of the Museo Casa Azul
Once the soul is led home by the marigolds and copal smoke it needs food and drink. Family and friends load the ofrenda with edible delights to let the spirit know they are welcomed and loved. From the sweets and hot chocolate for the spirits of children, the "angelitos", to the warm mole dishes and mezcal for adult souls these items add homey, enticing aromas to the altar. The spirit will only imbibe the essence of the offerings so that living family and friends are free to enjoy them after the altars are taken down. Many of these scents have found their way into gourmand fragrances.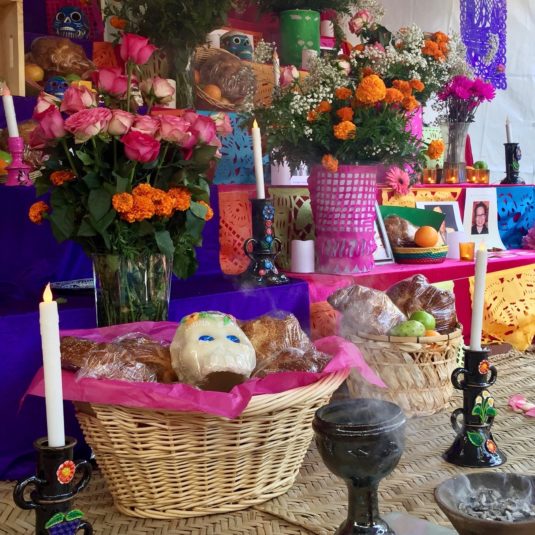 Community ofrenda, New York City, 2017
The following twelve perfumes are expressions of my scent memories of the most fragrant elements of my visits to Mexico during Day of the Dead celebrations:
Solstice Scents Foxcroft Fairgrounds (Angela St. John) evokes sweet sugar skulls with night fires burning in the distance and a waft of vanilla passing in the air.
Orto Parisi Boccanero (Alessandro Gualtieri) reminds me of the edible chocolate skulls that are omnipresent. It is my favorite chocolate gourmand fragrance, sophisticated yet delicious like fine truffles.
Initio Parfums Prives Mystic Experience (Hamid Merati-Kashani) opens with a sweet, bread-y note that recalls pan de muertos, the slightly sweet bread decorated with crossed bones that fortifies the traveling souls.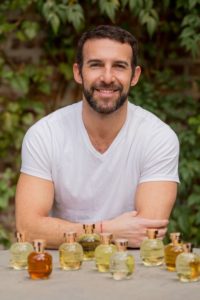 Carlos Huber of Arqusite was born in Mexico City
Arquiste Anima Dulcis (Rodrigo Flores-Roux and Yann Vasnier) is pure Mexican hot chocolate to my nose. The notes of cacao, chili, vanilla and cinnamon are beautiful and addictive.
Carner Barcelona Palo Santo (Shyamala Maisondieu) is creamy and vanillic on my skin and brings to mind atole, a warm drink made of cornmeal, cinnamon, and vanilla.
Xinú Agua Madera (Rodrigo Flores-Roux) is like fine, sipping mezcal with its woody, smoky notes layered over the agave accord.
Aedes de Venustas Copal Azur (Bertrand Duchaufour) is trance inducing like the copal incense it is named for, grounded in earthy notes and lightened by a fresh airiness that makes it very wearable.
D. S. & Durga Italian Citrus (David Seth Moltz) is one of my favorite orange fragrances, juicy and bright.
Etat Libre d'Orange Like This (Mathilde Bijaoui) reminds me of calabaza en tacha, a dish of pumpkin baked and glazed in sweet syrup and spices.
Fueguía 1833 Ballena de la Pampa (Julian Bedel) is a nostalgic fragrance that has a tobacco note that would reminds you of your beloved grandfather's cigar…masculine and reassuring.
Comme des Garçons White (Mark Buxton) is bright marigold (tagetes) to me blended with enough spice and wood that make it very pleasing to wear.
Mancera Coco Vanille (Pierre Montale) opens with a pleasing wax aroma, like pure burning candles in a vanilla scented room.
Disclaimer: the fragrances listed are from my own collection or samples generously provided by Osswald NYC and Aedes de Venustas. My opinions are my own.
Marianne Butler, Sr. Contributor
Editor's Note: Special mention to Indie Perfumer Shelley Waddington of En Voyage's Tagetes which was inspired the spiritual significance of the marigold flower in the rituals of Nepalese and Latin cultures. -Michelyn Camen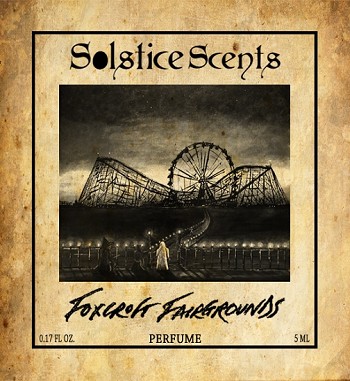 Worldwide: Thanks to the generosity of Angela St. John of Solstice Scents we have a 5ml bottle of Foxcroft Fairgrounds perfume oil.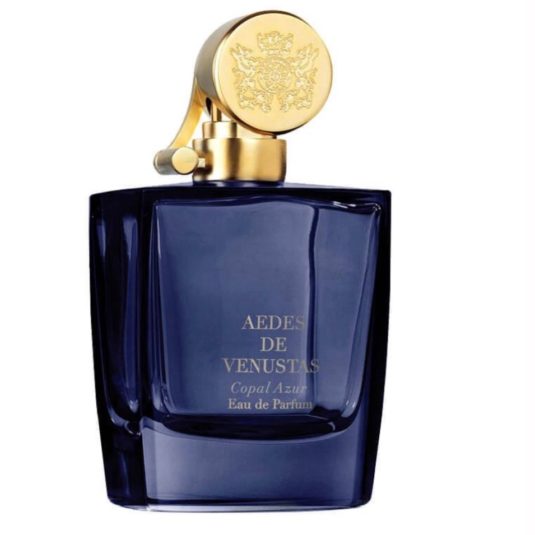 US only: Thanks to the generosity of Karl Bradl and Robert Gerstner of Aedes de Venustas we have a 3.4 oz. bottle of Copal Azur.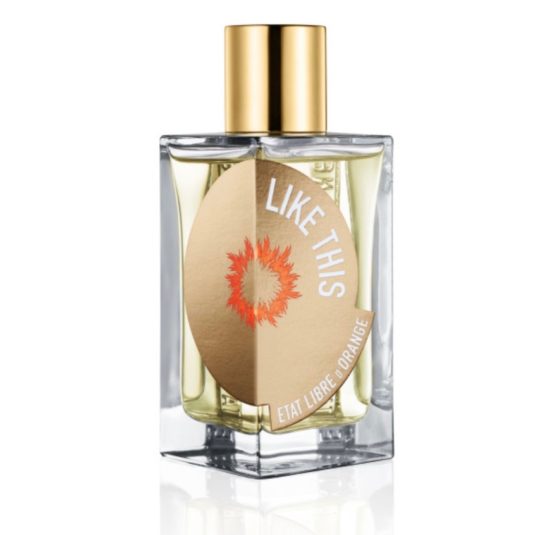 US only: Thanks to the generosity of Europerfumes we have the choice a 50ml bottle of Etat Libre d'Orange Like This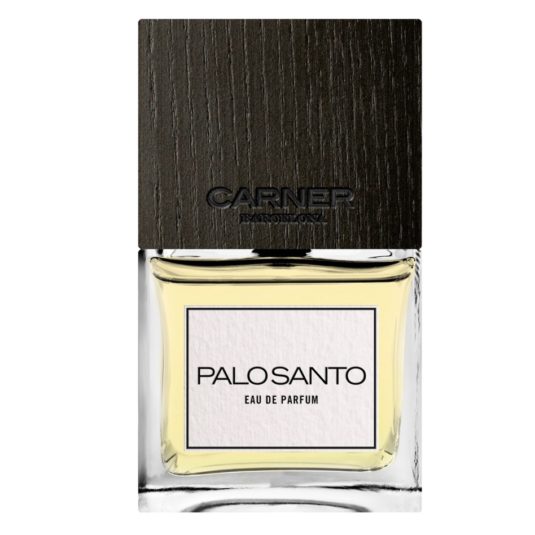 Carner Barcelona Palo Santo
or Carner Barcelona Palo Santo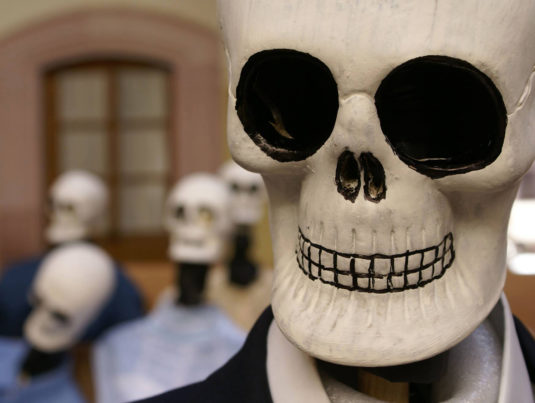 Skeletons figures known as calacas, Mexico City ©Héctor Montaño, collection of INAH
There is a draw for 3 registered readers (if you don't know if you are registered click here) for a choice of one of the fragrances listed above. To be eligible to win please leave a comment telling us what appeals to you about Marianne's article, what intrigues you most about the Day of the Dead fragrances, specific quotes, where you live, and your choice of perfume from the 4 that are offered ONLY. Draw closes 11/4/2018.
Follow us on Instagram: @cafleurebon @spritzi_mcgillacutty @rodrigofloresroux @etatlibreorange @carnerbarcelona @solsticescents @Official_europerfumes @aedes_perfumery
We announce the winners only on our website so like Cafleurebon and use our blog feed … or your dream prize will be just spilled perfume.