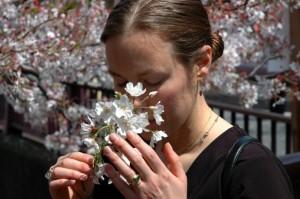 Dawn Spencer Hurwitz of DSH Perfumes
Dawn Spencer Hurwitz has become a creative fixture at Denver Art Museum, and returns for her 8th collaboration, "In Bloom: Painting Flowers in the Age of Impressionism" exhibit opening July 19, 2015.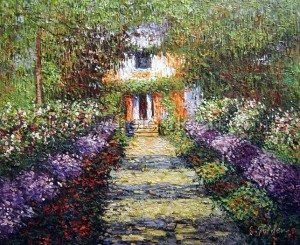 A Pathway in Monet's Garden at Giverny 1902
"It's different than most of the other projects that I have done with Denver Art Museum. Usually I choose paintings and / or objects from a show to draw inspiration from and work from there. For this project as I was commissioned to create a space and "experience", I was charged with creating a special aromatic ambiance that would evoke a live garden, specifically Monet's garden at Giverny. I did some research around Monet's garden and also thought to evoke spring flowers and early summer flowers such as rose de Mai (Centifolia – old rose types), peonies, and carnations (this bouquet comprises most of the notes of the design "l'Opera des Rouges et des Roses") as well as violets, irises, and lilacs (these flowers comprise most of the design "La Danse des Bleus et des Violettes"). I also wanted to create an accord design that gave the impression of the greenery found in a natural garden setting; the foliage, grasses, trees, and soil aromas that one would smell as part of any natural garden atmosphere. This accord comprises most of the design "Le Jardin Vert". In order to create the experience in the actual exhibit space, special scent emitting machines were installed and these three "bouquets" were positioned to co mingle in the space giving a sense of completion to the overall concept.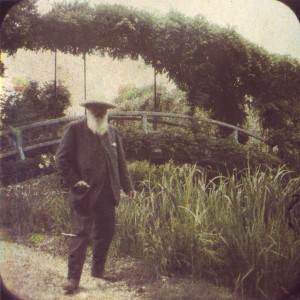 Claude Monet, in his garden, by Étienne Clémentel, c. 1917
When museum goers enter the scent experience space they will be met with a panoramic view of the artist Monet in his beloved flower garden and a subtle sense of greenery; as if walking into his painintgs. As one moves around the space they will encounter the cool blue violet flower beds of violets, irises and lilacs and also the red, pinks of peonies, carnations and old roses. The inspiration for Giverny in Bloom is not only taken from the information about Monet's garden but also flowers found in the paintings at the exhibit, tieing the scent experience to more than the Monet paintings at the exhibit", Dawn explains.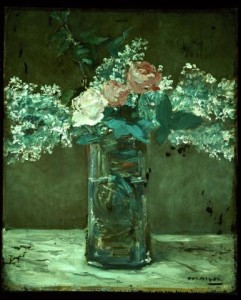 Edouard Manet Vase of White Lilacs and Roses 1883
Taking the conceptual scent into perfumes, Dawn composed perfumes based on the "sub-bouquets" to create finished full fragrances from the accords. "I thought that the bouquets were really lovely on their own and but felt that they needed to be "finished" for release".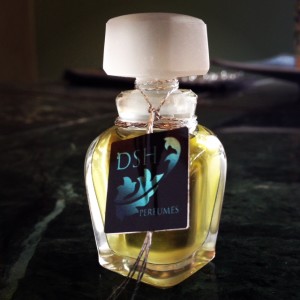 Giverny in Bloom: Leafy green accord, bergamot, lemon, ozone, neroli, violet, iris flower, lilac, old rose, grandiflorum jasmine, Bulgarian rose absolute and Otto, orris, cedar wood, patchouli, green oakmoss, dirt accord, and galbanum. Prices: $145 for the 8 ml extrait, eau de toilette $80 for the 1 oz / 30 ml.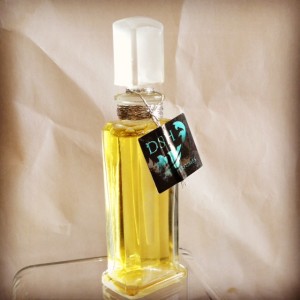 l'Opera des Rouges et des Roses : old rose, peony, and carnation design that is woven together with grandiflorum jasmine, Bulgarian rose absolute, Gallica rose Otto, beeswax absolute, and a base of ambergris and civet. Available in EdP and extrait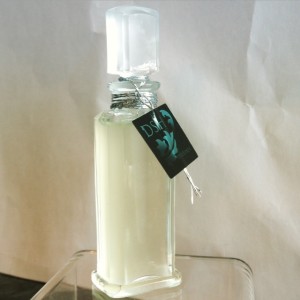 La Danse des Bleus et des Violettes is an airy ozonic floral of violet, iris flower, and lilacs with bergamot, orris root, sandalwood, cedar, violet leaf, and heliotrope. Available in EdT and extrait.
A coffret and sample set of the complete Giverny in Bloom series of fragrances plus the underlying flower accords as well as room fragrances for Le Jardin Vert 4 oz/ $24 and Giverny in Bloom (4 oz) will be available July 14 at dshperfumes.com, at the essence studio in Boulder and the Denver Art Museum Shop
Via Dawn Spencer Hurwitz
-Michelyn Camen, Editor in Chief
Note: the painting Pathway to Giverny. the photograph of Monet at Giverny and Manet's Vase of white lilacs and roses do not represent what will be shown at the Exhibit as they are yet to be released. I used them for artistic purposes only