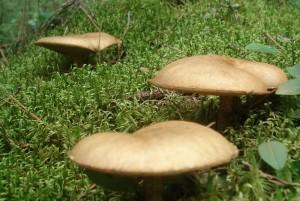 When Dawn Spencer Hurwitz attends a Sniffapalooza event the treat for the rest of us is she always brings something new for us to sniff. The recent Sniffapalooza Fall Ball was no exception as she chose to delight us with the premiere of Cuir et Champignon. One of the things that are common among this group of creative artisanal perfumers, of which Ms. Hurwitz is a member, is the way they all choose to communicate their creative process throughout the design of a new fragrance. Ms. Hurwitz does this on her DSH Notebook blog. In a couple of recent entries she spoke of the new fragrance she was making called Cuir et Champignon. Be careful of that second word, it is not Champagne, it is Champignon as in mushroom. Which makes Cuir et Champignon read as Leather and Mushroom.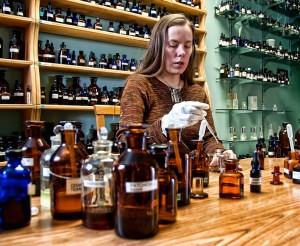 There are numerous leather scents out there and variations from strong birch tar to smooth suede. Mushroom is less common and in my experience I've only come across two which have effectively used it. Maurice Roucel's Dans Tes Bras, for Frederic Malle's Editions de Parfums, paired violet with the mushroom accord. Mandy Aftel in her Cepes et Tuberose chose to use heady tuberose as floral contrast. Both of these fragrances work because the floral nature of the contrasting note enhances different aspects of the mushroom. I like both of these fragrances quite a bit but the one thing both of them left buried under the flowers was the fully earthy nature that mushrooms should have. The earthiness was there but the flowers attenuated that character. When Ms. Hurwitz chose leather as the mushroom's dancing partner I hoped this time the earthy character of the mushroom would be amplified and defined.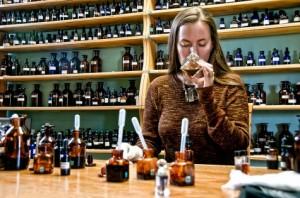 In her notebook entry dated October 20, 2010 she talks about working with Cepes Absolute and how she felt the need to adapt it for Cuir et Champignon; "I don't know if many have ever smelled Cepes absolute but if you haven't here's a quick description: it smells like soup. Delicious, salty beef broth or bouillon and VERY concentrated. So, of course I diluted it. When diluted to about 10% the 'soup' changes: now it is miso with bonito flakes." She goes onto say the idea of adding a fishy accord to a perfume was potentially worrisome but she hoped that leather would end up being the right counterbalance. Cuir et Champignon shows that Ms. Hurwitz's instincts are good and her choice inspired.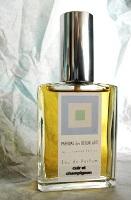 Cuir et Champignon opens on the bouillon note she describes and this smells like a bowl of steaming mushroom consomme. Light and savory, but as Cuir et Champignon develops we're now foraging for more fungi as the mushroom accord deepens and becomes more earthy. Now it is time for the leather to join in and this is a slightly rough-edged leather and it combines exquisitely with the mushroom. The leather does exactly what I hoped for as the mushroom accord dives even deeper with the leather helping out. A subtle touch of sandalwood rounds out the closing moments of Cuir et Champignon.
Cuir et Champignon has outstanding longevity and modest sillage.
Cuir et Champignon shows the potential of the mushroom accord especially with something like leather to delineate its natural character. Ms. Hurwitz took a leap of faith and Cuir et Champignon is the reward for all of us who love watching perfumers explore the bleeding edge of composition. Cuir et Champignon's beauty is in its uniqueness.
Disclosure: This review was based on a sample obtained at Sniffapalooza Fall Ball 2010.
Photos of Dawn Spencer Hurwitz from oncemany.com
-Mark Behnke, Managing Editor