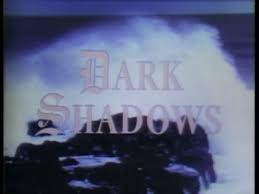 Opening shot of Dark Shadows
Waves crash against jagged black rocks and an eerie tremolo wails and whistles as the fog rolls in. In the darkening blue mist, a stately home appears, a few lit windows barely breaking through the gloom: Collinwood. A woman's voice begins a hesitant narration.
"My name is Victoria Winters …"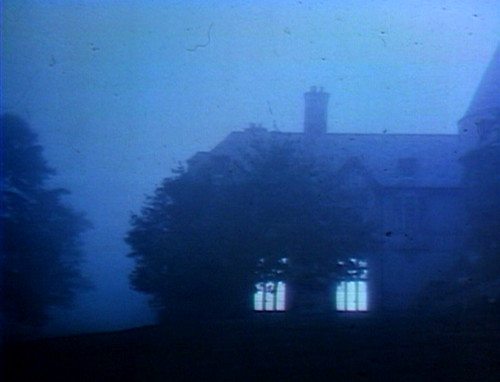 Collinwood in the mist (in reality, Seaview House in Newport, RI)
Thus opened Dark Shadows, television's first gothic soap opera, 50 years ago. Populated by vampires, witches, zombies and werewolves long before mixed genre hits such as Buffy the Vampire Slayer and gothic romances in the vein of True Blood hit the screens. Dark Shadows wove together horror, science fiction and romance every afternoon as it charted the intrigues and travails of the seemingly doomed Collins family in and out of three centuries and fantastical storylines.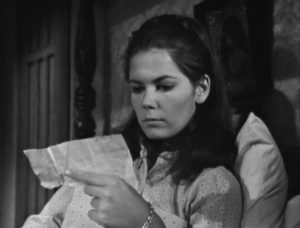 Victoria Winters, played by Alexandra Moltke
In Dark Shadows' early years, governess Victoria Winters read from her diary at the start of each episode. In her journal, she made notes of the odd comings and goings at Collinwood, describing the uneasy atmosphere she found herself in, and her impressions of the strange goings-on. Digging through her diary some fifty years later, long thought to be lost, it appears Miss Winters also described the fragrances that haunted Collinwood like so many ghosts.
She continues …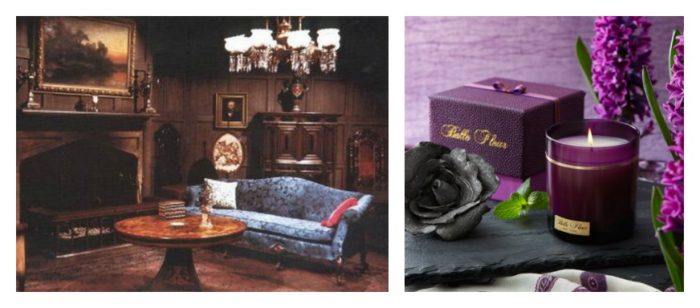 The drawing room of Collinwood and Belle Fleur Imperial Oudh candle
The murky environs of Collinsport, Maine were populated ghosts, vampires, witches, warlocks, werewolves and time travelers. At the center of their story is the tormented vampire Barnabas Collins. He is an oddly cerebral, almost reticent creature, obsessed with restoring his lost love, Josette. Brooding and gentlemanly, Barnabas seems of another, older time. I see him now, sitting before the great stone fireplace in the drawing room, from which drifts in the smoky, brooding, roseate fragrance of Belle Fleur Imperial Oudh, which scents the paneled halls of Collinwood.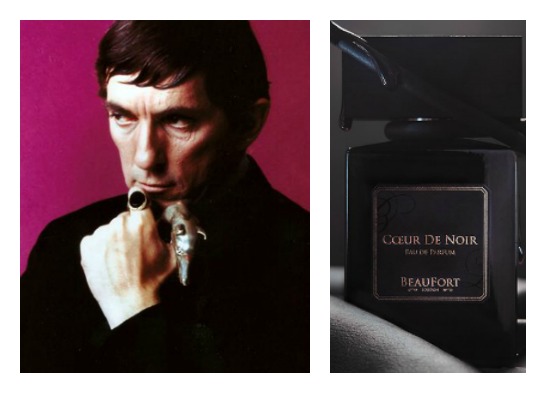 Barnabas Collins played by Jonathan Frid and Beaufort London Couer Noir
And of Barnabas himself: about his woolen cape clung the scents of several centuries; damp earth, leather-bound volumes of decades past, the burnt woods of Rose Cottage after fire destroyed it. It puts me in mind of Beaufort London Coeur Noir (Leo Crabtree).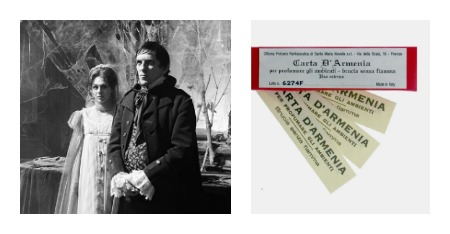 Barnabas and Josette, played by Jonathan Frid and Kathryn Leigh Scott and Santa Maria Novella Armenia Paper
As daylight hearkens, Barnabas retreats to his melancholy crypt, through tendrils of smoke from the Santa Maria Novella Armenia Paper kept burning through the twilight hours.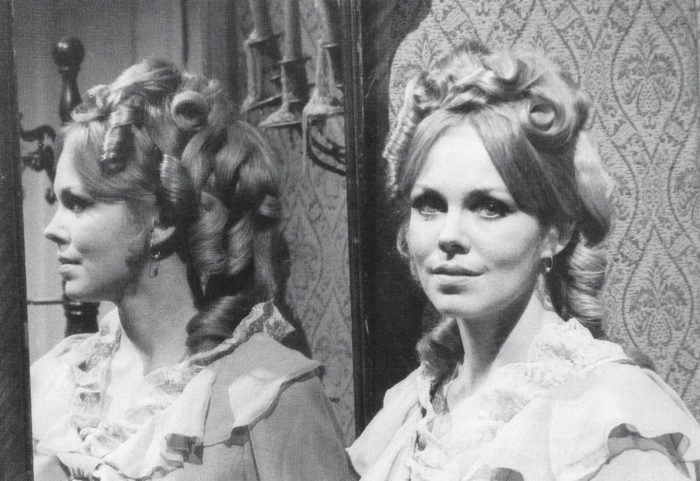 Angelique Bouchard, played by Lara Parker
Josette may have stolen Barnabas heart, but her former maidservant, the silvery beauty Angelique, has captured everyone else's. I have heard tales that Angelique was Barnabas' plaything in Martinique before he cast her aside for her genteel mistress. I fear she is not one to be trifled with. With her glacial exquisiteness and mastery of the dark arts, Angelique has ensnared numerous suitors in and around Collinwood, leaving behind a wake of broken hearts and broken bodies as she exacts revenge against the man who used and betrayed her.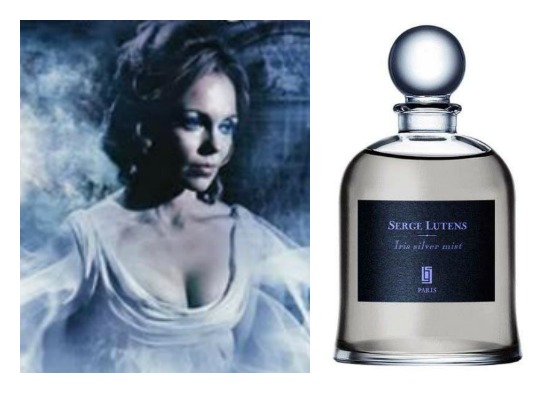 Angelique Bouchard and Serge Lutens Iris Silver Mist
When passing Angelique's chamber, I often breathe a catch of her perfume, a scent of heartless loveliness: Iris Silver Mist by Serge Lutens (Maurice Roucel). These irises are like flowers drawn by Aubrey Beardsley; coldly radiant elongated, decadently saturated. Their fragrance is both ethereal and rooty, with the cool witchery of their wearer.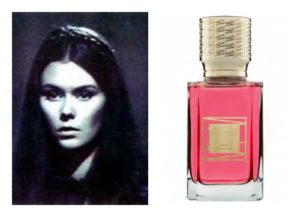 Daphne Harridge, played by Kate Jackson and Ex Nihilio's Sweet Morphine
As Angelique plots her next intrigue, in the drawing room a nostalgic music box plays from an unseen distance. A scent of lilacs suddenly breezes through the air even though the windows are shuttered. A dark-haired apparition appears, large eyed, retreating into the shadows. The ghostly presence of governess Daphne Harridge is marked by the fragile sweetness of lilac water. In Daphne's old room, one of the children found a vial of Ex Nihilio's Sweet Morphine (Natalie Cetto), its narcotic lilac poignant and benevolent. With notes of vanilla and warm, deep woods, Sweet Morphine fills the room with the hopeful, comforting smells of early Spring whenever Daphne comes to warn of wrongdoing.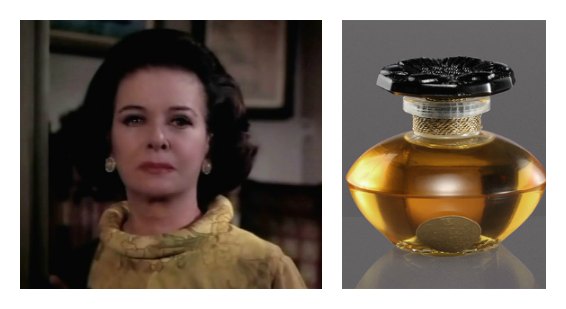 Flora Stoddard Collins, played by Joan Bennett and Caron Paris Narcisse Noir
Upstairs, peering anxiously over the darkening grounds of Collinwood, Flora Stoddard, matriarch of the Collinwood family, clutches at her pearl necklace, fretting over her hidden past. From her carefully coiffured hair and elegant scarves a heady fragrance wafts; Caron's Narcisse Noir (Ernest Daltroff), with its potent, syrupy orange blossom and dangerous florals – the scent of a grande dame who just may have murdered her first husband.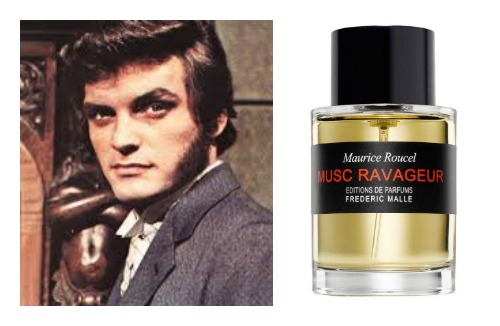 Quentin Collins, played by David Selby and Editions Frederic Malle Musc Ravageur
Deep in the grounds of Collinwood, a piercing howls breaks the night sky as a full moon unshrouds itself. Something animal bolts through the woods, heading towards the great house. A sliver of light breaks the dawn, and Quentin Collins transforms back to his rakish self, ready for his next dalliance. But the wolfish aroma that emanates from his torn shirt hints at his terrible secret: Musc Ravageur by Frederic Malle (Maurice Roucel). Quentin's olfactory theme is animalic and musky with fougere notes — half beast, half gentleman, hinting at his double life.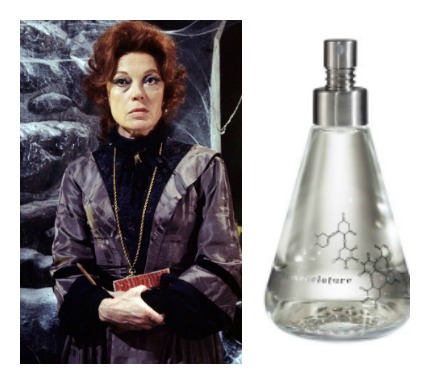 Dr. Julia Hoffman, played by Grayson Hall and Nomenclature Orb_ital
Downstairs in the lab, Dr. Julia Hoffman toils over a cure for her confidante, Barnabas, to rid him of his curse. As she measures dosages, Julia pauses to dab on a scent from one of her beakers. It is transparently modern, sharply piquant. Labeled Orb_ital by Nomenclature (Patricia Choux), it sits beside the test tubes. I heard Dr. Hoffman say it is concocted with ISO Super E and other synthetics, which balance hot and cool elements of violet, pepper, tobacco and smoke. Perhaps it was brought through the time portal – it does not seem of this world.
It is now almost morning at Collinwood. The dawn brings a new day, the chance for redemption and to escape the shadows lurking in the dark."
Ominous music. Fade to black.
Samples of Sweet Morphine provided by Ex Nihilio and Coeur Noir provided by Twisted Lily. All other samples are from my own collection.
— Lauryn Beer, Editor
For our All Hallows' Eve -the perfumes of Dark Shadows, (which premiered in June (6) of 1966, making that three siixes) for 6 registered readers. You must register to be eligible.
US, CANADA AND EUROPE: Thanks to Leo Crabtree of Beaufort London for a 50ml bottle Coeur Noir
US, CANADA AND EUROPE: Merci Benoit Vernier 50 ml bottle Ex Nihilo Sweet Morphine
US, CANADA AND EUROPE: Thank you to Creative Directors Karl Bradl and Carlos Quinetero of Nomenclature for 100 ml bottle of Orb_ital
US ONLY: With gratitude to USA Brand Ambassador Diane Haska of Caron Paris for Caron Narcisse Noir 30 ml edt in a faux galuchat flaçon. You can order any current CARON fragrance including the coveted urn perfumes by calling Diane(212) 308-0270 | (877) 88-CARON |dhaska@alesgroup.com
USA ONLY: From Tony Perez of Belle Fleur there is a Belle Fleur Imperial Oudh 7.5 oz. oz candle
USA ONLY: Thanks to SmallFlower Apothecary in Chicago we are offering Santa Maria Novella Armenia Paper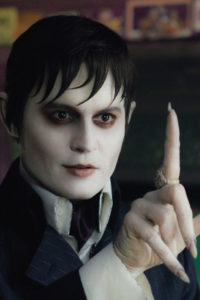 Johnny Depp as Baranabas in the movie 2012 (Johnny I love you but you literally sucked)
Many of our readers may not have been born when Dark Shadows the series premiered. You can watch the series on HULU here MC
To be eligible please leave a comment about the perfumes Lauryn chose for Dark Shadows, where you live, as many as you would like to win and if you had a favorite Dark Shadows episode or character. Draw closes 10/30/2016
We announce the winners only on site and on our Facebook page, so Like Cafleurebon and use our RSS option…or your dream prize will be just spilled perfume