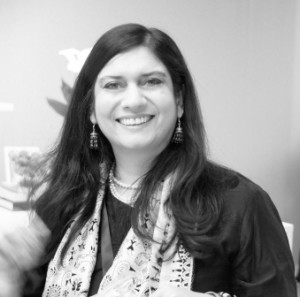 Neela Vermeire
It is rare that a Creative Director in Perfumery can bring our jaded niche community together, not only through fragrance, but through warmth and passion. We wrote about Neela Vermeire in 2011, and named Bombay Bling, one of the top 25 perfumes of 2011..that's how good her brand was just out of the gates. I met Neela in January 2012, during the official launch of Neela Vermeire Creations at the Elements Showcase, January 2012. She greeted me with a warm hug on that cold winter day. Everyone she encounters is greeted by Neela with equal enthusiasm. Ever since has traveled the world without a publicist or handlers; she is doing just fine. Neela is the perfect example of how to build a brand… as its greatest advocate and ambassador.-Michelyn Camen, Editor In Chief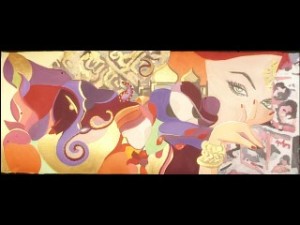 Commissioned painting created by Lara Meissirel showing the three eras of India (Property of NVC; all rights reserved)
I grew up in India where most of my family still lives and studied in the US and completed my Master's degree. I married my Belgian husband (hence the name Vermeire). I continued my journeys; I moved to London, then to Aberdeen in Scotland – the Granite City (it is a great place for playing golf, for pottery, for enjoying their incredible landscapes and for art (love anything by Charles Rennie Mackintosh) and their sense of humour. Next was Paris (with a short stint in The Hague), then back to London and back to Paris. Paris is where my passion for perfumery blossomed into a business and is now home base.
My earliest memories of any form of perfumes were from the various daily ceremonies that took place in my family and grandparents' homes (specially incense spices and sandalwood paste), perfumes I detected from friends/family members close to me who enjoyed wearing fragrances. Beautiful fragrances have always stirred emotions in me very similar to music, colours, textures or other visual art forms. Each of the first India trio is from various periods of my life and are filled with olfactory emotions…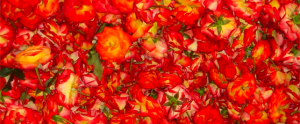 A flower market in Bangalore, photographed by Neela Vermeire (All rights reserved)
Family holidays and school trips to various parts of India made me realize and appreciate the vastness and variety of India and the depth and differences in our Indian culture and history. The smell of jasmine, tuberose worn by women, Indian flower markets, roadside food stalls – smell of Indian snacks, wood stoves, roasted peanuts, tea/chai stalls, fruit stalls – smell of green mango, guava, lychees, jack fruit (very strong smell), musty book stores, wet earth after monsoon rain, dry earth under the scorching sun, smell of freshly brewed Darjeeling tea, stronger chai, spices etc.
As I have observed before, India (like most warm countries) can emit the most beautiful natural smells and also the most awful odours.
Each move around the world has also made me deeply aware of all our cultural differences, richness and preferences. I think of myself as a global villager – restless, curious and hopefully mindful. I love most forms of art and have a deep connection with many creative persons.
My formal education was far removed from perfumery – it is in social sciences and I qualified as a Solicitor in the UK. While training in Law, I found myself inexplicably intrigued by scent, and after a day of long study would head to test perfumes at Liberty of London, Fortnum and Masons and Harrods to name a few. Prior to setting up Neela Vermeire Creations, I worked on consulting projects – promoting emerging artists and creators from various parts of the world. I also did a niche perfume tour called Perfumepaths.
I have been an avid perfume and art collector for many years and always associated perfume with the Arts. Like all great art, great perfumes connect with our emotions without any force or effort. Fragrances are truly the most invisible of art form except to the nose and our memories. To understand Neela Vermeire Creation's core values is to know that each fragrance was created to evoke emotions by using the best quality raw materials and never compromise on artistic freedom.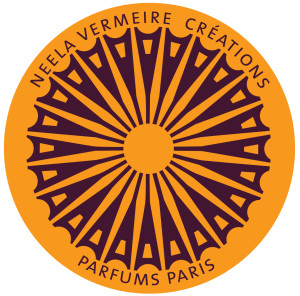 Why so? I believe that niche perfume lover/customer understands, knows and values fine quality. The NVC perfumes have been created with a great deal of thought and passion.
Unlike many of my peers and colleagues, I don't have product development or a marketing background from one of the large companies in the fragrance industry. In my case, I started with learning about every aspect of the perfumes and then worked through various stages of bottles, caps, box, and packaging. There was no road map; I am still learning. Many companies use one-stop shop companies – who help these designers/brands from start to finish. However, many smaller niche brands (unless backed by majorly investors) continue to work like I do.
When developing a brief, I explore my ideas/dreams, then work and do qualitative research on the concept and usually take some time to imagine the olfactory outcome without getting fixated on the result. In my mind's "nose" – I have an olfactory vision. Then there are meetings with perfumers – we discuss what the concept is, what the main natural ingredients will be in the perfumes etc. I leave aroma chemicals to the specialists – the perfumers.There is always a story for the perfumer to work on and imagine the perfume further. Perfumers then produce mods based on these meetings/discussions/ideas.
I explored many opportunities but it all came together when I met Bertrand Duchaufour.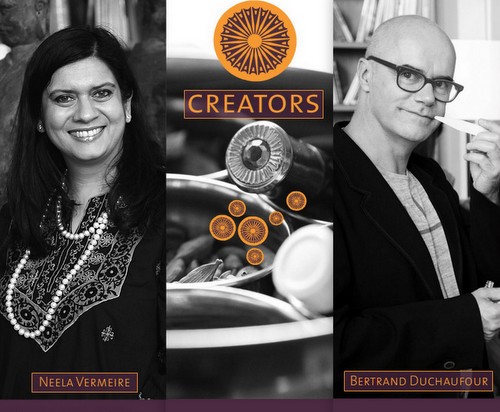 Bertrand Duchaufour and Neela Vermeire
Bertrand was introduced through a fellow creator friend and also another perfumer. He is one of the few independent perfumers I have met in France who had visited India. We hit it off. Bertrand was different from other perfumers and we bonded because he understood so much of Indian culture. When we discussed the perfumes – we discussed the historic periods and the natural ingredients that were important during those times. We discussed and remembered our individual experiences. We met every couple of weeks to test the mods together and then I would keep testing the perfumes for a little while. I did not send lengthy briefs because it is also about sharing the reaction of a fragrance. Bertrand is a true professional perfumer and he made sure that each perfume reached or surpassed what we had set out to achieve. He is a master perfumer.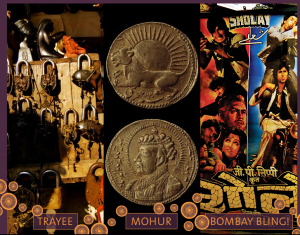 I placed no restrictions for the prices of the very best raw materials. Quality, depth and complexity are the key and that is how we plan to continue on this journey. The first NVC trio is very true to the concept and most of the natural ingredients used have connection with the history of India because those were from my research while I developed the concept. Bertrand Duchaufour brought together a harmonious balance between the natural and aroma chemicals as the master perfumer. Together we brought to life the scent of three periods in Indian history- the Vedic era, the Moghul/British Raj era and modern India.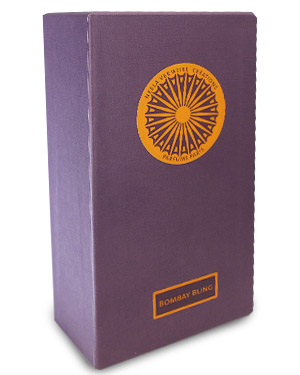 Creative Directors are the core individuals/conductors in any artistic project. We are the innovators, strategists, designers, troubleshooters and facilitators. In a small company, we need to wear various hats each day – at almost every stage of the development there are challenges unless one outsources. I did not wish to outsource for various reasons – I guess I wanted it to be a personal project as much as possible. I work on every aspect of the project and I am very hands on with the development of the fragrances. I did not ever wish to rush in terms of time. That is the only way I can share my passion and these perfumes.
Development of the concept, working on the fragrances closely with perfumers, this is a confidential business; there are usually no "contracts" – it is based on goodwill and mutual respect/trust. Perfume creations are usually guarded with great deal of confidentiality so that there is an element of surprise when they are launched. But I will tell you a hint. My next two fragrances will fill in some important scent memories of India , Paris and their cultures. They will launch in 2013; Bertrand composed one and the other was created by nose Fabrice Olivieri (Hors la Monde and Undergreen).
I think of myself as a world citizen and wherever I travel, I soak up the local culture. I try to immerse myself in the music (all forms), the arts, architecture, history the literature, and of course the smells from the street and the unique scent of the people I meet.
Multiple art forms can and are often interwoven, and it's where they meet that result in the magic of some truly outstanding fragrances. I am not interested in creating perfume that is engineered to sell to the most people. I hope NVC represents the beauty found in timeless fragrances and will be on my customers bureaus many for many years to come.
–Neela Vermeire, founder and Creative Director of Neela Vermeire Creations.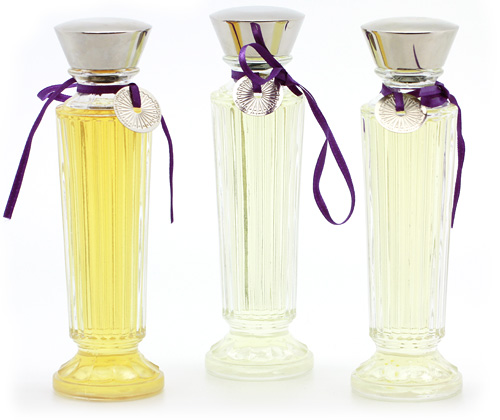 Generosity is part of Neela's nature. When I asked her what she wanted to offer as a draw, she immediately said a reader's choice of full bottle (55 ml at $265 usd) of Trayee (nominated for a Indie Fifi 2013), Mohur or Bombay Bling. If you are new to NVC, please read Mark Behnke's review here. In a conversation, Neela was so pleased that I love Mohur, as it just may be her favorite in the collection.
To be eligble, please leave a quality comment about what you learned about Neela Vermeire as a Creative Director, a memorable quote AND which fragrance you would hope to win. Draw closes January 30, 2013.
Increase your chances of winning by LIKING CaFleureBon Creative Directorsin Perfumery; your comment will count twice. You will also be supporting the Creative Directors who put a piece of their passion and vision in every bottle you buy. THIS IS THE FIRST FULL BOTTLE DRAW WE HAVE HAD FOR NEELA VERMEIRE CREATIONS SO SHOW SOME LOVE.
We announce the winners only onsite and on our Facebook page, so Like CaFleureBon and use our RSS option…..or your dream prize will be just spilled perfume