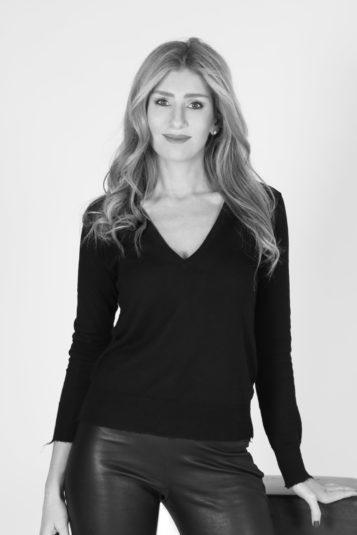 Creative Director Rania Naim of Jacques Fath Parfums
"Art is a step from what is obvious and well-known toward what is arcane and concealed". G.K.Gibran.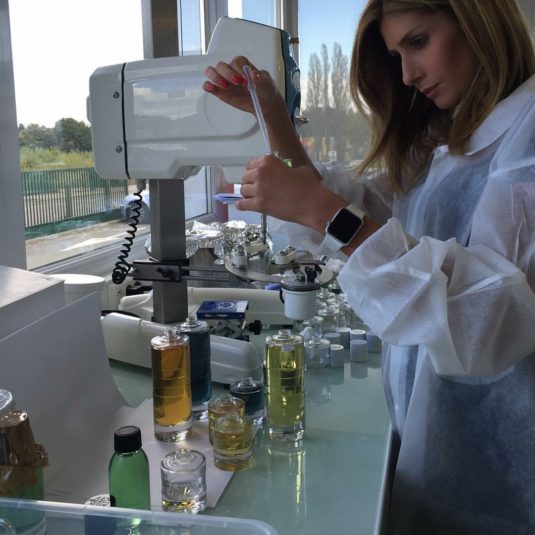 Rania Naim of Jacques Fath Parfums working on the first "Essential's" collection which was introduced in 2016
Creating has always been an intuitive and essential thing in my life. Ever since I was a child, I had always wanted to create my own clothes, concepts, and decorations; I would draw all over the school desks, on the furniture at home, on t-shirts… I felt the need to touch and transform things with my bare hands. I went on to study fashion design with the dream of creating my very own brand; a dream that I still love to realize one day. I had never worked in this field because I got married at a young age and thus dedicated the following years to take care of my two children. When I first met my husband, Bernard (CEO of Panouge), I did not have a clue about the world of perfumes. It was my constant visits to the office and my piqued curiosity that led me to learning more about the job. Today, after 18 years of experience, it has become my passion.
Parfums Poiray
After creating some perfume bottles for different brands in our company, my first real creation came in 2008; it was for the jeweller " Poiray " that was sold as a limited series at Roja Dove in Harrod's and Jovoy Paris. As the creative director of three perfume houses: "Isabey", "Jacques Fath" and "Panouge Paris", I need to juggle between three different universes and thus create different brand's DNA. My time is divided between the foundation of the general concept, the creation and molding of bottle with cap and their packaging; in parallel I follow the development of the fragrance with the perfumer and evaluator. After that comes the creation of the visuals and merchandising at the different points of sale. I enjoy this process as it constantly stimulates me and allows me to express myself in different ways that characterizes my personality. The challenge is my fuel, my stimulator, without which I would get bored and feel vain.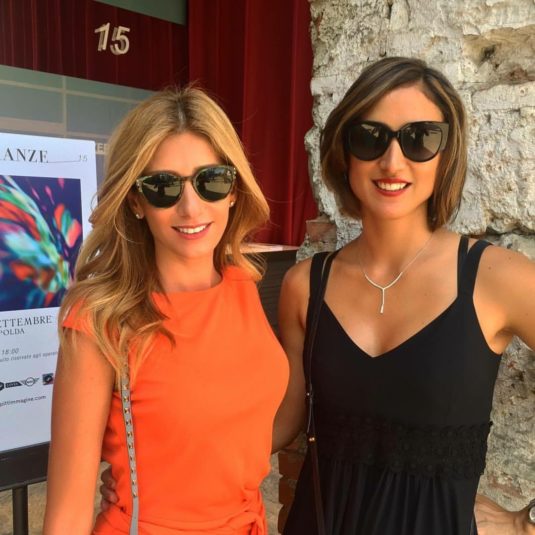 Rania Naim of Jacques Fath Parfums and Cecile Zarokian recently
In 2016, the 1946 perfume house "Jacques Fath", was in need of a 'coup de jeune', to modernize it yet still respecting its patrimonial history. It is a difficult task when you have the mission of continuing the writing on the history of a perfume house that sparked the foundation of "Iris Gris" and "Green Water" among others. After having conducted thorough researches, read every book that was based on the life of the creator and his creations, understood his character and his style, I asked myself this question: What perfume would Mr. Fath have made today? The concept of "Fath's Essentials" seemed to me obvious. I had like a flash with the general vision so clear in my head: It was during the Christmas holidays, I was in the car with my husband so I started to describe the 200ml bottles: the packaging, the colors and even the choice of the perfumer: Cecile Zarokian. I met Cecile two years ago, we had a friendly contact but I was not so familiar with her creations. I admired her strong character and determination, and so I started researching her creations. My decision was taken: she will carry on the first collection of this project.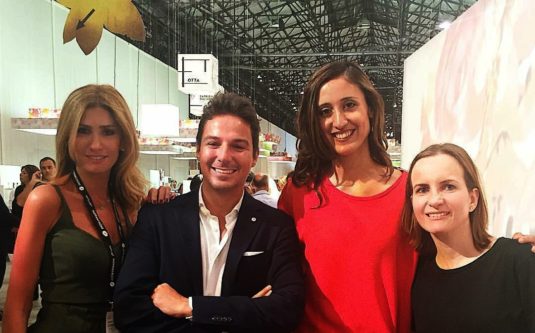 Rania Naim of Jacques Fath Parfums, Luca Maffei, Cecile Zarokian and Brandusa Paulescu of Atelier Fragranze Milano 2016 Pitti Fragranze
I do not believe in the concept of " briefs" and market studies, in our company we do not follow the "trend" of the moment ; as an example ,we never made a fragrance based on "oud " when every company did so. For me the relation with the perfumer is fundamental, and I need to have sympathy and a close affinity so we can work together. Once these ties established, the perfumer who for me is an artist, will have the freedom to express her or his personality, as it is essential to have a soul that will provoke emotions.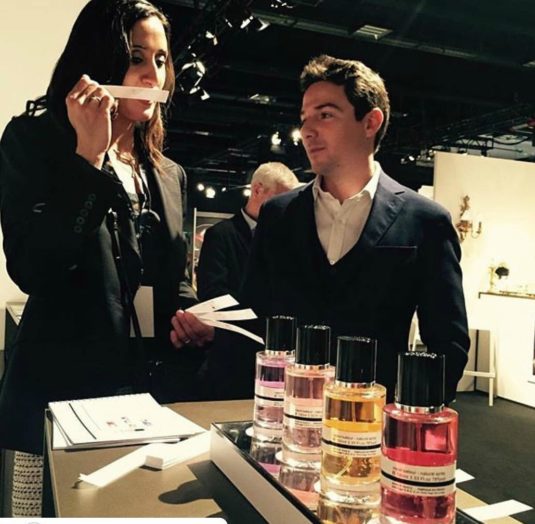 Star Perfumers Cecile Zarokian and Luca Maffei at Esxence 2017 (both featured in our Young Perfumer Series)
For our two brands, "Jacques Fath Parfums" and "Parfums Isabey" we do not really have budget limitations and this is a real luxury for perfumers from whom we only require the assurance of the high quality of raw materials used in the formula. When we discuss together or during sessions of testing we talk more about emotions rather than the type of woman or man to target. We are really not into marketing in this company.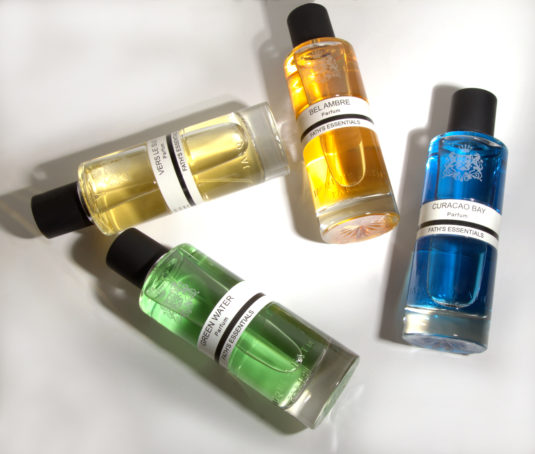 Jacques Fath Essentials by Cecile Zarokian Vers Le Sud, Curacao Bay, Bel Ambre and the Iconic Green Water
Within this space of freedom described above, Cécile created the 3 fragrances of the first "Fath's Essentials" collection: "VERS LE SUD", "CURACAO BAY" and "BEL AMBRE". We chose the theme of a journey around the world based on colours and sensations expressed by rare and natural ingredients. For "GREEN WATER", it was a different process: Cécile had to re-edit a fragrance from 1947, a classical of French high perfumery. She was not in possession of the original formula and yet she had to be as close as possible to the original version. She accomplished an admirable job with many visits to the Osmothèque in Versailles to compare with the original scent, to discuss with Mr. Jean Kerleo, the only custodian of Vincent Roubert's "Green Water" formula. To enhance its legendary freshness and be in phase with its origins, she used 5% of the best Neroli which is a very high and expensive concentration. The result was greeted by all critics and by the nostalgic users of this mythical fragrance.Our first clients for "Fath's Essentials" were Barney's New York, Jovoy Paris, Campomarzio70 Roma amongst others.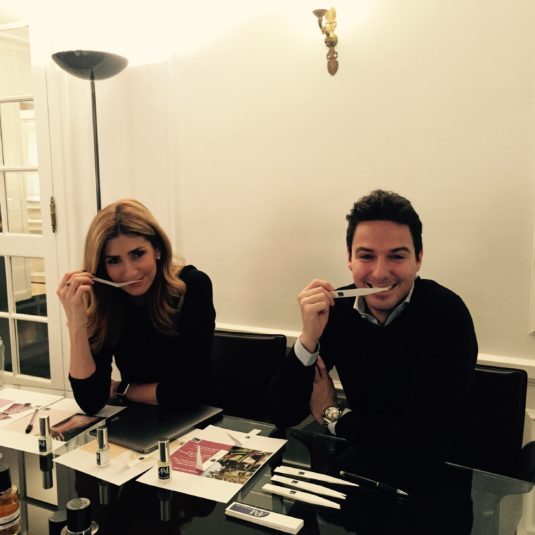 In 2017, we launched the 2nd collection of "Fath's Essentials" and on this project I chose to work with rising Italian star perfumer Luca Maffei. I met Luca two years earlier and we maintained contact thru a friendly relation as I appreciate his sensitivity and his poetic style of creation. For this collection the theme chosen was la joie de vivre so emblematic of Jacques Fath and "the joy of life" had to be transposed in four fragrances with vivid colours and positive scents.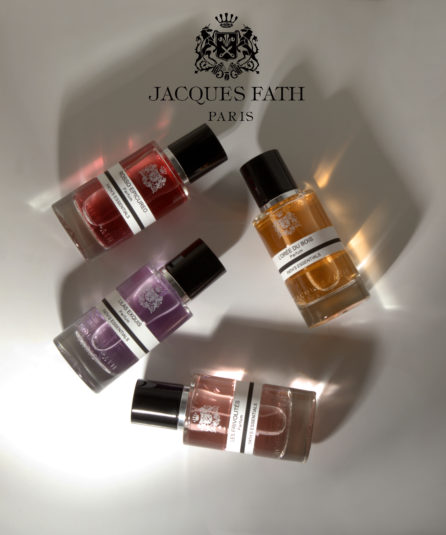 Fath's Essentials Rosso Epicuro, L'Oree du Bois, Les Frivolites, and Lilas Exquis by Luca Maffei
ROSSO EPICUREO: Red Epicurean in Italian, as a clear hint and a tribute to the country of origin of Luca. I wanted this fragrance to have a tuberose base, my favourite flower with its enchanting and captivating scent. It somehow started as an exchange of words, not so serious, when Luca told me: "I want to create the fragrance that you will love to wear". So he came up with this modern and sparkling tuberose, combined with a Royal plum Kir and raised by Sichuan pepper: a mysterious and explosive mixture, a perfume that I adore and which I adopted as my personal signature.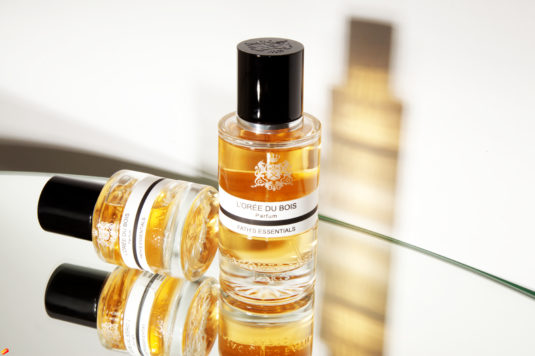 L'OREE DU BOIS: I took the name of a dress that Mr. Jacques Fath made especially for Rita Hayworth for her wedding trousseau when she married the Aga Khan. Luca wanted to work around the gold colour, symbolizing this great star. So he used, amongst other rich ingredients, Mimosa flower, Saffron and honey scent.
LES FRIVOLITES: I loved this name since I first read about Jacques Fath as he gave it to his collection of lingerie and stockings. I have asked Luca to imagine a sensual and rose fragrance, not a girly pink, but rather a rose that represents the intimacy of the woman, a skin scent. Luca Maffei immediately thought of Marie Antoinette with an accord of rose macaroon, lychee and suede giving the sensation of a second skin.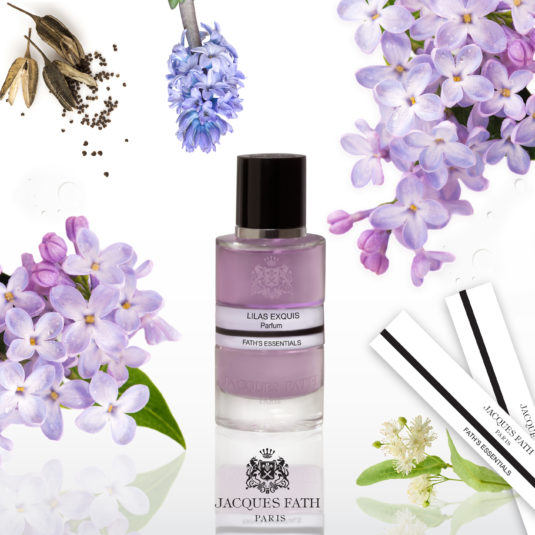 LILAS EXQUIS: Lilac is a colour that Jacques Fath often used in his creations. I wanted to play on words of lilac the colour and lilac the flower. For Luca, it was certainly the most difficult of the 4 fragrances to be created as this flower is mute and hence the scent has to be composed. After so many trials and round trips between Milano and Paris he managed the perfect Lilac. Once smelled, we feel a misty lilac, fresh picked in the morning, so poetic, that only Luca Maffei and very few are able to transmit such sensations thru a scent.
Currently, I am all concentrated on a project for Jacques Fath Parfums. This project is so delicate, complicated and challenging that it procures me joy and pain in the same time. For this purpose I am in daily contact with perfumers, the best, I learn a lot from our exchanges as it helps me to resist the great pressure on my shoulders. Without these friendly ties and closeness it would have been difficult for me to create and to be passionate in what I undertake. This is how I felt so far, until one day; a young talent appears and turns us upside down with emotions so intense, that you can only bow! Didn't Jacques Fath represent the "eternal youth"?
So, if I have to sum up myself, I would say that anything can be a source of inspiration for me or trigger an idea to which I will hold: a landscape, an opera tune, a pattern, a journey, an expression, a state of mind … It is certainly during my early jogging in the Bois de Boulogne, by myself in the calm of the woods, that I feel most inspired. Sometimes, I can hardly wait to go to the office to share my idea, debate with colleagues even sometimes with tears in my eyes as passion is always present. Not be formatted by the system, work outside the box, remain curious, always be marvelled and keeping my childhood soul are for me essential ingredients to create dreams.
For me a perfume should provoke an intense feeling, tell a story, take you to the wonderland and most of all call you to wear it, to live with it and to adopt it as you feel sublimated and …unique.
Creative Director Rania Naim of Jacques Fath Parfums, Isabey, Panouge Paris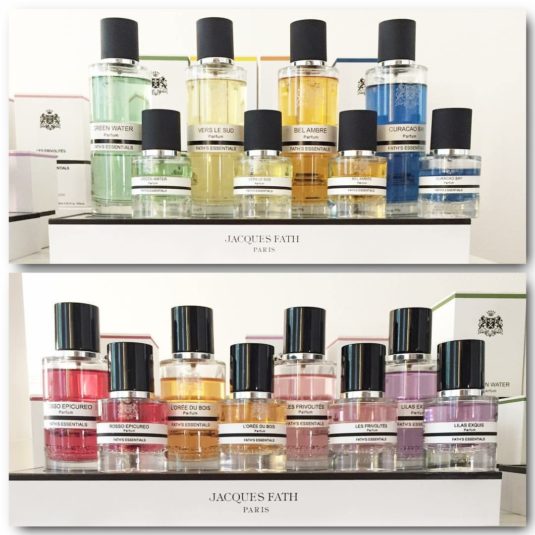 Jacques Fath Parfums Jacques Fath Essentials
Thanks to Creative Director Rania Naim of Jacques Fath Parfums, we have a draw for a registered reader in the EU, USA or Canda for 100 ml of any Jacques Fath Parfum. You must be registered and you must use your user name or your entry is invalid. To be eligible, please leave a comment about what moved you about Creative Director Rania Naim of Jacques Fath Parfums approach to perfume, (what you learned or a memorable quote), where you live and your choice of a fragrance from the current collection (please click here to see each) or a sample set of all 8. Do you own a Jacques Fath Essential's perfume? Draw closes 3/4/2016.
Increase your chances of winning by LIKING our Facebook page CaFleureBon Creative Directors in Perfumery; your comment will count twice; please be sure to leave in your comment that you liked the page.
All Photos property of Raina Naim and used for this article© Visit Raina Naim and learn what's next for Jacques Fath Parfums at Esxcence 2018 M18
Follow us @cafleurebon and @jacquesfathparfums on Instagram
We announce the winners on our site and on our Facebook page, so Like Cafleurebon and use our Blog feed…or your dream prize will be just spilled perfume