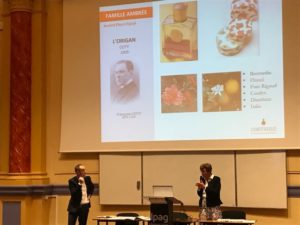 Patricia de Nicolaï & Pascal Sillon present Coty L'Origan – Flonol
On May 16th, Patricia de Nicolaï Perfumer and President of the Osmothèque and Pascal Sillon, Perfumer Creator at Symrise held a conference on "the bases in perfumery part 1."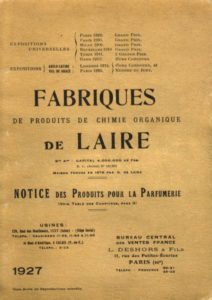 Fabrique de Laire 1927
The objective was to take an olfactive journey with the most famous "Bases" of perfumery back to the birth of the modern perfumery end of 19th century to the beginning of the 20th.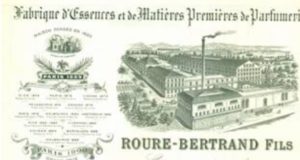 Roure Bertrand Fils
During the early 19th chemistry has offered a lot of new molecules to the perfumer, but it was difficult to use them compared to the main elements of this period's palletes such as natural products: oils, and extract. Some perfumers developed bases that helped with the use of synthetics.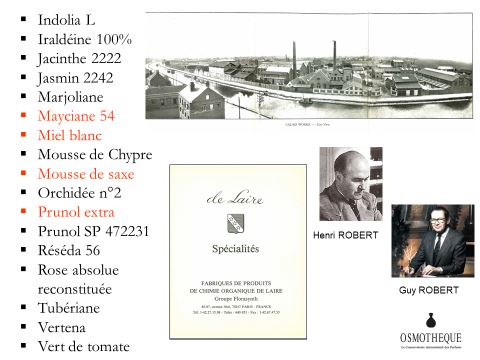 Vintage bases
Before becoming fragrance houses, several companies started by producing molecules and later bases that used those molecules such as: de Laire, Chiris, Synarôme, Roure Bertrand, Givaudan or Firmenich with the aim of helping talented perfumers such as François Coty, Jacques Guerlain, Henri Robert, Edmond Roudnitska, Ernest Beaux, Ernest Daltroff … to create their masterpieces.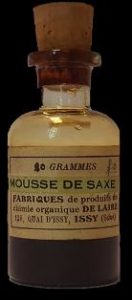 Mousse de Saxe Base from the Osmothèque
During the conference, we explained what a base or "pre-perfume" is: a base could be an original accord of non-original raw materials( te a base ) or an elaboration of a strong synthetic raw material (Mousse de saxe) often a captive and also a reconstitution of a natural product for economic, regulatory or non-existence of an special essential oil (Muguet 16).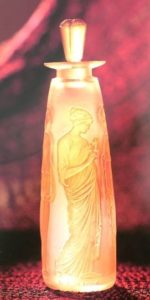 Ambre Antique Coty
Thanks to those bases the perfumers could add to their palettes: single, helpful, nature substitutes, cheaper, stable and new raw materials .We explained how those bases developed at the same speed as the fragrance houses. Les Fabriques de Laire wa sa good example of this development in parallel to the discovery of the synthetic Vanillin. Later at the beginning of the 20th century, they were one of the first fragrance houses to sell bases such Ambre 83 to help perfumer to use Vanillin.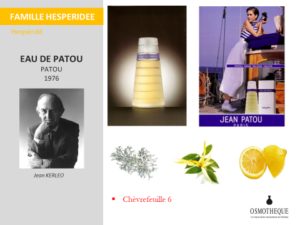 Citrus (Hesperide Family) Jean Patou
Through several families AMBERY, FLORAL, HESPIRIDE (CITRUS), CHYPRE… we gave examples of well known bases: Ambre 83, Iralia, Bouvardia, Dianthine, Flonol, Lilas 7, muguet 16, Coroliane, Chevrefeuille 6, and Prunol.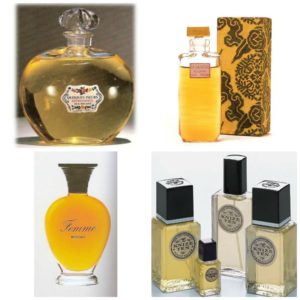 Original bottles of Houbigant Quelques Fleurs, Sa Chambre by Parfums de Rosine, Femme (famous for its overdose of Prunol) and Knize 10 (osmotheque)
Most of these bases are kept at the Osmothèque to recompound the old Perfumes, no longer on the market. At the same time we smelled iconic fragrances containing this base such as: Ambre Antique (Coty), Après l'ondée (Guerlain), L'Origan (Coty), Quelques Fleurs (Houbigant), Eau de Patou ( Patou ), Sa chambre (Parfums de Rosine), Nuit de Noel (Caron), and Knize Ten (Knize).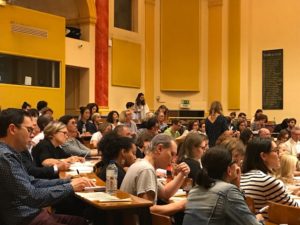 100 Aficionados attended the Conference (photo: Pascal Sillon)
Our mission is to make the public aware of what bases brought to the final creation, why they are so important, what are their main components…What is next? As with every art you have to know the codes, the structure of the old masterpieces to create those of the future. In conclusion, I spoke of a new de Laire Base inspired by the Original Ambre 83, changing raw materials to create Ambre 84, but keeping the original soul.
-Pascal Sillon, Senior Perfumer for Symrise
This article ties into our Perfume Signatures series(see yesterday's post on Ernest Beaux and Henri Almeras) and leads into a new ÇaFleureBon series July 15, 2017 "Notes from the Lab", which will be written by Perfumer Sherry Sebastian, an industry veteran, who has been behind many well-known perfumes during her career at IFF, Creative Concepts and Fragrance West. More with Sherry next week.