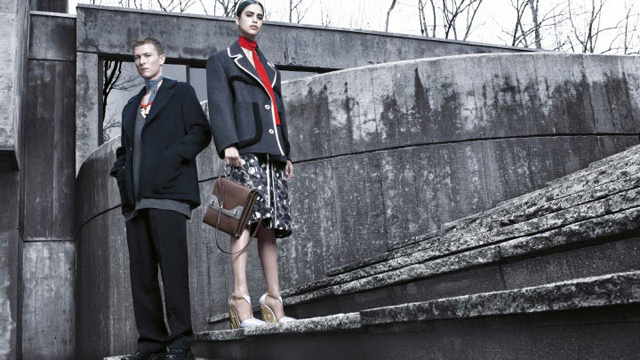 Prada Fall-Winter ad campaign, photo by Steven Meisel, 2014-2015
A name that suggests impermeableness, opacity, urban. A bottle that is weighty, spare, and as implacably modern as the wall of the Guggenheim. So, the fragrance waiting inside must be dense and mineral, right? But, as this is the new perfume from Japanese fashion house Comme des Garcons, where nothing is ever literal, the name and packaging are a misdirection, a cue only to the deconstruction and rebuilding themes that served as inspiration for the scent. The central note of Comme des Garcons Concrete has nothing to do with cement and amalgam. It is, in fact, sandalwood.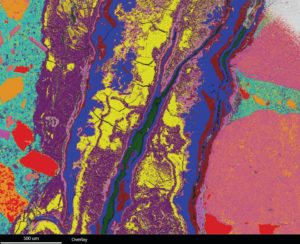 Photograph of polished surface of a concrete core, photo International Cement Microscopy Association
Comme des Garcons' newest fragrance, composed by Nicolas Beaulieu is intended as an homage to New York. But, as many have noted, it doesn't smell much like concrete at all. As the marketing material for Concrete says, the perfume is "an exploration of destruction, construction and creation … where material preconceptions are deftly demolished, paving the way for something new."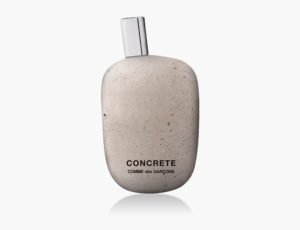 So, if you were expecting a brutal, ISO super E dominant perfume to go with its name, Comme des Garcons Concrete will come as a small shock. It's about as tough inside as a fluffy bunny.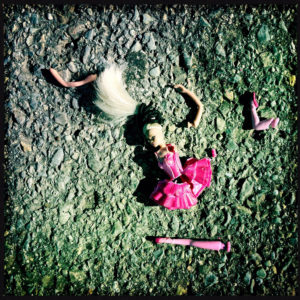 Barbie Crush, photo by Ba@ky (Flickr)
Comme des Garcons Concrete starts off with a loud snap of bubblegum, that combination of artificial grape and the chewy, chartreuse smell of mastic. A plastic note comes forward and decides to stick around for a while, and a subtle waft of rose weaves in and out. At this early stage, Concrete is the little-girl-lost perfume fragrance of a doll left on a New York City sidewalk.
Reflections, photo by Mcx83 (Flickr)©
But just when you've wrapped your head around the fact that this fragrance is not about cement and asphalt, there is a fleeting moment where the scent of wet pavement is unmistakable; a momentary sense of damp and broken stone. The long first stage starts to give way from its edges to an encroaching woodiness. Sandalwood comes in in disjointed pieces that initially makes it hard to pin down. The first clue is a warmth that enters the perfume slowly. Gradually, the aroma of wood comes into the background. It takes a full few minutes, though, before the smooth, suede-like quality of sandalwood becomes discernable. Once the sandalwood comes through fully, it stays dominant for the rest of Concrete's trajectory, with those alluringly weird bubblegum-and-plastic notes dancing around it.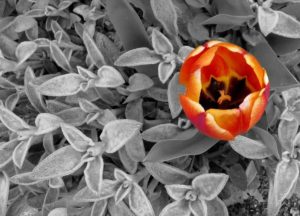 Standing Out In A Crowd, photo by fantasyworks©
Comme des Garcons Concrete is melancholy fun: it's alluring and very wearable, but you're not quite sure why. It is not the perfume to grab when you want to feel pretty, butch or even ultra-hip. Concrete is the one you want when you know no one in the room will be remotely like you.
Notes: sandalwood, rose oxide, cinnamon and cardamom.
– Lauryn Beer, Senior Editor
Thanks to the generosity of The Perfumed Court, we have a 3m spray sample of Comme des Garcons Concrete for 1 registered reader in anywhere in the world. To be eligible, please sign up for The Perfumed Court Newsletter and leave a comment with what appeals to you about Comme des Garcons Concrete based on Lauryn's review, where you live and what a modern city smells like to you. Draw closes 1/9/2017
We announce the winners only on our website and on our Facebook page, so like Cafleurebon and use our blog feed … or your dream prize will be just spilled perfume.