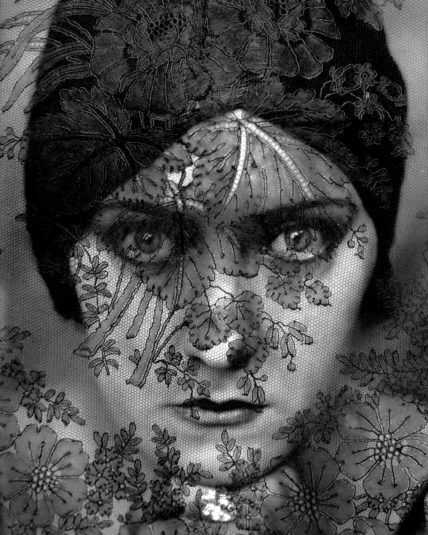 Gloria Swanson, photo by Edward Steichen, 1924©
1923. King Tut's tomb is unsealed after sleeping in the dust for millennia. Across the world, Time magazine launches, Warner Bros create their first movie star in Rin Tin; Diane Arbus is born; Sarah Bernhardt dies. In, New York, Babe Ruth hits the first home run in the new Yankee Stadium in the Bronx. And downtown, on Fifth Avenue, CIRO Parfums launches its first fragrances, all created by French house Gabilla and bottled in baccarat crystal designs by the great Julien Viard. The initial six fragrances from that era have now been revived, given fresh formulations that are an elegant nod to the past with a vividness and verve that make them au courant.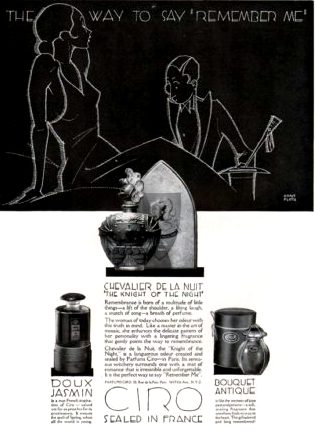 CIRO perfume ad, c. 1920s
CIRO founder Jacob Wiedhopf was a parfum devotee par excellence: the man who introduced Caron to the United States, he also co-founded the Fragrance Foundation and became its first president.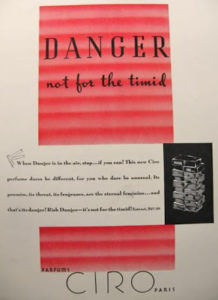 Ciro Danger Vintage Ad -Aaron reviewed Danger here
His creations were meant to rival Caron in quality and presentation but at accessible prices. In the late thirties, CIRO was relocated to Paris, renamed CIRO Parfums, and soon after launched its most famous scent, Danger (1938), a dark rose femme fatale. The house was quite popular for several decades before fading from vogue in the 1960s and closed its doors.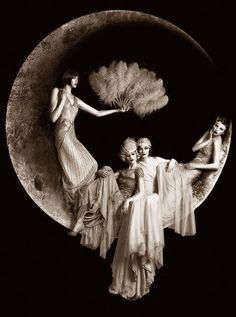 Photo by Hunter Leone©
The last few years have seen the revival of great perfume houses from the first half of the twentieth century that faded away in the second: Le Galion, Jacques Fath, Lesquendieu, and now, under new German ownership, CIRO. Rather than recreate the original formulas, the new line pays homage to the perfumes that made that CIRO brand, but in new compositions made old school, with high concentrations of perfume oil and classical structure: Ptah, a smoky, fruity masculine; Floveris, a full-bodied rose and peony; L'Heure Romantique, a radiant green floral; Le Chypre de Nil, a classic chypre; Chevalier de Nuit, a sexy labdanum rose, and my favourite, the deliciously sensual, exotic CIRO Maskee.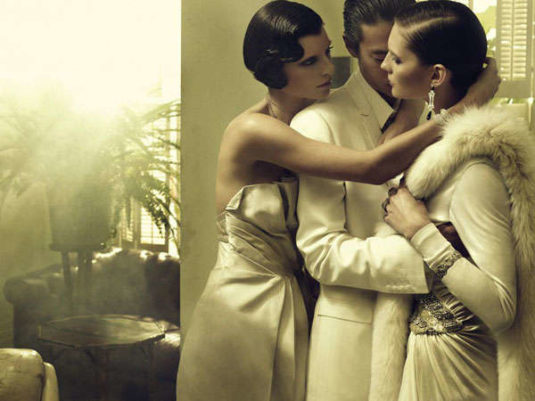 Photo by Alexi Lubomirski for Indochine fashion editorial, Vogue Germany, Dec. 2009
Created by Alexander Streeck, CIRO Maskee is a luscious ylang and rose confection served with a side of whipped cream flowers and rich dessert notes. A warm breeze of ylang, with its banana syrup sweetness, sweeps the skin as Maskee opens. But there's a tang of something citric there, too, that keeps the ylang from becoming top-heavy. Instead, the ylang spreads out languorously, joined by a bright, fruity jasmine. I never before considered how beautifully iris and heliotrope complement each other, but, as they emerge here, the almond-y quality of heliotrope and iris' puff pastry aspect combine in a floral gourmand accord that is pure kismet.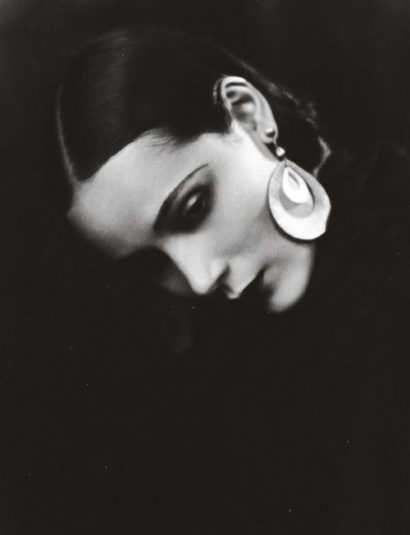 Delores del Rio, photo by Ernest Bacharach, 1920s
Maskee's sultriness turns brunette in its middles stages, the rose that enters dark and a touch thorny. The ylang stays where she is but gives Her Roseship center stage for the next few moments. It isn't long though, before that sunny ylang and moody rose wrap around each other in an Argentine tango, and honey, softserve vanilla and spiced-milk tonka slither onto the dance floor alongside them. As these gourmand and heady flower notes meld, Maskee could have become heavy and oversweet. But Streeck keeps the composition restrained and lush at the same time, with a faultless elegance – a Delores del Rio of perfumes.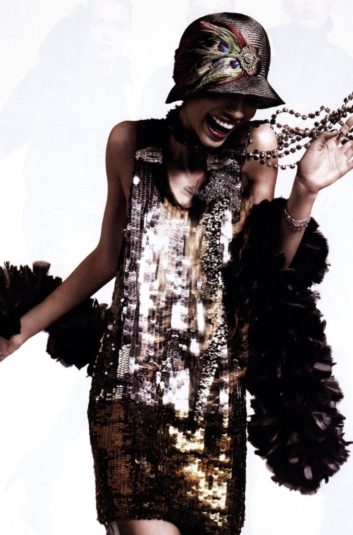 Chanel Iman, photo by David Sims for The American Experience fashion editorial, Vogue, May 2010©
The sappiness of honey gets picked up by the flowers en route to the dry-down, where cedar adds a light woodiness that acts as an austere, quiet balance to the richer notes. I find it impressive how many dense aromas are handled here with such a light touch. Part odalisque, part silver screen siren, and very much a lady, Maskee is refined, sultry, with a timeless quality that suggests but doesn't telegraph retro. Crank the Victrola, tie on a jeweled headband, and imagine you're in DH Lawrence. A dab of CIRO Maskee and it won't be hard.
Notes: Ylang-ylang, damascena rose, iris, jasmine, tonka absolute, heliotrope, honey, vanilla, cedarwood, white musk.
Disclaimer: samples generously provided by CIRO Parfums at Esxence 2018. My opinions are my own.
Lauryn Beer, Senior Editor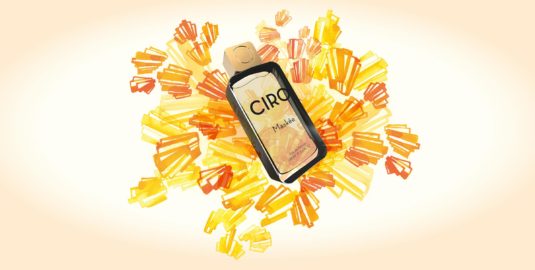 CIRO Maskee
CIRO fragrances are not yet available in the United States, but thanks to the generosity of CIRO Parfums, we have a 100 ml bottle of Maskee for one registered reader in the U.S. or Europe. To be eligible, please leave a comment saying what appeals to you about CIRO Maskee based on her review and where you live. If you look at their website, what other CIRO Parfum might you like? Would you like to see this brand in the USA? Draw closes 6/17/2018.
We announce the winners only on our site and on our Facebook page, so like Cafleurebon and use our Blog feed…or your dream prize will be just spilled perfume.