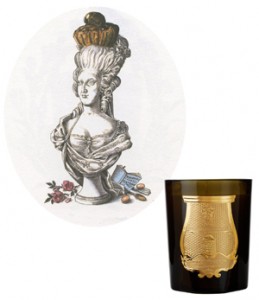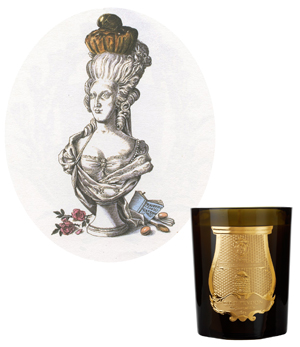 Via Cire Trudon Trianon Candle
1643. The thousand candles that set the Hall of Mirrors at Versailles ablaze, tendrils of smoke curling round perukes, periwigs and bejeweled bodies come from the king's candlemaker, Cire Trudon. Founded early in the reign of Louis XIV, Cire Trudon is now the oldest chandler in the world, famous for its long-burning, scent-saturated candles, elegantly named by gold embossed labels.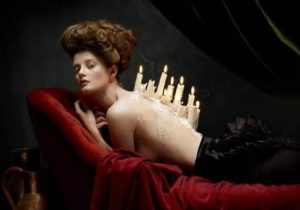 Photo by Helen Sobiralski©
Now, some four centuries later, Cire Trudon is venturing into perfumery for the first time, creating a new line of five "genderless" scents (available at Barneys New York) that fit as seamlessly as an embroidered gauntlet on the Cire Trudon hand.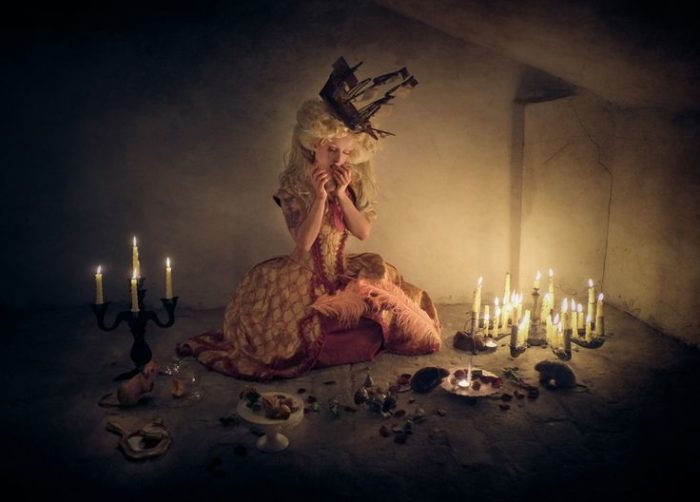 Photo by Dennis Ziliotto©
Each fragrance possesses a historical resonance — Revolution, for example, evokes the smells of musket fire at the fall of the Bastille — yet has a contemporary spareness that keeps it from feeling like a museum piece. Created by perfumers Yann Vasnier, Lyn Harris and Antoine Lie, the standouts are Bruma, a vivacious iris with a touch of animal; the rich, peppery, incense Mortel; and powdery, spicy Olim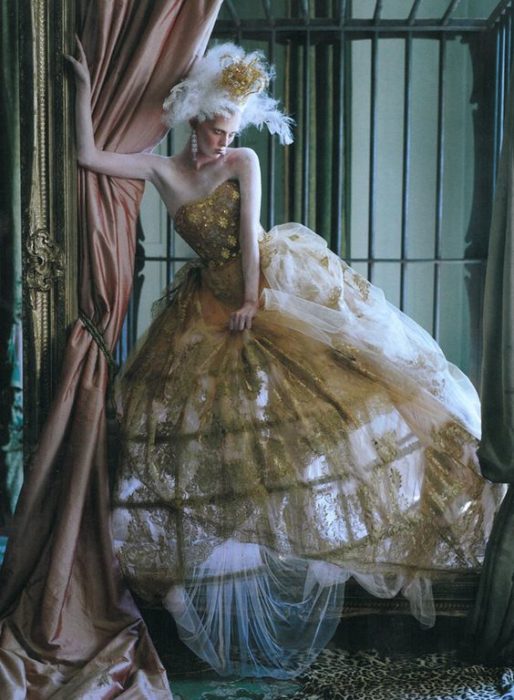 Photo by Tamara Figura©
Bruma (Antoine Lie): Bruma, which means "solstice" in Latin, feels poised between seasons. In its opening, chilly white iris marries with vernal green notes. At first, Bruma is a springlike iris sparked by galbanum. But then it moves into a quiet sultriness, as earthy notes slither up. First, vetiver, with its singular hint of petrol and turned earth, begins to smooth out the spiky juiciness of galbanum. Next, a buttery animalic note begins to purr softly, as disarmingly mellow as a glove leather dipped in whipped cream. Then, out of nowhere, a strikingly vegetal note — the vetiver fully opened — grabs hold, and that debutante iris zips up her green leather bodice and heads for the hills. Notes: black pepper, lavender, galbanum, violets, purple peony, iris, jasmine sambac, labdanum, Haitian vetiver, tonka bean.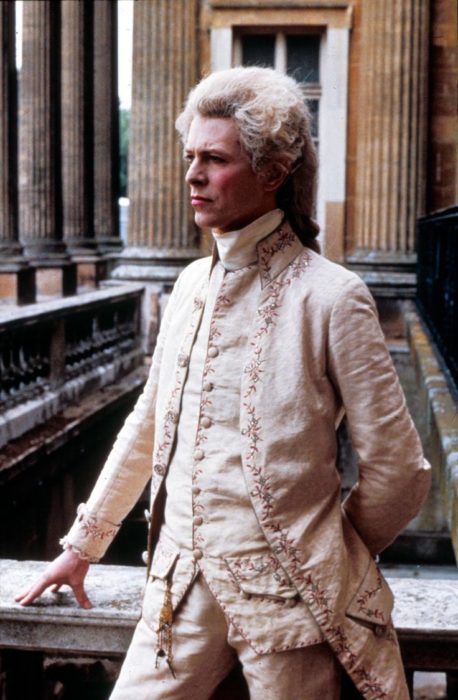 David Bowie in The Hunger (1983)
Mortel (Yann Vasnier): Mortel translates to "deadly" in French. But its name also suggests mortality in a broader sense, the ephemeral nature of humanity. For M. Vasnier, it elicits "the artist, living between shadow and light … between the religious and the revolutionary." Mortel's opening is pure frankincense, puffy with smoke. As the incense warms on the skin, Mortel's harmonies of black pepper and benzoin emerge simultaneously, the pepper adding a low thrum of heat; the benzoin, a mezzo of mellifluous sweetness. The notes intertwine rapidly, resulting in a seamless fragrance that is warmly beautiful, cousin to Cire Trudon's famous Spiritus Sancti candle. Mortel is not a complicated fragrance, but its censer-like smokiness and counterpoints of spice and sweetness have a spare beauty that stirs memories of church and humanity. My favourite of the line. Notes: black pepper, pimento, nutmeg, Somalian frankincense, Mystikal, Virginia cedar, pure cistus, myrrh, benzoin. (Yann Vasnier & Rodrigo Flores-Roux created a Cire Trudon candle "Merida" in collaboration with Arquiste, 2013 -Michelyn)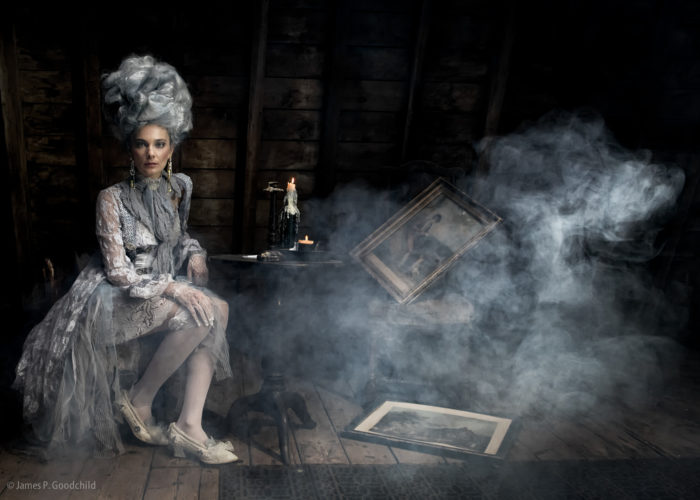 Ragged Rococo, photo by James Goodchild©
Olim (Lyn Harris): Perfumer Lyn Harris, formerly of the English house Miller Harris, says of Olim that it "the scent is full of history. Better still, it has the power to reveal history." It evokes the ancient texts and documents of the Paris parliament, of laws once delivered to the king. And indeed, Olim, whose name means "once" in Latin, opens with the milky, woody aroma of old paper, summoned by a particularly lovely myrrh mixing with benzoin. Clove, with its smell of turned earth and dark corners, gradually becomes prominent without ever knocking the myrrh and benzoin off-balance. Harris describes Olim as a cold scent, yet to me it is warm, elegantly comforting. Olim's powdery dry-down has a touch of retro, yet never falls prey to that too-proper aspect that can characterize violet powder scents. Ms. Harris has substituted a warm, honeyed touch of spice in place of that sometimes proper flower. The result is a lovely, almost lactonic perfume that is like holding an antiquarian volume, curled up in a nook. Notes: bergamot, lavender, anise, pink peppercorn, clove, patchouli, benzoin, myrrh, musk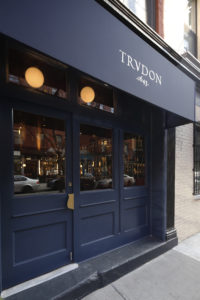 Photo via Cire Trudon-NYC Boutique
It may have taken Cire Trudon a few years to get around to perfumery — 374, to be precise — but Bruma, Mortel and Olim establish that it was well worth the wait.
— Lauryn Beer, Senior Editor who is also the Art Director for this review
Disclaimer: Samples of Bruma, Olim and Mortel provided by Barney's New York — many thanks. My opinions are my own.

Cire Trudon perfumes via Cire Trudon©
Thanks to the generosity of Barneys New York in N.Y.C. (and the wonderful Sebastian Bermudez!) we have a sample set of all 5 Cire Trudon perfumes, Bruma, Mortel, Olim, Revolution, and Il Eau de Parfum for 1 registered reader in the U.S. To be eligible, please leave a comment saying what appealed to you about Bruma, Mortel and/or Olim based on Lauryn's review, if one stood out for you and if you are familiar with Cire Trudon candles. Draw closes 11/5/2017
We announce the winners only on our site and on our Facebook page, so like Cafleurebon and use our RSS feed … or your dream prize will be just spilled perfume