FOTD: Charlotte Tilbury The Dreamy Look -Out door lighting (7:00 AM No filters, no caffeine. Dreamy?)
Like most of us I tend to gravitate to similar colors and looks (for me variations of smoldering smoky eyes, lipsticks in shades of vivid to medium bright corals and pinks, tightlining) because they work. I haven't done a beauty review for a while, so I ventured out of my comfort zone.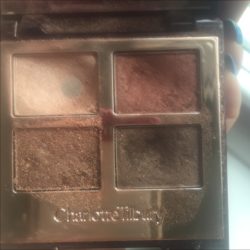 Dolce Vita Luxury Coded Eye Shadow I bought in March 2016
I have quite a few Charlotte Tilbury lipsticks; favorites are from the inaugural Matte Revolution Fallling from the Lipstick Tree collection Lost Cherry, Sexy Sienna, Coachella Coral and Amazing Grace. My Dolce Vita Eyeshadow quad has hit pan and I am hoping that the limited edition The Fallen Angel Luxury Eye Palette is brought back, as these two are my daily go tos; they also pop blue eyes and play well with each other. When I traveled to Milan I took both palettes and two lipsticks Sexy Sienna and Coachella Coral. It doesn't get better than that.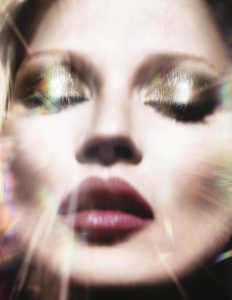 Kate Moss for Charlotte Tilbury photo Charlotte Tilbury
When Lauyrn Beer wrote a review of the new Charlotte Tilbury Scent of A Dream perfume, I was intrigued by the photo of Kate Moss and her shimmering eye makeup. This is what Charlotte Tilbury has to say about the Dreamy Look "Darlings, the Dreamy Look is inspired by the dreamy spot-lit beauty that supermodels like Gisele Bündchen and Gigi Hadid possess. That flawless, poreless, airbrushed supermodel dream skin that catches the light, and transports you to another realm! This look is a gorgeous, super-flattering, glowing, dreamy veil of makeup that suits everyone, and transforms the wearer from 'gorgeous girl' to 'goddess of the party.' I have absolutely nothing, nada in common with Gigi Hadid and Gisele so excuse me if I was skeptical.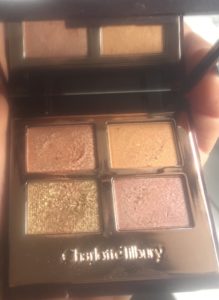 Legendary Muse Luxury Color Coded Eye Shadow Palette Photo indoors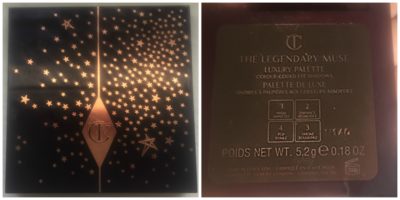 Limited edition packaging of The Legendary Muse palette front and back
The Legendary Muse Luxury Palette Color Coded Eye Shadows: As in all Charlotte Tilbury shadow kits, there is a lighter Prime color you apply over the entire eye, a medium Enhance shade to use as a contour color and to rim the upper and lower lashlines, a Pop hue for extra glam on the lid and a Smoke shade that adds drama to the outer eye and can also be used as a liner. I used both the Charlotte Tilbury Eye blender brush and Eye Smudger brush. I did my makeup in 6 minutes.
#1 Prime: a gorgeous shimmering pink champagne. Wear this as a wash with black liner and you are good to go. This is my favorite in the palette.
#2 Enhance: warm golden shimmer with peachy duo chrome
#4 Smoke: warm medium light brown shimmer. a shade less peachy than enhance
#3. Pop: Warm gold glitter shadow with an ultra creamy consistency. Best applied with your finger to the mid eye. Sparkly without looking like a disco ball.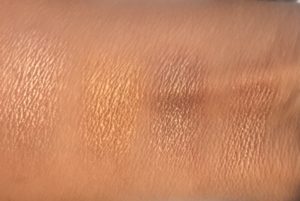 (L) Prime, Enhance, Smoke, (R) Pop. Indoor Lighting
Verdict: The overall effect is shimmery, but the texture is creamy and there is no fall out. A nice change of pace for me, but the colors are too similar when applied to my medium tan complexion. If you have paler skin and light hair give it a shot. If you think shimmer doesn't suit women over 50, my experience with Charlotte Tilbury palettes will prove you wrong. Rating 9 but if you are fair 9.5
Rock and Khol Pencil Eyeliner. Bedroom Black. Not black enough for me and I cannot use it to tightline. Lines well on upper lid, creamy, no tug. Rating 6
Legendary Lashes Mascara. Nice definition, great for length, not volume which I prefer. It smudges easily on me although I set my lashes with primer and a dusting of powder. Rating 5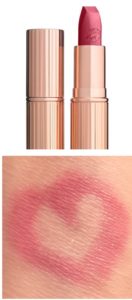 Sexy Salma Hot Lips Lipstick Swatch indoor lighting
Hot Lips in Sexy Salma: Named for the smoldering beauty that is the Latina actress Salma Hayek. Depending on your skin tone, this can be a medium deep rose plum, if you are fair or cool toned. I usually don't like plums. A wonderful surprise. For me it is a Holy Grail shade, a YLBB that actually doesn't wash me out. While I prefer the texture of Falling from the Kissing Tree lipsticks, (less drying), a little lip balm is a small price to pay. Rating 10
Photo: Charlotte Tilbury
The Legendary Muse kit is $132 and at that price I think it is a good value. Rating 8.5
Other products I used:
Courtesy of NARS Nars Velvet Matte Skin Tint Foundation Annapurna SPF 30
Courtesy of CHANEL: Chanel Creme Blush (discontinued) 69 Intonations (try Burberry Cheek in Lip Bloom in Poppy)
Diorskin Nude Bronzer powder Cinnamon
Benefit KaBrow Cream Brow Gel #4
Tom Ford Skin Illuminating Powder Duo
Disclosure: I received some products from Charlotte Tilbury mentioned in this review but most are from my own collection.
The Dreamy Look and the individual Charlotte Tilbury products can be found on http://www.charlottetilbury.com/us/
Michelyn Camen, Editor in Chief