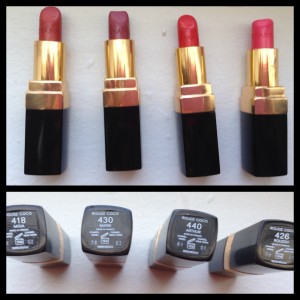 Misia 418, Marie 430, Arthur 440 and Roussy 426 Rouge Coco lipstick
I own about 80 lipsticks (I have less than half perfumes) and about a third are from Chanel. I am a happy beauty blogger this Spring because Misia, Marie, Arthur and Roussy are quickly becoming my go to lipsticks. I don't look well in beige nudes, dark purples, and blue toned reds. If you do, don't move on as I think they can work for most skin tones.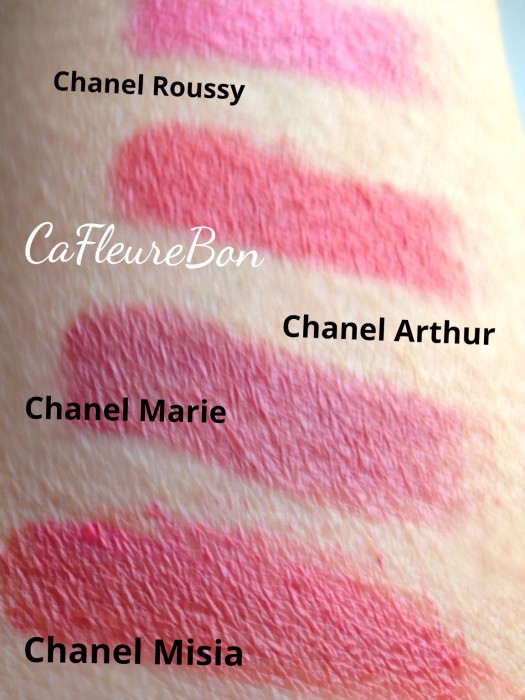 Natural lighting applied from the tube one swipe
Chanel Misia Rouge Coco Lipstick 418: I expected a coordinated color to the cool rose tinged violet Les Exclusifs Misia. It is described as a copper orange. It is a much softer medium orange, with slight peachy,apricot undertones. There is as translucent quality that is exceptionally pretty, and the color of your lips peek through. Misia lasted about 3 1/2 hrs including lunch and the formula is hydrating. $36.00
Chanel Marie Rouge Coco Lipstick 430: Chanel describes the color as an intense pink red. On me it is a medium rosy pink "wear with anything shade" with a bit of shimmer and warm undertones. As in Misia, the formula is only slightly translucent, and your natural lip color does come through. It wears almost identically to Misia for just under four hours and is also hydrating. $36.00
Chanel Arthur Rouge Coco Lipstick 440. Chanel describes Arthur as a "luminous red" and that is a fairly accurate description. I don't wear reds easily but Arthur has warm pink undertones that harmonize with my complexion. When I wear Arthur, I don't feel like I am wearing a statement red, it is more sublte with pink undertones. Hydrating, with opaque coverage, it wears longer than Misia and Marie. I don't have anything like it in my collection and on days when I just want to look polished without doing a full makeup, Arthur and mascara is all that is needed. If you only buy one lipstick from this review, buy Arthur. $36
Chanel Roussy Rouge Coco Lipstick 426 To quote Audrey Hepburn, "I believe in Pink". Roussy is a bright pink in the tube just short of hot pink. On me it is warmer, with coral rosy undertones. It is exceptionally hydrating and the most opaque of the four reviewed. It wears for about five hours,making it the longest lasting. If you are afraid of pink lipsticks, then Roussy will usage your fears. I have a friend who is a blonde and fair as I am warm and brunette and it looks just as great on her. For the past two days I have been wearing the heck out of Roussy, as you can see by the state of the tube. $36.00
Misia, Marie, Arthur and Roussy are all part of the newly reformulated Rouge Coco Lipsticks. On my need to review list are Coco, Emilienne (a new nude that looks promising) and Adrienne (YLBB) which I hope to swatch soon. For reference I am a MAC Nc40-42, Diorskin Star Fluid Foundation Honey Beige, Rouge Bunny Rouge Aquarelle Cashew, Nars Barcelona,(all warm medium to medium tan foundations).
Disclosure: Products supplied by Chanel; opinions my own, all photos from iPhone 5 indoors and no filters
–Michelyn Camen, Editor in Chief