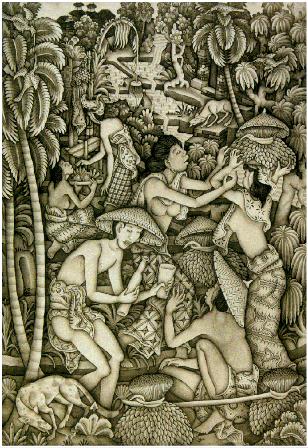 Throughout the centuries the island of Bali, has beckoned to the Western world , bringing first the invading Dutch during the 19th century and in the 1930s the first trickle of European and American tourists inspired by anthropologists' descriptions of the island as "an enchanted land of aesthetes at peace with themselves and nature".
For many years Bali remained a paradise, …as far from Europe and the US as it is possible to be. However, travelers today are likely to be disappointed when they visit the island. Tourism has exploded, and land development is consuming the coastline. Traffic chokes the streets of the beach towns and it is difficult to visit the beach without attracting swarms of souvenir hawkers.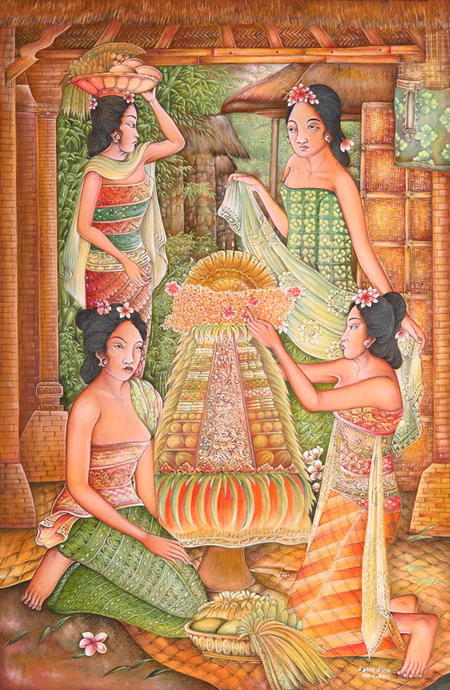 However, a short ride into the interior of the island reveals a secret that most tourists in the beachside megahotels will never see. Aside from a few new-age resorts tucked away here and there, most signs of the 21st century disappear with the passing miles. Instead of bustling towns, the visitor encounters peaceful villages where the only sound is a crowing rooster. Go deeper still and the inhabitants no longer speak Bahasa Indonesia, the official language of the country, but a mixture of Malaysian and Polynesian dialects. And for those with a passion for fragrance, there are more sweet-scented flowers than you may ever encounter in such profusion again. Massive gardenias, jasmine trailing from branches, frangipani trees…and champaca flowers. In fact, Champaca is found everywhere in Bali– from local Hindu legends to the hair of the beautiful saronged Balinese women.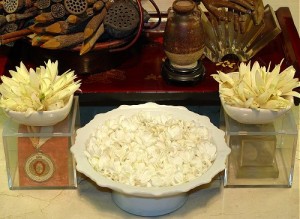 Sometimes called the 'Joy Perfume Tree", champaca has been used in many scents, but my favorite is Ormonde Jayne's 'Champaca' which doesn't attempt to duplicate the smell of the blossom, but somehow improves what can be an overwhelming fragrance. By adding notes of pink pepper, neroli, musk and freesia OJ succeeds in bringing out the beautiful soul of the blossom and creating a perfume that actually smells better as the weather gets steamier, giving you at least one reason to go outside this summer…

For a chance to win a Ormond Jayne Champaca 10ml travel pen , name a part of the world you would like to see for its unspoiled beauty. Draw closes August 7, 2011
-Leslie Robinson, Contributor