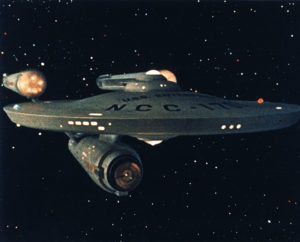 The USS Enterprise (NCC-177)
"Space: the final frontier. These are the voyages of the starship Enterprise …"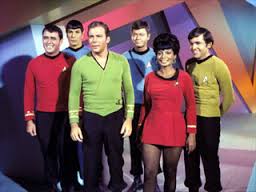 Photo of crew in "I, Mudd"
These words, possibly the most thrilling opening in the history of television, have now been spoken for 50 years. Star Trek commemorated its half century of going where no one had gone before on September 8, 2016, having indelibly etched its progressive vision of intergalactic multicultural harmony into millions of memories. The original series brought a vision of humanity, which, while flawed, displayed admirable qualities such as bravery, compassion, empathy and a desire for knowledge and connection. And it gave us some of the most enduring characters ever to crew a spaceship: the logical but tortured Mr. Spock, irascible Bones, imperturbably cool Uhura, and, of course, cosmic sex machine and human exemplar James Tiberius Kirk.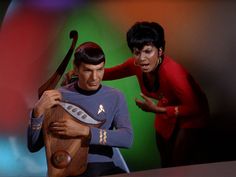 Uhura singing, Spock playing in "Charlie X" (Nichelle Nichols, Leonard Nimoy)
But we know little about their personal habits, except for a few tempting fragments: Uhura sang, Spock played a lyre-like instrument, Scotty loved reading technical journals to relax. I'm here to fill in a gap. So, while Mr. Spock might object to the illogic of this assumption, and I think it is reasonable to believe that the crew of the Enterprise might have brought along some fragrances to remind them of home while investigating strange new worlds.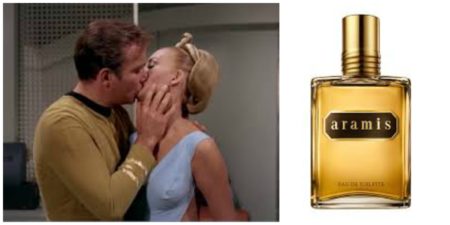 Captain Kirk kissing Kelinda in "By Any Other Name" (William Shatner, Barbara Bouchet) Aramis
Captain Kirk's scent was doubtless alpha male cologne — masculine but earthy, a bit rebellious but structured. In his innumerable clinches, his female conquests – alien and earthling alike – might have caught a whiff of Bernard Chant's Aramis. Deeply leathery, woody, sexy yet refined, this is the scent of a starship captain who is equally serious about his off-duty pursuits.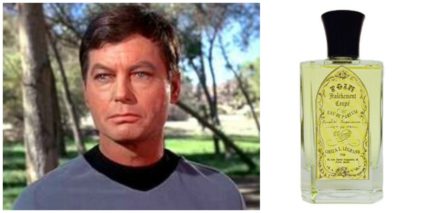 Dr. McCoy, played by DeForest Kelley in "Shore Leave" Oriza LeGrand Foin Fraichment Coupe
Ship's surgeon Leonard McCoy liked to refer to himself as an "an old country doctor." His scent would have been nostalgic, herbal cologne with a bucolic note, unlikely to upset the delicate life-reading instruments in his clinic. Something like Oriza LeGrand Foin Fraichment Coupe by Hugo Lambert, with its soapy mint and rustic aromas of fresh-mown hay and clover.

Scotty, played by James Doohan and Uhura, played by Nichelle Nichols in "A Private Little War" Donna Karan Fuel for Men and Paco Rabbanne La Nuit
A man who liked a tipple, Chief Engineer Montgomery Scott's great love was the Enterprise herself – and his true home. While it is tempting to assign him a fragrance of the Highlands, Scotty's scent would smell of the engine room, with its heat and aromas of machinery oil and metal. What would he wear under his tartan during state visits? Donna Karan Fuel. The alluring Nyota Uhura, the voice of the Enterprise to outside worlds, was the epitome of professionalism, composed and self-assured – but always with a sexy swivel. In Mirror, Mirror, she showed she could be quite the playa, too. Her perfume would be refined, rich, all woman: Paco Rabbane La Nuit by Jean Guichard. Its feminine floral heart poised against animalic notes would complement Uhura's sultry strength.

Chekov, played by Walter Koenig and Sulu, played by George Takei CB I HATE PERFUME Russian Tea Caravan and Comme des Garcons 2
For the excitable Pavel Chekov, whose depth of Russian pride is matched only by the outrageousness of his accent, what else but a classic Russian tea fragrance kept in an ancient samovar? Smoky, astringent CB I Hate Perfume Russian Caravan (Christopher Brosius) would suit Mr. Chekov nicely. His co-helmsman, Hikaru Sulu, who fancied himself a duelist in the Naked Time, might have gone for something a bit wilder but with subtle homage to his Japanese heritage, something along the lines of Mark Buxton's Comme des Garcons 2 with its Sumi ink note and complicated range of floral and woody aspects.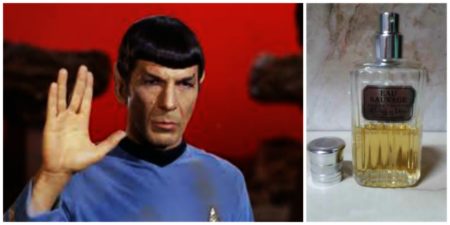 Mr. Spock, played by Leonard Nimoy in Amok Time
And Mr. Spock? Wearing perfume would be highly illogical. There would, however, be one notable exception: during Amok Time, T'Pau would have required he wear the traditional Vulcan mating scent, which I expect would be something along the lines of the original Eau Sauvage by Edmond Roudnitska, full of pheromone-inducing molecules.
Perfume's ability to evoke irrational feelings may be one of those earthly quirks Spock found so irritating. But, as the human sense of smell is so intricately linked with emotion and memory, those scents of home, of other times, of Earth could probably have been found stashed away in many a crewmember's quarters.
May the Starship Enterprise continue on her bold voyages forever. Live long and prosper, old friend.
–– Lauryn Beer, Sr. Contributor
For those of you who haven't watched Star Trek Continues, the fan produced webseries carries on the original five-year mission and is a must see for any self respecting Trekkie. The first episode is the sequel to the original series Who Mourns For Adonis and Michael Forrest reprised the role of Apollo from 49 years ago. Chris Doohan, James Doohan' son plays Scotty remarkably like his father. Other guests and surprises will convince you that Star Trek indeed continues,You can binge watch here We would love to know your thoughts on Lauryn's choices. Live Long and Wear Perfume!!! Michelyn Camen, EIC
RIP: Leonard Nimoy
James Doohan
DeForest Kelley
Gene Roddenberry
Majal Barrett Roddenberry
Grace Lee Whitney