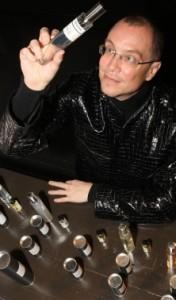 Confession: I have a tiny quantity of real Tibetan deer musk tincture.
I have had it since about 1995. It was illegal back then but I did not know it at the time I bought it. I was 24 years old, new into my obsession with perfume and simply buying all of the essences I was curious about. I did somehow intuitively feel the timely significance of my acquisition because I remember getting chills up my spine as I opened the package and sniffed, for the first time, my fragrant purchase.
Real musk is sweet, rich, fruity and floral with that slightly fetid fecal funk people talk about. That much is true. What people fail to talk about in their descriptions is the fruity note of real musk. I would describe it as a dark sweet plum. The floral reminds me of a mixture of lilac, champaca, tuberose and rose absolute. The animalic note speaks to me of a young girl's hair. Patrick Suskind, as disturbing as his novel Perfume unfolds…had it right that the personal scent of a nubile young woman is the most provocative of all scents. Real musk has that sweet sexy odor of a delicious hormonally active young man or woman. Body odor has the power to attract the sexual partner wildly beyond any manufactured scent. Our perfume industry seeks over and over again to capture even the tiniest amount of the sexual impulse as fragrant molecules so they can sell it to us.

Many natural plant oils help stimulate glandular secretions and can inspire lust simply by the magic of their own floral honeyed flower pheromones. Personal chemistry and the blending of perfumes with it is an endlessly fascinating subject for perfume lovers. We simply never get tired of smelling our own and our lover's skin with the infinite variety of perfumes interacting with personal body odor. Multiply that by the number of hormonal changes in a month or even a normal 24 hour day and you can have a perfumista smelling his or her heart out pretty much all day every day.
As I say to my friends "health is my obsession but Perfume is my poison"
Real musk smells very much like my dearest eleven year old Cambodian God daughter who just reached puberty. That is the nearest I could come to giving you the scent of real musk. It is when I brush her thick jet black hair until she purrs like a little kitten and gives off a scent like an oriental blood red flower. Real musk is furry like a kitten and sweet like the indolic night scented flower reina de la noche.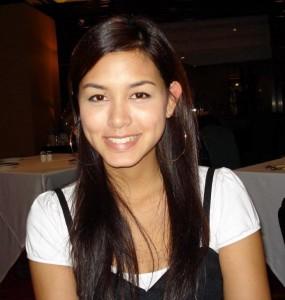 Real musk is powdery. Here comes our association with Johnson's baby powder and it's full 5% musk ketone in its fragrance blend. Musk ketone is a mimic (among other things) of a musky baby smell. The commercial success of Johnson's baby powder (inspiring Demeter fragrance Baby Powder) is on a par with Heinz ketchup and Coca Cola. It is the perfect product because it feeds our oxytocin boosting love drug addiction to our yummy kissable human baby animals.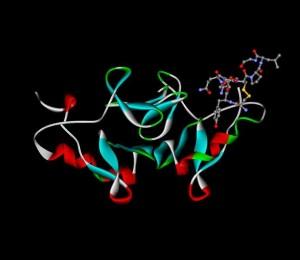 Real musk is so much better than musk ketone or any other synthetic musk because it doesn't give you the over stimulating toxic punch in the glands of synthetic musks. The 20 plus years I have spent in the health industry has allowed me to develop a keen sensitivity to negative reactions to food and other substances including aromachemicals. While I love a good perfume no matter what the ingredients I do find that my preference is always going to be for a natural ingredient over the synthetic as far as a long term relationship. I feel stronger and healthier applying natural plant oils to my body as they absorb into my skin. I do love many synthetics for their beauty and fantasy and will not give up my preferred poison; I am simply stating my preference for naturals. I have noticed that many natural aromatic oils lose elements of their bouquet over time, especially the top notes, but they do not break down into petrochemical gasoline smells like some synthetic scent molecules.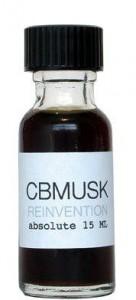 As sycophantically as I worship the perfuming genius Christopher Brosius whom I have been a fan of since I was 25 I was drawn to purchase a sample vial of CB Musk Perfume Absolute which is described on CB I Hate Perfume's website as:

"My own interpretation of what I'd always imagined real musk to smell of. Whether it does or does not, I cannot know. I can say however my version is unlike anything currently called musk."

Christopher's aim was to prepare a potion similar to what he imagined real musk to smell like. My curiosity for CB's product was equaled by my admiration for his brain, his thought process, and his deep and masterful knowledge of his art. I was also fascinated by the idea that he had never smelled real musk. What would he come up with? What would his thought process and expert knowledge of his craft produce?

T

he Genius that is CB came pretty *&#$@% close. He needs to lose the angelica note because real musk does not have that sharp metallic top note of angelica. He needs to add something plumy/jammy to get that fruity note. Finally he needs to go a more floral route by adding something indolic without being jasmine and something darkly rose without being rose or tuberose. He has the fetid note perfect. I suppose he could follow Patrick Suskind's direction. But that's a bad joke and as you must know by now my respect for the genius that is CB borders on ….religious.
CB Musk: reinvention 15% absolue
Natural or blended: blended
Worth the risk to buy unsniffed: I suggest a 2ml sample vial.
Sillage: Average
Longevity: Good. CB Musk is a beautiful rich scent layered with other perfumes or lovely on its own. It enhances the longevity of any perfume.
Photo Credits:
Oxytocin illustration http://en.wikipedia.org/wiki/File:Oxytocin-neurophysin.png
Cambodian Model
http://media.photobucket.com/image/cambodian%20models/maj_fotos4/dojkl2.jpg
–Monica "Skye" Miller, Natural Perfume & Senior Editor