2007 photo of Tabac Blond in the Limited Edition Baccarat bottle photo from Diane Haska
1919 is a year of momentous change: Benito Mussolini forms the Fascist movement, Armenia and Lithuania declare their independence as the British recognize Afghanistan's nationhood. Einstein's theory of relativity is tested, the Treaty of Versailles is signed and WW I will soon to come to a close.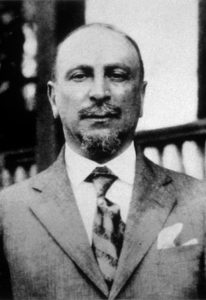 Ernest Daltroff courtesy of Caron
The winds of change are felt globally, with unrest an uneasy bedfellow. It is into this milieu that French-born Ernest Daltroff, the son of Russian Jewish emigrés – unleashes his legendary perfumed revolutionary: Caron Tabac Blond, the fragrance of flappers and headstrong women everywhere.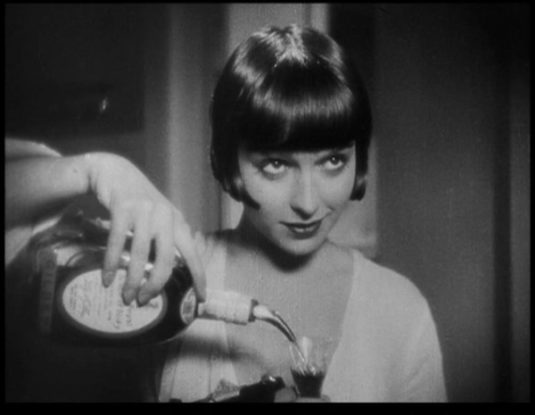 Louise Brooks as Lulu in Pandora's Box
Garçonnes (those daring women who raised hemlines, eschewed corsets and snipped off their locks à la mode like Louise Brooks, Greta Garbo and Marlene Dietrich) sought freedom from societal restraints: public cigarette smoking was one legal way to demonstrate their defiance. Tabac Blond (and soon afterward Habanita de Molinard in 1921) is highly reflective of this era when women's suffrage was of international interest (ironically, French women were not given the right to vote until 1944); it also coincided with America's Prohibition. A beautiful aromatic rebellion was under way – streamlined, elegant and smolderingly erotic in its sexual ambiguity.1924's famous collaboration between François Coty and Vincent Roubert – Knize Ten – would emphasize just how intimately this attribute would reveal itself.
Lord Snowdon – Marlene Dietrich, Café de Paris, 1955.
Despite its evocative, minimalistic appellation, Caron Tabac Blond smells no more like tobacco than my foot. Perhaps it mirrors duplicity itself in the early 20s – women dressed as men sporting suits, trousers with bobbed hair and neckties; Habanita's use of vanilla and vetiver to evoke the tobacco which isn't there at all; sequestered speakeasies during a time when alcohol was Verboten. Think of cafe life in post-war Berlin. Caron Tabac Blond blazed the trail as leather to make leathers flush with envy: The Archetype. The 1950s would witness no Poivre, no Coup de Fouet (how apt!) or Jolie Madame had Tabac Blond not previously trod that scented stage.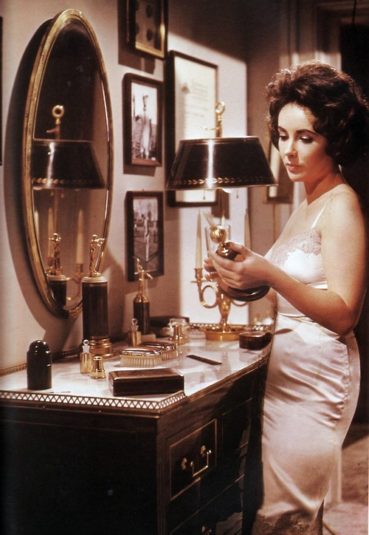 Elizabeth Taylor in 1961 Butterfield 8 admiring her "lover's" wife's collection of "Nice Girl" perfumes including Caron
If Guerlain Mitsouko was my first love, then Caron Tabac Blond was my second. So much for the legendary schism regarding the two houses. I refuse to adhere to the notion that Guerlains are for kept women and Carons suit the well-bred: I am neither and won't permit others to pigeonhole me, period. Poet Alfred de Musset believed that it was necessary to love many things so that one might determine what was most loved; we agree upon that much. Soon after I had fallen for Mitsouko, I came across my Caron Tabac Blond– but no one I knew was wearing it. Ladies wore opulent flowers, honeyed orientals, sparkling green aldehydic florals even – but not a single one wore leather, certainly no one in my family circle or neighborhood. All I can recall is The Reeling, the sanpaku eyes, the indecency of my visceral response at the perfume counter. Nice girls didn't smell like this: they wore Elizabeth Arden's Blue Grass, or Chantilly, Heaven Sent, Wind Song -anything else. Aunties delicately wafted Ma Griffe, Replique, Chant d'Arômes. Mamas dabbed judiciously from flacons of occasionally-worn Arpège or Sortilège. Grandmothers were enveloped in clouds of 4711 or Quelques Fleurs, for goodness' sake. I was a bluestocking tomboy, clearly no budding femme fatale; I must have been out of my ever-loving mind.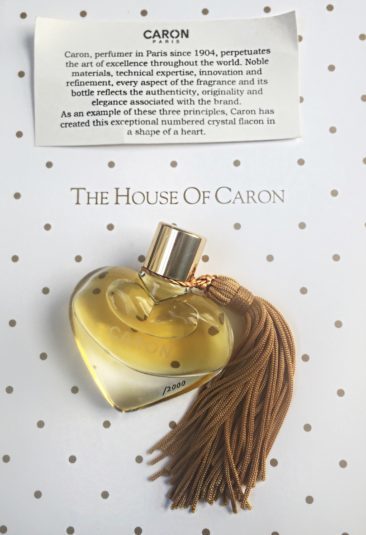 Michelyn's Limited Edition and Numbered Caron Baccarat bottle designed by Marc Rosen
The heart wants what it wants; reason played no part as I plotted my purchase – which involved reading an awful lot ofbedtime 'The Iliad' to unsuspecting kindergarteners in hopes of affording it…eventually. Sorry, Homer. The Iliad can prove very soporific for young children, even if you're teeming with unbridled enthusiasm. It was a babysitting staple, an adjuvant to fairytales.)I was excessively secretive about Caron Tabac Blond and I think in hindsight that that was wise. I anointed myself before sleep and hid under the blankets so that no one would know. I brought it to school and wore it to class, or merely opened it and inhaled the contents as if it were a drug. And it was.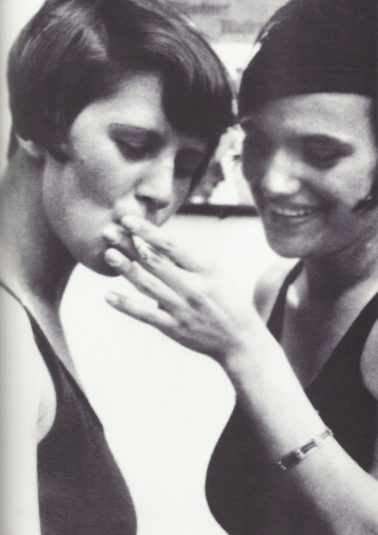 Garconnes 1920s via flickr
Tradition refers to Caron Tabac Blond as a perfume designed to disguise the fact that one was smoking – oh, shameless hussy! Cigarettes held little allure for me, but the acknowledgment of the Darker Self lurking beneath a cheerful exterior pulled me effortlessly into Tabac Blond's orbit. This fragrance was my olfactory equivalent of Kurt Weill's Pirate Jenny from The Threepenny Opera: the sotto voce vanquisher fantasies of the charwoman, the apparent subjugate who is in control of not only her own fate, but others – in her own mind.
"By noontime the dock
Is all swarmin' with men
Comin' off of that ghostly freighter.
They're movin' in the shadows
Where no one can see,
And they're chainin' up people
And bringin' them to me,
Askin' me,
"Kill them now, or later?"
Askin' me!
"Kill them now, or later?"
Marc Blitzstein's translation of Bertolt Brecht's text from Die Dreigroschenoper (The Threepenny Opera)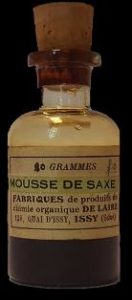 De Laire Mousse de Saxe photo by Pierre Gueros of Symrise for CaFleureBon
Ah. The isobutyl quinolines present in De Laire's renowned Mousse de Saxe base give voice to Tabac Blond's leather, amplified by smoky balsamic vetiver, full-fledged oakmoss, wine-dark patchouli and lovely nitro musks prevalent at the time of its creation. Clove-y carnations harmonize with cool iris and the dulcet sweetness of linden, ylang-ylang's riotous headiness. A kiss of cedar, a cushion of ambergris, perhaps a soupçon of civet is all that's required to complete the shadowy self, that fiercely independent-thinking, confident She of the long stride who takes no prisoners: the Warrior. A stylish warrior who makes her own rules, as glamorous as she is dangerous. A worthy adversary. How do current day iterations fare in comparison with vintage? What a question. Best NOT to compare, if you know what's good for you.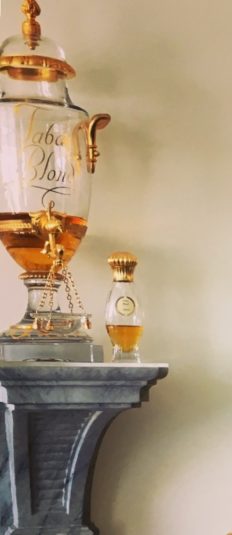 Photo of Caron Tabac Blond in its urn and flacon by Hernando and Michelyn (2011) at the now shuttered Caron boutique in NYC
Take the conteporary formula on its own merits and divorce yourself from what you may or may not know: it's beautiful and preferable to many fragrances available. If you line it up against a well-preserved vintage you'll be disappointed; it possesses little of the richness, depth, eternal mystery which earned Caron Tabac Blond its legendary status. About seven years ago in New York I was discussing this with a fragrance expert who essentially (sic) told me that she couldn't tell any difference between the vintage I was wearing and the modern version. I begged to differ, very politely – and I stand my ground. If I'm looking to fly aromatically under the radar, I'll judiciously dab a bit of the current perfume for civility's sake – but just a spritz of vintage eau de toilette is as potent as any perfume and will make your head swim. So it goes.
Notes: leather, carnation, lime blossom, iris, vetiver, ylang-ylang, cedar, patchouli,vanilla, ambergris, musk (perhaps civet)
(some sources list Virginia tobacco and oakmoss)
~ Ida Meister, Senior Editor and Natural Perfumery Editor
Note: Caron Tabac Blond Perfumes reviewed are from my own collection.
~ Art Direction: Michelyn Camen, Editor-in-Chief
With gratitude to my friend Diane Haska who sent me the 2007 photo of Tabac Blond in the Limited Edition baccarat bottle for Ida's article