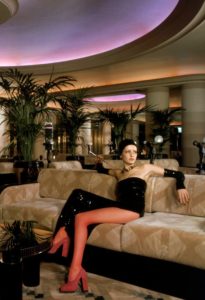 Twiggy in Biba, photo by Justin de Villeneuve, 1973 ©
It's the smell of money on the town. Biba-clad women lean into men who light their Gauloises from cuff linked wrists. That blonde who might be Marianne Faithfull swings by the leather banquettes, the fringe of her embroidered suede handbag tickling the chair backs as she exits. Aristocrats puffing Cuban cigars trade jokes with the bar staff and suddenly the room crackles with laughter. There's nowhere else to be on a Saturday night in Barcelona, circa 1975, than Bar Sandor.

Sara Carner of Carner Barcelona
Sandor 70s from Carner Barcelona, part of their 2016 Black Collection, is an olfactory snapshot of the landmark bar Sandor back in the day. The creation of Creative Director Sara Carner and master perfumer Rodrigo Flores-Roux, Sandor 70s has the airy chic and delicate intricacy of a Thea Porter chiffon mixed with the denser aromas of suede, Cuban cigars, heady florals and just the right touch of skank.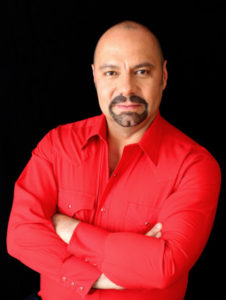 Master Perfumer Rodrigo Flores-Roux of Givaudan
No one does glamorous, retro-inspired fragrances like 2017's Fragrance Foundation award-winner Rodrigo Flores-Roux (his homage to 70s Acapulco, El and Ella for Arquiste made many top 10 best lists in 2016, including ours). He suggestively evokes time and place without ever devolving into pastiche or imitation. Using a vintage jasmine absolute alongside contemporary materials, he lends Sandor 70s a simultaneous vintage and modern feel.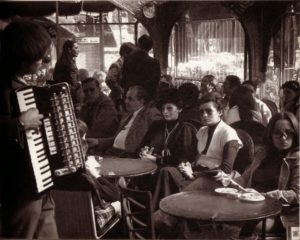 Bar Sandor, 1974, stock photo
The fragrance opens with sinuous, sandpapery suede – the smell of an expensive boho satchel – and a shimmering, dewy, almost aqueous jasmine, with facets of green leaf, like the smell of the blossom just after an evening rain shower. The combination of suede and jasmine = instant prettiness. It would be hard not to like Sandor 70s at this early point.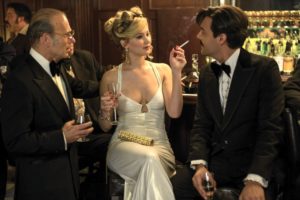 Jennifer Lawrence in American Hustle, 2013
But hang on, here comes the rest of the gang, and they're ready to throw it down! An amazingly realistic cigar smoke note spirals up and grabs the jasmine for an impromptu tango as they weave around each other, earthy ash and creamy flower, chest to chest. Cedar makes a sudden appearance, opening a cigar box smell that mixes with the aromas of herbal, rolled tobacco leaf and damp patchouli. A rather subtle frankincense joins in, which, along with the tobacco and patch notes, grounds the fragrance. And that girlish jasmine of the opening? She starts to misbehave like a rock star groupie, palling around with a full-bodied rose note and showing off some creamy indoles as the night gets serious.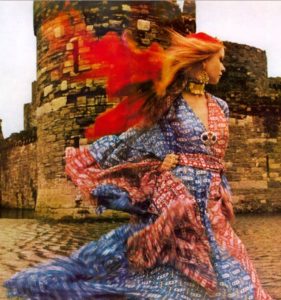 Thea Porter fashion editorial, British Vogue, 1969
Even later, a spark of apricot Osmanthus lights up briefly, as if a redhead just ran by. A moment or two later, I get a small hit of dry vanilla, and the cigar smoke and woody notes become more emphatic. In the dry-down, Sandor 70s settles down into the golden smolder of low lights in early hours; the redolence of recently smoked Havanas, a breeze of jasmine from the bar terrace, imprints of after shave, kicked off stilettos, and sweat-diluted perfume hanging in the bar haze.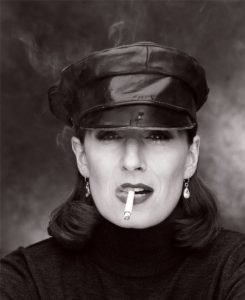 Anjelica Huston by Firooz Zahedi 1970s
Carner's website describes Sandor 70s as a leathery tobacco. To me, it is a dichotomous jasmine – part saint, part sinner – that met up with cigar-puffing leather and decided to make a night of it at the hottest bar in town.
Notes: Suede accord, bergamot, vintage jasmine absolute, Chinese osmanthus absolute, Bulgarian rose, tobacco accord, clary sage, Virginian cedarwood, Peru balsam, Mexican vanilla, Spanish leather accord, patchouli, vetiver, Ethiopian frankincense, oakmoss.
Disclosure: I received my sample of Sandor 70s from Twisted Lily – many thanks. My opinions are my own.
– Lauryn Beer, Senior Editor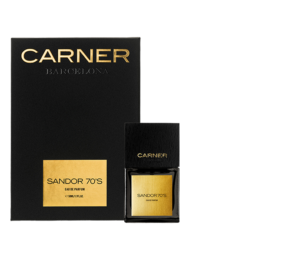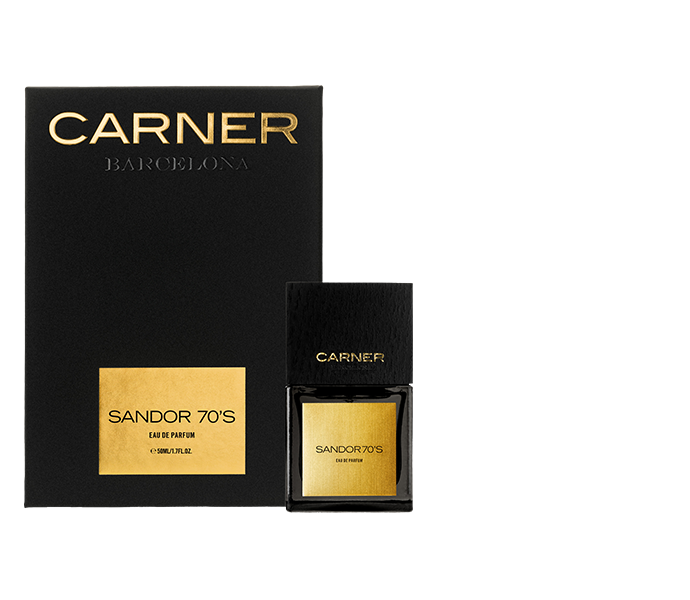 Sandor 70s
Thanks to Europerfumes, the U.S. distributor of Carner Barcelona, we have one 50 ml bottle of Sandor 70's available to one registered reader in the U.S. Be sure to register or your comment will not count. To be eligible for the draw, tell us what appeals to you about Lauryn's review of Sandor 70s, if you have a great 1970s memory to share, your favorite famous 1970s icon or if you have a favorite Carner Barcelona perfume. Draw closes August 5, 2017
We announce the winners only on site and on our Facebook page, so Like Cafleurebon and use our RSS feed … or your dream prize will be just spilled perfume.