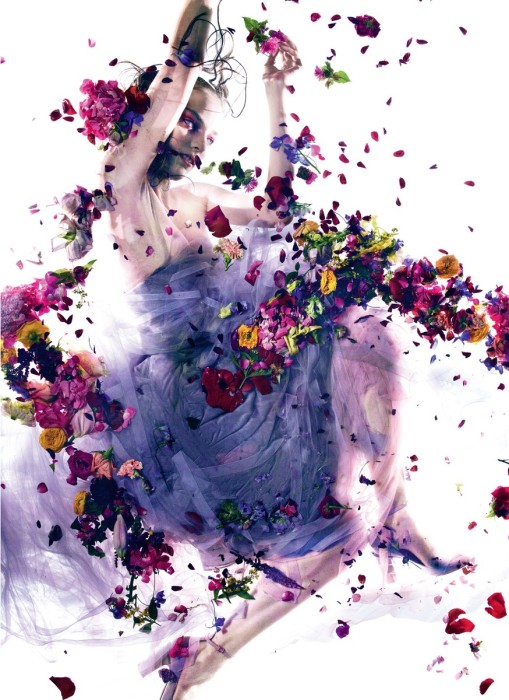 Holy Flowers: DEBUSSCHERE + SPENCER for Dazed and Confused Magazine
Is it Spring yet? It has been a very long winter (we shivered through much of October – March). We were thinking "what the heck, lets just skip posting a Best of Spring Fragrances list and wait until summer, but that would be less than a week ago (on the East Coast, where it was 80 degrees). That is what Spring is… a tempermental season. Mark Twain said it best,"In the Spring I have counted one hundred and thirty-six different kinds of weather in four and twenty hours." Our favorite fragrances Spring 2013: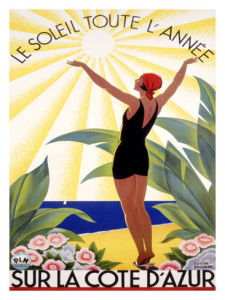 Claudia Kroyer, Guest Contributor
I have never longed for spring and warmer weather as I have this year. It seems winter has been dragging on for way too long. Fragrances that make me feel fresh and feminine are on my go-to list these days and one of my favorite spring fragrances does just that for me, Parfumerie Generale Jardins de Kerylos. It reminds me of warm weather, sun and of the fact that a fragrance does not have to be complicated (just fig, sycamore and musk) to satisfy my craving for a minimalistic feeling and elegance all in one. It's a free spirited fragrance that makes you want to go on a vacation to the inspiration for this fragrance, the gardens of Villa Grecque Kerylos on the Cote d'Azur. A spritz of Jardins de Kerylos is less expensive and available anytime I want.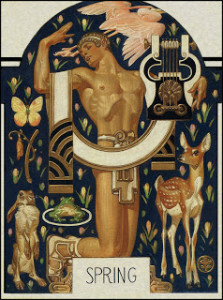 JCLeyendecker – Spring
Michel Devine, Senior Contributor
Mefisto, from Xerjoff's Casamorati 1888 line, is a tribute to the classic Italian perfumery of the 18th and 19th century, yet shines as glorious today as it did in that classic era, the way the same sun warms the lemon and orange trees that bloom during Sorrento's springtime . The opening of Mefisto is a surround-sound orchestral strike where the top, heart and basenotes all hit in unison: that Xerjoff signature blend of tart, sweet citrus notes arrives along with rose, lavender and Florentine Iris, over a semi-oriental base of sandalwood, musk and amber. Mefisto is celebration of spring in Italy, no matter where you are.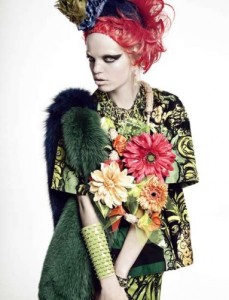 Daphne Groeneveld Numero-Magazine
Valerie Vitale, Contributing Editor
The landscape is quiet, still, and the skies are grey. These are the weeks' before spring's full bloom, and nature lays dormant to my eye and nose. This is a special in between time when the plant, tree, and flower are just waking up. There are a few small signs, but beneath it all the earth is stirring, and working hard. This seemingly still time allows us to take pause to notice the bud before the blossom, the sprout pushing through the soil, and the miraculous resuscitation of the moss for another round, another season. Tommi Sooni Tarantella meets this special time head on. It is not sweet thing; it is a strong-minded classic chypre that's green and mossy, earthy and aldehydic, and has a muted floral center. I love how the powdery orris, muget, and jasmine heart are reigned in. Its mossy patchouli and amber base keeps the fragrance rich and round. Spring is the time to breakthrough, and transform, but before we do that we first need to gently wake-up. Tarantella EDP was named for the traditional Italian dance the tarantella. The dance is best described as a trance dance, where one is taken over by the dance, a stirring before an awakening.

Yysabel Lemay
John Reasinger, Senior Editor
This year, I look forward to, more than anything, the return of bright green buds and leaves on the trees. Skeletal trees begin to bear foliage and it is apparent life does and can continue, even after the hardest of winters.
Etat Libre d'Orange Fils de Dieu du Riz et des Argumes captures what I look forward to most each year as winter winds to a close. Its spicy yet coolly green opening of lime, shiso leaves and ginger, framed with coriander, captures the initial "greening" of spring. A smooth drily sweet, but warm, floral heart made creamy with coconut hints at sunnier days to come and budding summer flowers like rose and jasmine. The drydown is amazing in its blend of (both fresh and animalic) musks with sweet amber and tonka balanced and kept from tipping into cloying by woody vetiver made smokier with leather. A perfect scent for going out on those nights when "Spring Fever" hits!
Penhaligon's English Fern is one of my very favorite aromatic fougeres ever. Created originally in 1911, this is the quintessential gentleman's fragrance. Spicy geraniums and powdery lavender combine to smell clean and crisp like washing with flower petals in an outdoor shower stall. The simple heart of English clover keeps this bright and verdant, as cool moss and warm wood blend with a hint of earthy to result in something classic AND classy. With a palette that contained no "fern", Penhaligon's paints a perfect perfumed portrait of an English countryside littered with them.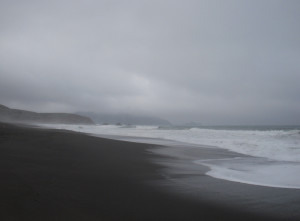 Tama Blough, Senior Editor: Photo by Tama
As you can see by the photo above, which I took while on the beach today, spring in my neck of the woods isn't exactly bursting with sunshine and blossoms. A perfect scent for this in-between weather is Olivier Durbano Turquoise. The first time I smelled Turquoise, I didn't like it, because it is an aquatic scent and I keep telling myself I don't like those. I passed my sample along and then became haunted by it. I had to smell it again, and this time it was love. It has an unusual combination of incense and ocean, both warming and cooling. It's light enough that it won't overwhelm if the sun does happen to make an appearance, but is still full-bodied enough that it doesn't get lost in the cooler air. I also love the turquoise color of the perfume, which perks me up in the gloom.
Recently, I tried a Serge Lutens perfume I had passed over for some reason, and fell madly in love. Clair de Musc is perfect for spring. It's powdery and feminine, but not flowery. Fellow devotees of Clair de Musc tell me it is the best scent for layering, and I believe it. You can bet I'll be topping generous applications of it with orange blossom and dewy rose scents on days when I really need some springtime, and wearing it by itself when I just want to feel surrounded by a pretty cloud of scent.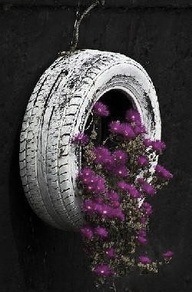 Mark Behnke, Managing Editor
It's the purple flowers that bring spring alive for me lilacs, iris, and violets. Ever since I tried Atelier Cologne Sous le toit de Paris back in November I've been patiently waiting for the spring to spray this Ralf Schwieger creation with abandon. From the neroli and bigarade to the violet surrounded by geranium and vetiver the feel is of a sunny day in the park. The base notes of musk and leather are a reminder that you still need a little warmth after sunset.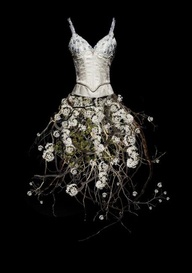 Michelyn Camen, Editor in Chief
Photo:Todd Murphy
The Story of O: Orange Blossom and Osmanthus
I had a totally different fragrance ready for this post, but as I typed, there was a chill in the air, the streets were wet and my mood was as changeable as the weather; only one perfume bewitched me on that dreary Spring Day. I have been wearing Rubj Parfum Extrait (pronounced Ruby) by Vero Kern of vero.profumo since 2009. Recently, when Yosh Han did my annual aura tune-up she had a vision of the small flacon of Rubj on my bureau. Perhaps it is the one fragrance I own that is a reflective mirror of my private self. It is shy and wild at the same time, outspoken but retiring. Ask ten different people what they think of it, and you will get ten different answers. Rubj Extrait wears a Mona Lisa smile. Sweet orange blossom is wrapped in a scarf of changeant mousseline; a kaleidoscope of color, an optical illusion. The yang of musk and the yin of jasmine perform an exotic dance as they worship the Morrocan orange blossom. I smell plums, a hint of tuberose and honeyed liquor. Rubj Extrait is an enigma understood by few. Quite simply, Rubj extrait is the nectar of the gods.
Today the sun shines; I spray Osmanthus by Ormonde Jayne with abandon. It is not a complicated fragrance, but I am growing weary of complex; I long for simple pleasures and blue skies. Osmanthus is fruity, in a good way, with a bright citrus top of pomello that brings to mind a glass of iced tea sipped on a porch when the sun is shining. The heart of osmanthus absolue and jasmine sambac absolue is redolent of citrus fruits and apricots. The woody drydown is light and airy. After 6 months of wearing black tights and boots, Osmanthus is the perfume equivalent of wearing a flirty short skirt that bares your legs for the first time in ages.
Art Direction: Michelyn Camen, Editor in Chief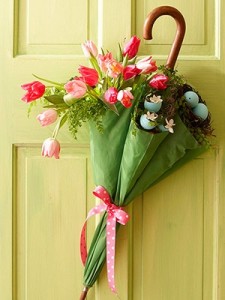 For our Come Rain or Shine Favorite Spring Perfume Draw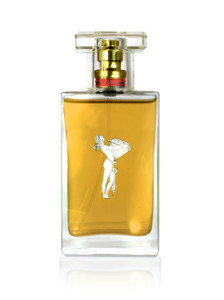 Steve Broadhurst of Tommi Sooni may be heading into Fall (he lives in Australia) but wishes us a Lovely Spring with 50 ml Tarantella EDP
Our friends at Serge Lutens are celebrating April in Paris at the Palais Royale and are offering 50 ml of Claire De Musc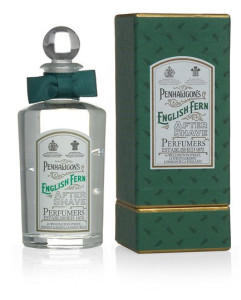 Thank you to Penhaligon's London for 100 ml of English Fern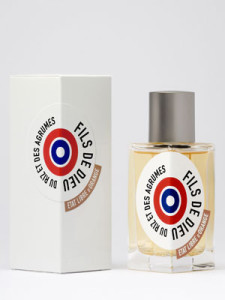 Euroscentsusa, the exclusive U.S. distributor of Etat Libre D'Orange are offering 50 ml of Fils de Dieu (CaFleureBon Best of Scent 2012) composed by Ralf Schwieger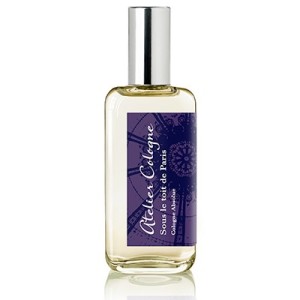 Atelier Cologne is always so generous – 30 ml (petit flacon) of Sous le Toit de Paris composed by Ralf Schwieger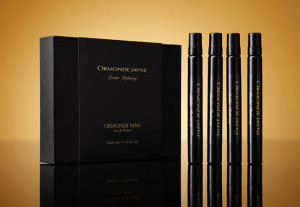 Many thanks to Linda Pilkington of Ormonde Jayne for 4×10 ml travel kit of Osmanthus
To be eligible to win one of our top ten fragrances, please leave a comment with your thoughts on Spring and please list any or all of the six fragrances you would like to win. Draw closes April 18, 2013.
We announce the winners only on site and on our Facebook page, so Like Cafleurebon and use our RSS option…or your dream prize will be just spilled perfume.