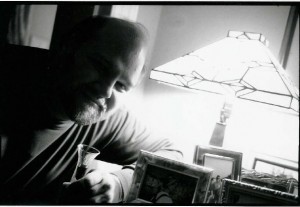 In an industry withso many personalities, perspectives and perceptions about perfume can a single blogger make a difference? The answer is yes and one of the people whose mission is to build bridges between fellow bloggers, fragrance enthusiasts, retailers, perfumers and perfumeries all over the world is Mark Behnke, Managing Editor of www.cafleurebon.com . October 23rd is his birthday (a cusp baby), so we decided to throw a virtual surprise birthday bash.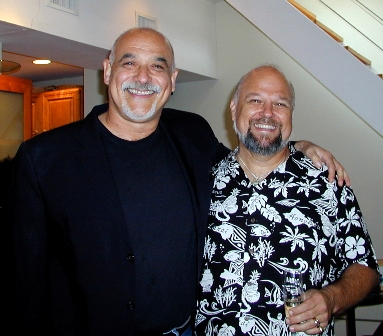 Brothers in Arms-Neil Morris and Mark Behnke
"Happy Birthday to my Brother-from-another-mother!
When I first met Mark we immediately hugged each other – it was as if we'd both found a long lost brother. Mark told me how much he appreciated the fragrances I've created, especially his favorite – GOTHAM! Now when I wear GOTHAM I ALWAYS think of Mark; such is the power of fragrance
association! He would also joke and say that he should simply set up camp outside my window and just drop him any new fragrance I'd completed! LOL! So here's to you, my friend! Wishing you Happiness and Good Health and of course,
FRAGRANT DREAMS!
And let me say too that I miss you!"
Neil Morris, Neil Morris Fragrances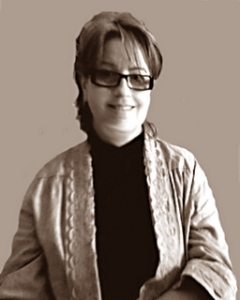 Liz Zorn of Soivohle
"Remembering when we first crossed paths, or when I was first aware of your support for my work. I can say that one of my favorite reviews is the one about Oudh Lacquer. Initially I had put off releasing it for a year thinking that there were too many Oudhs. Little did I know that the market would be saturated and a small artisan like me could easily get lost in the mix. You write with a fair and thoughtful hand, and take the time to know a scent which is important with a natural like Oudh Lacquer.
Wishing you a most auspicious Birthday."
Liz Zorn, Soivohle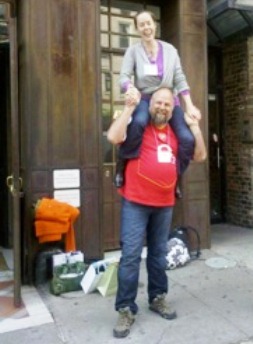 Riding high- DSH on Mark's shoulders Spring Fling Sniffapalooza 2010
"Meeting Mark Behnke in person was a revelation. He and I had made our acquaintance on twitter and it was obvious that he was a man with great taste and a strong knowledge of perfumery. Upon meeting him in person at Sniffapalooza in 2010, I knew that we were kindred spirits. He is absolutely one of the best people in the world to sniff around and talk about perfumes with! Not only is Mark brilliant when speaking to the chemistry of perfumes, he also values the historical context within which each new launch resides. Mark and I have spoken extensively about many perfumes, their construction and relevance but perhaps the best conversation for me was when we began discussing the concept for my Bancha Extreme perfume. I knew that he loved my original Bancha for its ability to calm, soothe and render a feeling of balance, yet he wanted to expand it from its light simplicity into a more complex and deeper experience without losing its essential aromatic signature. We contemplated enriching the base with more moss and cedar as well as adding the true tea note, that original Bancha does not actually have. His feedback during the design process was invaluable and Bancha Extreme would not be what it is without him.
Happiest of Birthdays to a dear friend in fragrance! oxoxox"
Dawn Spencer Hurwitz, DSH Perfumes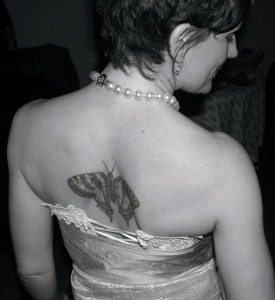 Happy Birthday Mark!

It's a pleasure to be part of this special celebration for you so and to say a big thank you for your support and kindness. I will never forget when we first met in New York for the Sniffapalooza 2010 event at the Jo Malone counter. Later after I presented my first fragrance at the Emerging Artist Uncorked, it was you who wrote the first review for Regalisse Noire for CaFleureBon. I was smitten with your kindness, enthusiasm, authenticity and good taste. I still hold that review as my favorite. I wish you a most wonderful birthday filled with lots of great fragrances, happiness and dreams realized.

~Jessica September Buchanan, 1000 flowers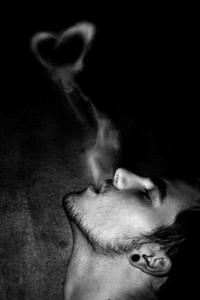 Tabac Aurea and Incense Pure by Laurie Erickson, Sonoma Scent Studio
Happy Birthday, Mark!
I always enjoy reading your reviews and often buy samples based on your tempting descriptions. Your first review of one of my scents was for Tabac Aurea, and it came as a wonderful surprise. Since then I've appreciated your feedback on numerous scents in progress, especially with the long process of creating Incense Pure. Keep up your inspired writing and event coverage; the indie world is better for your work, and we appreciate your generous spirit. Hope you have a fabulous birthday!
Sending all my best wishes to you!"
—Laurie Erickson, Sonoma Scent Studio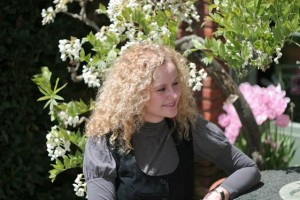 Ineke Ruhland
I first met Mark when Michelyn introduced us at Takashimaya during a Sniffapalooza event about three years ago. Takashimaya always hosted afternoon tea for the Sniffapalooza crowd, and encouraged all the perfumers and creators of the brands they sold to come out for the event. This turned out to be the last event at Takashimaya before they closed sadly (RIP, we miss your beautiful, zen environment). I was encouraging everyone to smell my latest fragrance, Field Notes from Paris, and at some point a teddy bear of a man came up to me for a chat. He was charming, warm and deeply knowledgeable about fragrance, and told me his name was Mark. Before he left, he gave me a very nice gift. I had started explaining the new fragrance I was working on, a Japanese mountain lily that I was incorporating into a fruity chypre structure that I was planning to call Gilded Lily, a phrase from a Shakespearean play. He jotted down notes for an article he was writing for CaFleureBon and said, "So would you say the concept is something like 'Shakespeare meets manga'?". Well yes, I would say that if I had thought of it, but I'm not as good a wordsmith as Mark. After that, I used his phrase incessantly whenever I described the inspiration behind Gilded Lily. So thanks to Mark for this little gift of words, and I hope you get many gifts of a more concrete nature for your birthday. Have a happy one!
Warmest wishes,
Ineke Ruhland, Ineke Perfumes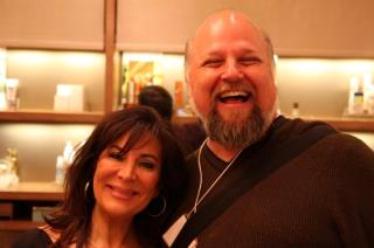 Michelyn and Mark at Takashimaya Sniffapalooza Spring Fling 2010- Yo Mark, What a noble brow!
Photo: Bill O'Such (Ineke's husband) Takashimiya New York
I started a thread on a Basenotes forum about men who wear perfume marketed to women in 2009 and you responded with enthusiasm. I remember thinking how helpful you were and how well written and thought provoking your response was and in spite of your protests, I persuaded you that you were a talented writer and invited you to become my colleague for the on line publications I was affiliated with at the time. You were (and are) fearless, even when I had you go to a chic New York City salon to have your eyebrows waxed for an article. When I started CaFleureBon, there was no question as to who I wanted alongside me. I don't mention to you every time I receive an email from folks you meet when representing CaFleureBon, who tell me how amazing you are, because I lost count and I am not sure if your hat is one size fits all. Your energy, passion and commitment is cherished and I wanted to give you a gift you would never forget, one that you could "spritz with abandon" (one year I gave you my back-up Slatkin & Co. Absinthe, but that can't last forever).
I hope that our scented birthday cards are the perfect present. There would be more fragrant well-wishers, but, you know how annoyed you get when a post is longer than1200 words and this one topped 1500.
Have a great party!
–Michelyn Camen, Editor-In-Chief, CaFleureBon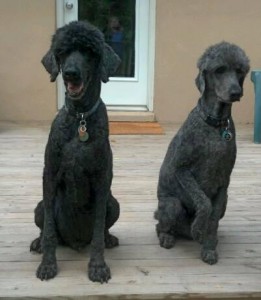 "Daddy, don't forget about us. We love you even when you pet us while wearing Secretions Magnifique. Since we know your favorite band is REM we are going to bark Shiny Happy People for all your human friends if they come to visit and we will serenade you with the greatest hits all year long…especially when you have a Bad Day"
–George and Rocco Behnke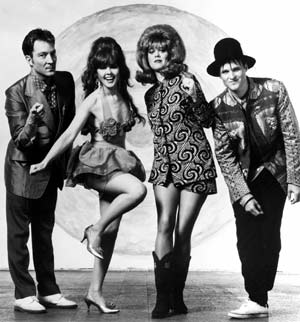 TheB52s aka CaFleureBon's Editors John Reasinger, Michelyn Camen, Tama Blough and Mark Behnke
So now it is time to party! Thanks to Neil, Liz, Dawn, Jessica, Laurie and Ineke we have a Behnke Birthday Bag filled with 25ml of Neil Morris Fragrances Gotham, 2ml Soivohle Oud Lacquer, 2ml of Sonoma Scent Studio Incense Pure, 10 ml of DSH Bancha, 15ml of 1000 Flowers Regalisse Noire, and deluxe samples Ineke Perfume of Field Notes from Paris and Gilded Lily to offer one reader.
Want to join in the fun at the Love Shack…please leave a comment wishing Mark a Happy Birthday, and something special you would like to say to him…it could be about a favorite personal encounter, or an article you remember, but save the generic Happy Birthday Mark for his FaceBook Wall. Draw closes October 26, 2012.
We announce the winners only on site and on our Facebook page, so Like Cafleurebon and use our RSS option…or your dream prize will be just spilled perfume