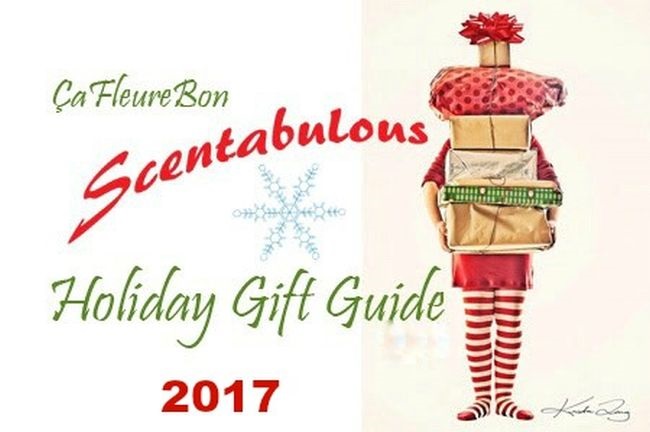 If you are a regular reader of CaFleureBon you know I don't believe in blind buying perfume as a present unless it is a much-wanted bottle and I have reservations even then. Although you think you know what they want, true perfumistas are likely to spring for that bottle without telling you it's off of their "Must…Have…Now" list and they are already onto the next acquisition, most likely something unobtainable and found only as a numbered Limited Edition from an obscure perfumer in Dubai. Want proof? A dear friend told me they had their eye on a perfume from Grasse, neglected to tell me they bought it and voila, they have a back-up bottle and I feel I should have bought them something else..
Now that I have discouraged you from giving fragrance as a holiday gift, it is time to think outside the bottle. This year's 2017 Holiday Gift Guide includes 13 scentabulous ideas that will please even the pickiest perfume peeps.
Best Perfume Gifts That Aren't Perfume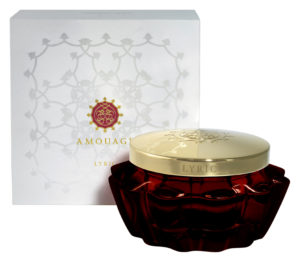 Perfume companies have beautiful lotions, soaps and hair mists that match their fragrance and those are a great choice. One of our favorites is Amouage Lyric Body Cream. A gorgeous incense rose fragrance that is sexy as hell, layers beautifully with many scents and leaves your skin feeling like velvet. This is for the days when I want to be an undercover Perfume Blogger; usually you can smell me from a mile away. ($135)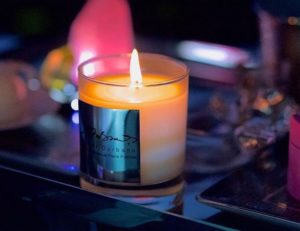 Perfumer Olivier Durbano is a Renaissance man who creates fragrance, jewelry, shawls and now home fragrances from his atelier in Grasse. New in his line are hand-crafted candles. Rock Crystal was his first perfume in 2005 and the candle is perfumed wax; evocative of his trademark incense infused with spirituality of rare resins, the warmth of spices and the aromas of the forest. The candles are natural wax and are a limited edition. Olivier only has a few Rock Crystal left. 165 gr, burn time of 45 hours/ 45.00 €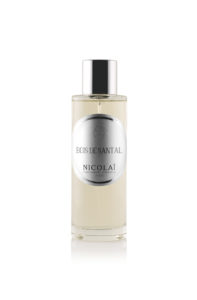 One of the people I admire most in niche perfumery is Patricia de Nicolai. She was and is a pioneer and role model for women perfumers all over the world. Since I travel quite a bit I like to perfume the air, especially in homes where the folks believe Glade plug-ins© is actually scent. I especially enjoy Bois de Santal Room Spray this time of year as its creamy sandalwood aroma is enhanced by a touch of rose and cinnamon. Recently I sprayed it lightly in my bureau drawer where I keep my scarves. The scent trail is subtle and cozy. 100 ml/ 42 €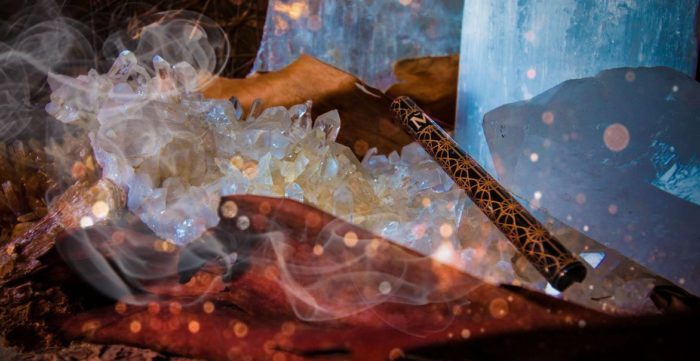 Are you still smoking? SHAME if its tobacco (and if it's pot… no judgement). Don't you despise those vapes dangling from smokers' lips? Not anymore, as Christi Meshell from House of Matriarch has created Aroma Wands that change both smoking and perfume culture. Stop and smoke the roses, the jasmine, the oud or the frankincense. $56-89 ALL NATURAL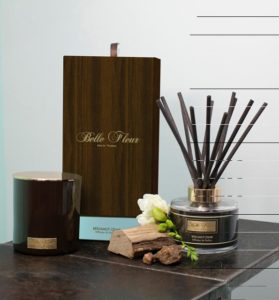 If you have visited my home there are Belle Fleur perfumed room diffusers composed by superstar perfumer Jerome Epinette in collaboration with Tony Perez in every room. It is a tough to choose just one but I am recommending Bergamot Cedar, which includes additional notes of peach, green pineapple, violet leaf, amber galbanum, frangipani, cistus, and sandalwood— a wonderful alternative to the pine scents usually associated with the holiday season; personally I don't want my home to smell like a Christmas tree unless it's a real tree newly cut. What differentiates the Belle Fleur diffusers are the thickness of the rattan sticks which holds more oils and allows scent to waft throughout the room without clogging, which means you never have to flip the reeds, which last for over four months. All raw materials used are sourced globally through the "Seed to Scent" traceability program. Sustainably harvested 5.6 oz/$96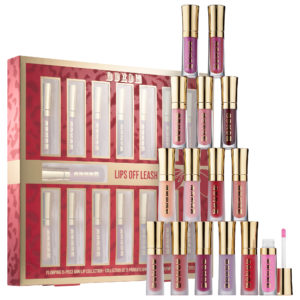 I confess. I own 5x more lipsticks than perfumes. That's not counting the glosses. Since from November 29-December 13 is Sephora's ROUGE VIP REWARD17 (takes $25 off your purchase of $50) go for Buxom Lips off Leash Plumping mini lipglosses which includes 15 minis from sheer baby pink to rose red and everything in between. This 15-piece collection includes shimmer-shine lip polishes and glassy-smooth lip creams with two different finishes (I have back-ups of Sophia, a soft rose sheer YLBB color and Peach Daiquiri). You can plump your pout without any stinging or irritation and there is a faint scent of vanilla. Don't love a shade? They make great stocking stuffers. Limited Edition ($150 value / $59.00) sephora.com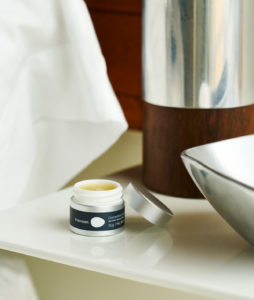 No one wants to kiss chapped dry lips no matter how much mistletoe you stand under. Soften lips with Connection Lip Rescue Balm by Provision from our Contributor, professional perfumer Sherri Sebastian. The all-natural formula uses Orange flower absolute not commonly found in lip balms and is a multi-tasker that can be used on your cuticles as well as a solid perfume. $55 for 15 g ALL NATURAL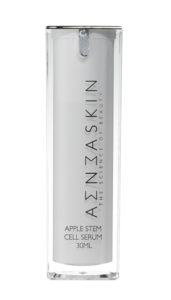 You aren't getting any younger. Stress, lifestyle and environment all take their toll on your skin. Those furrow between your brows? A few could be from worrying that you will miss out on that rare vintage Guerlain Djedi on eBay. I have been blessed with good skin but like everyone, genetics can only take you so only far. I recently discovered a line of skincare named AENEA and have used their APPLE STEM CELLSERUM for a few weeks. I see a noticeable reduction in fine lines and my skin feels tighter. So what is the secret? AENEA Skin Stem Cell Serum uses stem cells of a rare Swiss apple called the Uttwiler Spatlauber. The trees are so rare that there are reportedly only 20 trees left in the world. Initially these apples were heading towards extinction, because they lacked the flavour desired for agricultural cultivation.You won't find them in your perfume or in Whole Foods. However, the surprising quality of these apples is that they can stay fresh without refrigeration or any preservative for periods lasting up to 4 months. To Use: shake well, use sparingly and apply to face, neck and décolleté. Take it from someone who usually believes most skincare is hope and hype in a jar, this works. AENEA SKIN is approved by PETA (People for the Ethical Treatment of Animals) 30 ml/ $140 Available at Bergdorf Goodman and www.aeneacosmetics.com/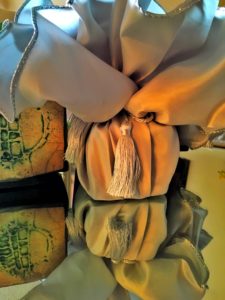 Many of our readers know Sandi Lundberg as a perfumista and as Associate Contributor to CaFleureBon. You may not know that she is a gifted creatrix of natural products under her brand Meditatio Aromatics. Meditatio organic hand-milled soaps are made in small batches and sold to salons and reiki healers. Using only the finest of ingredients, these soaps contain spearmint, lemongrass and patchouli and are lovingly hand wrapped in origami style fabric. I have heard that men who wash with these soaps seem to attract lots of hugs! 3 soaps for $25. ALL NATURAL Contact sandilundberg@gmail.com
Perfume Presents that are Perfume
Who is that whispering but Michelyn, CaFleureBon is "mainly a perfume site", and you HAVE to put in perfume. You know who you are, so simmer down and I will.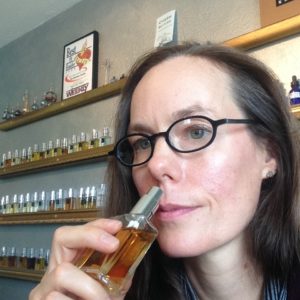 I have too many friends and colleagues who buy every perfume they want (Robert Herrmann of CaFleureBon I am looking at you). For them, you need to find an unusual scented experience and we have just the one. Dawn Spencer Hurwitz of DSH Perfumes will create a bespoke fragrance for you, and only you, no matter where you live, keeps it on file and you can replenish when your 30 ml edp runs out. Choose from DSH's 1100 ingredients; no material is off limits. Two hour session via skype, facetime or Facebook phone ($500).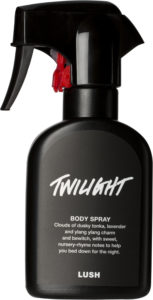 The Holiday season isn't always the most wonderful time of the year (unless you are in the audience of the Ellen de Generes show) it can be stressful and overwhelming. Getting a good night's sleep doesn't come easily even when you are exhausted. Sleep deprivation can also be traced to staying up to the wee hours posting in Facebook groups. Nix the Ambien and spritz yoursel with LUSH Twighlight Body Spray . Using 14 ingredients from all over the world, including lavender, ylang-ylang and tonka (with a high percentage of naturals and cruelty free) this is a sweetly scented sleepy time blend. You know the neighbor that throws wild parties at 3:00 am? Knock on the door, spray the room and you'll get some rest. £20.00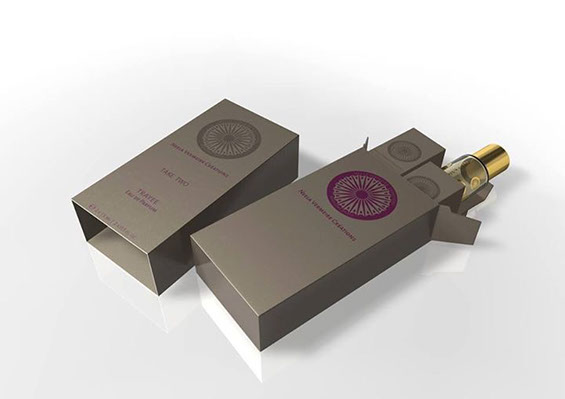 How much do we love Neela Vermeire fragrances? So much so that I would guess some of our readers own at least one or two or more. So Take Two. Neela offers five 2 x15 ml of her precious elixirs created in collaboration with Bertrand Duchaufour: Mohur, Bombay Bling, Trayee, Pichola and the Art and Olfaction award winning Ashoka in beautiful flacons and encased in her signature packaging. €112.00 Need help deciding? Please read Senior Editor Lauryn Beer's "The Three You Should be Wearing here.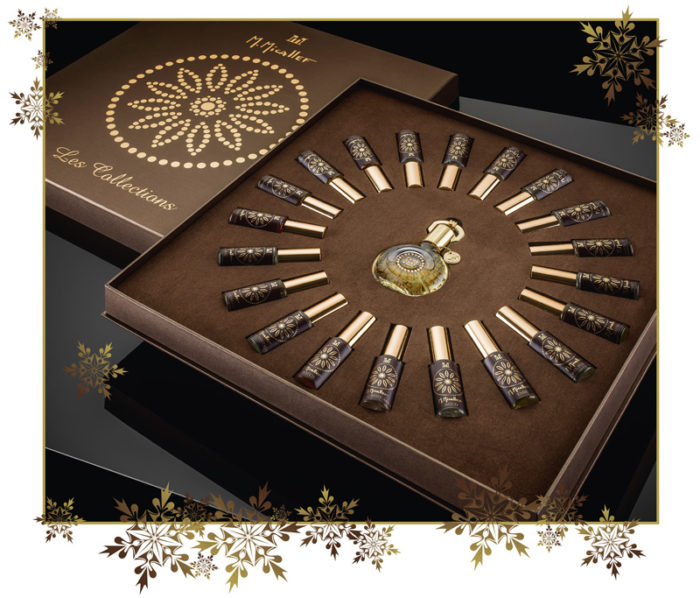 It is no secret that many of the team just LOVE Parfums M. Micallef by Jean-Claude Astier and Geoffrey Nejman who create the jus and Martine Micallef designs the bottles. This year they have outdone themselves with the penultimate perfume gift….Les Collections. 20 x 12 ml sprayers from the Collection Ananda, Collection Mon Parfum, Collection Exclusif and Collection Jewel. The Centerpiece is 30 ml of 20 Ans, which celebrates 20 years of excellence and lust-worthy perfumes.They were the first to use Oud btw in niche fragrance! 295,00€
–Michelyn Camen, Editor- in- Chief (aka MCScenta)
This year every perfumed gift in the guide is part of a draw. Thirteen gifts for thirteen readers.
WORLDWIDE: Merci tres cher Olivier Durbano for the Rock Crystal candle
WORLDWIDE: From our friend Dawn Spencer Hurwitz you don't want to miss the 2 hr Bespoke Experience
WORLDWIDE: Merci Martine et Geoffrey of Parfums Micallef, for Les Collections. J'adore
USA Only: We just love Tony and Meredith Perez for offering Belle Fleur Deluxe Diffuser in Bergamot Cedar
USA and EU ONLY: Thank You Lush for the Twilight Spray zzzzz
WORLDWIDE: Your Choice of any of House of Matriarch's Aromawands in nine pure ingredients (specify in your comment)
USA, Canada and EU only: From the fantabulous Neela Vermeire Take Two (specify the two of the five you would want in your comment)
WORLDWIDE: Merci Madame de Nicolai for 100 ml of Santal des Indes Room Spray
USA ONLY: Thanks to the generosity of Buxom Cosmetics for Buxom Lips off Leash Plumping mini lipglosses
USA ONLY: Many thanks to Europerfumes the distributor of Amouage in the US for Amouage Lyric Body Cream
USA ONLY: With gratitude to MJF5 Consulting and AENEA for the Apple Stem Cell Serum
USA ONLY: We love you Sandi and we are so grateful for the trio of Meditatio Soaps
USA ONLY: Thanks to Sherri Sebastian, the founder and perfumer of PROVISION for Connection Lip Rescue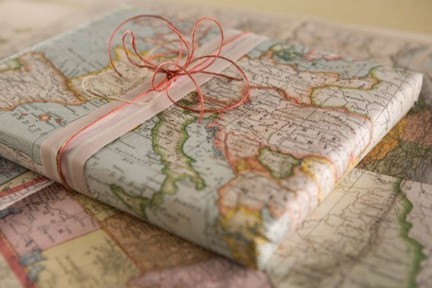 To be eligible for our scentabulous 2017 best fragrance gifts please leave a comment with someone in your life who really deserves a great holiday gift and why, where you live and as many of the 13 you would hope to win. ONE MUST BE ALL NATURAL. Be sure to registered (be sure to do this or your comment won't count). If you would like to be creative, one reader who leaves the comment that represents the true spirit of the holiday season will win one of their choices. Two members of the CaFleureBon team will judge. Not feeling creative? That's ok. just leave a comment about the Holidays. Draw closes December 5, 3017.
We announce the winners on our site and on our Facebook page, so Like Cafleurebon and use our RSS FEED…or your dream prize will be just spilled perfume