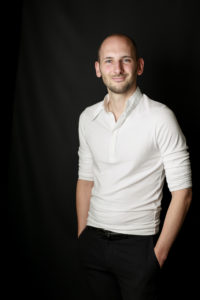 Quentin Bisch of Givaudan is 33 (Photo Givaudan)
I was born in 1983 in Strasbourg, north-east of France. At the age of 5 my family moved to London since my father had a job there and after two years we went back to France. I have many memories of that British period of my life. It was fantastic. I remember the smell of freshly baked cookies in the tubes, the smell of warm tar escaping from the street near the playground in summer time, crude fresh cucumbers served at noon for the lunch at school. A lot of images as well: the gardens, Hyde park, the squirrels in the squares, colors and lights of shops in Harrod's and Hamley's… It is really precise and still vivid.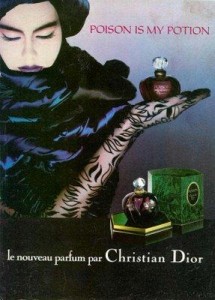 And of course, I remember the perfumes of my parents. They made me discover the world of fragrance with their own daily use of perfumes. I was literally born in Shalimar as my mum had her bottle close by as she was giving birth… Then she turned into Loulou, Poison, Coco.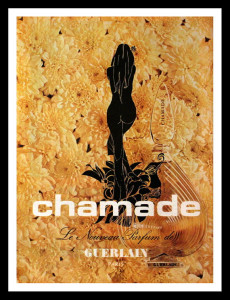 Vintage Chamade Guerlain 1970
And later she would fill a room with her Jungle or some Chamade. My father wore Guerlain's Habit Rouge, Derby and Vetiver. Chanel's Pour Monsieur concentre and later Gucci pour homme.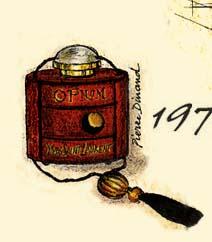 Illustration of Opium Credit: Pierre Dinand
I have always strongly linked people of my surroundings, or people I would meet to the perfume they would wear. I can tell you exactly what perfume each of my teachers was wearing during my school years. And it is thanks to one of them that I realized I wanted to become a perfumer. It was my very first day of middle school. My French teacher entered the classroom and filled the place with her perfume. I was completely captivated. At the end of the class I came to her and asked for her perfume. She had a bad reaction: I should not have asked that kind of question, she was my teacher, I had to owe her respect etc. I was mortified, apologised and left as quickly as possible.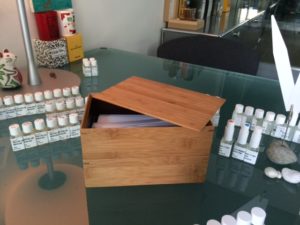 Quentin Bisch's blotter box is from Kyoto and made out of bamboo (photo Quentin for CafleureBon)
But she kept spreading her fragranced aura within the following courses. I remember she was a smoker and the papers she was distributing were infused with this magical mix of her perfume and the scent of cigarettes… I finally entered a perfumery shop and after a while found the reward of my quest: her perfume was YSL's Opium. Our relationship evolved within the year and there is a lot to say about her. One thing is that she started changing perfumes often and I could guess them. It is thanks to her that I definitely understood at an early age the power of perfumes. How strong the impression can be, how much charisma they may reveal. Therefore I told myself that if someone had created this perfume, why not me? And for the first time I would answer to the periodically asked question "what do you want to do when you'll be an adult?" that little word, full of magic as it has always triggered smiles and surprise: I want to become a "perfumer". I was 11.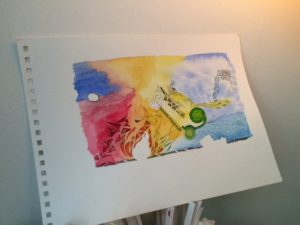 Drawing created by Quentin Bisch and his friend Perfumer Shyamala Maisondieu (photo from Quentin for CaFleureBon
Something else is key in my development as a child and for the following. I have always been creative. I would even say on a permanent urge to create. I would build something with my toys, I would sing, I would tell stories, writing, drawing … But anyhow I would create. Since my early days I was meant to express myself in an artistic field. At the age of 8 I started being keen on the piano and my parents kindly bought me one. After 2 years studying I decided I knew enough to be able to play by myself and stopped the lessons. My parents were a little scared. But they realized soon it was for the best. In fact I was fed up with courses and the patience you need to translate a music sheet. I had understood that I was quicker and more "free" being all alone. I started to translate by ear all the musics I loved, like films scores, classicals etc. And of course I began composing music. Which was perfect and complementary cause I was already writing and singing. I remember it is at the same period I would gather my friends to create shows. I did my first "stage directions" in the playground or at home to entertain my surroundings. I was bringing the magic and fantasies of my dreams to the everyday life.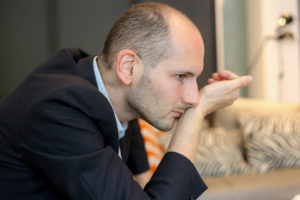 Quentin Bisch (photo Quentin Bisch)
Back to Opium and my beautiful French teacher, I had then one single question in mind: how do you become a perfumer? I discovered that the ISIPCA (Versailles institute training for perfumery and cosmetics) was the classical path to become perfumer. Chemistry degree being mandatory to reach the institute. I remember my teachers telling my parents and me that "perfumer" was a "nice dream" but they definitely were not seeing me at all taking such an orientation: I was a living disaster as a science student. "Mathematics", "chemistry", "physics" were my nightmare feeders. I was as bad in that field as I was brilliant in literatures and art. Therefore I stubbornly forced the way of my orientation, despite all advice. And, of course, I fought, struggled and failed. Numbers and logics for three years all in vain! I was not capable of it. Yet, I remember how much I worked, to end up with such pitiful results. I did only one year at the science university in Strasburg and decided to stop everything. Farewell ISIPCA…Bonjour Arts du Spectacle! I was received in the theatre studies department of the Strasburg university. 5 years in heaven! Besides my courses I gathered a team of talented artists and directed several musical shows and performances. I finally obtained my 2 MASTER degrees at the age of 24.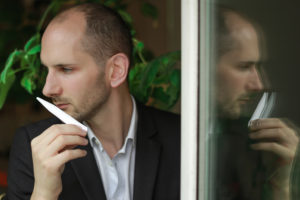 Quentin Bisch à la fenêtre
I was happy with my new life but still obsessed with perfume and I could not renounce my dream. I decided it was time to write letters to the perfumers I was admiring and came across some "actors" from the perfumery industry. I discovered the Givaudan School. I met a lot of people during that period and I am very thankful since it is because of them I understood there could be other ways to become perfumer. But they all also were honest and realistic: there was a huge demand to become perfumer for a very few places to be granted. Everybody told me about the Givaudan perfumery school, the oldest and most famous of them all. Very confidential too, 2 to 3 students worldwide, at most, each year. Nevertheless, still hope…
Jean Guichard and Quentin Bisch at The Givaudan School (photo for Cafleurebon from Quentin Bisch)
I wrote a letter to Jean Guichard, the director of Givaudan perfumery school at that time and got an interview. I was ecstatic! Interview went smooth and chill. It was a discussion and an exchange between us. He told me they would accept new students depending on the needs of the company. Unfortunately Givaudan was not taking any new student at that time. Jean was interested in my profile and the way I expressed my passion. I would have to apply again later, being sure to have been closer to raw materials during the meantime. It was his main advice: try to become a perfumer assistant in order to smell and start to seriously build my olfactive memory if I wanted to have a chance in the competition to reach the Givaudan perfumery school.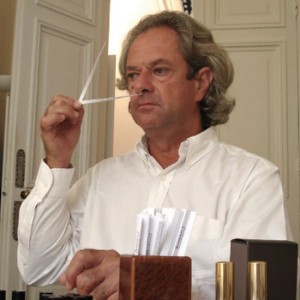 Michel Almairac (photo Robertet)
New step, new goal: I had to become a perfumer assistant. I met Michel Almairac who kindly gave me the opportunity to join Robertet's lab in Grasse. I became a perfumer assistant for one year and learnt a lot! Michel Almairac began by teaching me about raw materials. I passed my first olfactive tests with him. Then we selected a fragrance on the market and made an exercise of reconstructing it step by step only by nose.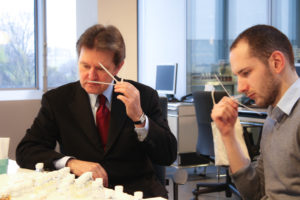 Smelling with Jean Guichard (photo Quentin Bisch for CaFleureBon)
Jean Guichard knew I had followed his advice and that I had become a perfumer assistant. He called me back for a second interview. He was very encouraging but confessed he was not the only one to take the decision for an admission. I went about ten others interviews with Givaudan, meeting perfumers and managers. I waited for some months and one nice day I had a call from Paris. It was on a Thursday around 4 PM and I was weighting a formula in the Grasse lab. I remember: "Hello it is Jean Guichard, if you are still interested, we would like to offer you a place in our perfumery school". One of the most beautiful day in my life.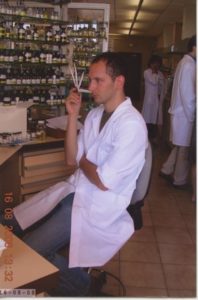 Quentin Bisch at Robertet June 6, 2008 (photo: Quentin Bisch)
My very first perfume was Reminiscence's Essence. I was still at Robertet and I can still see Michele Saramito – my friend and perfumer – coming to me with the brief in her hand. It was absolutely forbidden for me to work on a brief as I was a perfumer assistant. She knew my passion and I had shown her an accord I had created (after the day of work I was staying as much as possible in the lab to work out my accords): it was a "papier d'Arménie" accord, saturated with benzoin and amber. And when the brief came it was all about an amber note… Reading the brief she had immediately thought of my accord.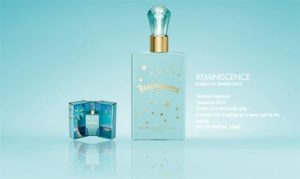 Reminiscence's Essence. 2013 was Quentin's first perfume
She proposed to present my work in secret, under her name, just to see how it would go. It was selected. Then I did the first tours of mods and she finished the fragrance as I was admittred to Givaudan's school. And it won the project! She finally told everybody in the Reminiscence team that I was behind the creation. I was invited to the launch in Paris. Warmly received by everyone, Michele was here. A fantastic day! I am very proud of that perfume: firstly it is my very beginning as a perfumer; secondly it is emotionally linked to the whole Robertet period in Grasse and to Michele Saramito whom I love. It is definitely thanks to her that I could express myself on such a beautiful project.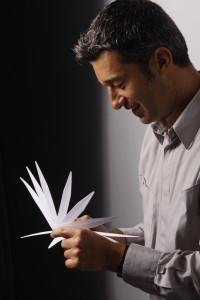 Pierre Aulas
My relationships with the clients are incredibly special. I would like to acknowledge three as each one took a chance with me very early on: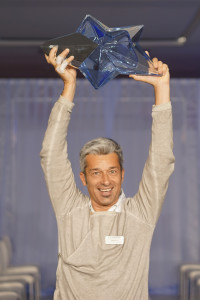 Pierre Aulas holding a giant star shaped bottle of the original Angel
Pierre Aulas, Creative Director of Ego Facto , who is also the Artistic Olfactory Creative Director and Consultant at Thierry MUGLER is very demanding, very precise in evaluation, very sharp in his vision and he is pushing all the time for excellence. It is rarely good, rarely satisfying and you need to work a lot to find new ways. He encourages you to explore, to push the boundaries further. He wants something new, and technically irreproachable. And most of all – and it is what I appreciate the most about him, he is "entier" and super intuitive. You can't fool him. I was working with Louise Turner on the Cavalli black, giving her some support. She had taken an accord of mine and had presented it to Pierre as one possible direction. He loved it and it was kept into the final version. Louise told Pierre that it was a proposal from the young perfumer she was mentoring. I think that was the first time he heard of me. Same happened later on a Mugler proactive brief and the Givaudan people saw that my accords seemed to resonate with Pierre.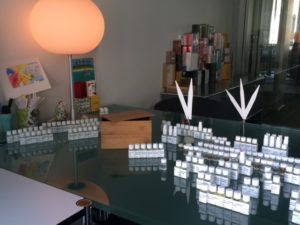 The view from Quentin's lab in Paris
I finally met him on a Victorinox project. I remember he challenged me very quickly. It was during a meeting with the entire team. We were getting to the end of the meeting and he concluded that "none of your modifications are acceptable. I can't do anything with this. I'm leaving in 30 minutes from now. Let's see how good you really are." It was a way of testing… He wanted to see how I react under pressure. On that day I completed it and he left 30 minutes after with new trials he would present to the client. I feel we have a great mutual respect, having built a relationship based on a lot of work, creativity and honesty. Together we have created within the past three years 2 Victorinox, fragrances, 2 limited editions of Azzaro pour homme, coming soon new Azzaro Solarissimo, Mugler's A Men ultra zeste and Angel Muse. It was for each of us a difficult journey but we are proud of the results.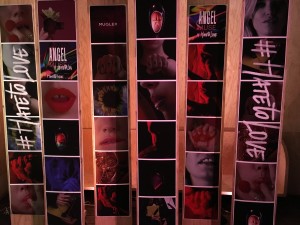 From the Angel Muse launch party photo Hernando
On Angel Muse: I was invited amongst other senior perfumers – including Angel's 'dad' Olivier Cresp – to try to create a new addiction, the brief being "what would be the Angel of nowadays?" The selection was judged blind as Pierre always wants to be neutral in his evaluations. Which is huge to that that I was selected. And I was kept till the end! That was something! We worked for 2 years with Pierre and the Mugler team in order to find the right balance. Having the addition of the hazelnut cream but being Angel enough, having the vetiver without being dry or masculine, etc. They so loved my proposal that they decided to redesign the entire project and it became Angel Muse as we know it: a new bottle and colour to express that rounder, creamier contemporary Angel's femininity. I would describe it as a very chic and addictive "bois gourmand".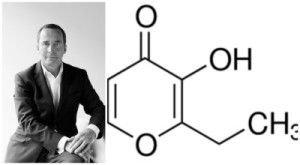 Olivier Cresp of Firmenich and the Ethyl Maltol molecule
I love the fact that some people do find it more sweet than the original, some others less sweet than the original. The secret is that Angel Muse has more ethyl maltol, more vanilla. But the vetiver plays a trick that creates a counterpoint. Which are the most addictive chocolates? Those with these little crystals of salt in it. The contrast of the salty and the sweet creates a vibration in your mouth. Vetiver plays exactly the same role in the fragrance: it is the crystal of salt in Angel Muse. Therefore it is not a mono sweet-sugary gourmand but something definitely more special and intriguing, almost smoky, woody, nutty. Vibrant!
Etienne de Swardt of Etat Libre d'Orange with Quentin Bisch st the launch of Le Fin du Monde in Paris (photo Etienne de Swardt)
On Etienne de Swardt of Etat Libre D'Orange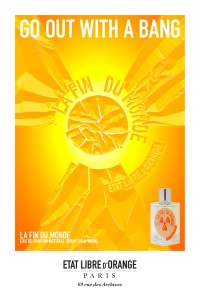 What a mysterious guy! It is funny because I had met Etienne long before getting into Givaudan perfumery school. In fact I met him just after having met Jean Guichard on my quest to become a perfumer assistant. I had randomly discovered the little Etat Libre d'Orange boutique, wandering in the street of Paris. I fell in love with the brand. Daring, provocative and wonderful perfumes. I bought Vierge et Torrero at that time, a fragrance that I still really like. Etienne heard that a young passionate guy had come to the boutique and that he wanted to become perfumer…I had given my phone number. He called me and we met. He wanted to hire me to as a sales associate. And 5 years later there I was as a young perfumer and ELO briefs us on a new project! It was all about Blaise Cendrars little text called "La Fin du Monde". In the text everything on earth and even in the universe explodes. And then starts again a new cycle. The text was written like a movie scenario. I wanted to focus on explosion and use the "decalage" of the brand as an inspiration. It gave a fragrance focusing on the very last – or very first – explosion, made of beautiful seeds oil and… pop-corn!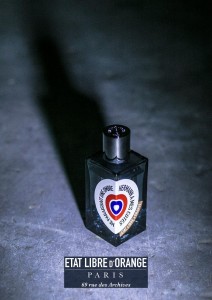 Hermann à mes côtés me paraissait une ombre etat libre dorange
Next was Hermann… Such a different story: a work around shadow and transparency, in a gothic way, exploring green sap, wet soil and a rose-incense duet. If I had use just one word about Etienne as a Creative Director it would definitely be: freedom! To give you an idea I want to tell you a few words about the next perfume ELO will launch this year. That is from far, the most creative brief I have ever received and I totally appropriated it, being free to express myself. I took it as art, remaining free to create from the beginning to the end what I wanted to create. And Etienne let me do it my way. Which is precious and beautiful and I am very thankful. With Sylvie (evaluation) and Audrey (sales) we literally lived an experience of pure creation. I brought them in my interpretation of the brief, my lecture of the theme… And it became an amazing project, very involving. I don't want to talk that much of it for now but it was so exciting! And deep. And intimate. You'll discover the result as a fragrance soon… I am sure Michelyn will be among the first to know (maybe she knows???)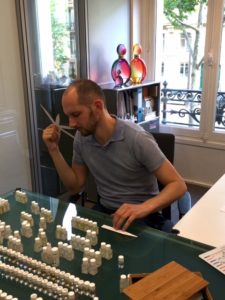 Quentin in his Paris lab (photo by Quentin Bisch for CafleureBon)
Ex Nihilio: I also worked very early on with Sylvie Loday and Benoit Verdier on this year's Fragrance Foundation Top Five Finalist for Indie Perfume, Fleur Narcotique. It took a while to get it perfectly. I was so young only 29 and it was an idea I had proposed to the Ex Nihilo team as they were looking for the fragrance of the "parisienne chic", modern, trendy. I was really a young perfumer at that time. I had this accord based on petalia that I loved.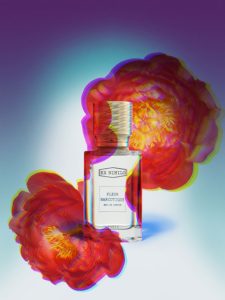 Fleure Naroctique
Petalia is an incredible ingredient. It is a rosy note with peony and grapefruit facets, drydown going towards rosy powdery. Very long-lasting, very diffusive. A little bomb… Fleur Nacotique is made of an overdose of petalia. They loved the accord. We tried to work around it a lot. At the end we got back to my first idea. And I'm very happy because I think it was the best trial of all. Now I know this fragrance is a great success for them: I was in Moscow recently and indeed people kept telling me about it. How cool!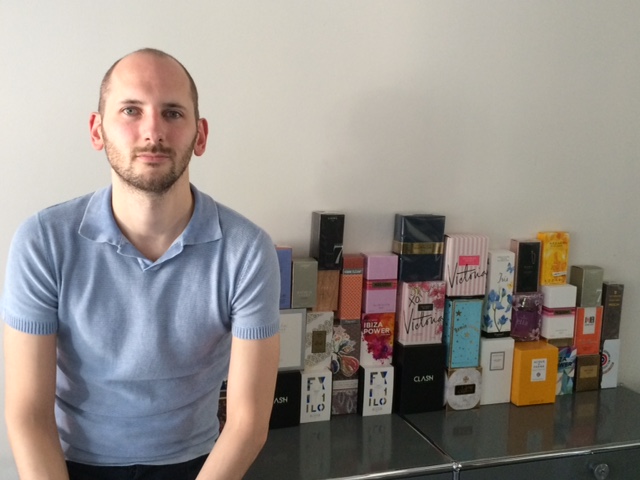 Quentin Bisch in his office with his perfumes (photo Quentin for CaFleureBon)
I have been at Givaudan as a perfumer for four years and my everyday life is truly captivating. I have the opportunity to work on a lot of different projects and brands. Beautiful ones! And I have that feeling I am learning every day. We have so many things to explore as perfumers, so many things to create and recreate. My lifetime dreamy journey is just starting. I feel blessed.
–Quentin Bisch, Perfumer at Givaudaun
Bottling The Memory BBC jump to 11th minute for Quentin's emotional appearance while a student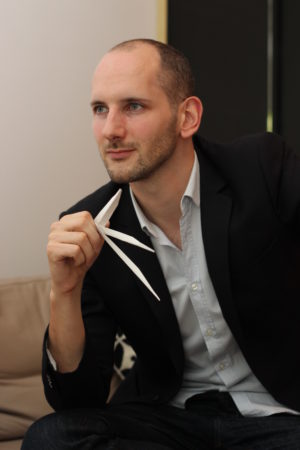 Quentin Bisch (photo Givaudan for CafleureBon)
Editor's Note: This article/interview was a year in the making. I want to thank Quentin for sending revision after revision so that CaFleureBon would have the most definitive and detailed story of his path to perfumery on the internet. In his own words in first person as an unconventional interview. I first became aware of Quentin while watching the BBC series Perfume Bottling the Memory, when he was a student at Givaudan. His passion, his energy… I think I knew then that Quentin Bisch was and is a perfumer who will become one of the most important perfumers of our generation. (jump to minute 12). Special thanks to Pierre Aulas and Etienne de Swardt for gently nudging Quentin to finish writing this for us. Readers, bookmark this page. I guarantee you will refer to it many many times in the years to come- Michelyn Camen, Editor in Chief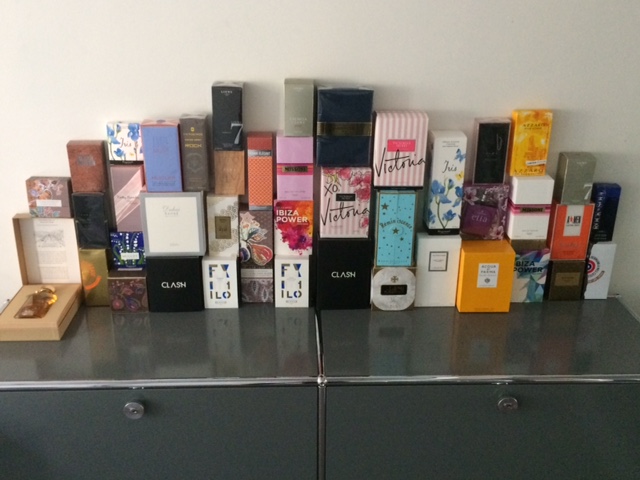 A selection of Perfumes by Quentin Bisch (photo Quentin Bisch for CaFleureBon)
AZZARO AZZARO POUR HOMME SUMMER (2015, with Olivier Pescheux and Jacques Huclier)
AZZARO AZZARO POUR HOMME FREE LIGHT (2016, with Olivier Pescheux and jacques Huclier)
BETTY BARCLAY SHEER DELIGHT (2015)
CAROLINA HERRERA CONFIDENTIAL – MYSTERY TOBACCO (2016)
CLASH FRAGRANCES ENFANT TERRIBLE (2014)
CLASH FRAGRANCES LOVE POTION (2014)
CLASH FRAGRANCES MONSIEUR VETIVER (2015)
CLASH FRAGRANCES MISS PORTOFINO (2015)
ETAT LIBRE D'ORANGE LA FIN DU MONDE (2013)
ETAT LIBRE D'ORANGE HERMANN A MES COTES ME PARAISSAIT UNE OMBRE (2016)
EX NIHILO FLEUR NARCOTIQUE (2014)
EX NIHILO VENENUM KISS (2015)
FRAGONARD ENCENS ET FEVE TONKA (2013)
FRAGONARD FLEUR DE L'ANNEE – MUGUET (2013, with Sonia Constant)
FRAGONARD HOMME ELEGANT (2014)
FRAGONARD FLEUR DE L'ANNEE – IRIS (2016)
GHANDOUR SCENT OF AFRICA FOR WOMAN (2015)
JAFRA ROCK'N SOUL (2014, with Michel Girard)
JAFRA SILVER CANYON (2014)
LATTAFA PERFUMES ROOH AL BANAT (2014)
LOEWE ESSENCIA SPORT (2014, with Emilio Valeros and Michel Girard)
LOEWE SIETE SPORT (2014, with Emilio Valeros and Antoine Maisondieu)
LOEWE COLLECTION – ENCUENTRO EN EL PUENTE REINA VICTORIA (2015, with Emilio Valeros)
LOEWE SIETE ANONIMO (2016, with Emilio Valeros and Antoine Maisondieu)
MERCADONA OUD NOIR (2014)
MISSONI MISSONI FOR HER (2015)
MISSONI MISSONI FOR HER EDT (2016)
MUGLER A MEN ULTRAZEST (2015, with Jacques Huclier)
MUGLER ANGEL MUSE (2016)
MY WAY DIVA (2015)
NABEEL PERFUMES BAHAR (2015)
REMINISCENCE ESSENCE (2010, with Michele Saramito)
SHIFFA DUBAI AYA (2013)
VAN CLEEF AND ARPELS COLLECTION EXTRAORDINAIRE AMBRE IMPERIAL (2015)
VICTORIA'S SECRET VICTORIA (2013, with Adriana Medina, Yann Vasnier, Stephen Nielsen and Aurelien Guichard)
VICTORIA'S SECRET XO, VICTORIA (2016, with Adriana Medina, Yann Vasnier, Stephen Nielsen read Stephen's CaFleureBon profile in American Perfumery Here)
VICTORINOX ELLA (2014, with Shyamala Maisondieu)
VICTORINOX ROCK (2016)
ZARA VETIVER (2016)
ZARA CEDAR (2016)
We have three draws for three click on the link registered readers as follows: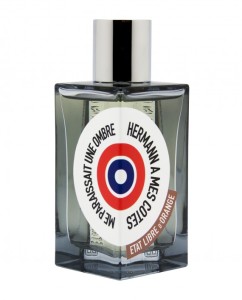 WORLDWIDE: From our dear friend Etienne de Swardt 100ML ETAT LIBRE D'ORANGE HERMANN A MES COTES ME PARAISSAIT UNE OMBRE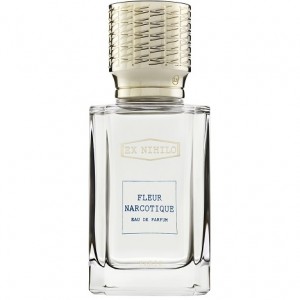 EU, US AND CANADA: With much gratitude merci merci to Sylvie Loday and Benoit Verdier for 50 ml of EX NIHILO FLEUR NARCOTIQUE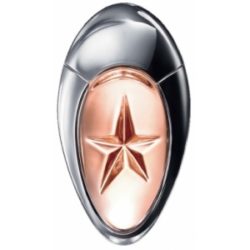 USA ONLY: Thank you to Mugler Us for 1 oz refillable of Angel Muse
Please leave a comment about what you found fascinating about Quentin Bisch, his path to perfumery (I am sure he will be reading this) a particular quote or story, your favourite perfume from his body of work, where you live and which of the three fragrances you wish to win. If you tweet, share on facebook, Pin, instagram @cafleurebon or tweet @fifthsensenyc @givaudan #OlivierBischYoungPerfumer Draw closes 7/1/16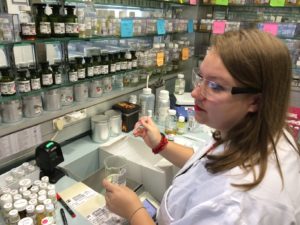 Quentin at the age of 33 is already a mentor to Sophie Deslande his assistant
We announce the winners only on site and our Facebook page, so like CaFleureBon and use our RSS option…or your dream prize will just be spilled perfume