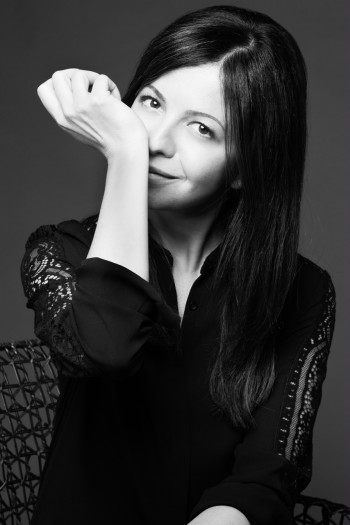 Dora BAGHRICHE Fine Fragrance Perfumer, Firmenich (photo byNathalie de Lopez)
Before I fell in love with the idea of becoming a perfumer, I dreamed of becoming an international reporter. My first love was always writing. Forever curious, my inquisitive mind has always pushed me toward discovery, which is why I have often uncovered unknown artists with remarkable talent and many of my friends are musicians, filmmakers, actors, from a wealth of creative backgrounds. However, both my grandmothers were pastry chefs and I developed a passionate relationship with food thanks to their influence. My first fragrance memories during my childhood are full of the scents of pine nut cream, cinnamon treats and almonds, which explains my strong addiction to gourmand notes.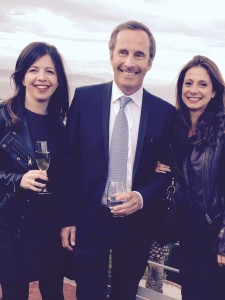 Dora BAGHRICHE Olivier Cresp and Daphne Bugey
It was not just my family who were supportive of my ambition to commence a career in fragrance; many people have helped me along the way. Harry Frémont, the Master Perfumer, has been a mentor to me since the very beginning. It was at his side that I took my "first steps" toward the creation of fine fragrance in New York and we have maintained a deep bond, cemented in mutual respect and trust. And upon my arrival in Paris, I quickly befriended Daphne Bugey and Olivier Cresp, both of whom possess an immense amount of talent and an aesthetic sensitivity that I profoundly admire. Finally, Armand de Villoutreys, had faith in me and encouraged me to try my luck as a perfumer.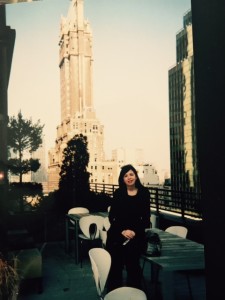 Dora BAGHRICHE in NYC 2009
Equally, my own diverse experiences played a role in the development of my career as the exposure to different regions and cultures widened my horizons from an early age. From Mediterranean maquis to Asian landscapes, passing through the city of New York where I lived and learned a lot. Italy is also a huge part of my life. It is a country, a language and a culture that resonates with me.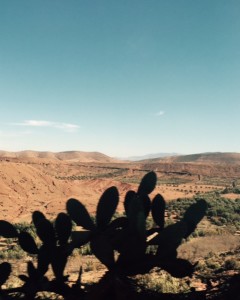 Dora' loves deserts. Here Morroco December 2015
Independent, I have always felt comfortable travelling alone, and I find a certain pleasure in it. It is similar to the moments I experience when creating a new fragrance. I have the ability to isolate myself, to think and find the right angle. I envelop the questions the destination inspires, allow them to become personal and then capture them in my journal; a wealth of complex, multi-faceted specifications. It is in this little book that I am able to reconnect with my literary roots. I write everything down, from descriptions to inspiration.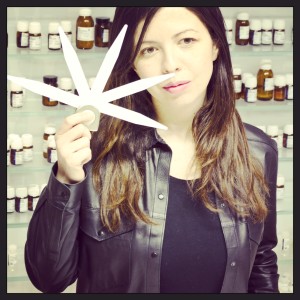 Dora in her Studio
I like to say that I work with fragrance. It is my ally, and it exposed me to infinite emotional possibilities. And with each creation, each collaboration, I retain a little magic.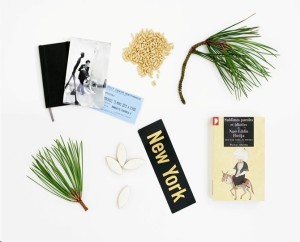 Dora: Ingredients, places, photos, books
And many of the ingredients make me dream. Like Russian dolls, natural ingredients fascinate me. Complex, capricious, angular, overflowing qualities, between shadows and light, their innumerable facets make them a challenge yet highly desirable. Sage, for example, one of my favorite ingredients, (which inspired the key accord in Caligna (L'Artisan Parfumeur) transports me into fields of chamomile, eucalyptus or maquis, tea and even lavender: it is a wonder. I also like cedar with its vibrant woody notes and iris tonalities. And I find that the Atlas cedar, rich with spicy nuances, does not yet have the appreciation that it deserves.
Dora BAGHRICHE with Photographer Olivia Bee; MC montage of the ad campaign for Anais Anais Premier Delice
Of course, I often fall in love with synthetic ingredients as well for their unique qualities which have a tendency to be more pure than a natural! This was a real shock for me the first time that I experienced "pear ester," the creative source of Anaïs Premier Délice. With fruity notes that provide the illusion of a juicy ripe pear at the peak of perfection, so natural! New innovative materials are fascinating, like exploring unchartered terrain. Hybrid materials are produced, enriched, or otherwise lightened as they are co-distilled. The Firmenich Ciste Signature, for example, is clean but very sensual, co-distilled with a modern oak.
I have a weakness for gourmand traits in fragrance, which, contrary to what one might think, is not just the use of the praline. I like puffed rice notes, toast, carrot, lemon and I find that even a marine note can be gourmand. "Gourmand" is not simply a synonym for sweet or sticky, but rather a way of treating materials in a generous addiction, salivating…. Of course the loss of ingredients from my palette due to Ifra regulatory restrictions saddens me. A piece of heritage is lost. But this loss drives us toward new innovation and is an incentive to create in new and exciting ways. This is a real challenge for Creators.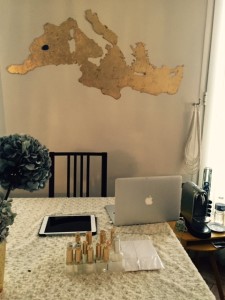 Dora's workspace in her home
I would have liked to create La Cologne Bigarade by Frédéric Malle. The overdose of grapefruit and orange notes in this fragrance is very modern, yet simple. Additionally, I would have loved to have been the one to conceptualize the idea of licorice in Lolita Lempicka. I also admire Ombre dans l'Eau by Diptyque, Eau d' Issey and even Narciso which includes modernized Cyprus notes and a reinvented form of sensuality, nor animal or gourmand, but rather simply mastered woody notes and musk.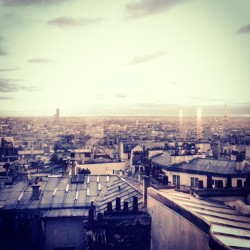 View of Paris where Dora now lives 2016
To the next generation of perfumers, I would say that the perfume is witnessing a period of dynamic growth. The industry has completely reinvented itself with a renewed importance on creativity and quality; there are new innovative methods and emerging niche markets. We are experiencing a return to the true values ​​of luxury and our art, an awareness of the artistic value of fragrance. Increasingly creative ideas are welcome. Brands are looking for young talents who can unleash their creativity to drive ideas forward. However, we must not lose sight of the fact that studying is the key to creativity; and from hard work comes creation.
–Dora BAGHRICHE, Perfumer, Fine Fragrance FIRMENICH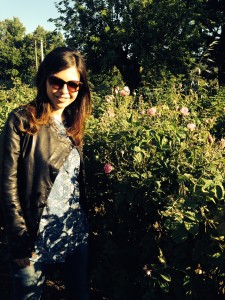 Dora BAGHRICHE Rose Fields
Editor's Note: I first became aware of Dora Baghriche who is 36 years old, when Celine Verleure introduced Still Life in 2011, but it was her deft use of clary sage (lentisque) and a breathtaking Marmelade de Jasmin accord in L'Artisan Parfumeur's stunning Caligna that intrigued me toknow more about this young perfumer. Dora continues to amaze as the joyful golden glowing ode to Brazil she composed for Olfactive Studi Still Life in Rio perfectly showcases her talent. The Silver Fox referred to Mme BAGHRICHE as a "quiet perfumer". In the future, our readers will be listening to her every olfactive word.
Perfumes by Dora BAGHRICHE
L'Eau par kenzo Electric Wave, Kenzo (with O. Cresp), 2016, L'Eau par kenzo Homme Electric Wave, Kenzo (with O. Cresp), 2016, Vanderbilt Minuit à New York, Vanderbilt, 2015 ,Vanderbilt Jardin à New York, Vanderbilt, 2015, Still Life in Rio, Olfactive Studio, 2016, Kenzo Amour Make Me Fly, Kenzo, 2015, Zara Iced Freesia, Zara, 2015, Giordani Gold Essenza, Oriflame (with D. Bugey), 2015, Tropical Collection: Anaïs Anaïs Premier Délice l'Eau 2015, Cacharel (with O. Cresp), 2015, I Am Juicy Couture, Juicy Couture, 2015, Vespa Sensazione for Him, Vespa, 2015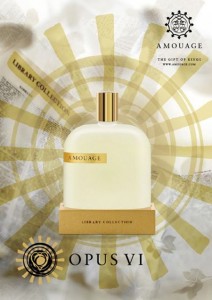 Amouage Opus VI
Pierre Cardin Pour Femme l'Intense, Pierre Cardin, 2014,Iris Meadow, Aerin, 2014, Cocktail Seduction Blue For Women 2014, Antonio Banderas (with O. Cresp and G. Sola), 2014, Cocktail Seduction In Black 2014, Antonio Banderas (with O. Cresp and G. Sola), 2014, Cocktail Seduction Blue 2014, Antonio Banderas (with O. Cresp), 2014, Possess, Oriflame (with D. Bugey), 2014, Mens Collection: Dark Wood, Oriflame, 2014, Vetiver & Black Tea, Kiehl'S, 2014, Aire Evasion, Loewe (with O. Cresp), 2014,Anaïs Anaïs Premier Délice, Cacharel (with O. Cresp), 2014,Caligna, L'Artisan Parfumeur, 2013,Zara Woman 11, Corso Vittorio Emanuele Milan, Zara, 2013,VIP Night, Oriflame, 2013,Tonino Lamborghini Sportivo, Tonino Lamborghini, 2012,Cocktails In The City Fashion Addict, Oriflame (with M. Salamagne), 2012, Cocktails In The City Flirty Bella, Oriflame (with M. Salamagne), 2012, Cocktails In The City Party Queen, Oriflame (with M. Salamagne), 2012, Vanitas EDT, Versace, 2012, Opus VI, Amouage (with P. Négrin), 2012, Vanilla & Cedarwood, Kiehl's, 2012, Fuse, Oriflame, 2012, Victoria, Swiss Army Victorinox (with F. Pellegrin & H. Frémont), 2012, Still Life, Olfactive Studio, 2011,Black Up Le Parfum, Black Up, 2011,Esprit Urban Nature Woman, Esprit, 2011, Zara Amber Man, Zara, 2010, Platinum, Oriflame, 2010, Vanitas, Versace, 2010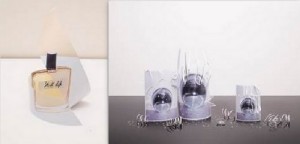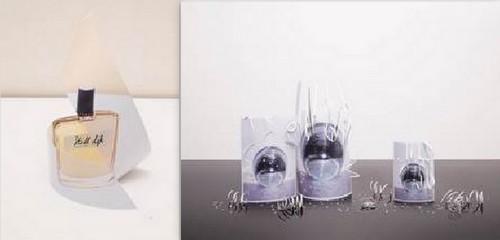 Thanks to the amazing generosity Celine Verleure we have a worldwide draw for a registered reader for their choice of Still Life
or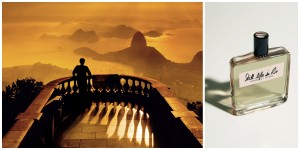 the new Still Life in Rio (which is now available at First-in-Fragrance)
or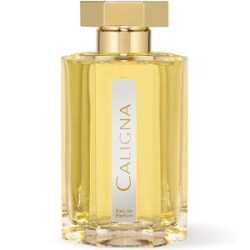 Courtesy of L'Artisan Parfumeur we have a US draw for 100 ml of Caligna for a registered reader (you must register to be eligible)
Please leave a comment about what you found fascinating about Dora BAGHRICHE (a quote perhaps or something you found particularly fascinating), your favourite perfume from her body of work, where you live and which of the perfumes you hope to win. Draw closes 3/3/2016
We announce the winners only on site and our Facebook page, so like CaFleureBon and use our RSS option…or your dream prize will just be spilled perfume.