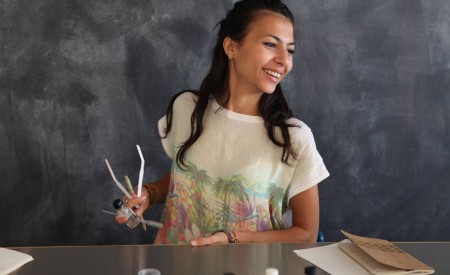 Dana El Masri of Jazmin Saraï at the Institute for Art & Olfaction, Los Angeles, California. September 2014. Photo Cred: Saskia Wilson-Brown.
My name is Dana El Masri, I am 28 years old and an Independent Perfumer. I was born on a rainy Tuesday in Budapest in 1987. I imagine the scent of petrichor enchanting the city that evening. It's a really random place to be born, I know, but that is where my story began. My earliest scent memories include the scent of paint on wooden chairs; the scent of faint gasoline emanating from the plane, mixed with the freshness of pine and seawater in Beirut; mangoes in my grandfather's garden; and jasmines, always jasmines.
I have always loved scents and perfumes; my first perfume was a miniature of Soleil by Fragonard, it had that gorgeous golden cap shaped like the sun. That perfume influenced how I chose my scents over the years; many full of opulent, white florals. I've worn many from Nina Ricci, to Chanel to Serge Lutens.
My environment was usually filled with scents too, I was always very aware of the way my school smelled, the walls, each classroom had a different olfactive character. The perfumes my grandmother wore had a strong impact on me. I associate many Dior perfumes with her. She loves Estee Lauder's Private Collection too; she has impeccable taste. Growing up in the Gulf also meant I was lucky enough to walk behind one beautiful sillage after another. The scent of burning bukhour has many meanings for me.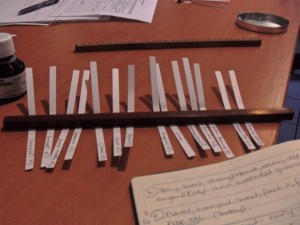 ​​​ First Day of Class – Natural Raw Institute of Perfumery, February 2010.Materials. Grasse
Earlier on in my life, I had one very specific goal in mind when searching for a dream, and that was to sing. So when I moved to Montreal in 2005, I simultaneously did that while getting a BA in Communication Studies. Once I graduated in 2008, I felt like there was something missing and went into a long reading streak. I was gifted the book Jitterbug Perfume at that time, once I finished it, it sparked this fire inside of me that was clearly ready for something excitingly different! I did intense research from that moment on and luckily found the Grasse Institute of Perfumery. I applied, I shared my story, and I went off to New York to meet Clement Gavarry in the Fall of 2009, who tested my nose… "Pepper!"…"What kind?"…"Pink!"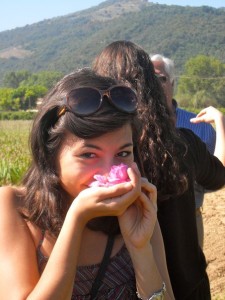 Chanel Rose Gardens – Excursion to see Rose de Mai being cultivated in fields just outside of Grasse. Best Rose I've ever smelled. May 2010
I moved to Grasse just a few months later, in January of 2010. My experience there was very special. I was learning all about our craft with others who were just as passionate, some of with whom I have made life-long friendships. I saw infinite possibilities in terms of artistic expression. Perfumery has so many valuable elements, it combines different art forms and that really excited me. Still to this day, it baffles me how much inspiration you can find and how much you can capture through scent, this beautiful, intangible, full-force experience.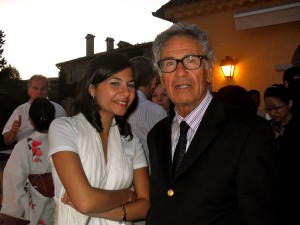 Max Gavarry and me at Bastide Sainte Antoine. Grasse Institute of Perfumery 10 Year Anniversary Party. Alain Astori in the background! Grasse, France. June 2010.
Meeting and learning from different perfumers, with distinct styles, all whom are esteemed in their own regard, gave me much needed perspective (it was also incredibly cool). Max Gavarry taught us construction and technique, always with a humourous touch. I did my internship at Expressions Parfumées, under the supervision of Phillipe Collet, who had a very critical eye; that helped push me. He was a pleasure to work with.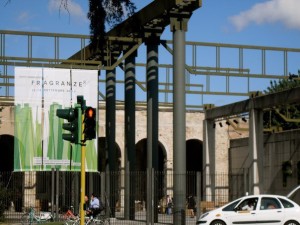 Pitti Fragranze 2010
Our trip to Pitti Fragranze in September of that year also had a big impact; I met Yosh Han, who encouraged me to go solo and follow my dream.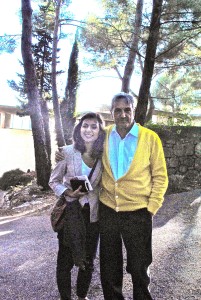 Jean Claude Ellena influenced me a great deal, much of what he said that October day has resonated with me. Cabris, October 2010.
Her passion, energy, and perfumes, along with all those amazing independent perfumers there, reaffirmed my need to go with this little idea that I had; to merge scent and sound. Finally getting to meet Jean-Claude Ellena that October, was a highlight for me, many of the insights he shared that day have influenced how I approach my work today.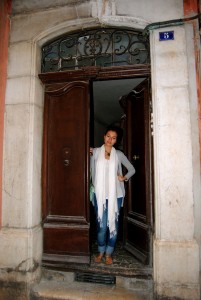 In front of entrance to my home in Grasse. ​The apartment I rented happened to be indie perfumer and fellow Canadian Jessica Buchanan's, which was a great coincidence. Grasse, May 2010.
We ended the year with a brief we had been working on to recreate the scent of luxury and my perfume was chosen. I got shortlisted to potentially train at Mane and was interviewed by Christine Nagel (whose work I went nuts for) right before I left, and that was also quite memorable. She's paved the way in so many ways, and just getting to talk to her taught me so much. With the win and all that love and excitement…and a bunch of raw sketches, I went back to Montreal in 2011 to try my luck at creating my perfume line. I wanted to share my experience with others and to further connect with the fragrance community, so I started my blog thescentinel.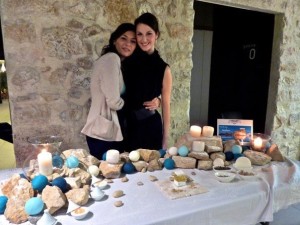 Final Presentation with my friend and collaborator Ashley Eden Kessler. Musé e de la Parfumerie, Grasse. December, 2010. ​
My process includes dissecting songs, their structure, tone, everything. The songs choose me. I try to encapsulate everything in the song; the lyrics, the emotion behind the words, the voice…the artist is also very important. I hear the instruments and they automatically have a life of their own – a colour, a smell, a texture. I don't usually isolate a scent (creating a soliflore for example) because I prefer working with blending ingredients together. I want to play with the harmonies of the materials and showcase how they mix. It's fun to pair usually dissimilar ingredients and see what happens when they change upon contact.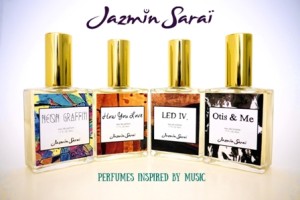 Instead of working for a big Flavor and Fragrance Company, today I have my own fragrance company Jazmin Saraï, There are four perfumes in the collection, each inspired by a song. I'm going on Year two now and the feedback has been great! I love making custom made perfumes for individuals and brands as well. I'm all about scent, music and culture. Whatever falls within that pyramid, I'm all over it! I'm working on a fifth perfume, coming out this fall, as well as collaborations with other artists in different mediums and further olfactive writing.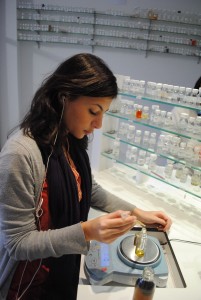 Working hard to finish the last batches of Seshen, my awarding winning perfume before starting my own company. Grasse Institute of Perfumery Lab
In terms of inspiration, it just comes. I find it everywhere. Perfumery has opened my eyes to new forms of thought, and new ways of expressing art. Maybe because this is what I'm meant to do: what I have in my head I can usually translate outwards. You know when you hear a song for the first time and it just blows your mind? It feels absolutely right? That's what I want to bring to life, that feeling, in scent form. I want to change how we see the world, how we use our senses…one shift in perspective makes all the difference.
I've also learned that I'm too obsessed with olfaction to just look at it only from the creating perfume angle, so I'm really focusing on scent as art and seeing what I can do with that. Whether it's through collaborating with artists from other mediums or finding new ways to express scent. I'm still a major perfume fan too and I love discovering what's out there. I like to wear different scents based on my mood, the weather outside, what I'm wearing…could be anything!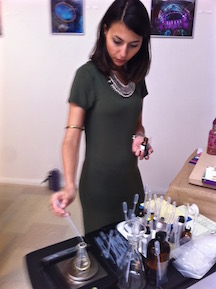 Dana El Masri at FRAGments 2015, an artistic event coordinated by Maggie Mahboubian of LaLun Naturals in LA
What is my advice to aspiring, young perfumers? Stay your course, believe in your craft, don't neglect your sense of smell, and keep learning. Everyone will have an opinion; we're working with a subjective medium here, take in what you think is necessary but listen to your gut. Keep up to date with the ever-changing industry. Always be authentic and make perfumes from your heart.
Dana El Masri, Perfumer and Founder of Jazmin Saraï
Editor's Note: Dana is the winner of the Jasmine Literary Award /Fragrance Foundation UK 2015 For our reviews of Dana's perfumes please click here
Thanks to the generosity of Dana El Masri we have a WORLDWIDE draw for a sampler set of Neon Graffiti, How do You Love Led iv and Otis and Me. Our US and Canadian readers can choose the sampler or a bottle of their choice. To be eligible, you must be a registered reader. Please leave a quality comment about what you found fascinating about Dana El Masri as a young perfumer, where you live and your choice of fragrance (country restrictions) you hope to win. Draw closes 7/30/2015
We announce the winners only on site and our Facebook page, so like CaFleureBon and use our RSS option…or your dream prize will just be spilled perfume.