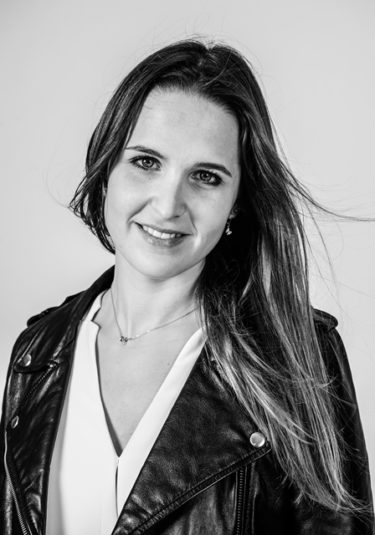 Fanny Bal of IFF©
"Today is a perfect day to start living our dreams," – Fanny Bal (a motto read on a NYC wall she repeats herself every day)
Preface: Young perfumer Fanny Bal of IFF is an up-and-coming star in the fragrance world. Fanny Bal began as Master Perfumer Dominque Ropion's assistant and recently Fanny Bal signed the new and much buzzed about Sale Gosse for Frédéric Malle. I will be at Esxence next week and will be meeting Fanny at the Masque Milano booth to preview their new perfume (homage) to Hemingway (by Fanny Bal). I invited Fanny to participate in our Young Perfumer Series, which has been first exposure for talented perfumers who have gone on to become " olfactive artists" you recognize and search for when you learn of a new fragrance. Fanny Bal is only 30 years old.-Michelyn Camen, Editor-in-Chief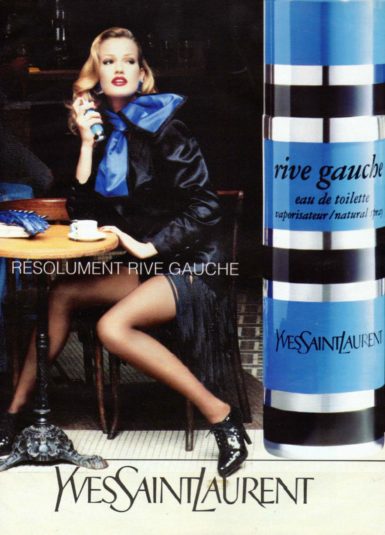 Rive Gauche 1970
I was born in October 1988 in Lyon, where I spent my 20 first years, before moving to Paris for my studies. I still have a strong affection for Lyon, where my family lives, and I love to come back in this city, where I feel comfortable.One of my first scent memories is, obviously, the perfume of my mother. She used to wear Rive Gauche from Yves Saint Laurent. For me, it has always been the final touch that gave her so much elegance, and I couldn't resist to secretly borrow her bottle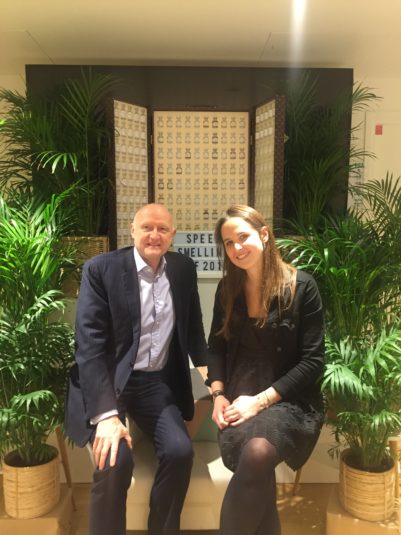 Fanny Bal and Dominque Ropion © for CaFleureBon
I started my career with two years in Lyon IUT of chemistry, before going to Université de Versailles, and then ISIPCA. It is at that time that I had my first contacts with IFF that led me to become Dominique Ropion's apprentice.It is a lot of hard work, but also a lot of fun, because Dominique is really a perfectionist, but also very kind and he knows how to laugh about anything, anytime. You always want to impress him, and he knows how to tell you when you are going the wrong way.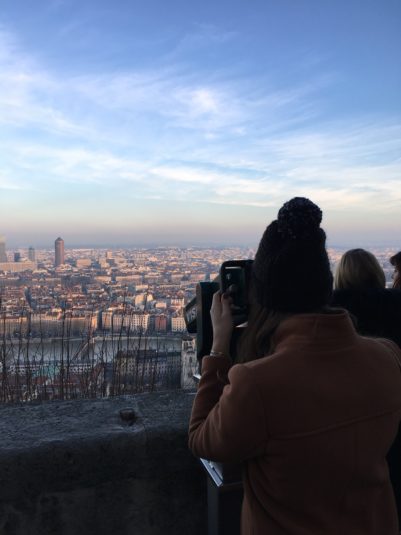 Photo from Fanny Bal©
How I Work on Briefs: When I receive a brief, the first thing I do is to dive into the brand's universe. I look at the website, visit the store, read articles, everything that can make me understand what the brand is about. Then, I discuss the brief with the evaluator, and this is often at that time that creative ideas come and that I get a starting point. It is always exciting when a different and innovative ideas comes out, and when this happens, I can't wait to work and develop that idea, to shape it and to make it the final perfume.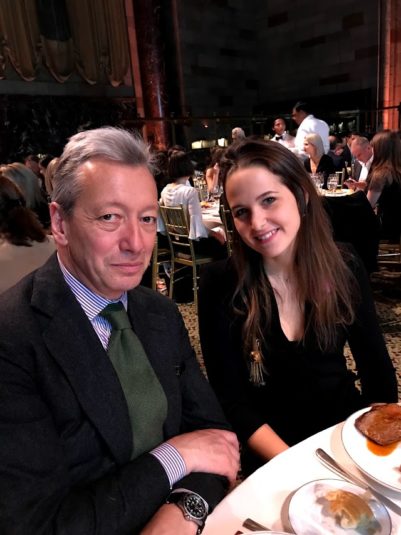 Fanny Bal and Frederic Malle in New York
My mentor M. Ropion: Besides everything that Dominique taught me I was very touched by the trust hehad in me. He always supports me on all the projects I work on and he always has a great advice to give. He gave me a lot of his time, and he is the one that introduced me to Frederic Malle, who trusted me for the development of his first perfume for children Sale Gosse. I was very honoured to feel the same trust from Frederic Malle for one of my first wins.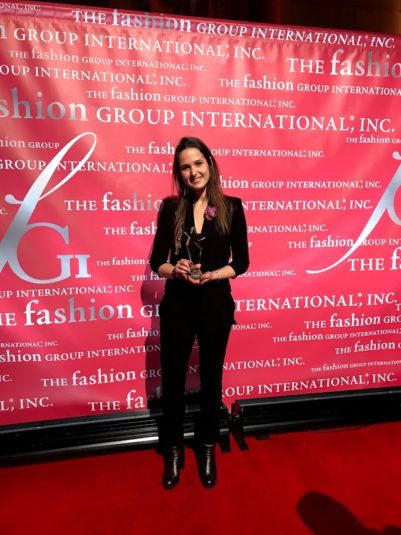 Fanny Bal with her award: The Fashion Group 2018
Working with Frederic Malle: I loved this project, and working with Frederic is very special. He really knows what he wants, and he knows how to get the best raw materials and find the best perfumers. I was very proud to be sitting next to him during the Rising Star Awards in January 2018 in New York, at the moment I had the luck to be awarded.
Perfumers I admire:Of course I admire the work, career, and personality of Dominique Ropion! I also had the opportunity to meet and work with Jean-Louis Sieuzac. At first I was very impressed, but he knew how to make me feel comfortable. For example, he used to tell me a lot of passionate stories about perfume, and I love to listen to him, for these stories, but also his great advice.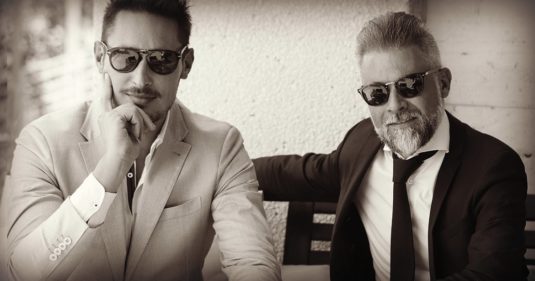 Working With Riccardo Tedeschi and Alessandro Brun of Masque Milano: I am very excited that we are going to present the perfume I have created for Masque Milano (homage to) Hemingway at Esxence next week. The whole project was a real pleasure, because Riccardo Tedeschi and Alessandro Brun gave me complete creative freedom.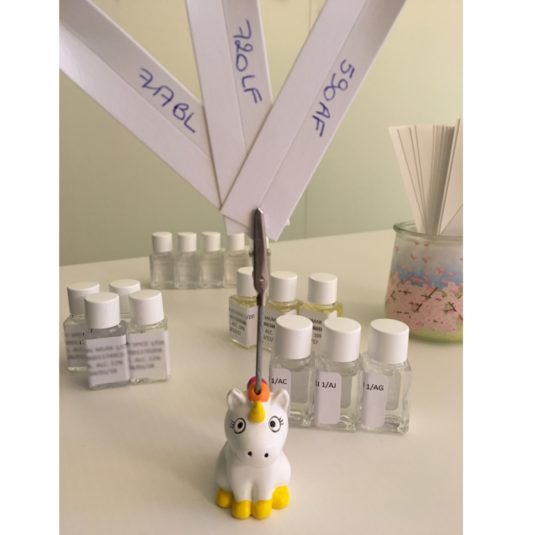 Fragrance Ingredients and mouillettes (that's a unicorn) from Fanny's desk©
Advice for Young Perfumers: I still feel I am a young perfumer, so I am not sure I could give an advice. However, the advice I give to myself is to stay determined and curious, always open your mind and question yourself.
–Fanny Bal, Perfumer with IFF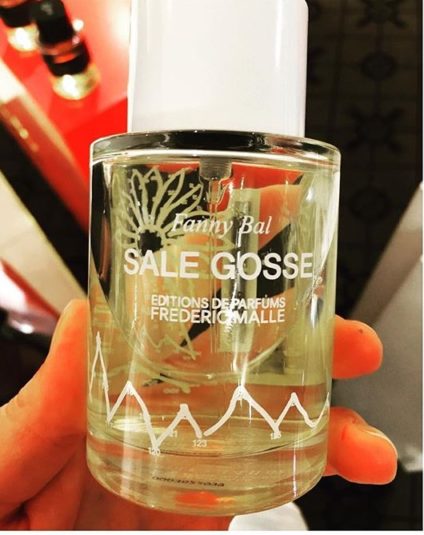 Frederic Malle SALE GOSSE via @fannybalparfumeur Instagram
2017
New York 2017, Armani Prive: La Collection
Agua De Victorio & Lucchino N°7 Explosion Citrica , Victorio & Lucchino
Agua De Victorio & Lucchino N°9
Pasion Tropical, Victorio & Lucchino
Eau Relax , Biotherm, (With D. Ropion)
Sale Gosse, Frédéric Malle
Outrecuidant , Histoire De Parfums : En Aparté (With Julien Rasquinet)
2018
Fiat 500 For Her, Fiat
Olympéa Aqua, Paco Rabanne , (with Ann Flipo,Dominque Ropion, Loc Dong)
L'eau D'issey Pure Nectar De Parfum, Issey Miyake , (With D. Ropion)
(homage to) Hemingway, Masque Milano
Please leave a comment on what you learned about Fanny Bal as a worldwide surprise awaits for a random reader.