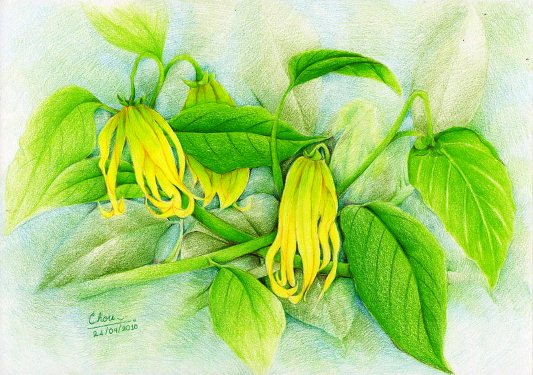 dwarf ylang ylang by magenta moon
To stand under a ylang ylang tree is to inhale peace and serenity from the bloom known as the "flower of flowers." The scent is intensely floral, sweet and yet a bit earthy, with a definite creaminess. The flower itself can be leggy and awkward or beautifully arranged in swirls and curves along the branches. The six petals are long and narrow with a greenish-yellow color and they develop a pinkish-red center as they age also growing more deeply yellow. The name in Tagalog when spelled ilang means wilderness but when ilang-ilan is used it means rare. Rare… referring to its beautiful and delicate scent.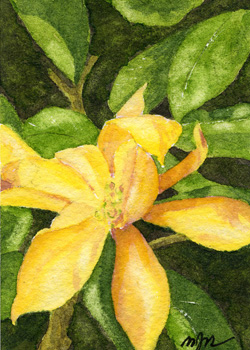 Ylang ylang (Cananga odorata var. genuina) blossoms yield an essential oil that is often distilled in stages to yield four categories, extra, first, second and third, or all at once for the complete. Flowers are picked in the morning for distillation from trees that are topped to grow horizontally for easier picking. The distillation is carried out in water so the delicate flowers can float without damage to the petals. The very first fraction is the extra and may be 30-45% of the total, then comes the first, second, and third, in stages. The extra is quite a powerful scent with a sharp yet sweet floral fragrance. Good extras will have a creamy sweet note early in the evaporation fading to a balsamic/spicy floral scent. Most people use the extra and the third fraction with the third having a slightly less intense aroma with a slight minti-ness. A beautiful absolute is also produced from the solvent extracted concrete. The scent of the absolute is described as intensely floral, sweet and diffusive with the floral topnote fading to a long-lasting floral/spicy and balsamic dryout. Cananga oil comes from a related variety called macrophylla and is a bit more harsh yet floral and long-lasting making it good for soap and other less expensive products.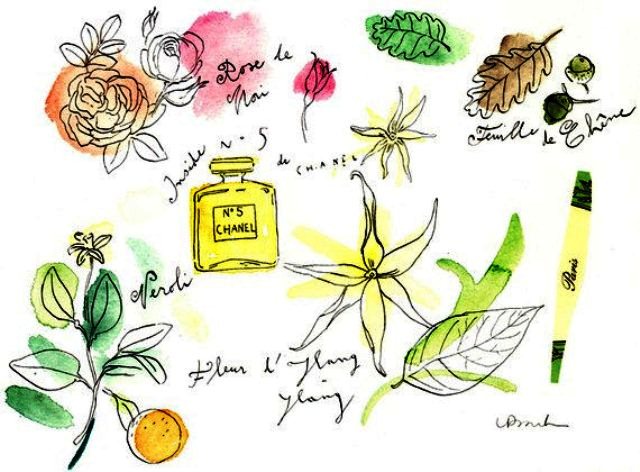 Chanel no 5 Illustration used with the permission of Parisian Artist Lucile Prache (Check out her art on Etsy)
Ylang ylang absolute and essential oils are key ingredients in many floral perfumes, and was important in the creation of Chanel No. 5 as a balance to the overdose of aldehydes. Both the absolute and essential oils blend excellently with rose, jasmine and tropical notes such as coconut. Ylang ylang by itself or when used with other ingredients has a wonderful complexity and appeal and can be a perfume all on its own. Ylang Ylang is also used in men's fragrances to tone down sharper notes without adding the floralcy of rose or jasmine.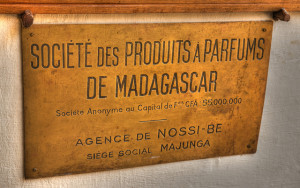 The ylang ylang tree is in the Custard-apple family, native to Indonesia and Malaysia, as well as indigenous to many tropical areas on the South East Coast of Africa; notably Madagascar, the Comoros Islands and Nosy Be where much of the ylang-ylang used in contemporary perfume is cultivated and harvested. It naturally grows up to 60 feet tall with long drooping branches but is kept short when used to essential oil production. Ylang Ylang tree bark is used for timber and the flowers for adornment.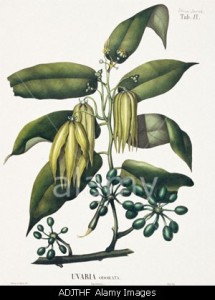 Ylang ylang (Cananga odorata var. genuina) Botanical illustration
The tree flowers year-round in some places, usually during the rainy season in the winter and produces dark fruits that look like olives. These fruits are important food for birds in the area. A related species, the ylang ylang vine (Artabotrys hexapetalus), has smaller flowers that do not twist. Ylang ylang flowers are pollinated by moths and so are most fragrant at night. The aroma builds to its highest level at sunrise when the flowers are picked, often by hand, and laid to dry in the shade for a short time before going directly to the distillery.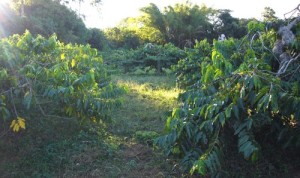 Ylang Ylang trees
Parts of the ylang ylang tree have been used in their native habitat for generations for beauty and for medical purposes. In Indonesia the flowers are spread on the marriage bed of newlywed couples and in the Phillipines are strung on leis along with the sampaguita (jasmine sambac) and also used to adorn religious images.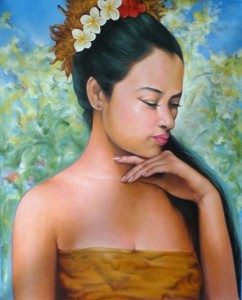 Indonesian women will often hide a flower in their hair.Fresh ylang ylang flowers are mixed with flowers of jasmine sambac, rose, champaca and pandanus leaves for religious and festive ceremonies in Java and Bali. Flowers are put away with clothes or scattered on bedding for their scent. Ylang ylang is valuable for medicinal and aromatherapeutic usage. Many cultures use ylang ylang as a remedy for skin conditions such as acne and scars; it is also used to alleviate stress, anger, and anxiety. Dried flowers may be used against malaria while fresh flowers made into a paste may be used to treat asthma.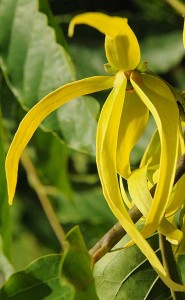 Photo: Elise Pearlstine (all rights reserved)
Rubbing the leaves of the tree on the skin may be good for itching. Recent studies of ylang ylang in aromatherapy show that the essential oil may have a harmonizing effect instead of strictly relaxing or sedating. One particular study showed a significant reduction in blood pressure and pulse rate that was accompanied by increased attentiveness and alertness. However, overuse of ylang ylang oil may lead to headaches.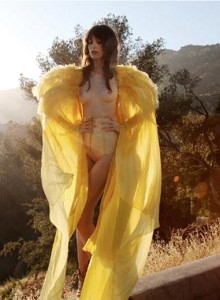 Petrovsky & Ramone fashion photography
It has long been known to be an aphrodisiac and a treatment for impotence. Margaret Mead found it to be commonly used as an aphrodisiac by Pacific Islanders. In the Philippines it is a symbol of the divine feminine and sensuality and is the basis of a myth about feminine beauty.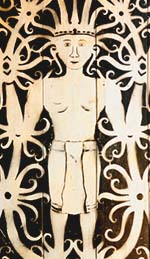 A gifted gardner named Dumaleg and his wife Amara could not seem to have children. They visited a local managanito or soothsayer who told them that the gods were unhappy that Dumaleg had married for they wanted him to raise plants and flowers, not children. However, the managanito interceded with the gods and shortly thereafter the couple had a baby girl but on the condition that the girl never be allowed to marry even though she would be as beautiful and fresh as the flowers from Dumaleg's garden. They named their daughter Ylang Ylang and raised her away from the eyes of men.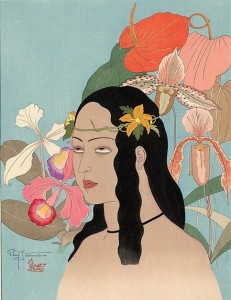 Paul Jacoulet UneBelle de Palaos
However, one day when the parents were away from home a young man spotted Ylang Ylang over the courtyard wall and introduced himself. He continued to visit Ylang Ylang several times and she was careful not to touch him. One day he brought her a bouquet of flowers to express his feelings and their fingers touched when she took the bouquet. Immediately she disappeared and became the first ylang ylang tree in the world.
Although sometimes called the "poor man's jasmine," ylang ylang is indeed the flower of flowers and has no rival in the world of perfumery. Like the warm wind off a tropical island with just a hint of spice and verdant richness, ylang ylang carries the sweet, fresh scent of tropical flowers.
–Elise Pearlstine, Monthly Contributor and Perfumer for Tambela
Art Direction: Michelyn Camen, Editor in Chief
For our Ylang-Ylang Perfume draw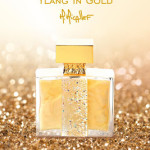 The Queen of ylang ylang perfumes (and a CaFleurebon Best of Scent 2012) 100 ML Parfums M.Micallef Ylang in Gold, with Madagascar Ylang ylang (perfumer Jean Claude Astier). Available at Parfum 1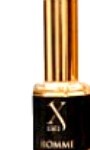 15 ml of Xerjoff XJ 17/17 Homme Courtesy of Xerjoff USA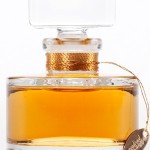 40Notes Exotic Ylang Ylang sourced from Madagascar: NosyBe and Comoros Islands. A CaFleureBon Best of Scent 2011 (Perfumer Miriam Vareldzis) USA ONLY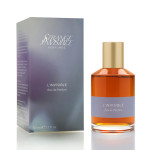 ALL NATURAL Strange Invisible Perfumes L'Invisible with hydro distilled organic Madagascar Ylang ylang (Perfumer Alexandra Balahoutis) -USA ONLY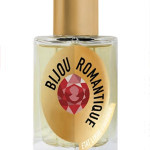 50ml Etat Libre D'Orange Bijou Romantique thanks to EuroScents USA madagcar ylang ylang. Perfumer Mathilde Bijaoui. Available at Luckyscent
ALL NATURAL 15 ml travel House of Matriarch Alpha with ylang ylang from The Comoros Islands (perfumer Christi Meshell)-USA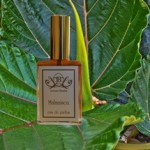 ALL NATURAL One ounce of Malmaison by JoAnne Bassett ylang ylang extra Madagascar- USA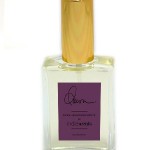 ALL NATURAL 30ml DSH Perfumes Hand of Buddah EDP (perfumer Dawn Spencer Hurwitz) available at indiescents.com -USA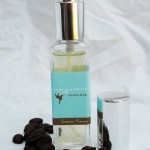 ALL NATURAL 1.7 oz Summer Varies from Wing & A Prayer with Madagascar ylang ylang (perfumer Jane Cate) USA and for our International readers Jane is offering a one ounce perfume oil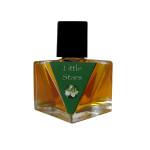 30 ml of Little Stars by Olympic Orchids Artisan Perfumes which was Perfumer Ellen Covey's very first fragrance -madagascar ylang ylang complete USA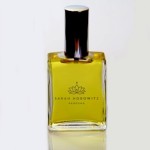 15ml of Eau de Light by Sarah Horowitz Parfums …Nosy Be Ylang Ylang This is a custom perfume. Mark Behnke reviewed it here (Perfumer Sarah Horowitz Thran)-USA
and from our author Elise Pearlstine of Tambela 10 ml EdT of Magnolia with ylang ylang complete from Madagascar-USA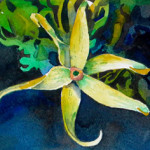 To be eligible for our Ylang Ylang in Perfume draw, please leave a comment about what you learned from this article and as many of the fragrances you would like to win (Country restrictions, so let us know if you are an International reader). Be sure to include at least one ylang ylang natural perfume when you post your choices. Draw closes June 21, 2013
We announce the winners only on site and on our Facebook page, so Like Cafleurebon and use our RSS option…or your dream prize will be just spilled perfume.