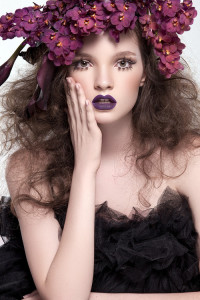 Photo: Vanithe¦ünez a nez
Violet perfumes are polarizing. They can smell green, sweet, dry, fresh, out dated or modern. Violet pretty's face and delicate leaves conceal a complex fragrance. She is a multi-faceted floral—the very definition of violet with notes of delicate flowers, green stems, beautiful woods, and fresh leaves. Her scent has graced royalty and her fragrance is found in many, many perfumes.
Violet (Viola odorata) carries within flower and leaf the ionones that give the fragrance of the tiny flowers a floral sweetness with powdery and woody notes reminiscent of orris. The absolute of the flowers (extremely rare and expensive) is an unparalleled and addictive scent. When the leaves themselves are extracted for scent, the green aroma is rich as a springtime woodland with nuances of cucumber, water, and metal.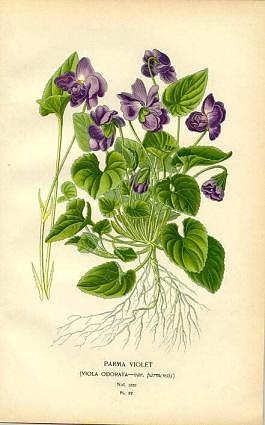 Parma Violet (Viola Odorata) Botanical Illustration
The Duchess of Parma, Napoleon's second wife Maria Louise of Austria, is often associated with the demand for violet fragrances and perfumers of that time pioneered the extraction of the violet flower's scent in the early 1800s. Perfumers in Grasse also fell in love with the amazing aroma and grew the plant for perfumery using warm enfleurage initially then turning to solvent extraction. The low yield of the flowers and high cost of labor caused floral extraction to be discontinued but flowers continue to be grown in the area for their leaves.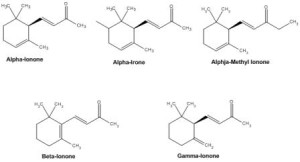 In 1893 fragrance chemists Tiemann and Kruger first described and produced ionones using lemongrass and acetone. The family of aromatic chemicals includes alpha ionone and beta ionone, methyl ionone, and irones. Beta ionone is most true to the violet flower with alpha ionone adding to the effect. The various methyl ionones are more woodsy and reminiscent of orris. The advent of ionones and later methyl ionones quickly replaced violet flower absolute as a less expensive and more readily available option during a time when the art of perfumery moved from a cottage industry in the 19th century to an international business by the early 20th century.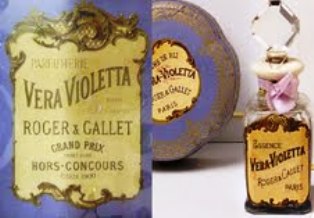 Roger et Gallet Vera Violetta courtesy of Author M.J Rose 's Blog
The first violet perfume using ionone was Vera Violetta from Roger et Gallet created in 1895. According to Contributor Kevin Verspoor,"The greatest violet perfume by which all were measured was Yardley's April Violets". Guerlain's Apres L'Ondee (1906) has a violet/orris note with anisic aldehyde, Hawthorne, heliotrope, jasmine, and orris. Quelques Violettes from Houbigant in the original from the 1920s celebrates the violet, violet notes serve to sweeten chypre accords as in Chanel No. 19, and may also tame down leathery and animalic notes. Lipstick Rose (2000) from Frédéric Malle blends violet and rose for a very feminine perfume (Note: Ionones have the effect of numbing the nose so that they can't be smelled after the first few seconds. Perfumers may add a bit of eugenol or cinnamates to support the ionones. Not limited to violet alone, other flowers with ionone include iris root or orris, rose, osmanthus, and boronia. Ambergris also contains several types of ionone, accounting for its beautiful pairing with florals in a perfume).
Violet leaf absolute is produced through solvent extraction of the freshly harvested leaves and is readily available to the perfumer. The powerful green-leaf odor with hints of cucumber and metal, when diluted, also has a distinctive delicate floral nuance. The leaf absolute is used in small quantities to provide nuanced notes of complex green.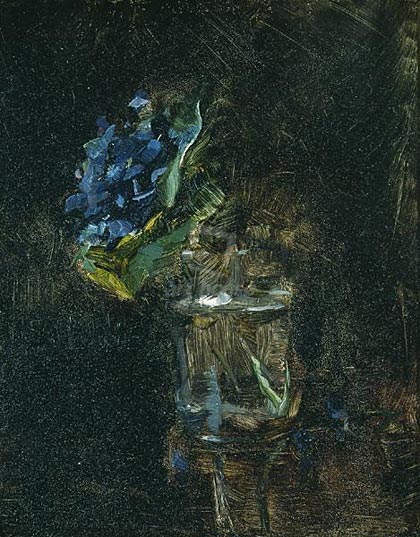 Bouquet of Violets in a Glass Henri Toulouse-Lautrec
Violets likely originated in North Africa and are now cultivated in the south of France and in Italy. During the Napoleonic war a French soldier, who was also a gardener, found the lovely fragrant violets while on tour in Italy. This young man had left a wife at home in Toulouse and he brought enough back, perhaps carried in his knapsack, for them to plant together. The violets thrived in the area and now surround this city of pink buildings with a skirt of purple flowers each spring. Although the violet was once found throughout France in private gardens and in greenbelts around the towns, they eventually disappeared in most areas, surviving mainly in Toulouse.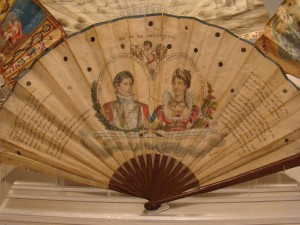 Napolean and Marie Louise images on a fan 1810
In the town of Parma, Italy spring is a time for violets to cast a purple veil across the lawns and greens. It is there that Napoleon's second wife, Marie Louise, fell in love with the "graceful little flower" after being sent to rule the area. She surrounded herself with the color violet and images of the flower on everything from vases to stationery. In her desire to find a way to keep the fragrance always with her she commissioned the monks at the Monastery of the Annunciation, skilled in alchemy, to figure out how to extract the scent. It is there also that the old-fashioned perfume Violetta di Parma was made by the local perfumery Borsari for more than 100 years. it is from this scented town that the Italian Luxury perfumery Aqua di Parma derives its name.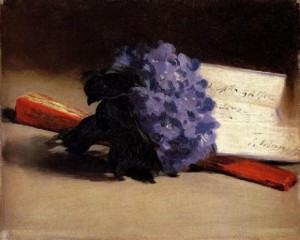 Edouard Manet Bouquet of Violets
Napoleon also loved the flower and would often keep a bouquet on his desk, reminding him of Josephine on their wedding day when she wore violets. It is said that he mourned her by planting violets over her grave and kept one of the blooms in a locket until his death. Another royal Marie Antionette, lover of all things floral, had a floral perfume containing violet notes created for her by Jean-Louis Fargeon.
Sugared violet candies from Toulouse and A vintage collection of Violet Perfume Labels
In addition to its use in perfumes, violet flowers are used to create the violet liqueur Crème de Violette with a distinctly floral aroma and taste. This sweet liqueur is often used in the classic cocktail Aviation. When visiting Toulouse you can find, along the Marché aux Violettes des Jacobins, violet-flavored everything from sugared violet flowers to violet syrup, candies, and macaroons.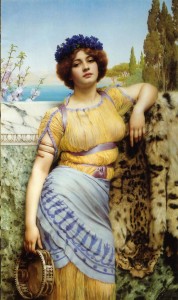 John William Godward Ionian Dancing Girl
For a headache Pliny prescribed a garland or wreath of violets to be worn on the head to dispel the fumes of wine. Ancient Britons used the flowers as a cosmetic and recommended steeping it in goats' milk to increase beauty. Guerlain continues the tradition of using violets in beauty products, scenting their Meteorites face powder (and many of their beauty products) with the indulgent scent of violets.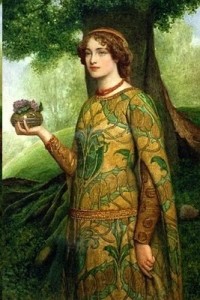 Violets by Pre-Raphaelite painter James Dromgole Linton
The violet flower traditionally represents calmness, faithfulness, and a love that is modest and gentle. In Greek mythology one of the nymphs of Artemis pledged to remain ever a maiden. When Apollo, Artemis' twin brother, relentlessly pursued her the nymph was turned into a violet by Artemis for protection—forever associating the violet flower with modesty. To dream of a violet is a sign that fortune is coming your way or perhaps that your future spouse will be younger than you are. Although the plants themselves are extroverted, (part of the viola family of flowers that include pansies which grow abundantly and colorfully) in our lexicon, the phrase "shrinking violet" is used to describe a very shy person and came about in the Georgian Era when the romantic poets Shelley and Byron wandered the English woodlands and it was their close friend Leigh Hunt who first coined the term. "There was the buttercup, struggling from a white to a dirty yellow; and a faint-coloured poppy; and here and there by the thorny underwood a shrinking violet".
Milla Jovovich as Violet Song and the Superhero Shrinking Violet
Conversely, she can be bad-ass like Marvel's Shrinking Violet (1961) the 13th person to join the Legion of Superheros and who has powers to vary her size from subatomic to Leviathan. There is Violet Song Jat Sharaff from the 2006 Sci-Fi Movie Ultraviolet who combats a fictional vampiric pandemic and overthrows an evil government.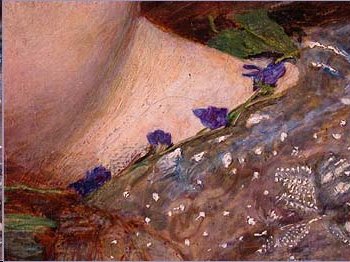 Detail of Ophelia by John Everett Millais, 1851-52
Shakespeare used the flower's connection with death when he linked the tragic Ophelia with violets in his play Hamlet. She uses the language of flowers to communicate difficult emotions for which she has no words and alluded to the death of her father when she said "I would give you some violets, but they wither'd all when my father died."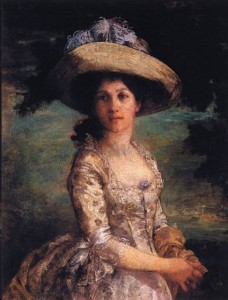 Maria Oakey Dewing Girl with Violets painting
It is for their sweetness, beauty, delicate modesty, and unparalleled fragrance, however, that violets will always be remembered.
"To gild refined gold, to paint the lily,
To throw a perfume on the violet, . . . Is wasteful and ridiculous excess." -Shakespeare in King John
–Elise Pearlstine, Monthly Contibutor and Perfumer for Tambela
Art Direction, Michelyn Camen, Editor-in Chief
For our Best Violet Perfume Draw: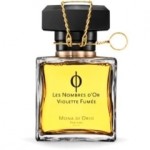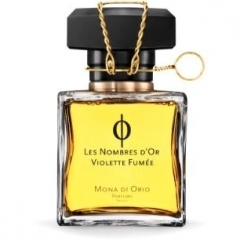 WORLDWIDE With gratitude from our friend Jerouen Oude Sogtoen for 100 ml Les Nombres D'Or Violet Fumee with violet leaves and flowers, Perfumer Mona Di Orio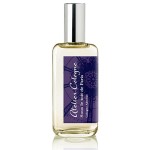 EU, Canada and USA Merci to Gerard Camme and the Team at Atelier Cologne 30 ml of Sous La Toit de Paris with French violet leaves, Perfumer Ralph Schwieger (a CaFleureBon best of 2012 Fragrance)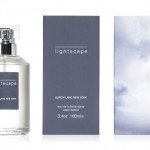 EU, Canada and USA Many thanks to Uli Lang of ULRICH LANG NEW YORK for 100ml of Lightscape, with violet flowers and violet leaves (Dufstars Deutscher ParfumPreis 2013 Finalist aka the German FiFis)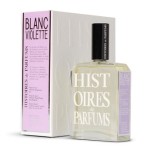 USA Courtesy of Euro Perfumes distribution 2 oz Histoires de Parfums Blanc Violette with Parma violet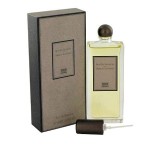 USA From our friends at Fragrancex.com 1.69 oz of Serge Lutens Bois de Violette Edp with violet flowers and violet leaf, Perfumer Christopher Sheldrake
USA Thank you to Imaginary Authors 60 ml Violet Disguise with Violet and the Month of May, Perfumer Josh Meyer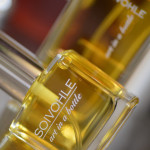 USA With gratitude to Soivohle for bringing back 11ml Violets and Rainwater as a limited edition, Perfumer the lovely Liz Zorn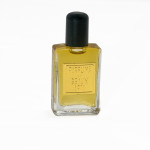 USA The always giving DSH Perfumes for 1 dram mini flask of Vers la Violette, with violet leaf absolue and wood violet, Perfumer Dawn Spencer Hurwitz (From the Passport to Paris Collection)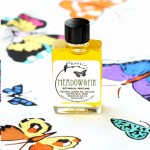 WORLDWIDE Many thanks to Phoenix Botanicals for 4ml of Meadow and Fir with infused Violet, Perfumer Irina Adam ALL NATURAL BOTANICAL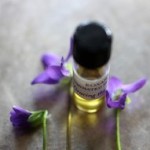 USA Our gratitude to Roxana Illuminated Perfume for 1 gram of Gracing the Dawn with a hand made tincture of wild violet flowers, Perfumer Roxana Villa ALL NATURAL BOTANICAL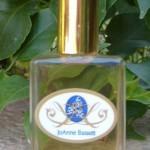 USA Thank you to JoAnne Bassett Perfumes for a large Travel Spray EDP Amazing (From the Natural Perfumers Guild's Outlaw Perfume Internet Project), with violet leaf ALL NATURAL BOTANICAL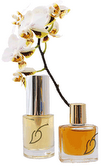 USA From our wonderful author Elise Pearlstine of Tambela for 15 ml Verdigris (Created for the Natural Perfumers Guild's Mystery of Musk Internet Project) with violet leaf ALL NATURAL BOTANICAL
Andy Warhol Purple Flower Painting Violets 1965
Thank you to all the fabulous artisan and artistic perfumeries who contributed Violet Perfumes for this post.
To be eligible for our Violets in Perfumery draw, please leave a comment about what you learned from this article and as many of the fragrances you would like to win (Country restrictions, so read eligibilty and country restrictions). Be sure to include at least one Violet natural perfume when you post your choices or you will be disqualified. If you only wear naturals please put that in your comment. The draw is random but we will try to match you with your choices. Draw closes May 15, 2014
We announce the winners only on site and on our Facebook page, so Like Cafleurebon and use our RSS option…or your dream prize will be just spilled perfume.