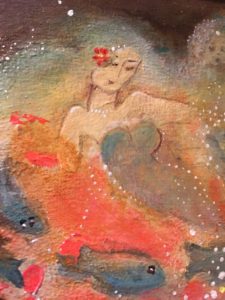 Gail's painting Inspired by Fisherman by the Caribbean poet Dennis Scott
It's Jun-uary here in the Pacific Northwest – our hybrid winter/spring/ summer season, when nights can be in the low 40s and days from the 50s to the high 80s. So far, Jun-uary has offered us the chilly end of the temperature spectrum, overcast grey skies, and nights so cold that the thermostat trips the furnace. We are definitely ready for some warmth and sunshine. Nick's Sunflower, created in 2017 by Los Angeles celebrity floral designer, resident Florist for the Four Seasons LA, Eric Buterbaugh and Firmenich master perfumer Ilias Ermenidis, is warmth and sunshine in a bottle. The inspiration for this latest addition to the EB Florals line is the favorite flower of Nick Fouquet, the surfer and Mad Hatter of Venice Beach, CA who designs and fabricates the most incredible vintage-vibed chapeaux on the planet! Nick's Sunflower opens with rich, seasonal compote of litchi, quince and nectarine, rescued from sticky and sweet by the refreshing effervescence of linden blossom and narcissus. At the heart of the fragrance orange flowers bloom amid buoyant aldehydes. Cool green fir absolute wafts like a light breeze through a grove of citrus trees, highlighting peachy osmanthus and white flowers. The summer orchard that is Nick's Sunflower rests on a bed of sweet, woody and powdery musks. Notes: Linden, quince, litchi, narcisse, nectarine, orange flower, tiare, jasmine sambac, fir absolute, osmanthus, tuberose and musk.
As a child in Florida I loved collecting seashells. I spent my summers (and winters) scouring the beaches for olive shells, small fighting conchs and scallops. My most cherished ocean treasure was a five-inch, intact shell of an angel wing (Cyrtopleura costata). Recently I learned that one of my favorite (if belatedly discovered) summertime fragrances, Shalini (pronounced SHAH Lynn A), was initially introduced as a limited edition in an exquisite Lalique bottle called "Le Coquillage" – the seashell. The stopper of this stunning work of glass art looks much like my beloved angel wing. The renowned master perfumer Maurice Roucel created Shalini for fashion designer Shalini Kumar in 2004. This exquisite parfum recalls the tactile pleasures of warm sand caressed by a cool breeze from the ocean, touched with the heady aromas of tiara, neroli and tuberose. My first experience of Shalini transported me to the sandy shores of my childhood home. The exuberant and youthful neroli, the lush tuberose and the achingly beautiful tiare gardenia are masterfully blended by Maurice Roucel to create an effect that is luxurious and sensual but never overpowering. I am especially drawn to the neroli facet in this beautiful perfume – so uplifting yet grounded in the finest Mysore sandalwood and musk. Shalini is the parfum to wear when clothing is optional, the only summer adornment you really need! Notes: Neroli, tuberose, tiare, sandalwood and musk.
–Gail Gross, Editor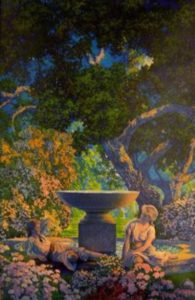 Summer by Maxfield Parrish
Sweltering dog days of summer: there is no breeze to be had and never enough shade. You feel the radiant heat rising from the tarmac, cement and brick sidewalks – scorching right through your sandals, espadrilles, flipflops. Heatwaves render us cantankerous; if it's steamy, so much the worse for our dispositions. So what's my antidote? I often reach for Dawn Spencer Hurwitz of DSH Perfumes' 2016 Wasabi Shiso, because it's a fragrance that literally puts the smile back on my face (where it belongs). I harbor the strong suspicion that it's physically impossible to feel grumpy while you're wearing it. Wasabi Shiso is green and golden, translucent. Just enough of the spicy Japanese mint with its cinnamonlike nuance to offset grassiness, its herbal tonic character. Instantaneous refreshment is at the ready: spritz, dab, lather up, oil or cream yourselves. I doubt you'll regret it. Notes: absinthe, bergamot, yuzu, cucumber, Gallica rose otto, green grass accord, green tea, holy basil, shiso leaf, wasabi accord, Brazilian vetiver, incense notes, Mysore sandalwood.
Edmond Roudnitska, so the tale is told – favored Diorella, created in 1972 above all his other creations (when you consider the olfactory marvels which are Femme, Le Parfum de Thérèse, Diorissimo and Eau Sauvage, that's quite a claim).Not that I find fault: I may have loved Femme right out of the garden gate, but this idiosyncratic, tangy fruity chypre had my heart at first sniff. Jaunty, sprightly, appreciably wicked and aquatic in the most winsome sense, Diorella is not for the faint of heart. Consider it a skankily exhilarating wakeup call in the classic Eau D'Hermès vein (Eau D'Hermès is woody/leathery/spicy animalic, whereas Diorella is glowing verdant jasmine ribaldry). Once bitten by the bug, you're done for. On that intolerably sultry day or night, nothing matches Diorella's slightly mordant fraîcheur as you fairly baste yourself with it: bittersweet, brilliant, indolic to the threshhold of over-ripeness. It's delightfully over-the- top, a variant of original Eau Sauvage overdosed with jasmine and its art essence comrades – samba-ing in the garden accompanied by a tall cool glass of good gin and tonic with a twist. On the rocks, decidedly. Bare feet are de rigueur. Enjoy yourself; you've earned it. Cool down and watch things heat up. Notes: Lemon, Peach, Honeysuckle, basil, Vetiver
– Ida Meister, Sr Editor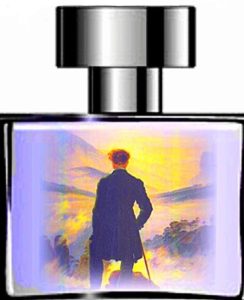 Solstice Scents Gin Flower (Angela St. John) 2017 is the perfect Summer perfume that takes me right back to my teenage years where summers were like a fantasy growing up in Northern California. The days seemed endless and warm, tanning by the pool while the sun was out, followed by lazy nights eating dinner in our swimsuits since it was often 72 degrees at night. Candles flickering under the bougainvillea-covered pergola over the long table on the deck. My father would have the occasional gin and tonic to stay cool, and the sharp sting of the lime and the cold essence of the gins' juniper would fill the air with its peculiar smell of chill and ice. Floral notes and honey sweeten the sting, and the sandalwood is reminiscent of cold water dripping on the sun-warmed wood of the deck. Gin Flower is just that to a tee, a gorgeous and summery all natural libation in perfume form. To quote my fathers favorite toast, Chin Chin! Notes: Osmanthus, Elderflower, Apricot, Vanilla, Juniper, Lime, Manuka Honey Accord (Vegan), Pear, Citron, Hawaiian Sandalwood
–Robert Herrmann, Contributing Editor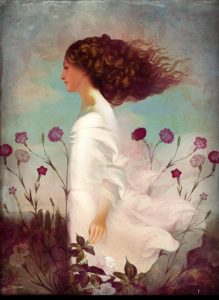 Flowers Digitial artist Christian Schloe©
Summer in the American South is comparable to a horrible house guest; it arrives early and overstays its welcome. It's difficult to find a fragrance that can stand up to the humidity, without overwhelming everyone else in the tornado shelter. For Walks, signed in 2015 by Perfumer Kevin Verspoor for Blocki Perfumes is a perfect fit.The opening of mint and fir needle is as cool and refreshing as a mountain breeze. Violet and boronia flower make up the beautifully elegant heart of this fragrance, and these understated florals are further enhanced by orris in its base. Vetiver and cedar add a crispness to For Walks that makes it especially delightful to wear this time of year. A summer favorite, from one of my favorite Houses. Notes: violet leaf, mint, fir needle, violet, boronia flower, orris, vetiver, sandalwood and cedarwood
– Tammy Schuster, Sr. Contributor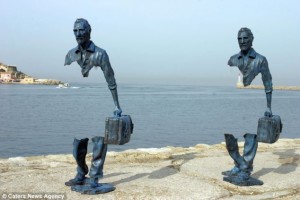 Two of the sculptures at the waterfront in Marseille by French artist Bruno Catalano
Maison Francis Kurkdjian (Francis Kurkdjian) Aqua Vitae Forte (2015) is a citrus fragrance that stands up to the heat. Sicilian Mandarin, Lemon and Bergamot are smoothly blended with variety sweet and savory spices at the top. Ylang-Ylang and Orange Blossom add a clean floral touch in the heart bringing back memories of tanning lotion covered bodies under the heat of the sun at the beach. The fragrance finishes off with a beautiful creamy mysore sandalwood and smooth than smooth dark vetiver. Summer in a bottle. Notes: Mandarin, bergamot, lemon, cinnamon, cardamom, pink pepper, ylang-ylang, orange blossom, sandalwood, vetiver
–Sebastian Jara, Sr. Contributor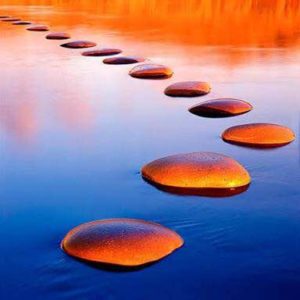 '# 1 nota di viaggio Meo Fusciuni (2010): For me it is the discovery of the self, mirrored in bright light of summer. Its opening billows with aromatic oils, Bosporus sunlight is where I find myself, resplendent with citrus, and herbals on market place stalls, hot skin exuding their essence as lovers sweat passion. Orange bright globes and bergamot infused leaves stood under endless blue of sky and sea. Hues and shades are the fabric of landscape, and upon my wrist dance a myriad palette of summer, soft hazy invitations to delve deeper, to a promise of hidden sumptuous underlays. Constant in its inexplicable transformation, shifting as the shimmer of sunlight on sea. An enticement of alleyways, stone cooled, fragrant with warmed earth, and pigments clothing its bare flesh. Notes of pepper, bergamot, grapefruit, ylang-ylang, geranium, rosewood, incense, sandalwood, patchouli, vetiver and benzoin.
Danu Seith Fyr, Contributor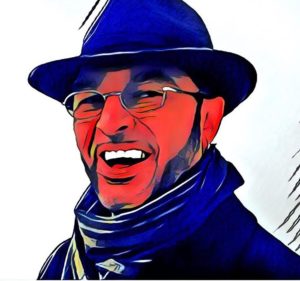 Perfumer H CHYPRE (2016) is the fragrant treat I brought back from my last trip to London. I was eager to discover Lyn Harris new olfactory venture and since I have a sort of imprinting for the olfactory family, CHYPRE was love at first smell. Grassy, freshly floral and utterly chic, to me this is the memory of a summer in UK. The start is a green laser beam with shining bergamot, petitgrain and black pepper empowering the coldness of Iranian galbanum. Then Tuskish rose and iris absolute take the center stage with their flourishing elegance, redolent of another favorite, Goutal's L'Heure Exquise but younger, unwaxed and with the understated elegant Harris touch. The trail lingering on the skin for hours is sexy and mysterious but not pushing too hard for summer; relax in the shade of an English rose garden.
–Ermano Picco, Contributor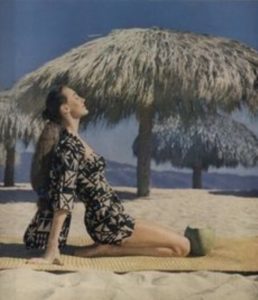 Photo John Rawlings for Vogue
Summer is not my favorite season. Commuting on the LIRR has been brutal, 3 hr train delays and the subways are no better… the smell of sweat soaked bodies overwhelm my senses. I would rather be anywhere else then spending summer in the city. When it all becomes too much, I put my nose to my wrist and am whisked away to a deserted isle that smells exactly like Ormonde Jayne Frangipani (2003). The flower frangipani is the Queen of all tropical flowers and through the magic of Linda Pilkington and her partner in perfumery, Geza Schoen, they have created a scent that manages to capture the allure of the island flower seamlessly. Combining tuberose, plumeria and magnolia in one perfume is a brave move as they can behave like divas and usually elbow each other for attention. In Frangipani, they are arrayed in sheer summer dresses and walk arm in arm, as the sound of their lilting laughter carry the light scent of linden on the ocean breeze. A burst of tropical lime at the top and the scent of ripe peach greets them as the aromas of plums and smoky vanilla hide seductively under their shimmering skirts. Notes:Linden Blossom, Magnolia Flower, Lime, Frangipani, Rose, Tuberose, Water Lilies, Plum and Orchid Oil, Amber, Musk, Cedar and Madagascan Vanilla
–Michelyn Camen, Editor In Chief
Disclosure: Some fo these fragrances were sent for review and some are from our personal collections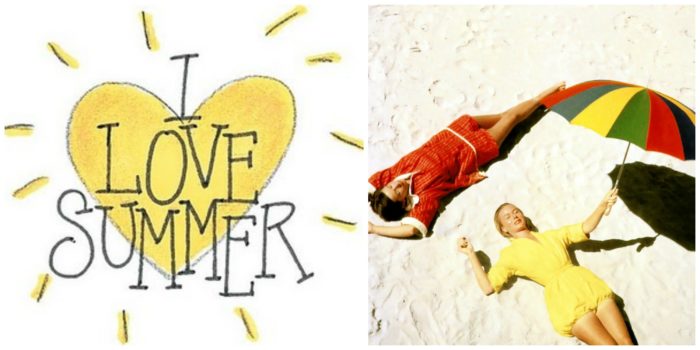 For our Summer Fragrance Draw:
WORLDWIDE: Thanks to Diane at THE PERFUMED COURT we have 1 precious ml of the 1972 (worth $58) of Diorella Vintage 1972 Parfum. Please sign up for their monthly Newsletter here also to enter.
WORLDWIDE: The ever-giving Dawn Spencer Hurwitz of DSH Perfumes is offering a 1 dram pulse oil of Wasabi Shiso (Don't forget her Summer Sale and the special 20 percent off code cfbluv20 (case sensitive)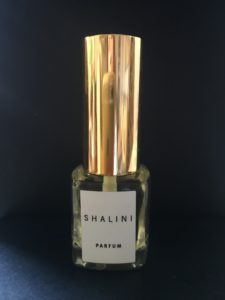 EU, Canada and USA: 7.5 ml of Shalini Parfum bottle (value $150) from the lovely Shalini available at aedes.com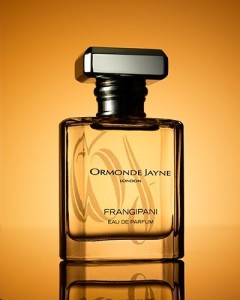 EU, Canada and USA: Lots of love to Linda Pilkington of Ormonde Jayne for 50 ml of Frangipani Eau De Parfum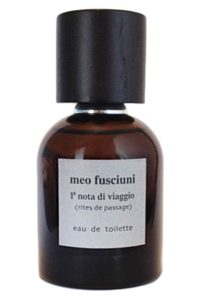 EU, Canada and USA: mille grazie to Meo Fusciuni for 100 ml of #1 nota di viaggio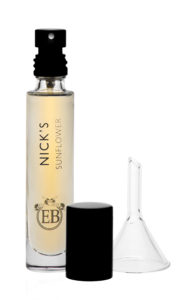 USA ONLY: We just adore Eric Buterbaugh, (#exactly) so thank you for the 10 ml travel spray (value $75) of Nick's Sunflower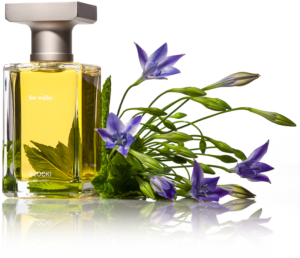 USA ONLY: Many thanks to our friends Tammy and Tyler DeLaBar Kraemer of Blocki for 50 ml of For Walks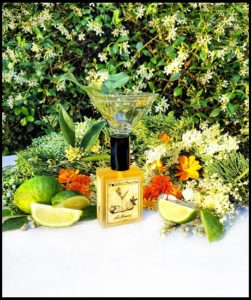 USA ONLY: Much gratitude to Angela St John of Solstice Scents for 60 ml Gin Flower. How could we not have a Solstice Scent as today is the Summer Solstice? ALL NATURAL
To be eligible to win one of the eight of fragrances we are offering for draw above, please a comment with your thoughts on Summer, which appeals to you about the reviews (be specific), and please list any or all of the eight fragrances you would like to win ( if you put down all and there are country restrictions you will have a problem) and where you live. You must be a registered reader, otherwise your comment will not count. Don't know how to register? Please click here and follow the prompt. Draw closes June 24, 2017
Follow us on instagram @cafleurebon @ormondejayne @maisonfranciskurkdjian @solsticescents @shaliniparfum @dsh_artscent @ericbuterbaugh @meofuscini_parfum @blockiperfumes @theperfumedcourt
We announce the winners on our site and on our Facebook page so like CaFleureBon and use our RSS feed…or your dream prize will be just spilled perfume.