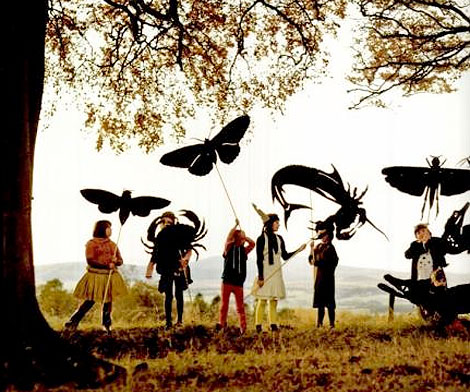 Autumn Photo children and silhouettes for Japanese Vogue Tim Walker
The editors and contributors of Cafleurebon live all around the world but we all seem to agree that autumn is our favorite season for fragrance. Our ten top perfumes picks when the days grow shorter and the hot breath of summer is finally gone.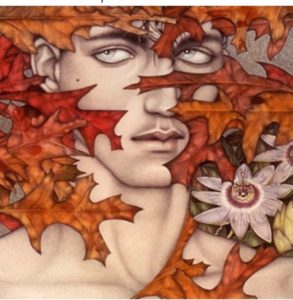 First Eyes 1982 Mel Odom
There's something odd about fall, something like a spring in reverse, with flowers wilting instead of blooming and strangeness to the scents in the air. Strangeness turns a dangerous sensual corner in House of Matriarch's Forbidden which launched on CaFleureBon for The Natural Perfumers Guild OphiuchusThe 13th sign internet project in November of 2011. Tuberose hallucinations on a plethora of intoxicating and outlaw materials, absinthe, mushroom, snake leather- seemingly dark yet as inviting as suede. Sillage and longevity are a hallmark of the Seattle based natural perfumer Christi Meshell Notes: absinthe, damania, tuberose, wild mushroom, papyrus, woods, snake leather, baked earth –Einsof, Natural Perfume Editor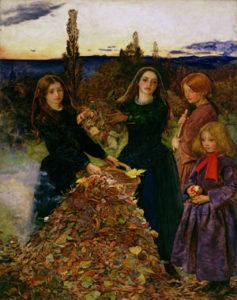 Autumn Leaves, 1856 by Sir John Everett Millais (1829-96)
When the seasons change I enjoy scent-matching the fragrances I wear to the ambient aromas of my Pacific Northwest neighborhood. The small wooded areas and large gardens are redolent of very ripe blackberries, cedar sap and dusty dried leaves. I wear Olympic Orchids Blackbird by 2x Art and Olfaction Award Winning Indie perfumer Dr. Ellen Covey, every autumn and feel one with the world.
DSH Perfumes Mata Hari by Dawn Spencer-Hurwitz is another perfume I reach for in fall and winter, for six years, since it first came out as a limited edition in late 2010, (part of a project that celebrated ingredients now deemed unsuitable by IFRA). Mata Hari is rich with ripe fruit, leather, warm spices, oak moss, sandalwood and "outlawed" fragrance materials and is as mysterious as the perfume's namesake, the sensual spy who broke every rule. –Gail Gross, Weekly Contributor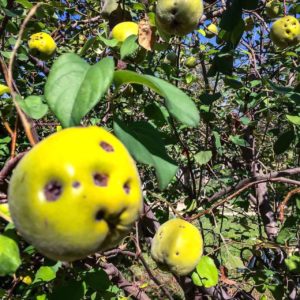 Quince Tree by Ermano (Pietrasanta, Italy)
Since fall is sunny with warm beautiful afternoons here in Milan, I'm enjoying the dewy greenery of Ulrich Lang New York's new Apsu, trying to fool myself into believing it is still summer. With notes of aromatic cilantro, violet leaves, transparent woods and frankincense, Apsu renders a lush vegetation with mysterious flowers and fruits all drenched in a subtle mist. I think of John Keats' poem "Ode to Autumn" gone green… "Season of mists and mellow fruitfulness, close bosom-friend of the maturing sun". I will wear APSU as I mourn for Spring.-Contributor, Ermano Picco and Author of La Gardenia nell'Occhiello with Michelyn Camen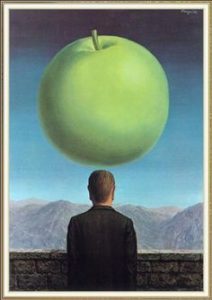 The Postcard – Rene Magritte
The older I get the more I love Autumn and it's fast becoming my favorite season. I love the whole idea of switching up fragrances and making room for the more intense perfumes that I've been craving to wear all summer long. That transition is amazing to me and I always wait for it at the end of summer. This Autumn season I'm craving one of Josh Meyer of Imaginary Authors best creations to date… the recently launched Slow Explosions. The saffron, rose and leather with that slightly sweet green apple note is perfection to me. In Slow Explosions the saffron note is all dry, reminding me of dried Autumn leaves. The rose has some jammyness and fruityness but still dry like the saffron. And that apple note which is perfect here, takes the edge off the dryness and sweetens up the Slow Explosions. An excellent release from Imaginary Authors and one I'll put to great use this Autumn season- Sebastian Jara, Contributor and Fragrance Reviewer for Looking Feeling Smelling Great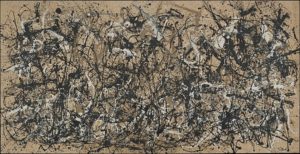 Jackson Pollack Autumn Rhythm 30
As the leaves fall, I begin to realize I grow older with a cumulative memory bouquet. Olivier Durbano's Black Tourmaline, which launched in 2007 is full of gloom and experience. There are no floral notes, no bright intonation. Transformative incense is offset by clouds of spices, cardamom, coriander, cumin and pepper that I wrap around me like a smoky cloak of oblivion that is at once oddly introspective. Contributor Berkan Basoglu and author of Gurme Kokular with contributions from Michelyn Camen, Editor in Chief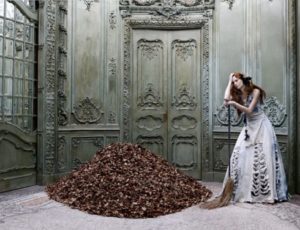 Tim Walker Cinderella 2005
Autumn is bittersweet for me: gold-tinged memories of apple picking with my dad and the symphonic beauty of the changing trees come into focus in my mind as soon as I get that first smoky hit of fall in the air. But winter, which I detest, is waiting and the gloom of the darkening days can make the departure of summer poignant. As a chill seeps into the night air, I turn to fragrances that make the cold seem more welcoming.
Painter and perfumer Liz Zorn of Soivohle composed Green Oakmoss, a modern chypre masterpiece, is one of the fragrances I wear most in cooler weather Green Oakmoss has a proliferation of notes, including various green and animal aromas. But it is so much more than the sum of its parts – velvety, loamy green moss with a rich underpinning that is not quite resinous, not quite floral but both; slightly woody, leafy-grassy and phenomenally beautiful.
A new favorite for Fall is Nishane's luscious Patchuli Kozha. This is patchouli for the non-patchies among us: honeyed yet peppery, veering gourmand without ever falling into the sweet basket. Unlike the earthy, dry leaf quality of many patchoulis, Kohza's patch is fattened up by voluptuous ylang-ylang and smoothed down by leather. It manages to be both comforting as a cup of mocha and sultry as candlelight. –Lauryn Beer, Editor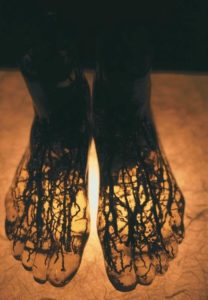 Peruvian artist Cecilia Paredes- Resins And Twigs
Last night I slept with the window open for the first time since early June and the leaves in NYC are just beginning to change. I can feel the chilly breath of autumn on my neck and it is as welcome as a lover's kiss
Kristian Hilberg of Malbrum Parfums was hard to miss when I first met him at Esxence 2015, with his Nordic good looks and a love of French classical perfumery. Tigre du Bengale composed by Delphine Thierry is equally a contradiction but in the best possible way. Opposing notes of tobacco and juniper give it an immediately arresting opening; earthy, smoky and sour-sweet. Early on, the tobacco is augmented by dry patchouli, which lends a hemp-like quality Incense and the bittersweet sandiness of myrrh merges with cardamom, permeating the whole composition. It is a warm, mysterious fragrance that seeps beautifully through cashmere and wool scarves. The name may connote a big cat on the prowl, but for me it conjures the noble tiger cuddling with its mate. In the jungle,the mighty jungle, the tiger sleeps tonight.
I met the late Mona Di Orio in 2008 at Bergdorf Goodman with her partner, now Creative Director and owner Jeroen Oude Sogtoen. She sprayed Nuit Noire on my wrist and although I had smelled hundreds of other perfumes, there has, and never will be, anything quite like it. Mona di Orio had the ability to paint olfactive chiaroscuro with her perfumer's palette of shadow and light. She created spaces between notes and gilded them. Nuit Noire is the embodiment of autumn at dusk, with its flickering brightness obscured by a bruised sky darkening as the last ray of sunlight casts long shadows. The intense initial opening of bright orange blossom and cloves is streaked with hues of ginger, cinnamon, and cardamom. Spices wrap around a decaying tuberose, the queen of the night, now tangled in wood. There is a mournful quality to the finish, reminding me of the dusty keys of a century old piano and the strains of a melody, long forgotten is playing as night falls. Plaintive notes of sweetness, warm resinous amber and tonka whisper then are gone; I close my eyes and listen to Mona's music. –Michelyn Camen. Editor in Chief.
Art Direction: MC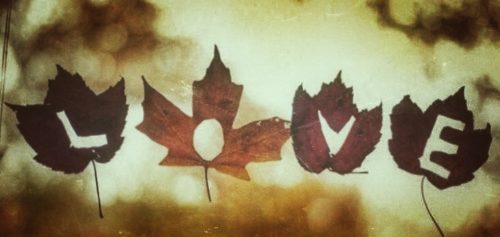 There is a CafleureBon top ten fall fragrance draw for ten registered readers if you don't know if you are registeresd click here as follows: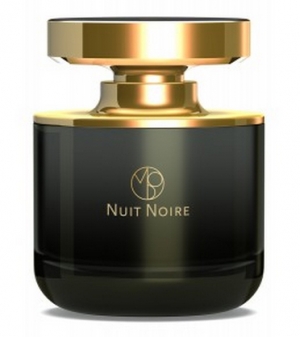 WORLDWIDE: With love from Parfums Mona di Orio 75 ml of Nuit de Noire in the new House of Dinand flacon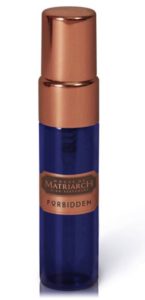 WORLDWIDE: With gratitude to Christi Meshell 15 ml of Forbidden ALL NATURAL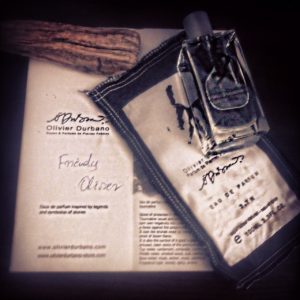 photo by Michelyn of her 50 ml bottle
WORLDWIDE: Bises Olivier Durbano for 15 ml of Black Tourmaline,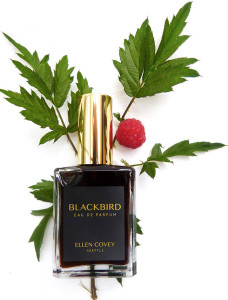 WORLDWIDE: The lovely Ellen Covey is offering 30 ml of Olympic Orchids Blackbird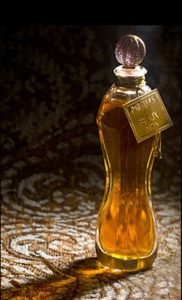 The flask not shown
WORLDWIDE: The ever giving Dawn Spencer Hurwitz is offering 5ml DSH Perfumes Mata Hari perfume flask ALL NATURAL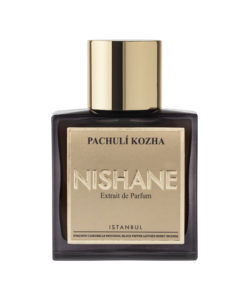 WORLDWIDE: Our friends at Nishane are offering 50 ml of Patchuli Kozha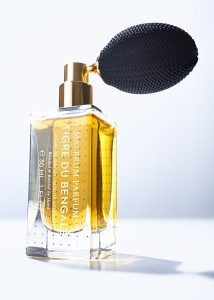 WORLDWIDE: THANK YOU Tto Kristian for 50 ml of MalbrumParfums Tigre du Bengale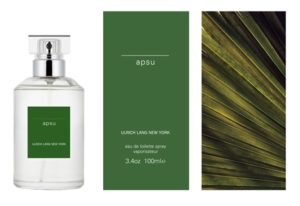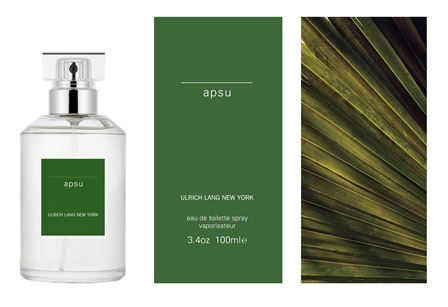 EU, USA AND CANADA: Much love to Uli Lang for 100 ml of Apsu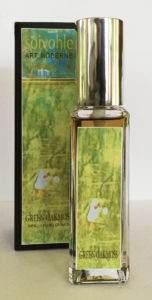 USA only: Thanks to the generosity of Liz Zorn of Soivohle we have 30 ml bottle of Green Oakmoss,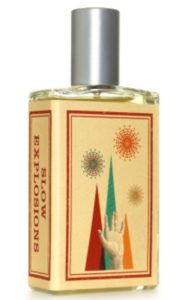 USA ONLY: Many thanks to Josh Meyer of Imaginary Authors for 50 ml of Slow Explosions
To be eligible to win one of our favorite fragrances for autumn, please leave a comment with which (as many as you want to name) of the TEN fall fragrances we are offering in this draw appeal to you, where you live and what in our reviews put you in the mood for autumn. This is a team effort and we really love to read your comments. Draw closes 10/3/2016
We announce the winners on our site and on our Facebook page, so Like Cafleurebon and use our RSS feed…or your dream prize will be just spilled perfume