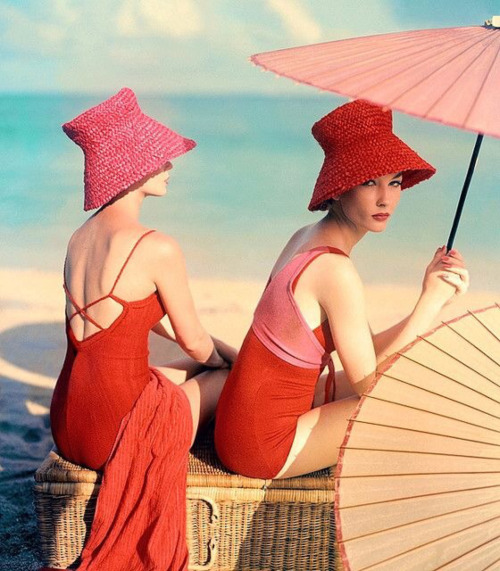 Red Parasol photo Louise Dahl-Wolfe, 1959.
It's here ! Summer. Some of us love the season; some of us count the days to October. Either way, most of us look for a bright scent that cools us down, lifts our spirits and doesn't overpower. This year's Top Ten run the gamut with some surprises and are as different as our editors and contributors.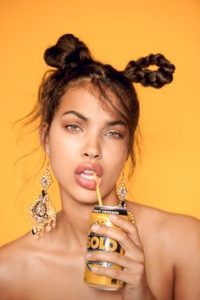 Jessica Strother by Cybele Malinowski for Factice Magazine
Dasein Summer by artisan Sam Rader – It's flirty, spicy and memorable – exactly how I like to be in summer! Its unusual top note pairings of cilantro and grapefruit, combined with the light floral pillow of jasmine on a grassy bed with the powdery, happy brightness of orange blossom is such fun to wear. This isn't some synthetic, big-blast of Vitamin C linear engineered perfume you forget after one spritz. It's a scent that understands what Summer is all about – it knows you're going outside, and that you're going to move around and get a little sticky (in all the fun ways) and it wants to come along with you. Dasein Summer wants to be a part of whatever you want to go and do when the sun is high in the sky –Pam Barr, Sr Contributor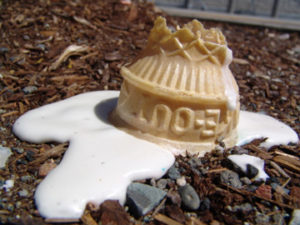 Hate Summer ice cream cone melting
I'm not like every other normal person; I don't enjoy hot summer weather like everyone else does. Heat makes me uncomfortable and very tired so I avoid it as much as I can. And living in San Francisco I can pretty much do that but I can't avoid it by traveling and of course heatwaves we get in SF. So for really hot days or hot and humid days I like something very refreshing and happy. Citrus usually does this and lately I've been wearing Bergamote Soleil by Atelier Cologne by Ralf Schweiger of MANE. It's bright, uplifting, slightly sweet and fruity citrus. It's got a calming and comforting vibe which is needed on those hot and humid days. For something a little different on those hot and humid days I also like to wear a clean scent. After all hot and humid days make you sweat and sweat feels dirty so I like to counter that grimy feeling with a scent that has a very clean vibe application. I am really enjoying a surprisingly new take on a summer skin scent from Pierre Guillaume's Parfumerie Generale Rework Collection Le Musc & Le Peau 4.1. This is musk like no other I have experienced with a gorgeous tonka and ylang ylang that combine with a refreshing rosemary and a clean cedar. Smells like sun warmed skin without having to leave your air conditioned home. Very sexy and compliments galore.-Sebastian Jara, Contributor and youtube reviewer for Looking Feeling Smelling Great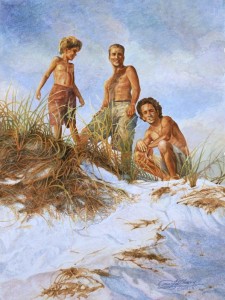 The Boys of Summer Craig Galloway
Living in Australia, our seasons are flipped compared to my northern hemisphere friends. When they are building snowmen and toasting eggnog around the fireplace, we are celebrating Christmas on the beach and planning backyard barbecues. So there is always little bit of Christmas spirit in the fragrances I enjoy wearing during summer. My go-to summer fragrance is always a classic Eau de Cologne. Tom Ford's Neroli Portofino has ruled this space in my wardrobe for the past few years and when I am in the mood for a more bitter citrus, I choose Chanel Eau de Cologne. The acidic bite of lemon, the green petitgrain note and the splash of neroli is so refreshing. – Guest Contributor Clayton Ilhohalia of What Men Should Smell Like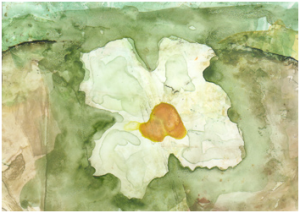 Jasmine Flower painting
Summer is always a way of 'going back to the garden', to the green and bountiful outdoors or the way we are all geared toward the pursuit of pleasure- such as going back to Anya' McCoy of Anya's Garden and revisiting a classic, Light. Centering around the aglaia flower and grounded in frankincense, this is the perfect antidote to oppressive heat. For summer nights and rest, I find soliflores a contemplative study such as Libby Patterson Libby Patterson Organics' Jasmine Sambac Soliflore. A perfume in its own right, and certainly the more sultry, jasmine sambac induces a different heat into summer, and as my mentor Horst Rechelbacher of Aveda said, "Jasmine makes miracles happen." –einsof, Natural Perfumery Contributor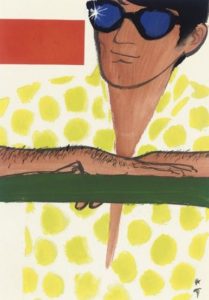 René Gruau
Thierry Mugler B-Men: Believe it or not that concoction is my absolute summer favorite for the summer of 2016. It heaviness in the heat and humidity is very sexy to me. Why? It's everything I love…its got spice, it's got fruit, it's got divine patchouli under a cedar tree vibe that drives me crazy!!!! My biggest reason though….it's the punk thing to do! I cannot love this one enough.
Dawn Spencer Hurwitz of DSH Perfumes Hand of Buddha: If anyone is familiar with the actual "fruit" you'll know exactly why I love this. The fruit emits a gorgeous fragrance that's reminiscent of bergamot and lemon. It's absolutely delightful. DSH amped up the citrusy zest into a wearable form that is a wonderful pick me up on hot summer days!–Aaron Potterman, Contributor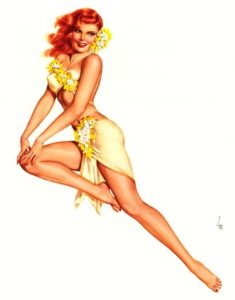 Alberto Vargas
M. Micallef Parfums Pure Extreme is becoming a summer time go to fragrance. Geoffrey Nejman and Jean-Claude Astier have created a sheer yet vibrant and lively floral perfume with a deep, sensuously musky base that continued to delight me all day long and my husband long into the evening hours. With notes of rose, gardenia, transparent jasmine, amber, precious wood and white musk, Pure Extreme is white silk screen, splashed with luminous colour and lit from behind by a golden sunset. I wore it to an outdoor wedding, it was 95 degrees and just smelling my wrist stopped the beads of perspiration from trickling down my forehead. I don't know who got more attention, me or the bride –Tammy Schuster, Sr. Contributor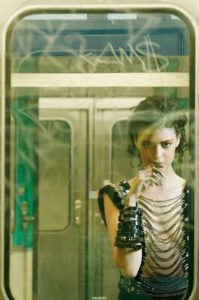 SUBWAY U49 Fashion Editorial – EDGAR BERG
Like Sebastian, summer is my least favorite season. Although at the moment the weather is glorious, but we all know NYC summers;it is just biding its time. I overheat easily and the smell of sweat soaked bodies in overcrowded subways overwhelm my senses. I would rather be anywhere else then spending another humid smelly summer in the city. It feels like Banarama is singing Cruel Summer just for me. I haven't had a vacation since Justin Timberlake's hit "Summer Love" in 2008, but the place I would go would smell exactly like Ormonde Jayne Frangipani (2003). While I am not usually a fan of BIG white florals, they can get screechy on me, through the magic of Linda Pilkington and her partner in perfumery, Geza Schoen, fruity notes are combined with tuberose, plumeria and magnolia in one fragrance, a brave move as those white blooms can behave like divas and usually elbow each other for attention and (any other note that dares to cross them). In Frangipani, they are arrayed in sheer summer dresses and walk arm in arm, as the sound of their lilting laughter carry the light scent of linden on the ocean breeze. A burst of tropical lime at the top and the scent of ripe peach greet them as the aromas of plums and smoky vanilla hide seductively under their shimmering orchid hued skirts. I adore that they are available in the 10 ml x4 travel sprays, so I can stealth spray any olfactive offender during my commute from now to fall- Michelyn Camen, Editor In Chief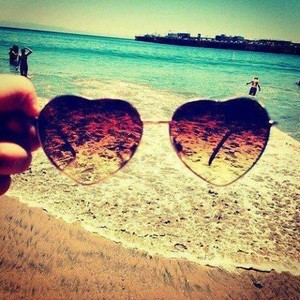 For our top ten fragrances of summer 2016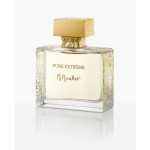 WORLDWIDE: Just love the generosity of Geoffrey Nejman and Martine Micallef M. Micallef Pure Extreme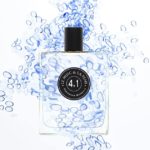 WORLDWIDE: Cher Pierre, merci Parfumerie Generale Rework Collection Le Musc & Le Peau 4.1.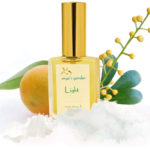 WORLDWIDE: Much gratitude to Anya McCoy for 4 ml of Anya's Garden Light ALL NATURAL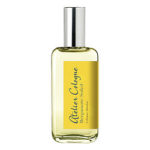 EU, USA AND CANADA: The kind folks at Atelier Cologne for 30 ml of Bergamote Soleil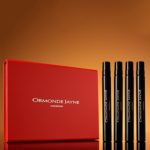 EU, USA and Canada: Ormonde Jayne: 4×10 ml Frangipani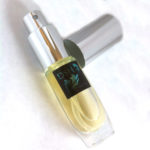 EU, USA AND CANADA DSH Perfumes has a giving hand with Hand of Buddha: 10 ml voile de toilette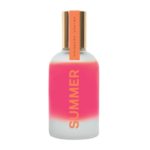 US AND CANADA: From the lovely Sam Rader 50 ml of Dasein Summer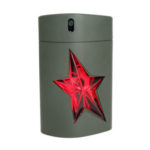 USA Thanks to our friends at FragranceX for 100 ml of Thierry Mugler BMen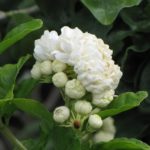 USA Thank you Libby !!! 30 ml Libby Patterson Organics' Jasmine Sambac Soliflore. All Natural
To be eligible, you must be a registered ÇaFleureBon reader. Leave a comment with which of our top 10 summer fragrances that are being offered for draw (doesn't include CHANEL COLOGNE) you would like to win and why, where you live and is it a cruel cruel summer or summer love. ONE OF YOUR CHOICES MUST BE ALL NATURAL or you will be disqualified. Draw closes 6/25/2016
We announce the winners only on site and on our Facebook page, so Like Cafleurebon and use our RSS option…or your dream prize will be just spilled perfume