Michelyn and Ermano Pick the TOP 25 of 2016 (plus some)
Last night, Ermano and I gave you our Best of And Worst Of 2016. Today we name our top 25 favorite perfumes of the year and 12 more that merited recognition. As I mentioned 2016, was a spectacular year for Natural perfumes, American Artisans and Italian perfumery, which I think is reflected in many of our perfume picks in alphabetical order. –Michelyn Camen, Edior in Chief
Michelyn and Ermano: The Different Co. Adjatay (Alexandra Monet) aka Adjatay, "cuir narcotique" is inspired by a tuberose held captive in leather but never tamed. It is a quintessential TDC fragrance; a sui generis perfume, made with the highest quality materials, and sublimely beautiful. And what do you get when you pair tuberose, a flower so potent that the Victorians believed it caused spontaneous orgasm, with an incredibly warm, animalic leather accord? You get a wild, sexy, shape-shifting beast of a fragrance, with an all but fetishized yin and yang effect, as the masculine and feminine aspects of Adjatay play out on skin
Ermano: Oliver & Co. Ambergreen – It's the smell of summer in a farm's kitchen: freshly washed vegetables over a blue-white check table cloth. A green gourmand.
Michelyn: Aftelier Perfumes Amber Tapestry (Mandy Aftel) ALL NATURAL Amber perfumes abound, but the deft hand of Mandy Aftel renowned for her natural perfumery, has created an amber that is textured, golden and complex; a perfume of amazing dimension, as if strands of honeyed jasmine, pear, heliotrope, and cinnamon are no longer notes but the warp and woof of an antique rug.
Michelyn: Hiram Green Arbole Arbole (Hiram Green) ALL NATURAL. One of the best natural perfumes I have smelled, and actually one of my top picks of the year of any fragrance; a perfect example that a natural perfume stands up to ANY perfume. A paean to Frederico Garcia's poem Arbolé, Arbolé, the dryness of the woody green notes play against a magnificent powdery tonka and vanilla that provide fertile soil for this powerhouse of a fragrance.
Michelyn: Hans Hendley Perfumes (Hans Hendley) Amora. Hans is my rising indie star of 2016 who I have watched flourish since I first became acquainted with his small batch perfumes that he creates in his studio in Brooklyn. His newest, Amora, could pass for the most haute of niche perfumes. I smell stone fruit growing in an orchard tended by a mysterious gardener at dusk: cherries, peaches, nectarines and apricots grow wild among briar roses and there is a faint aura of light smoke clinging to the gardener's cloak.
Michelyn: April Aromatics Agartha (Tanja Bochnig) ALL NATURAL: Agartha is magical with the scent of mimosa gilded with golden peach juice, then dipped in honey and delicately spiced with cardamom and a touch of oud. The scent of hay warms this beautiful limited edition fragrance that seems to glow with an otherworldly tranquility. Nectar of the gods.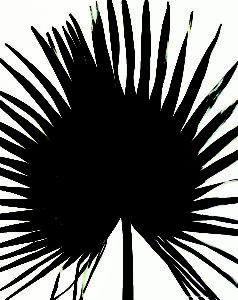 Apsu Photo Matthew Porter
Ermano and Michelyn: Ulrich Lang New York APSU is Kew Gardens in a bottle: mystery flowers, tropical fruits and dewy leaves with light breaking through The Palm House. It's an exotic modern Eden garden for a 21st Century Adam and Eve looking for the forbidden fruit.
Michelyn: Zoologist Bat (Dr. Ellen Covey) was tied for top honors for my perfume of the year. Created by Dr. Ellen Covey for Victor Wong of Zoologist, it surprised me that it is so wearable. Not a fragrance for Vampires or creatures of the night. Bat is warm and musky with the scent of fruit and fur; I have entered the bat cave and have no intention of leaving.
Michelyn: Maison Mona Di Orio Bohea Boheme (Fredrik Dalman) is the first by new in-house perfumer Frederik Dalman and homage to the charred and sinuous oolong teas of the legendary Wuyi Mountains in China's Northern Fujian province. Light burning through smoke casting Nordic shadows.
Ermano: Chanel Bois des Iles EDP (Olivier Polge) is one of the last gifts of 2016 as the edp remake of this beauty allows us to forget the dull and too floral edt version. Finally we are closer to the pure perfume with its hardcore whip.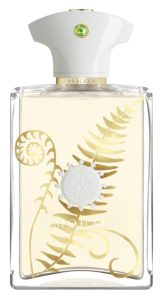 Amouage Bracken Man
Michelyn and Ermano: Amouage Bracken Man (Olivier Cresp and Fabrice Pellegrin) Taking its name from a fern variant, Bracken Man's heart and base consists of an evolving greenness of a fougere that transforms from dewy-fresh to dark, earthen and mossy. More than just an olfactive evolution, Bracken challenges the familiar and dares it to change. Creative Director Christopher Chong takes us back in time in order to move us forward.
Ermano and Michelyn: Aedes de Venustas Cierge de Lune (Pierre Negrin) The fugacity of Cereus flower is embodied by an unusual treatment of Madagascan vanilla, morphed here to a surreal waxed suede bloom. Creative Director Karl Bradl continues to impress.
Ermano: One of Those Curium (Evelelyne Boulanger) based on the radioactive element, probably released the most unusual interpretation of the classic iris-ambrette theme of the last years, almost poisoning with aromatic silver elements.
Ermano: Baruti Dama Koupa (my choice this year for best feminine) is hiding behind macaron porcelain sweetness all the violet, green, yeast and cocoa powder facets of orris root; the juice is an intoxicating liqueur of balsams to die for.
Ermano: Hermès Eau de Rhubarbe Écarlate (Christine Nagel) Her first creation for Hermès is an amazing balance of bittersweet fruits, crisp rhubarb and juicy berries that keep the trademark sheer refinement of the house yet brings a new feminine sweetness.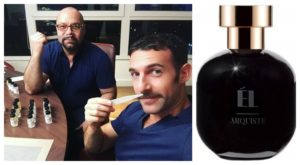 Michelyn and Ermano: Arquiste El (Rodrigo Flores-Roux) is Michelyn's pick as best Masculine and we both agree it is one of the best scents of 2016. Macho as it gets, this is a sexy nod to the Disco Era down Acapulco way. Channel your inner Burt Reynolds and forget you even heard the word manscaping.
Michelyn: Auphorie Eternal Voyage (Eugene and Emrys Au) What a thrill that Emrys and Eugene, the two young brothers who founded Auphorie, the first niche brand from Malaysia won the Art and Olfaction Artisan award for Miyako and learned of the awards through an announcement on CafleureBon! Our 2016 Best of Scent for Best Buzz, Eugene and Emrys have expanded their Maison de Parfum during 2016 and Eternal Voyage was one of my favorites of the year. No ordinary amber, here it is dusky and smoky, spiced with cumin and pepper, becoming sweeter with burnt sugar as the fragrance wears on the skin. A Voyage that begins at sundown when the sky is streaked with shades of luminous hues of ruddy rose and russet, reflecting golden shadows on the ship as it sails into darkness.
Michelyn and Ermano: Nishane Fan Your Flames' name is derived from a poem by the Persian Mystic Sufi Jalal ad-Din Rumi whose final resting place was Turkey, the Home of Istanbul only niche perfumery. Rum and evokes The Turkish Water Pipe known as Nargile (Shisha,Hookah). This is a tobacco fragrance that veers heavily into gourmand territory with delicious tonka, boozy rum notes and the most realistic coconut we have smelled. Set your Life on Fire and Fan your Flames with this addictive scent.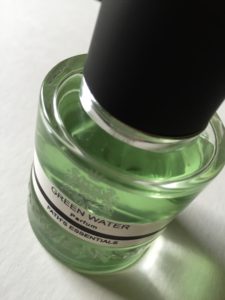 Jaques Fath Green Water Photo Aaron
Ermano and Michelyn: Jacques Fath Essentials Green Water (Cecile Zarokian) Fresh, sophisticated and perfectly unisex: Cécile's rendition of the first aromatic cologne in perfume history created by Master Perfumer Vincent Roubert in 1946 is masterful, shining with mint and a neroli overdose as precious as an emerald.
Ermano: Di Ser Hasunoito (Yasuyuki Shinohara) is a stunning pure perfume featuring a floral heart of delicate rosa rugosa and hypnotic boronia over a utterly chic savoury chypre base empowered by the most unusual salty oud note I have ever encountered.
Ermano: Anatole Lebreton Incarnata is the ultimate embodiment of the femme fatale, as cruel and seducing than ever. Old lipstick in a golden case and the voluptuous skin of a mistress.
Michelyn: Atelier Des Ors Iris Fauve (Marie Salamagne) My other pick for best perfume this year is the golden glowing perfection that is Iris Fauve from Atelier Des Ors which debuted in March at Esxence. Under the creative direction of Jean-Phillipe Clermont, perfumer Marie Salamagne has used the finest orris enveloped it in spices, resins and "Deer's Tongue", aka liatrus, which adds a vanillic sweetness. The opulent bottle with the swirl of gold flakes is the perfect flask for this extraordinary elixir.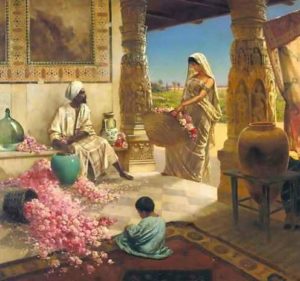 The Rose Harvest
Michelyn: House of Matriarch Kazimi (Christi Meshel) All Natural Christi Meshell is well known to our readers and is also one of the few natural perfumers to break into a major department store, as we have reported earlier this year…Nordstrom's. One of the standouts of her line is this year's Kazimi. Cazimi is the transliteration of the Arabic Kasmimi, which means "as if in the heart." Christi has created the ultimate rose attar, a perfume that smells as if it could have been created millennia ago. She uses rare rose oil known as Ruh Galab that is found in attars and adds four roses including a tincture of the most precious Rose Otto, African stone, and ambergris, sweet resins touched with oud and grounded in oakmoss. I often use Orientalist art in my reviews; I have yet to find a fragrance that matches the imagery of Rudolf Ernst's "The Rose Harvest" so perfectly.
Ermano: Cartier L'Envol (Matilde Laurent) is inspired by aviator Alberto Santos-Dumont (like the Santos wristwatch); it's a beautiful rendition of lightweight tobacco-honeyed cologne with an uplifting aromatic chill. A modern unisex classic.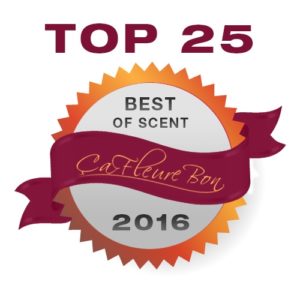 Michelyn: DSH Perfumes La Belle Saison (Dawn Spencer Hurwitz) Dawn is one of the most prolific perfumers I know and 2016 was a banner year with four stellar perfumes (in my opinion): Hansa Yellow, Chinchilla, Axis Mundi and my pick…La Belle Saison. Dawn spent five years, five springs gathering lilacs for the brief time they were in bloom to create the most beautiful lilac perfume I have encountered. La Belle Saison is the purest most realistic lilac scent I have ever smelled and since scent is memory when I inhale deeply I am transported back in time to when I was a toddler who buried my nose in my grandmother's lilac bushes and grew dizzy from the beautiful scent.
Ermano: Le Jardin Retrouvé Cuir de Russie (Yuri Gurtsatz). For both of us, the resuurection of the first niche house was our best discovery. Ermano describes Cuir de Russie as an exuberant, violet laden Nijinsky, bistred faunus dressed in smoke black and cade dancing to the notes of Debussy. Old school at its best.
Michelyn and Ermano: Gabriella Chieffo Maisìa (Luca Maffei) is a feminist under the guise of charred fig mixed with Mediterranean wild broom and a soot and smoke that makes for the most beguiling and unusual fig scent interpretation.
Ermano and Michelyn: Masque Milano l'Attesa (Luca Maffei) exuding the rarefied elegance of a James Ivory movie and the perlage of a Grand Cru Brut, one almost wants to drink and eat its bread crust naughty topnotes.
Michelyn and Ermano: Hermès Muguet Porcelaine (Jean-Claude Ellena) is Ermano's pick for best perfume. Jean-Claude Ellena's Diorissimo inspired Hermessence overcomes any bias that lily of the valley is passé and is a contemporary and beautiful rendition of the often maligned flower. With its delicate, slightly fruity floral bouquet it's the ultimate young woman's breath in a bottle.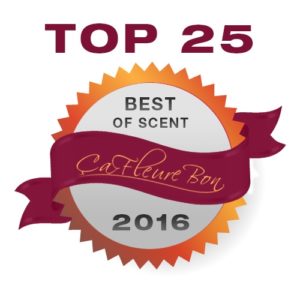 Michelyn: Cognoscenti No 32 Blue Oud (Dannielle Sergent) is a cool, spicy and aromatic blend of notes that is an interpretation of the color Prussian Blue, a hue that has fascinated Dannielle in her visual art and that she wanted to translate into olfactive art. No 32 manages to be both light and airy, and yet firmly grounded in a deliberate, structured earthiness that pulls the entire composition together. It is the Deecember sun moving through a frosted windowpane, while the agarwood stands in as the weathered wood in the pane itself.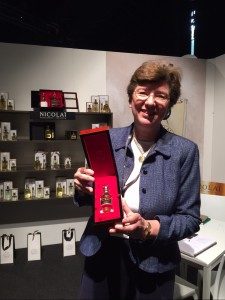 Mme. de Nicolai holding Oud Sublime at Esxence 2016 Photo Darryl
Ermano and Michelyn: Parfums de Nicolai Oud Sublime (Patricia de Nicolai) the most refined (real) Cambodian oud themed perfume ever, it dresses this wild wood in stunning silvery artemisia reflections as the best French masculine classics but do not think for a moment that a woman couldn't or shouldn't wear this aptly named fragrance.
Ermano: April Aromatics Purple Reign (Tanja Bochnig) All Natural. A purple maze of osmanthus velvet walls, jade dragons and nocturnal beautiful flies. A neverending ring you won't regret getting lost in.
Ermano: Pure Distance Sheiduna (Cecile Zarokian) Pulpy citrus, jammy roses, dried fruits, a hint of spices and of course a full bodied ambery trail. Everything you expect in the menu is here, flawlessly mastered by Cécile Zarokian.
Michelyn: M. Micallef Pure Extreme (Jean-Claude Astier and Geoffrey Nejman) was my choice as best feminine fragrance of 2016. It is a sheer yet vibrant and lively floral perfume with a deep, sensuously musky base. The Micallef signature richness gilds the skin with exquisite rose, gardenia, transparent jasmine, amber, precious wood and white musk.
Ermano: Neela Vermeire Creations Rahele (Bertrand Duchaufour) is tied as my top perfume of the year. More than an Osmanthus themed perfume, this is the complex and captivating seduction, secrets of a neo-baroque French courtesan.
Ermano and Michelyn: Olfactive Studio Still Life in Rio (Dora Bagriche) Juicy passion fruit, yuzu and tasty guava render here a very good, more relaxed approach to classic fresh juices making it one of the best tropical citrus cocktail of 2016.
For our Best of 2016 That was supposed to be Top 25 but… Draw open to all ÇaFleureBon registered readers be sure to register or your comment won't count.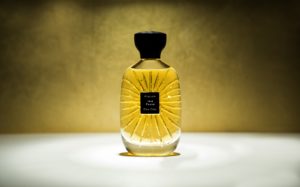 WorldWide: Courtesy of Atelier Des Ors the soon to be released Iris Fauve (only one winner and that includes your comment from yesterday)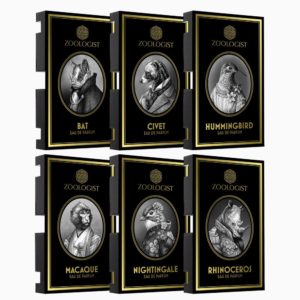 Worldwide: Thanks to Victor Wong of Zoologist a 2017 six scent sampler including Bat and Civet (only one winner and that includes your comment from yesterday)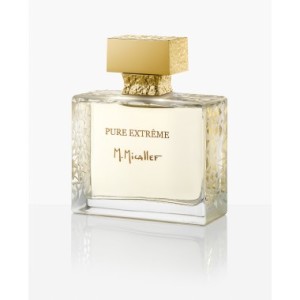 Worldwide: M. Micallef Pure Extreme (only one winner and that includes your comment from yesterday)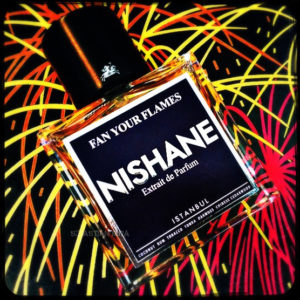 Photo: Sebastian
Worldwide: Thanks to Nishane Instanbul 50 ml extrait de parfum of Fan Your Flames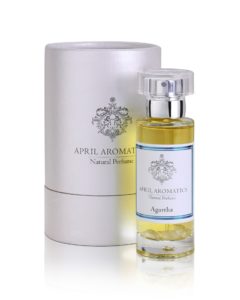 World Wide: 7ml of April Aromatics Agartha (this is a limited edition) all natural and which is COMPLETELY out of stock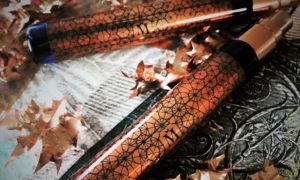 EU, USA and Canada: Thank you to Christi Meshell for 15 ml of House of Matriarch Kazimi all natural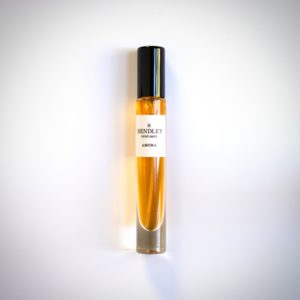 USA Only 9 ml travel spray of Hans Hendley Amora
Please leave a comment with what you thought of our top 25 plus 12 choices for 2016. Remember we have our team'spicks tomorrow. You must include an all-natural as one of your choices and where you live. You can list as many as you like of the seven that you qualify for. Draw closes January 1, 2017
We announce the winners on our site and on our Facebook page, so Like Cafleurebon and use our RSS option…or your dream prize will be just spilled perfume