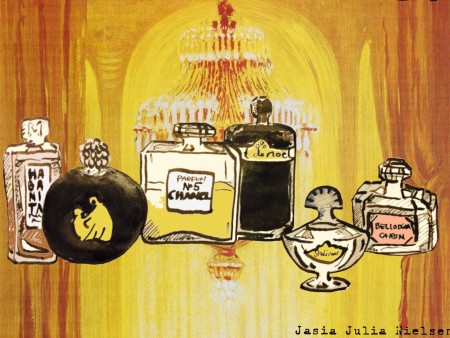 Vintage Perfume Bottles Watercolor by Guest Contributor Jasia Julia Nielsen
Today is the final post for our 6th Anniversary. ÇafFleureBon is the essence of every reader and contributor past and present The three editors who were part of the founding team were Mark Behnke, former Managing Editor (now Founder of Colognoisseur), Ida Meister, Senior Editor (now with Fragrantica) and Rodney Hughes, former Natural Perfume Editor, who has relaunched his beautiful line of all botancial luxury fragrancesTherapeautate. I have known Ida the longest. We met at Sniffapalooza in 2006; we have remained friends ever since. Her heart is the biggest in all of perfume land. Ida has one of the best "noses" in the industry helping many indie perfumers over the years, (sometimes without credit) on evaluations. She is incredibly strong, humble and " The giving tree" of the fragrance community.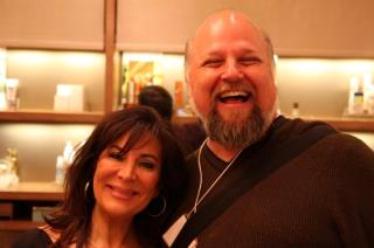 At Sniffapalooza Spring Fling Takashimiya Mark and me 2010 (photo Keiko Mecheri)
Mark and I "met" about year later when I put out an inquiry through Basenotes about men who wear what is marketed as "women's perfume". He was my "number 2" at CaFleureBon until January 2014. One of my favorite stories about Mark is that I was working on a story on men's grooming for a fashion blog and without blinking a (literal) eye he gamely went to have his brows waxed at an Upper East Side Salon. Ida, Mark and I all wrote for Fragrantica prior to ÇaFleureBon.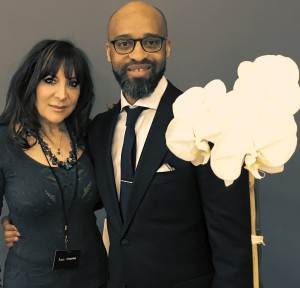 Rodney and me 10 years later at Elements Showcase 2015 (photo Hernando)
Rodney is such a gentleman, living and composing natural perfumes in Bed Stuy, Brooklyn before Brooklyn was "the in place" for perfumery. We have all hugged and met in real time on numerous occasions.Most of our conversations were not about perfume!!!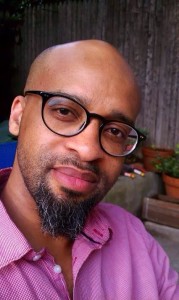 Rodney T Hughes
"So Cafleurebon makes 6. It was certainly an honor to have been there from its inception and to have been in the company of so many talent perfumers and writers. The experience at Cafleurebon allowed me to sharpen my senses as a fragrance evaluator and really hone my skill as a perfumer. Best wishes and Happy Birthday!!" Rodney T Hughes, Founder and Perfumer for Therapeautate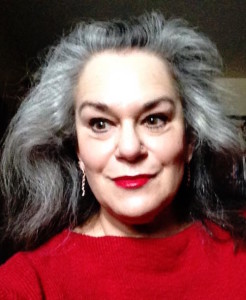 Ida Meister (photo courtesy of Fragrantica)
"My time at Cafleurebon was illuminating, in that I found someone who believed in me when I certainly didn't. CFB provided much-needed learning about the art and craft of writing, editing, you name it. There were very few of us at the onset – and we became extremely close. It was a supportive environment in which to expand and bloom. Just look at the amazing writers you have today! Many blessings on your 6th anniversary". Ida (Chayaruchama) Meister, Fragrantica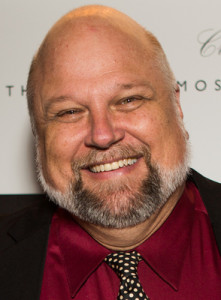 Mark Behnke while at Excense representing CaFleureBon 2013
"CaFleureBon was the place where my understanding of everything that goes in to making perfume was broadened. I often think of the four years I spent writing for CaFleureBon as my blogging graduate school. I gained an appreciation for the people behind the bottle. I learned more about specific raw materials. The biggest learning experience though was what Editor-in-Chief Michelyn Camen had to teach me. I became a better writer. Just read my first piece and my last piece if you need evidence of that. I understood the hard effort it takes to run your own blog. This is what allowed me to have the confidence to start my own blog two years ago. While I no longer contribute on a regular basis, everything I write today is built upon this foundation. Congratulations on the sixth anniversary of CaFleureBon". Mark Behnke, Colognoisseur
When I sat down to write this post, I was astonished by the number of bloggers, readers, and perfumers who have helped me build CaFleureBon with dedicated articles and reviews.
Guest Contributors: Perfumers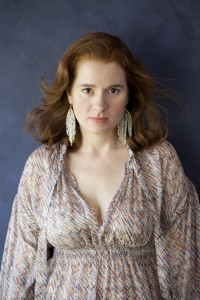 Alexandra Balahoutis, Strange Invisible Perfumes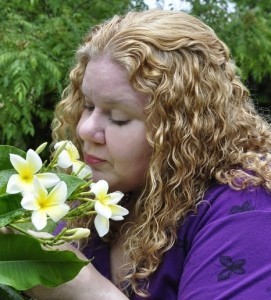 Anya McCoy, Anya's Garden Perfumes and President of The Natural Perfumer's Guild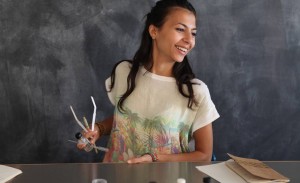 Dana el Masri, Jasmin Jazmin Saraï and Joya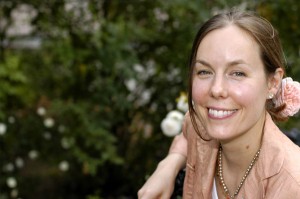 Dawn Spencer Hurwitz, DSH Perfumes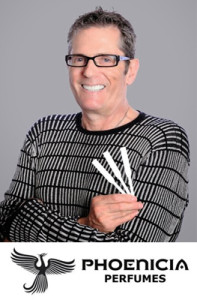 David Falsberg, Phoenicia Perfumes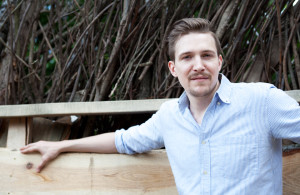 photo Hope Davis
Douglas Bender, of Charenton Macerations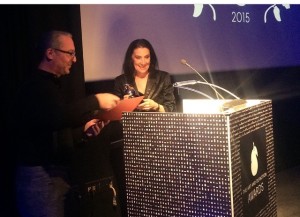 Ellen recieving her Art & Olfaction Award for Woodcut 2015
Ellen Covey, Olympic Orchids and Zoologist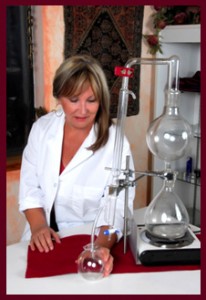 Shelley Waddington, En Voyage and Zoologist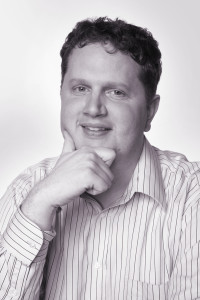 Kevin Verspoor, PerfumeKev and Blocki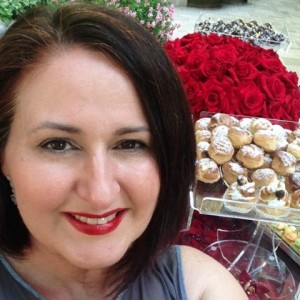 Maggie Mahboubian, Parfums Lalun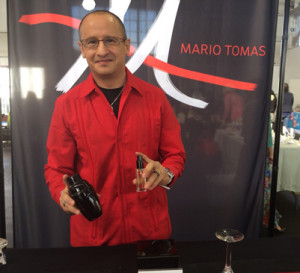 Mario T Gomez, Mario Tomas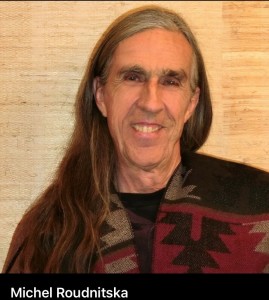 Michel Roudnistka, Master Perfumer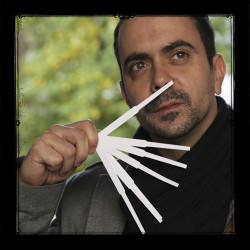 Pierre Bernard, Osmoart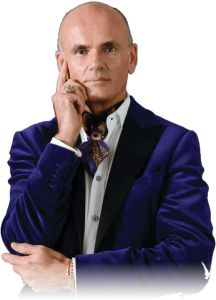 Roja Dove, Master Perfumer Roja Parfums, Ambassador for GREAT Britain.
Contributors and Editors (Past and Guest): Bloggers and Writers 2010-2016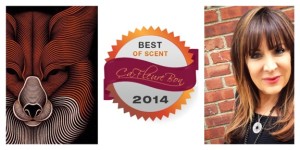 Alex Musgrave, The Silver Fox (Writer of the 2015 Fragrance Foundation Award Winning Smoky Eyes and Smoky Scents; The Allure of Scents that Smoulder), Bettina Korp, The Nosey Nose, Brie, Caro Fernandez, Té de Violetas, Claudia Kroyer, Clayton Ilolahia, What Men Should Smell Like David Lincoln Brooks, Editor of THE SPRAY CHEST, Donna Hathaway, Examiner and Perfume Smelling thingsEd Libassi, The Goodsmellas, Einsof, Emmanuelle Varron, Mon Bazar, Felicia M. Hazzard, Fragrance Belles Lettres, Harper Hilton, Ida Meister, Fragrantica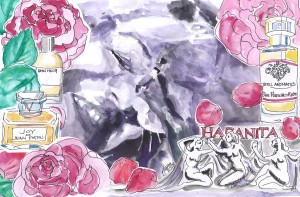 Tama, Buster, her favorite perfumes, Original illustration watercolor Jasia Julia Nielsen 2015
Igor Kipnis, The Goodsmellas, Jane Daly, Daly Beauty, Jasia Julia Nielsen, The Sounds of Scent, John Reasinger, Katherine Chan, Mad Perfumista, Lauryn Beer, Leah Strigler, Leslie Robinson, Liza Wade, Mais Que Perfume, Mark Behnke, Colognoisseur, Mary Beth Devine, Marlene Goldsmith, Megan Paki, Megan In St Maxime, Michael Devine, The Goodsmellas, Michael Singels, Monica Skye Miller, Perfume Pharmer, Nancy Lichtenstein, Make Perfume Not War Neal Sternberg, Cologniac,Nick Gilbert, Nick Gilbert, Olga Rowe, Patty White, Perfume Posse Sandi Lundberg, Sergey Borisov, Fragrantica, Stevie Wilson, LA Story, Steve Johnson, Steve Lindquist, The Scented Hound, Sujaan Griscom, Susie Baird, Ephipany,Tama Blough, The Nosey Artist, Valerie Lee Vitale, Soliflore Notes, Vanessa Musson, Bonkers about Perfume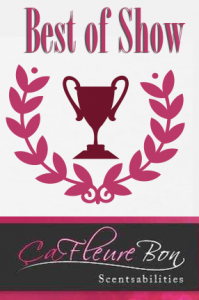 Accolades to our current "full time" team! I cannot begin to thank you for your tireless efforts and inspirational passionate writing and videos: Elise Pearlstine, Sr Contributor and Perfumer for Tambela, Pam Barr, Sr. Contributor, Hernando Courtright, NY Events Contributor, Aaron Potterman, Contributor, Zee Boudreaux, Natural Perfumery Contributor, Tammy Schuster, Contributor, Sebastian Jara, Contributor and Youtube Fragrance Reviewer of Looking Feeling Smelling Great, Ermano Picco, Contributor and author of La Gardenia nell Occhiello,Berkan Basoglu, Contributor and Author of Gurme Kokular To the generosity of hundreds of Perfume and Beauty draw sponsors, our advertisers who help me keep CaFleureBon running with daily articles and to our readers I am incredibly grateful.-Michelyn Camen, Editor in Chief
The surprise is a sample swag bag from every perfumer and Creative Director that participated in CaFleureBon 6th Anniversary post the past five days. The random winner is Peggy. Please email michelyn at cafleurebon dawt com with your mailing details by June 6, 2016. There is no spilled perfume.