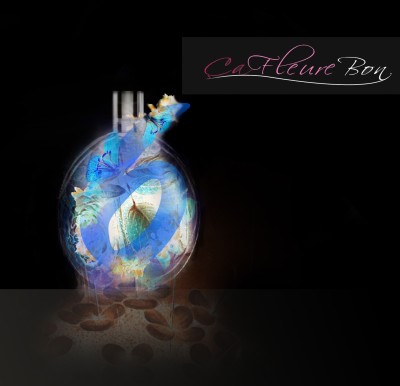 "6" Perfume Bottle with Flowers created by Artisan Perfumer and ArtistDannielle Sergent of Cognoscenti
Today, we devote to Amerian Artisans, women who are working and thriving in what is typically a man's world. Our readers have read many of their paths to perfumery through our Profiles in American Perfumery series. I have had the honor of working with Shelley, Dawn and Ellen on creative collaborations.and have grown to understand their body of work and sensibility in a very unique, personal way. Alexandra wrote a seminal article In Defense of Botanical Perfumery as an Olfactory Art, which even today is one of my favorite Guest Contributor's posts. I feel so close to Charna, and have followed her every accord, admiring her beautiful fragrances and her hard work as a small business /retailer shop owner who has perservered through challenges that would daunt most. These women have become integral to the fabric of my life, to the lives of our writers and readers. They are the secret sauce of ÇaFleureBon- Michelyn Camen, Editor in Chief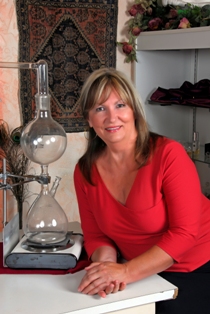 Shelley Waddington of En Voyage Perfumes
"CaFleureBon has meant the world to me as an Artisan Perfumer. Over the years they have remained authentically dedicated to their vision and mission of being the number one online destination for niche, artisan and artistic perfumery in the world. CaFleureBon has consistently opened the doors of opportunity for artisan perfumers by increasing the understanding and appreciation of artisan perfumery via savvy reporting and creative direction. Their full and accurate reportage of the emerging American West Coast Perfume Movement has been a significant and pivotal contribution to our continued success and growth.
From their first article about En Voyage Perfumes May 2010, Michelyn and CaFleureBon have been introducing and featuring us to an ever-expanding audience perfume lovers that literally had no other way of knowing about our small company. CaFleureBon has told my story through Profiles in American Perfumery, in intelligent reviews of our perfumes and new launches, and through generously including us in their annual awards. It has been a huge honor to receive such rich professional recognition.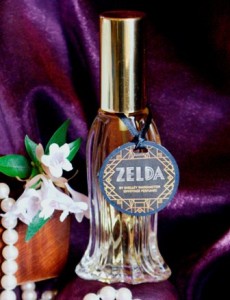 On a personal level, I met Michelyn on Facebook before she launched CaFleureBon. I immediately recognized her depth of knowledge in the humanities, especially in perfume and fashion. She is tremendously generous and influential in sharing her support and business savvy with me and with many other artisan perfumers. I'd like to personally thank Michelyn for her help in two very significant areas; firstly, in naming Makeda by En Voyage. It was due to her knowledge that Makeda was named for the amazing Queen of Sheba. Secondly I'd like to thank her for her creative concept and direction in the launching of our Zelda which has become one of our best-selling and most recognized perfumes –Shelley Waddington, Founder and Artisan Perfumer En Voyage Perfumes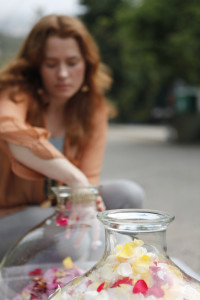 Alexandra Balahoutis, Strange Invisible Perfumes is celebrating her 15th year
"I have the highest appreciation CaFleureBon. I have so enjoyed reading it over the years, mainly because it has so often achieved the nearly impossible task of translating scent into words. There have been so many beautiful descriptions that have made me swoon. It's just the loveliest bonus when they are about my perfumes". Alexandra Balahoutis, Founder, Strange Invisible Perfumes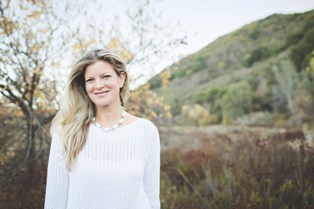 Sarah Horowitz Thran of Sarah Horowitz Parfums
I have had the pleasure of knowing Michelyn for over a decade now, and to watch the birth and growth of her baby, CalfleurBON, has been incredible. Her passion is for finding the new, the niche, the artisan perfumers first, and showcasing them in an intimate and visually beautiful way.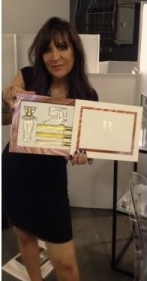 Here is Michelyn Holding Sarah Horowitz Thran's Biography Scents of Self created for QVC
"CalfleurBON has truly shined a light on our industry, and brought together a community of likeminded souls. I am honored to be a part of the origin story of CalfleurBON, and am amazed at how much our world has grown, in part because of its existence. I am looking forward to celebrating many more years to come!" – Sarah Horowitz Thran, Founder and Chief Perfumer of Sarah Horowtiz Parfums.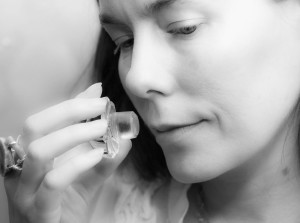 Dawn Spencer Hurwitz
"Happy 6th Birthday, CaFleureBon! I have loved you from the first <3 From the outset, CaFleurBon set an amazingly high standard with wonderful interviews, new writing that allowed for many voices, and of course, superlative art direction. Michelyn and her team have done so much to bring the landscape and intimate realm of artisans, independent, and niche makers to the world that I can't even imagine how our community would fit together without them. I wish CaFleureBon many, many more years of capturing the delight and passion that we all have for the fragrant world and bringing it to our inbox every day of the year. Congratulations Michelyn and CaFleureBon on turning 6!" Dawn Spencer Hurwitz, Founder and Perfumer for DSH Perfumes.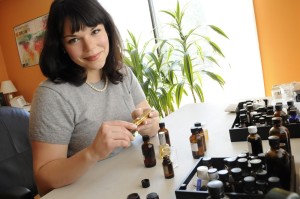 Charna Ethier of Providence Perfume Co.
"Bon Anniversaire Ca Fleure Bon! Over the years, CaFleure Bon has established itself as a positive resource for those who enjoy fragrance. I commend Michelyn for highlighting new talent as well as her focus on natural perfumery. I am indebted to CaFleure Bon for their coverage of my work and have become close friends with Michelyn over the years. She is truly a one woman dynamo who richly deserves her success and accolades. Thank you for all you do within the fragrance community. Here's to another six years of success!" Charna Ethier, Founder and perfumer Providence Perfume Co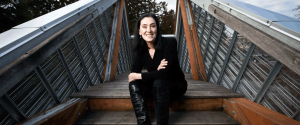 Ellen Covey Olympic Orchids
"This is Cafleurebon's sixth anniversary. Coincidentally, this year will also be the sixth anniversary of my perfume business. How far we have both come in those 6 years! I was actually surprised to find out recently that it had only been 6 years since Michelyn founded Cafleurebon because when I first started out I would see people on the perfumers' forums bragging that their perfume had been reviewed by Cafleurebon, and I knew it was the best of the best. Even when Cafleurebon was less than a year old it had already risen to a position of prestige. I have no idea how Michelyn accomplished this, but she did. Incredible! Naturally it was a big thrill the first time one of my perfumes was reviewed there and another huge thrill when Michelyn interviewed me for her Profiles in American Perfumery. I think Cafleurebon was almost the first place where my work was reviewed, and it was certainly the highest-profile.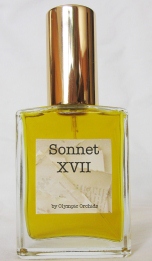 Since that time I think every one of my perfumes has been reviewed by Cafleurebon and I have developed a wonderful friendship with Michelyn. We started talking on the phone a lot when we collaborated on Sonnet XVII, a perfume to represent Pablo Neruda's beautiful love poem. I'm still not sure how close my creation came to her vision of it, but the result was a unique fragrance that's one of a handful of my perfumes that I wear myself. During our talks about the perfume, the poem, and the details of formulation, we gradually started talking about things other than perfume, and found that we had a lot in common.
It might not be obvious to someone observing our public personae, but we're both deeply emotional people who are very private when it comes to our personal lives, and you'd better believe we've both had amazing lives with many ups and downs. As our friendship developed, we started discussing things that we would not discuss with many other people, and when she asked me to write something for the anniversary post, I realized that I now feel as if we are sisters. When she calls me or I call her, I know we'll be on the phone for one or two hours, talking about everything under the sun. I talk to her as I would talk to a member of my family, with the same openness, the same argumentativeness, the same laughter and tears, and, in the end, with the same loving warmth. Thank you Cafleurebon, for all you do every day (literally) to support perfumers large and small, established, and just starting out. And thank you, Michelyn, for being my friend and the sister I never had. Dr. Ellen Covey, Founder and Perfumer for Olympic Orchids Perfumes.
Over the next four days you will read many more personal thoughts and congratulations from wonderful people in Perfume World. Their heartfelt best wishes are truly humbling. Of course there will be a surprise for one reader on day 6. Feel free to leave a comment