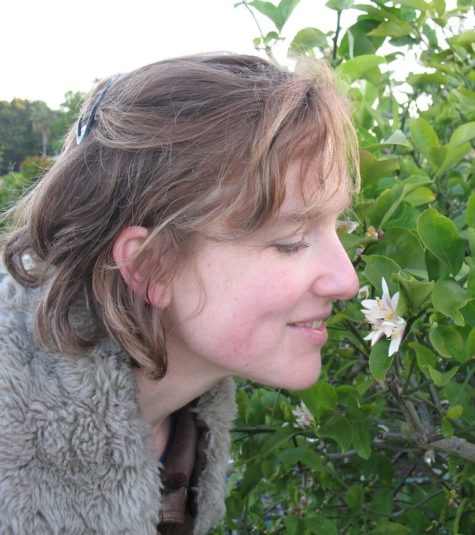 Diane St. Clair of St. Clair Scents
Profile: The themes of my childhood were spending time alone, but not being lonely; a deep and abiding love for being on farms, with their animals and regular rhythms, and enjoying hard work.I was raised in Baltimore, MD, the only child of a single mother. From my earliest memories, I was always asking my mother to take me to the countryside. My maternal grandparents owned a small cabin in upstate NY, and it was there that I spent most of my childhood summers, running barefoot through the woods, picking wild berries with my grandmother and helping my grandfather tend his flower gardens. My love for the outdoors and its mysteries was fostered during those summers.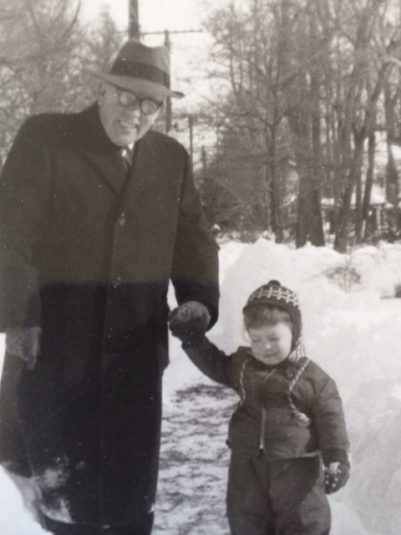 Diane and her Grandfather
As I grew older, I spent most of my free time working on livestock farms, either helping to milk the cows and make hay or feeding, training and cleaning up after horses. Aside from wearing Charlie during high school and staring at my mother's bottles of Arpege and Chanel No.5 on her dresser, I was not really oriented towards perfume. I was too busy soaking up my favorite odors of horse sweat, saddle soap and leather, fresh cut hay in the barn and iodine wash on the floor of the dairy milk room.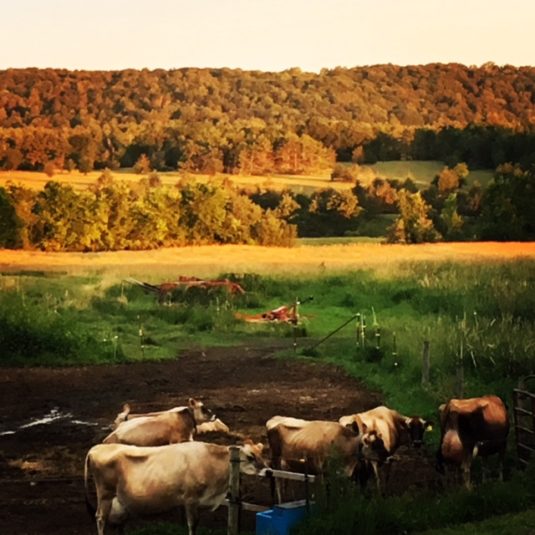 The Jersey cows at Diane's farm
Going to college and working as a young adult took the country mouse into the city. I got a Master's in Public Health from Columbia University (riding the subway many days to school, with all those subway odors!), and later, I worked in public health in New York. Eventually, I left the big lights and bought a farm miles from nowhere, near a small Vermont town.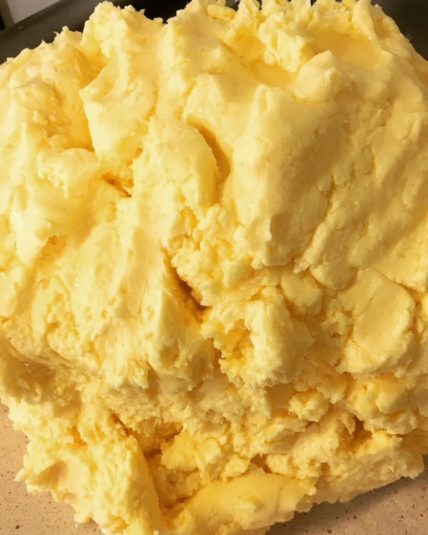 Hand churned butter from Diane's farm
Within a year of moving, I had three Jersey cows, a licensed creamery and was selling my handmade butter to The French Laundry restaurant in California, which was just emerging as a cutting edge example of new American cuisine. I now have 11 cows and still sell to The French Laundry, Per Se and other fine dining restaurants across the country.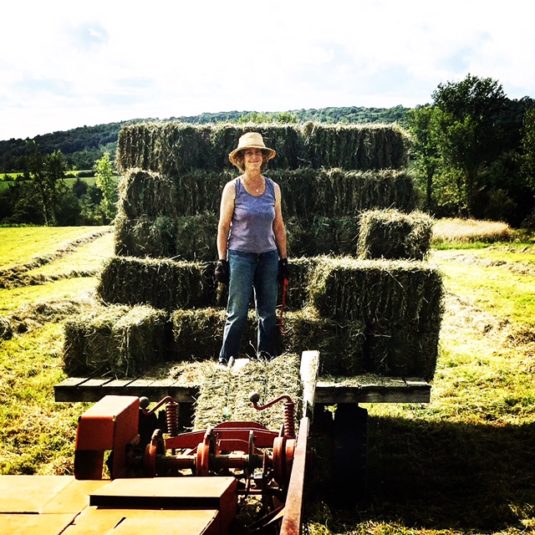 Diane St. Clair with bales of hay
Several years ago, I started buying perfume decants and reading about perfume. I think I did this to explore the world without leaving home (it's hard to travel when you milk cows twice a day). I became obsessed with perfume's transporting, exotic odors. I wanted to learn to make perfume and found a teacher in New York, Eliza Douglas, who trained in Grasse. Eliza worked at DreamAir, Christophe Laudamiel's innovative fragrance company, and taught classes on weekends. I joined one of her classes and was hooked. She graciously agreed to work with me long distance, and so began years of sending accords back and forth, skyping, emails and occasional visits. Finally, I decided to start my own company, St Clair Scents, based on my farm in Vermont, using the same artisanal approach that I had taken with creating my dairy products, making everything in small batches and by hand.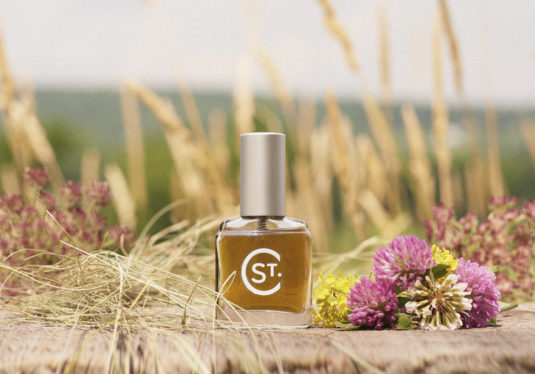 St. Clair Scents First Cut
The farm and its surrounds provide ongoing inspiration for much of what I create. The first perfumes that I chose to launch my brand are all rooted in this sense of place. St. Clair Scents First Cut is the story of the annual hay harvest on the farm, the time in the summer when the sun shines and native grasses, clovers and flowers are mowed, dried and baled over three days. This perfume is the scent of meadows, herbaceous and green, with wild flowers and radiant sunshine. Another perfume,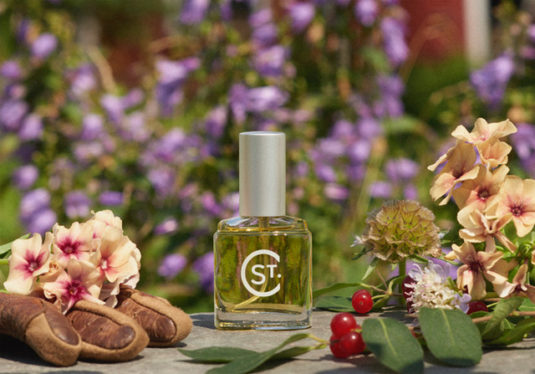 St. Clair Scents Gardener's Glove
St. Clair Scents Gardener's Glove, carries the aromas of a well-worn glove—aged leather, woods and soil—along with scents from the garden—flowers, blossoms and ripe fruit. The third perfume, Frost, is an homage to the New England poet, Robert Frost. It follows the story of his poem, "To Earthward", which describes the transformation of youthful love, "sweet like rose petals" and "sprays of honeysuckle" to painful love, like "bitter bark", "burning clove" and "rough earth". This fragrance weaves together these accords into a rich, spicy, and deep perfume.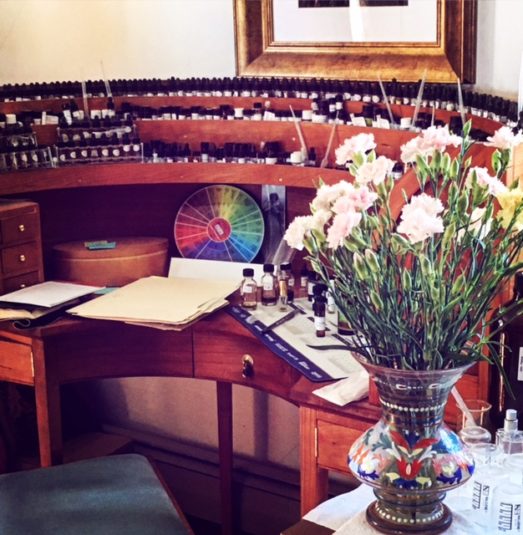 Diane St. Clair of St. Clair Scents' perfume organ (we spy Mandy Aftel's Fragrance Wheel)
On American perfumery: Unlike much of Europe, this country does not have a historic relationship to the creation and wearing of perfume. This puts us at a disadvantage in terms of access to perfumery schools, master perfumers and the long traditions of perfume creation.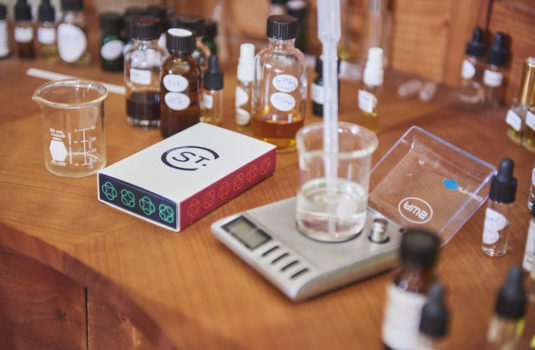 Weighing perfume ingredients
It also means that we do not have a consumer culture with a deep, abiding love of perfume, as exists in France. This lack of tradition, however, provides more freedom to defy accepted assumptions of who is a perfumer and what she or he can create. It is this lack of convention which has opened the door to a new kind of independent perfumer, with a new kind of vision for the role of perfume.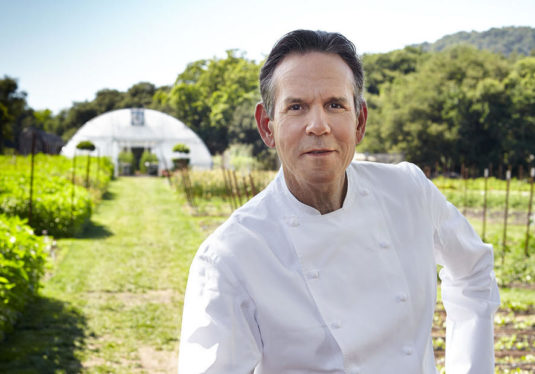 Thomas Keller via thomaskeller.com
Favorite American Artist: Just as perfumers are often overlooked as artists, so too are chefs. But the best chefs, like the best perfumers, must have mastered craft and technique to excel, while also bringing innovative creative vision to their work. In doing this, I really believe that food can be elevated to the level of art, exposing us to new flavors, aromas, textures and gastronomic experiences that are akin to performance art. I think that Chef Thomas Keller is such an American artist.
–Diane St. Clair, Founder and Perfumer, St. Clair Scents
Thanks to St. Clair Scents, there is a fantastic draw for two registered readers (you must be registered) in the U.S. There are two winners who will be chosen at random. One lucky winner will receive a full size bottle of your choice of First Cut, Frost or Gardener's Glove. ($75) For notes and composition, please go to St. Clair Scents.
OR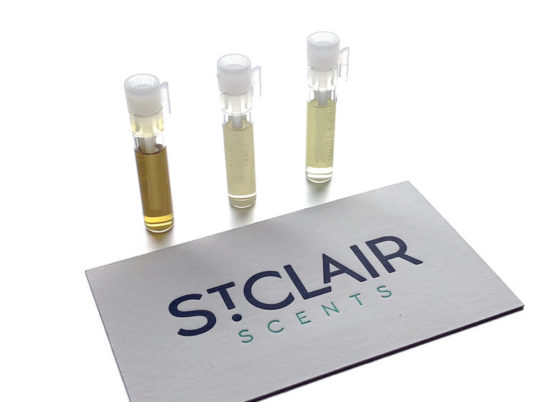 Another reader will receive a sample pack of all three St. Clair Scents.
To be eligible you register here, you must be registered or your comment will not count. Tell us what you found fascinating about Diane's path to perfumery, which St. Clair Scents perfume appeals to you and which you would like to win including the St. Clair Scents sampler. Draw closes 2/14/2018
Please like CaFleurebon Profiles in American Perfumery and your entry will count twice.Please leave that in your comment.
Diane St.Clair is our 131st American perfumer in our series and we appreciate her generosity. All photos belong to Diane with the exception of Chef Keller and cannot be reproduced without her permission
Follow us on Instagram @cafleurebon and @stclairscents
We announce the winners on our site and our Facebook page so like Cafleurebon and use our blog feed…or your dream prize will be just spilled perfume.