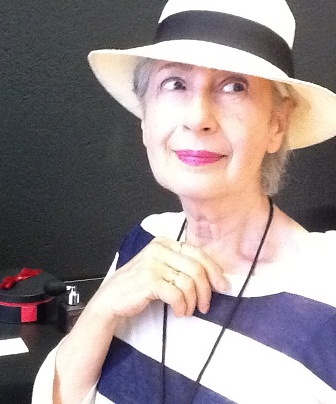 Profile: I ca me to New York a decade ago feeling like The Pilgrim Father's arrival, but on Virgin Atlantic! My Muskets were a bottle of perfume and the accessories I designed and had sold in my shop in London's Notting Hill. The Pink Room was a 'Secret Boudoir' where people from all over world would come and say they wanted it to be their bedroom! Princess Anne came for tea and to honour me as a designer.
New York is truly a unique, most fascinating, magical, myriad of wonderful experiences so I quite quickly felt 'At Home.' And then came 9/11!
How did my journey into the world of fragrance begin?
I am a passionate designer, everything inspires me, excites my imagination in a multi-dimensional way. My perfumes are the culmination of my love of textures, colours, gardens and gardening. They encapsulate emotions and are dynamic and eidetic.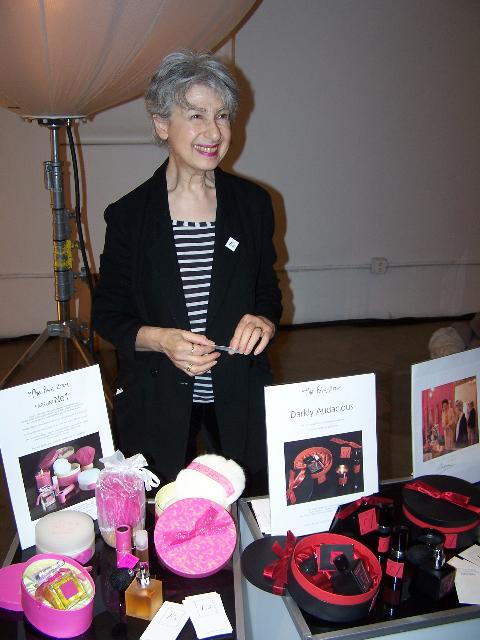 Sarah aka Pinky at New York Elements Showcase
My joy is to see them all tied up in wickedly romantic and sometimes naughty boxes and ribbons! Isn't it that we try to create beautiful things that inspire others to dream?
I had the great fortune of finding out about myself through the grace and love of two brilliant parents.They taught me endurance, self- aptitude and an understanding that if things don't go as planned, look at another route but do not ever give up your dreams!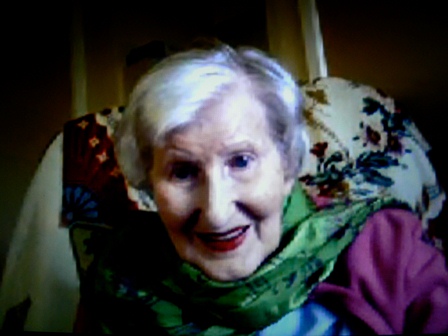 Sarah's beautiful mother
My mother was and still is a great beauty at the age of 91. She could put on a potato sack and still look glamorous. I think I probably create many of my ideas for her. She was a fabulous cook. Her baking was phenomenal, the sponge cakes floated. When I asked her how she did it, what was the magic ingredient, she would say LOVE!!!!! So, as a small child, my first appreciation of aromas came out of the kitchen with all those wonderful ingredients, vanilla, cinnamon, herbs and spices. It quickly moved to gardens, freshly cut grass and rain on leaves and flowers. I remember too the farm my parents took me to when I was very young and the newly mown hay and freshly rolled haystacks that I used to climb up and into.
My very own first perfume at 14 was Houbigant Quelques Fleurs given to me by my Grandmother. I loved Guerlain's quite remarkable perfumes because they seemed to epitomize all that was sophisticated and beautiful in the world of fashion and fragrance. I would go to our version of Bergdorf Goodman to try out all the goodies with my friends!
Travelling the world has been very instrumental in widening my horizons and senses. Arriving at a destination the first thing I encounter are the local herbs, flora and fauna especially in the warm sunshine after a rainfall. Bliss!
My heart, passion and aesthetics are reflected in my stories that define the fragrances. There is a need for beautiful, glamorous fragrances and packaging so I try to honour my audience by keeping it alive with 'The Pink Room.' Every experience, every book I have read and all the travelling I have done inform my psyche leading to the making of fragrances and the 'eidetic' experience of the moment that I hope I can pass on to others.
I have countless reasons for loving fragrance but mostly the actual creating it with the help and guidance of my symbiotic 'friends' in Grasse, France; Guy Robert, Cyrille and Christel.
AND I am eternally grateful to have all of my senses.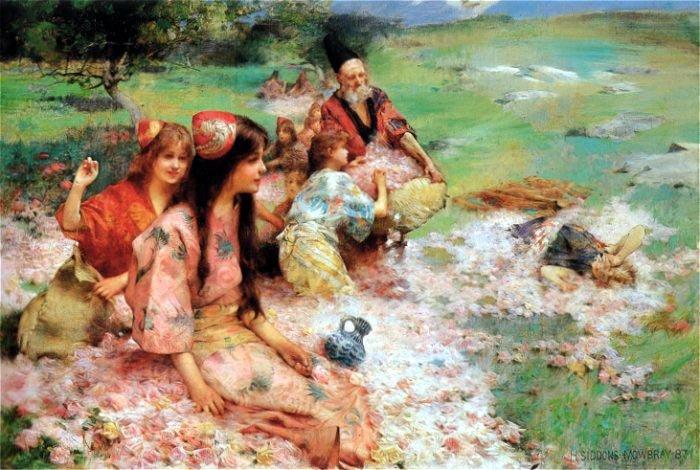 Henry Siddons Mowbray- "Oriental Fantasy"
Favourite American artist: Well I have so many for different occasions but the one that seems to fit the 'bill' right now, is Henry Siddons Mowbray, an English artist who like me was a transplant to the USA. To give a little secret away I have my fourth fragrance ready to go and it is very exotic and naughty so I chose this painting in particular as a bit of a hint.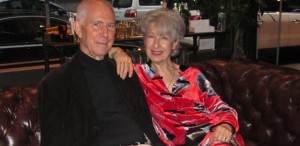 Sarah and her husband Arthur live in New York City
On American Perfumery: As I walk the streets of New York I feel a palpable energy. It's like a 'rush.' Each 'Village' has its own persona and story. I am a passionate designer of dreams. New York excites me with its energies, textures and colours. Have you taken 'A Walk On the High Line?' I lean over the barrier that overlooks both the grittiness and gentrification of New York and dream. The heady mix of hot sun, plants and wooden sleepers create a cavalcade of aromas that beg to become a fragrance. Will I be the one to take that leap? Ah, that's the freedom we Indie Perfumers have at our senses whether born American or newly adopted.
– Sarah Barton-King, Owner and Fragrance Designer
Our thanks to Sarah for this wonderful draw of a reader's choice of a travel size of her wickedly romantic fragrances. Please choose one of her three perfumes from her website The Pink Room:Parfum No 1. Pour Toi or Darkly Audacious and leave a comment on what you found fascinating about Sarah-Barton King. (Darkly Audacious was chosen as a top 25 fragrance of 2011 by Managing Editor Mark Behnke). Both Mark and I had a sneak sniff of Sarah's next perfume and we both agree it is her best one yet…that is until her next one debuts.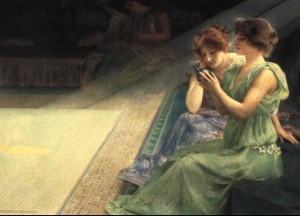 Henry Siddons Mowbray – iridescence
Editor's Note: Since 1999, each of Sarah's perfumes is a fantasy; she composes stories, short poems-prose as briefs (for example Parfum No.1 by Guy Robert imagines a conversation between Marcel Proust and his aunt in a garden at 4:00 where the air is redolent of roses). In a perfumed world where all too often packaging is either generic or devoid of "heart", there is something special about these dreamy beribboned hat boxes filled with tissue, each designed and sourced with love by Sarah. It is nice to be reminded that perfume should be a well chosen personal accessory, a luxurious gift to a friend, lover or to yourself.
–Michelyn Camen,Editor-In Chief
We announce the winners only on site and on our Facebook page, so Like Cafleurebon and use our RSS option…or your dream prize will be just spilt perfume
On American Perfumery: As I walk the streets of New York I feel a palpable energy. It's like a 'rush.' Each 'Village' has its own persona and story. I am a passionate designer of dreams. New York excites me with its energies, textures and colours. Have you taken 'A Walk On the High Line?' I lean over the barrier that overlooks both the grittiness and gentrification of New York and dream. The heady mix of hot sun, plants and wooden sleepers create a cavalcade of aromas that beg to become a fragrance. Will I be the one to take that leap? Ah, that's the freedom we Indie Perfumers have at our senses whether born American or newly adoptedOn American Perfumery: As I walk the streets of New York I feel a palpable energy. It's like a 'rush.' Each 'Village' has its own persona and story. I am a passionate designer of dreams. New York excites me with its energies, textures and colours. Have you taken 'A Walk On the High Line?' I lean over the barrier that overlooks both the grittiness and gentrification of New York and dream. The heady mix of hot sun, plants and wooden sleepers create a cavalcade of aromas that beg to become a fragrance. Will I be the one to take that leap? Ah, that's the freedom we Indie Perfumers have at our senses whether born American or newly adopted