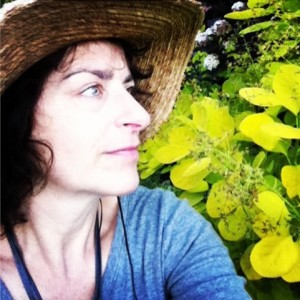 Suzinn Weiss of Blooming Dream Natural Perfumes
I am the child of New Yorkers who moved to the suburbs of New Jersey to raise a family in the 60's. There were still many farms around us and the acres of woods behind our home provided my first experience with the mystery and beauty of the natural world. I would wander the trails alone, inhaling scents of the native conifers, mosses, ferns and skunk cabbage. My father was a trained photographer who also studied painting and one of my most vivid scent memories was walking into his teacher's studio and loving the smell of linseed oil and turpentine.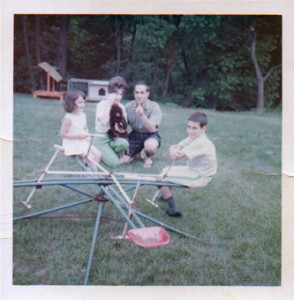 Suzinn at play with her family
I moved to Northern California for college and discovered clear light and the grandeur of wide-open spaces. In my mid 20's I lived in Italy for a year and a half and roamed around Europe. I still recall certain smells of Renaissance buildings and the scent of mouth-watering food everywhere. I went back to NYC for grad school at Parsons where I earned my Master of Fine Arts degree. It was exciting to be living, working and studying art in Manhattan, but ultimately I missed the spaceousness, slower pace and the beautiful light of the west coast.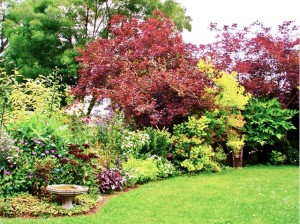 Suzinn's Garden
In the late 80's I moved to Portland, Oregon and started a new life with one suitcase and my cat. After a few years I bought my first house and that's when my passion for gardening hit home. I became a self-taught garden designer. Everything I loved seemed to flow when I created lush, scented landscapes for people to enjoy. It was from gardening that my interest in creating perfume grew. As a gardener I was immersed in the heady smells of earth & plants and so I began to play with scented materials and developed a line of pure perfume (I don't use synthetics in my work, they give me migraines). My formulas include botanical tinctures made with leaves, petals and mosses from my own organic garden and from the beautiful forests that surround Portland.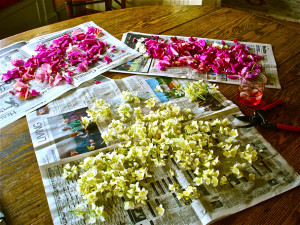 Preparing rose and philadelphus petals for tincturing
On American Perfumery: Community, Evolving and Sharing… That is what American perfumery has meant to me. I thought I would just be making scents for myself and some friends for the rest of my life until a few years ago, I discovered that there was such a thing as Artisan perfumery on Facebook by stumbling on a photo on a friend's page of Mandy Aftel and Yosh Han, subtitled Two Indie Perfumers so I reached out to them. My first workshop was with Yosh and I was thrilled that she was so open to using intuition as a guide to creating scent because that's how I'd been working for years. I also studied with Charna Either and I'm impressed by her skill as a botanical perfumer. Mandy Aftel is also an inspiration and I keep her books on my bedside table. I am also fortunate to be part of a group of Northwest perfumers and all of these people are so kind and generous with their knowledge, for example Meredith Smith of Sweet Anthem. In Portland, I am grateful for the friendship of Jessica Ring of Ring Botanicals and Josh Meyer of Imaginary Authors. I've enlisted both for critiques and we've shared sources for materials as well.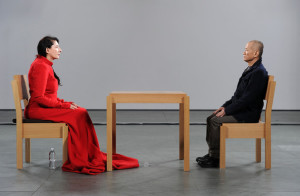 Marina Abramovic "The Artist is Present"
Favorite American Artist: Performance Artist Marina Abramovic, (who now resides in New York). Her work THE ARTIST IS PRESENT breaks down what is elemental in human kind, the need for connection. Just watching her documentary brought me to tears.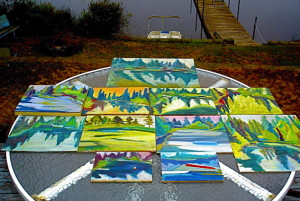 Suzinn Weiss Landscape and Seascape paintings
I studied painting and fell in love with the the landscape painters of the west coast, so I became one myself. Every year I go on a painting retreat somewhere on the water and spend my days painting the view.
–Suzinn Weiss, Founder and Perfumer for Blooming Dream Natural Perfumes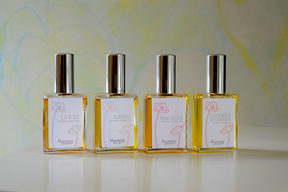 Thanks to Suzinn we have a reader's choice for the USA only of a 15 ml EDP of Drunken Flowers, LoveBird, Champa Booty, Pink Rose or Ottoo 100 percent Natural and Botanical Perfumes OR a 2 ml sampler set of all 8 fragrances in her line. To be eligible, leave a comment about something fascinating you learned about Suzinn and your choice of one of the above fragrances or the sampler set. Draw closes June 1, 2014
Please like CaFleureBon Profiles in American Perfumery on Facebook and your entry will count twice.
We announce the winners on our site and on our Facebook page, so Like Cafleurebon and use our RSS option…or your dream prize wil be just spilled perfume