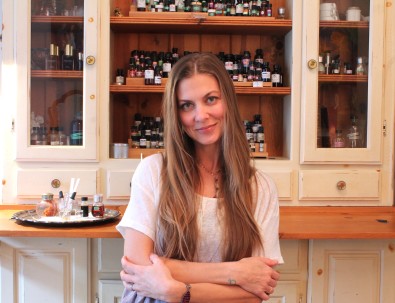 Stacey Lazzara of Jade Daisy
PROFILE:My first recollection of perfume was at my grandmother's house on the south side of Chicago in a small town that bordered Indiana. I loved to lock myself in her bathroom and admire the vast array of perfumes displayed on a beautiful, round mirrored tray with gold filigree.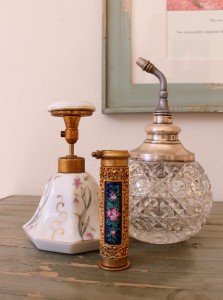 Stacey's Antique Perfume Bottles
I would carefully pick up each bottle and smell the gorgeous aroma of every perfume, never daring to actually put it on. But I could not resist the dusting powder. Carefully I would lift the glass lid, take out the soft, delicate powder puff and trace the perfumed powder across my little arms, enjoying the feeling of being feminine and elegant.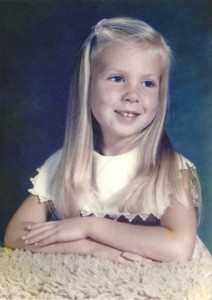 Stacey at 6 yrs old
When I wasn't sneaking into my grandmother's perfumes, I was running up and down the alleys behind her house cutting lilacs from the copious lilac bushes growing through the neighbors' chain link fences. The opulence and beauty astounded me. I saved some flowers to place in tiny vases, but I wanted mostly to wear the lilac. I crushed them into a perfume potion and insisted everyone wear it. I beamed with pure joy when my grandmother said it was her favorite of all her perfumes.
In the 1980's, as I entered into adulthood, my journey with perfume was frustrating. The commercial perfumes were too intense and unnatural. I felt frustrated and confused. I loved scent so much but felt totally disconnected from something I loved so much as a young girl in my grandmother's bathroom.In 1989, I moved to Chicago and discovered a little apothecary that carried natural essences. I devotedly visited every week to admire the hundreds of wonderful and exotic natural materials behind the counter. I was in complete awe, however, I was not allowed to touch the material and blend it myself. Instead, I had to tell the person behind the counter how much of what essence to add and create my combinations in this way. It just about killed me not to touch the essences!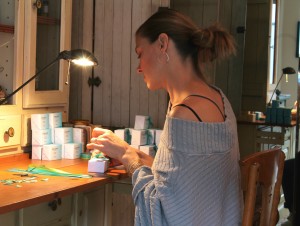 Stacey making soaps
In 1997, I started making soaps and luckily found another apothecary shop that offered perfume classes in the back of their store. I was beyond thrilled to touch the materials and experiment on my own! I started buying my own essences to take home and without knowing it, created a small perfume organ. As my knowledge and craft grew, I made perfumes for loved ones, always trying to match the personality of my scents with their intended recipient.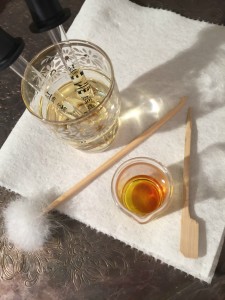 Blending oils for solid perfume
In 2001, I moved to California with my husband and children and unfortunately couldn't find anywhere to study perfume, so I took a course in Aromatherapy where I received a certificate with honors. Although I love the application of aromatherapy and deeply appreciate the therapeutic value of these amazing oils, I missed the concretes, absolutes and sticky resins that are used in perfumery. I missed blending for the pure art, beauty and luxury of scent.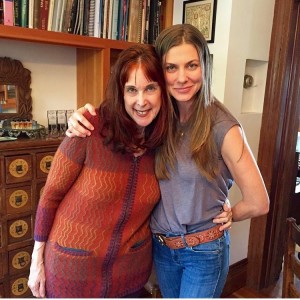 Mandy Aftel with Stacey Lazzara
The defining moment on my journey was around 2005 when I bought the book Essence and Alchemy by Mandy Aftel. I somehow ended up in her Berkeley studio a few years later and have since returned many times. Regardless of being a mother of four children, perfuming and Mandy's guidance has remained an absolute constant in my life. I am so very grateful to have such an amazing mentor. One of the most valuable things I have learned from Mandy is to build an intimate relationship with every material on my organ. I create and maintain an odor study for each natural material I possess. Another lesson is to hold myself to a high standard. This is something I take very seriously. I am creating for the pure art of beauty, without a high standard it is all for nothing.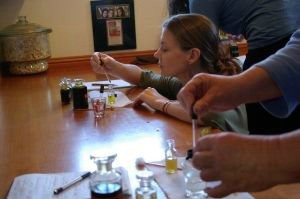 Stacey blending at the Aftelier Perfumes Studio
As my children grow older, I am able to spend more time on my life long passion. I am finally able to immerse myself in this beautiful art of perfumery and form a deeper understanding of my artistic and authentic self through natural aromas. There is so much to explore. I related differently to each essence and the combination of essences are endless.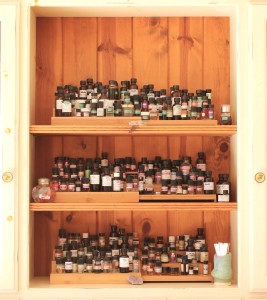 Stacey's Perfume Organ
ON AMERICAN PERFUMERY: I feel extremely lucky to be a natural indie perfumer at this time. First off, I feel the community has an abundance of creative and amazing unique artists, whether it's other perfumers, writers or those that are just intrigued by scent and the art of perfumery. Each perfume I create holds within its aroma, my relationship with each essence and the combination and synergy of the essences blended together as one. I am essentially painting with my nose, one layer at a time. Even the packaging is a unique and a deeply satisfying expression of me.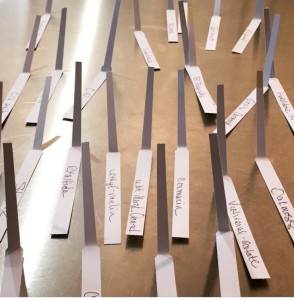 Stace's scent blotters at The Institute of Art and Olfaction
When I make a perfume, I am in competition with no one, because I'm creating out of my own singular experiences and I believe that is how other indie perfumer's feel as well. We also have access to so many wonderful natural essences that were either difficult or just impossible to come by in the past. I also feel the consumers are wanting something a little more interesting and want to feel connected to the whole process.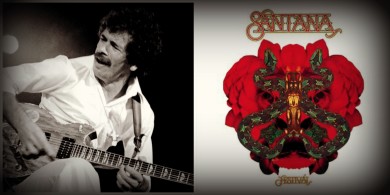 Carlos Santana 1977 performing in Karlsruhe, Germany, Album Cover of Festival "The River" track
FAVORITE AMERICAN ARTIST: I remember listening to Santana as a child and feeling mesmerized and inspired. His message is always so soulful & purposeful. To me he is a spiritual being lucky enough to have found his gift to express himself and touch others at the same time. I am inspired and drawn to his Latin rhythm, beautiful soulful meaningful lyrics and especially his mastery of his art. I named my oldest child after a song of his called 'The River.' His lyrics and tone of the song have held true in so many ways to mine and River's ever evolving relationship.
–Stacey Lazzara, Founder and Perfumer of Jade Daisy Perfumes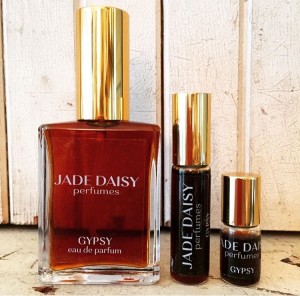 Thanks to Stacey Lazzara there is a draw as follows: For a US registered reader a ½ ounce spray bottle of her first perfume, 100 percent natural Gypsy Eau De Parfum which she created out of her love for my father's pipe tobacco. Top Notes: bergamot, bitter orange, cardamom co2, black pepper, sweet orange; Heart Notes: pink lotus absolute, neroli, jasmine sambac absolute, jasmine grandiflorium absolute, cocoa absolute;Base Notes: peru balsam, labdanum, tobacco absolute, ambergris, cade, castoreum. To be eligible please leave a comment with what you found fascinating about Stacey Lazzaro's path to perfumery. Draw closes 12/8/2015
Please like CaFleureBon Profiles in American Perfumery and your entry will count twice.
You can follow Stacey on instagram @jade_daisy_perfumes and our posts @cafleurebon
We announce the winners on our site and on our Facebook page, so Like Cafleurebon and use our RSS option…or your dream prize will be just spilled perfume