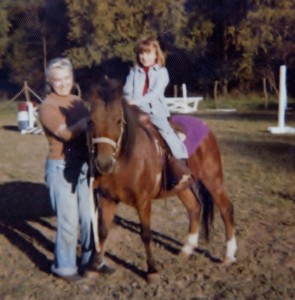 Sherri on horseback
Profile: I was born and raised in Pittsburgh, PA into a large family with German, Scottish, Irish and French roots. Both of my grandfathers owned their own businesses, a horse ranch on one side and a neon sign company called Sebastian Signs on the other. I grew up surrounded by nature. As my cousins ran wild through the woods, I would gather flowers and berries and mix them together. Looking back now, I think it was always in my nature to experiment with combining ingredients.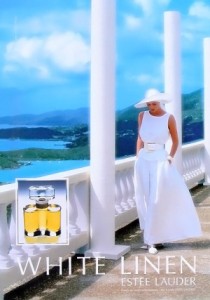 As a teenager, I moved on to nail polish, makeup and trips to the mall. My perfume collection graduated from Love's Baby Soft and Jean Nate to Estee Lauder, Calvin Klein, and Chanel. Each season I eagerly awaited the newest fragrance launch, captivated by how fragrance made me feel. White Linen was for productive moods, while Obsession was for relaxation.

After earning a Food Science degree I spent a year in Europe apprenticing to a 6th generation wine maker, learning the subtleties of wine tasting. My first professional job was in Brooklyn as an apprentice studying flavor chemistry and ingredients which often share the same palette as perfume. Little did I know at the time this path would lead me back to fragrance, my original passion. I was soon offered the chance to work under an accomplished perfumer at IFF, where my true perfumery practice began. I spent endless hours committing to memory hundreds of molecules, their origin, and orientation to each other. I spent 18 years honing my skills in New York City, and I consider it to be my second home. I worked with Nick Calderone for most of my time there (Lauren, Donna Karan Cashmere Mist). as well as with Sophia Grojsman (Tresor, Eternity, and a ton more) and towards the end, Ted Barba who specialized in personal care (he made Finesse).


I've always been aware of the connection between science and art. When I smell a fragrance I rarely concentrate on the individual notes, instead searching for the structure, base, and foundation that inform its character.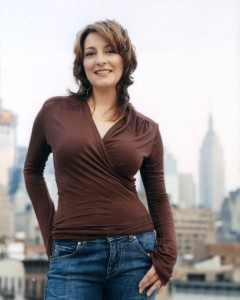 Sherri Sebastian is bi-coastal; here she is in New York
American perfumery: For me, being an American perfumer means respecting tradition while not being bound by it. I've worked in the industry for 20 years, learning from both European and American master perfumers At IFF, I compounded countless formulas with upwards of 80 ingredients. It was common for a fragrance creation to span the course of a year. This taught me the importance of observation. My work has shown me that it's not only about ingredients but rather their subtle interplay within a composition and the accords that result from classic combinations such as chypre and fougère.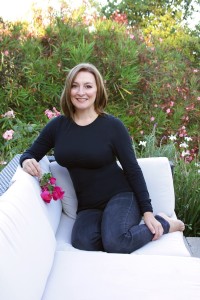 Sherri Sebastian is a Lady from the Left Coast; here in Malibu
When I started my own brand and company Sebastian Signs, my idea was to create what I call "essential luxuries." Quiet moments, better posture, walks in nature – these are the things we do to nurture and care for ourselves. My products are designed with this in mind. When crafting a scent, I spend hours observing and fine tuning ratios until any additional move would detract from the previous result, wearing pieces of fragrances and following them on my skin and blotter, to file into my scent memory for use now or in the future.
My latest concept is Purusa® Naturals, all-natural gels which not only enhance fragrances but allow them to last longer on skin. Purusa® is the Sanskrit word for "pure consciousness." Each morning as I study the dry downs from yesterday's blotters, I read a quote that hangs in my office from German philosopher Goethe. The last part reads, "….Whatever you can do or dream you can, begin it. Boldness has genius, power and magic in it. Begin it now."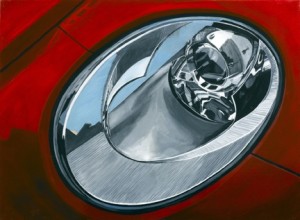 Rich Rickaby Used Cars Series Georgia Red
Favorite American Artist: Rich Rickaby is an artist based out of New York City who paints, designs, draws, sings and plays music. I've followed his work for years. I especially love his "Used Cars" collection, a close-up study of cars. His inspiration came when the MTA went on strike and on he began walking to work. He noticed all the headlights and painted them realistically with acrylic and polymer gel, allowing the composition makes them abstract. Rich's translation of metal, glass and mirrors onto canvas resonates with me as someone who studies the intricate nature of composition.

–Sherri Sebastian, Owner and Perfumer, Sebastian Signs and Perusa Naturals
Editor's Note: I became aware of Sherri's natural perfumes through Tama Blough's review of Purusa® and searched more information about her. To my surprise and delight, we had a lot of mutual aquaintances both in Los Angeles and in New York City; she has been my Linked in contact for sometime.-MC

Sebastian Signs "Numbers Line" No. 17, No. 35 and No. 44
For our draw, we have a readers choice of a full size 5 ml No. 17, No. 35 or No. 44 EDP USA ONLY
Sebastian Signs No. 17: Skin Scent– Notes/Ingredients – cocoa, vanilla, sandalwood, incense, and musk ( MC's personal favorite)
Sebastian Signs No. 35: Modern Chypre– Notes/Ingredients- bergamot, coriander rose jasmine, moss, sheer woods, warm amber
Sebastian Signs No. 44: Floral– Notes/Ingredients- gardenia,honeysuckle, jasmine, black pepper, water notes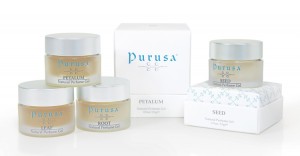 AND For all our readers worldwide
The Purusa® Naturals collection of all natural perfume gels from Sebastian Signs your choice of
Purusa® Naturals Root (Tama Blough's favorite )
Purusa® Naturals Petulam (Petulam has a distinctive Vintage Vibe and uber sexy davana and is Michelyn Camen's favorite).
Thanks to Sherri Sebastian we are offering two perfumed prizes to two different winners. To qualify please leave a Quality comment with what you found fascinating about Sherri's profile and your choice of either an EDP or a Purusa® Naturals all-natural gel perfumes. USA residents can choose from Perusa or EDP). Be sure to check out her website for more information about each scent. Please state if youa re an international reader. Draw ends March 14, 2013
SUPPORT AMERICAN PERFUMERY
Please like CaFleureBon Profiles in American Perfumery on FACEBOOK ; and your entry will count as two.
We announce the winners on our site and on our Facebook page, so Like Cafleurebon and use our RSS option…or your dream prize wil be just spilt perfume