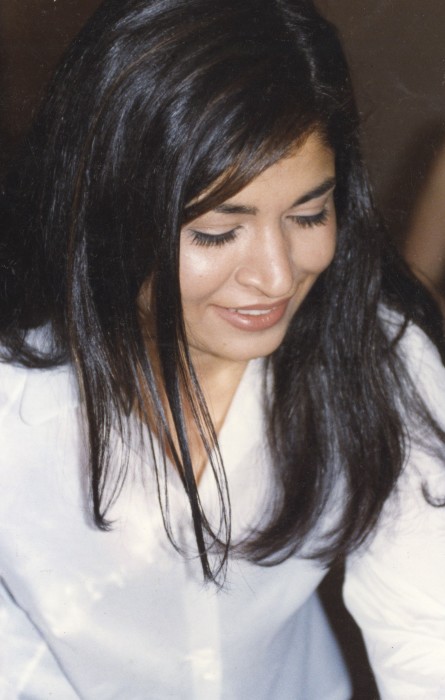 Shalini of Shalini Parfum
Profile: My first scent memory was being massaged by my mother in essential oils as a baby. There were different oils ranging from classic florals – rose and jasmine to others like sandalwood, olive and ylang ylang. And the love for fragrance was born. I always think of fragrance as what a woman wears closest to her skin. It enters her body through the pores and affects her soul in the most subtle way. It creates a memory and each note is a reminder of a moment of life that has passed.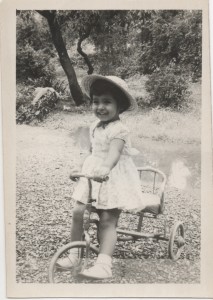 Shalini age 3 Bombay
I was born in Bombay. My father was a physicist and my mom is a very beautiful, creative soul. From an early age, my mom introduced me to all the flowers in the garden, the way they grew from bud to full bloom and how their fragrance changed through the passage of the time. Tuberoses were my favorite – they only emitted their gorgeous scent in the evening hours. As a child I would sneak into the garden at night so I could inhale them by the moonlight. Hypnotic!. My happiest childhood memories are playing in the garden – chasing butterflies, smelling flowers and picking strawberries. My mother wore Chanel No 5 and perfume oils called ""ittars. In those days Chanel No 5 smelled quite different and my childhood memories are being wrapped in her loving arms smelling it. My maternal grandmother wore lots of gold jewelry and the purest rose absolut. She was a very beautiful and elegant woman. Decadence and opulence was very much part of her nature and some of it seems to have passed down the generations.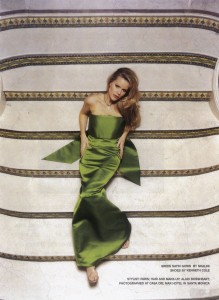 Shalini fashion
I was brought up surrounded by science and art and as a result was drawn to architecture being a blend of both. The longevity of architecture embodies the idea of creating something of value that stands the test of time. While studying architecture I realized I needed color and to feel texture and mood. Hence the path to fashion began. The most beautiful couture fabrics, the finest construction quality and the body serves as a foundation that the clothes drape upon. I often listen to Satie while I am creating.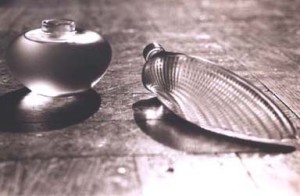 Shalini Limited Edition Lalique La Coquillage Parfum Flacon
Haute couture lead the way to haute parfum. To create the most beautiful fragrances using only the purest of oils which will have lasting beauty and become the new classics of tomorrow.
Each one will have a special bottle that conveys the inspiration behind the fragrance. And women would love to collect them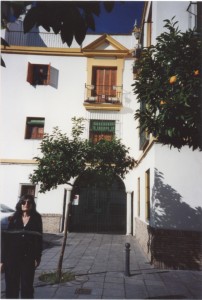 Shalini in Seville
.I wanted to create the most exquisite tuberose and neroli fragrance using only the finest ingredients. My first memory of neroli was arriving in Seville in the evening hours and the entire city was filled with clementine trees in full bloom. The smell of the orange blossoms was mesmerizing.
Master Perfumer Maurice Roucel
Maurice Roucel is a pleasure to work with. We connected instantly on creating something of lasting beauty. Maurice was receptive and enthusiastic towards my desire for an opulent perfume that uses the rarest ingredients. He captured what I was yearning for. It was a joyful experience. Maurice is a most talented perfumer. He has the soul of an artist and is very present and connected.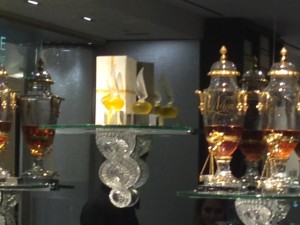 Shalini Parfum at Harrods
I envisioned a bottle that would convey the exquisite beauty and the lightness of flight of the fragrance. I found the beautiful Lalique crystal flacon, "Le Coquillage". The design reminiscent of a butterfly wing echoes the preciousness of the fragrance. Roja Dove Haute Parfumerie at Harrods held an exclusive launch for the UK last summer. Bergdorf Goodman was the first to launch it exclusively for the US in 2004. Aedes de Venustas has been supportive of the fragrance since it's inception.
Fragrance engages all the senses and evokes emotion and memory. Like the smell of the skin of your first love.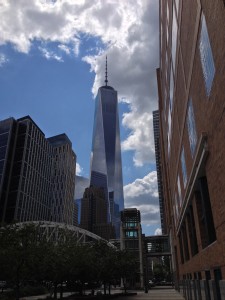 Battery Park City Freedom Tower New York City: Photo Shalini
On American Perfumery: I love that Americans break the rules! They are true renegades! You can have a dream of creating something and there is energy present in New York that supports that vision, People from all over the world live in New York and that brings a world consciousness which permeates everything that is given birth here. New York has been my home for 20 years and I am grateful for all the support I have received. As a fashion designer and now in perfume. It represents freedom to me and taking a chance, a leap of faith.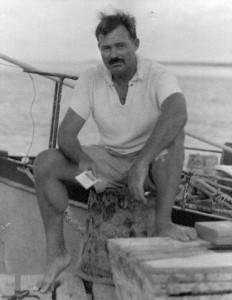 Ernest Hemingway sitting on his boat Pilar, Key West 1930s
Favorite American Artist: There can only one for me – Hemingway. He traveled and lived all over the world – bullfighting in Spain, living in a farm in Havana, part of the expatriate community in Paris in the 1920's and yet was completely American. A renegade! He exemplified the power of saying something very complex in the most simple words. Hemingway called it the technique of the iceberg: 80% under the surface, 20% above. As a designer, I have always tried to achieve that simplicity in my work.
One of my favorite books is "The Garden of Eden" which is set in the South of France and Spain. It is the journey of woman as she finds herself in relation to her husband and in a menage à trois set in the most beautiful vignettes. Hemingway is so amazing in dialogs, in giving voice to his characters, in creating tension between them. The way daily life is so present and at the same time lived so fully, wasted but not lost, not mechanical. As always in Hemingway it is sad, there is a grave note of sorrow, The ending is a total happy ending, but also one doesn't believe in. As if the story was going to start again, to run in a loop. And therein lies the beauty of Hemingway! I do have a great love for swimming in the Mediterranean and the life in South of France. When I read the Garden of Eden, and I have read it several times, I smell the sea, the sunshine, the lazy afternoons, the lavender and the pine trees of the South…As Colette said that life in the South of France becomes very simple where the decisions are reduced to whether you want to take a walk or a swim and would you like a glass of rosé or white.
– Shalini, Founder of Shalini Parfum
Editor's Note: I owe quite a bit to Shalini, as it was in my 2010 interview with Maurice Roucel that he spoke about the importance of Creative Directors in perfumery, "Hermes 24 Faubourg took five years and Shalini fifteen minutes. This was due to the conviction of the respective creative directors, and to their briefs". That was when my idea for CaFleureBon Creative Directors in Perfumery was born. In the same interview Maurice talked about true luxury and quality, "Of course when you can put in very good raw materials, this is perfect. Like Shalini, it is really worth it, because I made it and I know what is in it". Notes: Orange Blossom, Tuberose, tiare, sandalwood musk –Michelyn Camen, Editor in Chief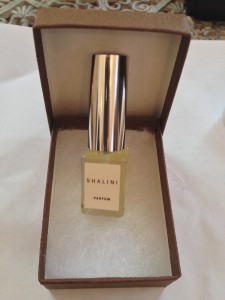 Thanks to Shalini (pronounced SHA lin nay) we have a 7ml crystal flacon with etched stopper valued at 180.00 worldwide. To be eligible please leave a comment noting what you found fascinating about Shalini and where you live. Draw ends April 4, 2015
Please like CaFleureBon Profiles in American Perfumery and your entry will count twice. I mean it I want to see at least ten new likes!!! What an extraordinary opportunity to try this $3000 parfum
You can follow Shalini on instagram: @shaliniparfum
We announce the winners on our site and on our Facebook page, so Like Cafleurebon and use our RSS option…or your dream prize wil be just spilled perfume